Spring football inches closer on the 2023 calendar as February trickles towards March. The state of Texas is primed for another memorable year at the FBS level with UTSA coming off another C-USA title and TCU becoming the first Texas program to reach a national championship game since Colt McCoy's Longhorns, and the first-ever in the College Football Playoff era. There are 13 FBS teams in Texas now with Sam Houston moving up. Houston is now in the Big 12, while UTSA, North Texas, and Rice move to the AAC.
Dave Campbell's Texas Football will look at the 10 best players at each position starting with quarterback.
1. FRANK HARRIS, UTSA
2022 review: 4,063 passing yards, 32 TDs, 9 INT, 69.64 completion percentage; 602 rushing yards, 9 TDs
Harris accounted for over 4,600 yards of total offense and 40 touchdowns as he led the Roadrunners to a second straight Conference USA title. He's blossomed during the Jeff Traylor era after suffering through multiple injuries early in his college career. He holds nearly every record at the quarterback position for UTSA and can put those numbers out of reach during his seventh year on campus. Traylor describes Harris as, "the most improved player I've ever coached." The UTSA passing attack should be amongst the best in the nation in 2023 thanks to the return of Harris and his three best receivers.
2. QUINN EWERS, TEXAS
2022 review: 2,177 passing yards, 15 TDs, 6 INTs, 58.11 completion percentage; 1 rushing TD
No player on the list possesses more physical tools than Ewers. The sophomore must prove capable of honing those skills into a consistent player for the Longhorns to compete for a Big 12 title in their last year in the conference. Ewers, a former five-star recruit, played in 10 games last year after suffering a shoulder injury against Alabama. He struggled with deep balls and on the road, but it was his first year of action since he was a junior in high school. He'll be pushed by Arch Manning in the spring and that should only help Ewers grow as a competitor and a leader.
2022 review: 1,304 passing yards, 7 TDs, 4 INTs, 59.89 completion percentage; 269 rushing yards, 4 TDs
Injuries are the only thing slowing down Shough during his two years in Lubbock. He was 4-0 as a starter in 2022 and helped the Red Raiders close the 2022 campaign with big wins in conference and in the bowl game. The former Oregon quarterback provides Texas Tech with a veteran presence who clearly knows how to win. Shough averaged 12.3 yards a completion and was less turnover prone than the other quarterbacks on the roster. He'll compete with young standout Behren Morton for the starting position. Both put the Red Raiders in position to win football games. Morton could easily be on this list after a solid redshirt freshman season too.
4. CONNER WEIGMAN, TEXAS A&M
2022 review: 896 passing yards, 8 TDs, 0 INTs, 55.3 completion percentage; 97 rushing yards
Weigman showed promise in his five outings as a true freshman despite engineering a passing offense that was outdated and inefficient. The former five-star recruit didn't throw an interception on 132 attempts. He played in five games down the stretch and led the Aggies to a big win against LSU to close the season and build some momentum heading into the offseason. The addition of Bobby Petrino as offensive coordinator, as well as plenty of weapons on the outside, puts Weigman in position for a breakout sophomore campaign.
5. PRESTON STONE, SMU
2022 review: 388 yards passing, 2 TDs, 1 INT, 58.33 completion percentage; 63 rushing yards, 2 TDs
Stone is next up in a growing line of highly successful SMU quarterbacks. Fans saw glimpses of his four-star potential in the games he started before an injury derailed his season. Stone is a dual-threat quarterback with a live arm and a quick release. His accuracy and ability to push the ball downfield should benefit the Rhett Lashlee offense. Don't expect any drop off just because Tanner Mordecai moved on. The Mustangs should field one of the highest-scoring offenses in the nation once again in 2023.
6. DONOVAN SMITH, HOUSTON
2022 review: 1,505 passing yards, 12 TDs, 8 INTs, 66.06 completion percentage; 116 rushing yards, 7 TDs
Dana Holgorsen and the Cougars got an up-close-and-personal view of Smith's abilities when he led Texas Tech to a win over Houston in overtime last season. Smith arrives in Third Ward to takeover for Clayton Tune, who is currently preparing for the NFL Draft. Smith is a gamer who provides dual-threat ability and experience playing in the Big 12.
7. BLAKE SHAPEN, BAYLOR
2022 review: 2,790 yards, 18 TDs, 10 INTs, 63.32 completion percentage; 2 rushing TDs
Shapen underwhelmed as a full-time starter in 2022 as the Bears dipped from 12 wins in 2021 to just six last season. His 10 interceptions didn't help, and it appeared as if offensive coordinator Jeff Grimes wasn't always confident in his quarterback's abilities in big-time situations. The experience should help Shapen heading into 2023. He's got the tools. He just needs the consistency and confidence.
8. CHANDLER MORRIS, TCU
2022 review: 145 yards passing, 1 TD, 0 INT, 66.67 completion percentage
Morris entered the 2022 season as the starting quarterback of the Horned Frogs, but an injury in the opener against Colorado derailed his season and put Max Duggan back at the helm. The rest is history, of course. But Morris is back to regain his footing in Fort Worth for the 2023 season. He'll be surrounded by a new cast of characters as TCU tries to prove last year wasn't a fever dream.
9. JT DANIELS, RICE
2022 review: 2,107 yards, 13 TDs, 9 INT, 61.2 completion percentage
No team in college football has started more quarterbacks over the last five seasons than Rice. The incoming transfer of Daniels, a former five-star recruit who began his career at USC, should provide stability at the position that the Owls have lacked in the Mike Bloomgren era.
2022 review: 268 passing yards, 1 TD, 2 INT, 48.1 completion percentage; 172 rushing yards
The Arkansas transfer is back in Texas to lead G.J. Kinne's Texas State Bobcats. Hornsby is one of the fastest players in college football, and not just at the quarterback position. Kinne helped transfer Lindsey Scott set FCS records and win the Walter Payton Award last year at Incarnate Word. He hopes that Hornsby can do the same thing up the road in San Marcos.
Honorable mention: Behren Morton (Texas Tech), Chandler Rogers (North Texas) and Gavin Hardison (UTEP)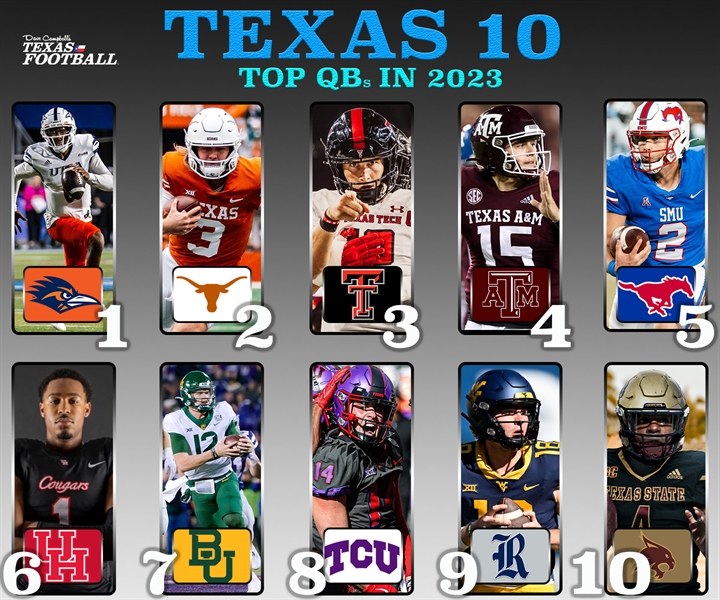 This article is available to our Digital Subscribers.
Click "Subscribe Now" to see a list of subscription offers.
Already a Subscriber? Sign In to access this content.