Dave Campbell's Texas Football and Texas Children's Hospital have teamed up to spotlight student training squads in the Houston and Austin markets. These talented and dedicated young folks are working hard behind the scenes to help their athletes to be their very best when the lights turn on. Each week we'll focus on a different group of Student Training Superstars in what will be an annual tradition.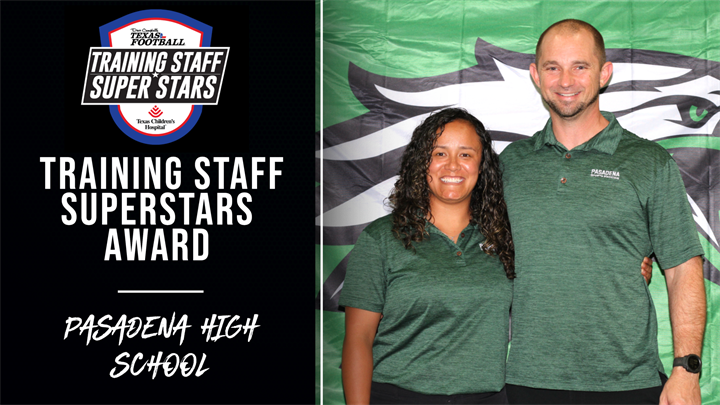 Sofia Mata (left) and Jeremy Jackson (right)
Jeremy Jackson hosts the Sports Medicine Broadcast, a globally know podcast and is the father of 5 kids.
Sofia Mata was a college soccer athlete before getting injured
We are one of the few high schools in the country to use Blood Flow Restriction from Owens Recovery Science.
We are preceptors for the University of Houston Athletic Training program.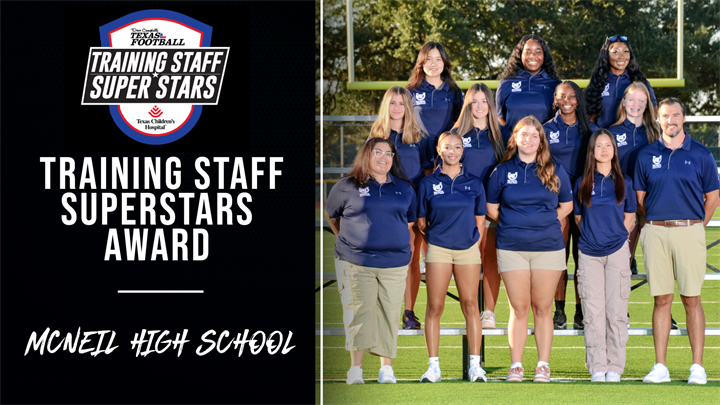 AT program established in 1992 with the opening of McNeil High School by Kirk Mollenkopf. We provide healthcare coverage annually for the largest XC meet in the state of Texas, the McNeil XC Invitational at Old Settlers Park. McNeil High School is the Capital Program Regional Day School Program of the Deaf for the deaf/hard of hearing population in the greater central Texas area. This has led us to working with many fantastic deaf/hard of hearing athletes throughout the years!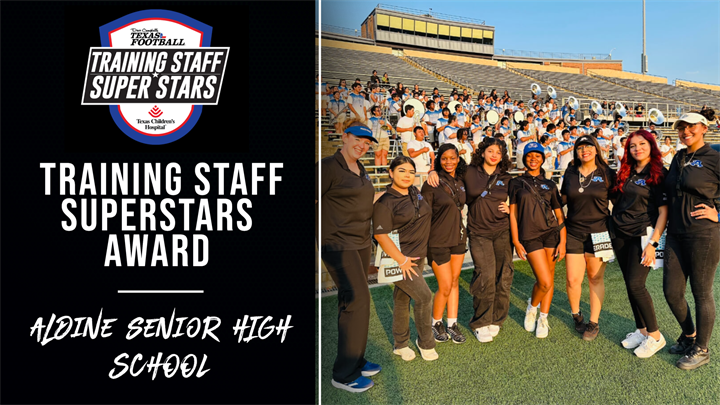 Kelly Smallbeck, Elleanah Arce, April Rodgers, Carina Castillo, Keira Semien, Nataly Ochoa, Crystal Cordova, Victoria Ochoa
Not pictured: Jocelyn Zepeda
Kelly Smallbeck is in her 5th year at AHS
She is currently the only athletic trainer at AHS servicing 23 teams
The second athletic trainer, Corie Cerda, was at Aldine for six years but recently returned to her hometown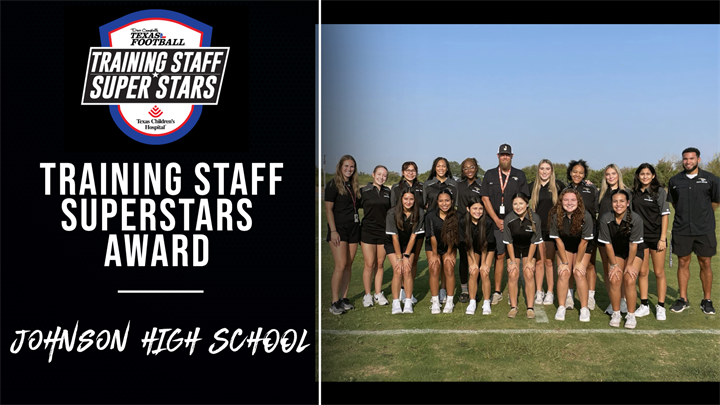 Pictured from left to right back row Sarah Bailey (Staff), Lily Anderson, Gabriella Cerda, Zaniah Hoskins, ZaReah Best, Phillip Jones (Staff), Abigail Hunt, Carolina Oliveira-Brown, Peyton Chassey, Katelyn Hernandez, Marcus Graham (Staff).
Second Row left to right: Karolina Castro, Gabby Mendoza, Sarah Hernandez, Alisia Acuna, Isabella Garza, Leanna Quintela.
We have 3 Full-Time Certified Athletic Trainers taking care of over 900 Student Athletes at the high school level, and over 300 Football Athletes alone.
With 7 Football Teams, we really appreciate all of the hard work put in by our Student Trainers helping with practices, traveling to away games and showing up for early morning practices and late night games.
All 3 Certified Athletic Trainers were born and raised outside of the State of Texas but moved here to be a part of Texas High School Football.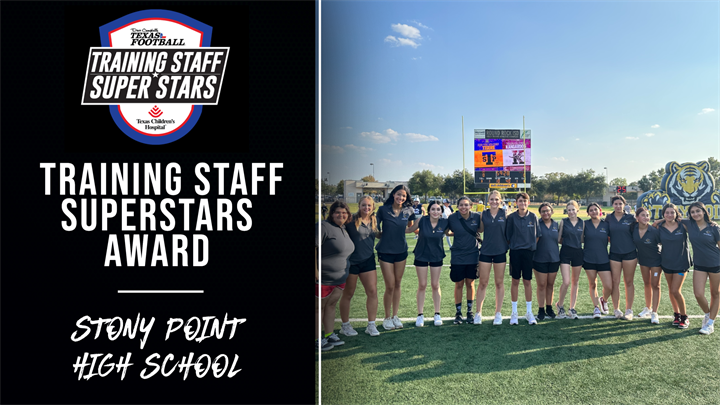 Left to right: Kali Roman, Brooke Frelke, Isabella Frierson, Gisel Aviles-Espinoza, Caraline Rangel, Kali Winner, Deegan Brandley, Isabel Irizarry-Velez, Makenzie Shaw, Jessica Valdez, Reighan Antoine, Layla Zamaripa, Lourdes Claggett, Samantha Almarez.
24th year of the school opening. International Baccalaureate School, our students are also officers on the Tiger Dancers, members of the FFA, and starting softball players.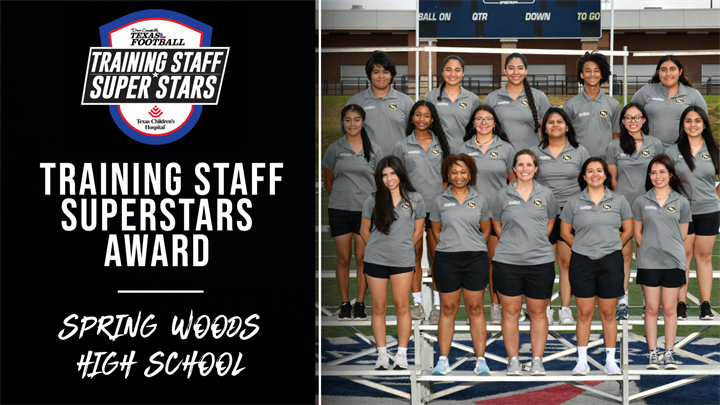 Top Row (L-R): Adan Alarcon, Aylin Castaneda Galvan, , Jennifer Rivera, Austin Harrell, Nuruin Batres
Middle Row (L-R): Gizelle Garay, Genesis Harrell, Helena Gutierrez-Lopez, Yamileth Morales , Thao Vy Tran, Alin Sanchez
Bottom Row (L-R): Sarahi Garcia, Tyra Harrell, Sarah Sturm, Stephanie Cabrera, Deveni Ximena Gudino ( bold denotes staff athletic trainers )
At Spring Woods High School, this year's mantra is to BE LIMITLESS. To achieve this, we exceed the standard of going above and beyond the ordinary guidelines of sports medicine.
We are highly driven individuals who devote our time and energy on and off the field!
None of this would be possible without our dedicated and motivated student athletic trainers who make this all possible!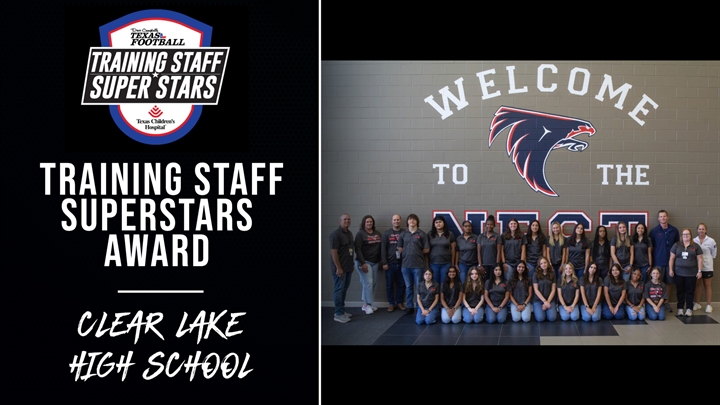 Standing Left to Right - Chris Gleeson Head Athletic Trainer, Elizabeth Raska Head Principal, Brian Webb Associate Principal, Earl Thrasher, Mia Tran, Dana'jah Green, Kimora Mitchell, Sophia Horne, Elena Saucedo, Madeline Teixeira, Belen Hernandez Rios, Alisya Feaman, Laurel Williams, Mayra Torres, Donald Lawrence Boys Campus Coordinator and Head Football Coach, Dana Tegeler Houston Methodist Outreach Athletic Trainer, Lisa Manis Girls Campus Coordinator and Head Girls Soccer Coach
Kneeling Left to Right – Aysia Jimenez, Himani Patel, Amberlee Sanders, Layla Torres, Isabelle Zamora, Violet Williams, Haley Westbeld, Dannon Vargas, Tatianna Vela, Madison Green, Audrey Boynton
Clear Lake Athletic Training emphasizes a student driven, mentor based, family atmosphere
Graduates included collegiate and high school athletic trainers, physical therapists, chiropractors, and nurses
US News Report has ranked Clear Lake High School as Silver, top 5% of all high schools nationally, for the last 5 years
Clear Lake High School is proud to be recognized as a National School of Character
Bottom Row (L-R): Staff Athletic Trainer - Sophia Munoz, (Leaders in Red): Kaley Conkle, Joey Maguire, Jade Jenkins, & McKenna Carrillo - Staff Athletic Trainer - Jose Carrillo
Second Row (L-R): Valeria Ruiz Moreno, Maya Goodman, Elle Johnson, Madison Uribe, Daniela Lopez, Madison McKenzie
Third Row (L-R): Emma D'Angelo, Skyler Ocasio, Anwitha Bandapalli, Mackenzie Chasco, Christine Nguyen, Isabel Cho
Top Row (L-R): Maia Bland, Victoria Lopez, Sarah Little, Halen Hendrix, Kate Sweeton, Grace Love
All our students are currently certified in 1st Aid, CPR & AED under the American Red Cross along with Hemorrhage Control (Stop the Bleed) Trained as prescribed by Texas Education Code under Williamson County EMS, and are required to take the sports medicine 1&2 courses.
Not only are our student athletic trainers involved in covering countless hours for 49 teams, but they are eclectic in their involvement in being church leaders in the community, hold jobs, members of the Soccer, Tennis, Track, & Varsity Dance Teams, Vice President & President in Youth and Government, President and Founder for Politics for Teens, UIL Current Events member, NHS members, Spanish NHS members, Tien Rong Heavenly Dragon Lion Dance Association member, AVID members, ROTC members, & camp counselors.
Vista Ridge is a clinical site for the University of Texas at Austin athletic training program and a clinical site for the University of Cincinnati Masters Entry Level Program for athletic training.
We are responsible for the care(welfare) of approximately 2056 student athletes between our high school campus and two feeder middle schools with our student.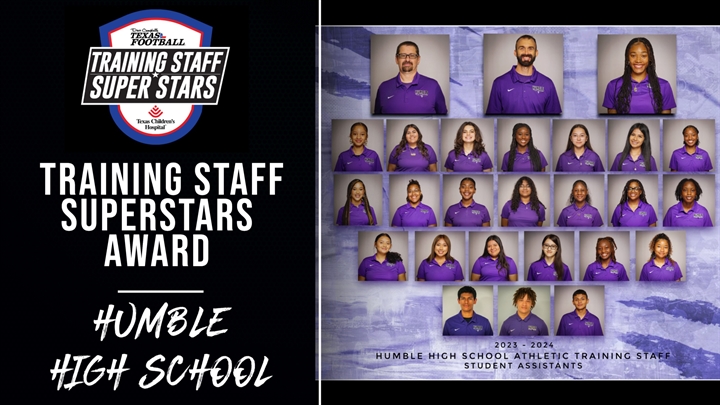 Bottom Row 1 (L-R) - Anthony Murcia, Dillon Moore-Thompson, Dany Santos
Row 2 - (L-R) Nayda Verduzco, Cayra Desales, Cynthia Bahena, Loren McAdams, Madison Frazier, Laurin Williams
Row 3- (L-R)Nachaly Vergez Javier, Olivia Tillman, Destaney Freeman, Tereza Tomas, Allonah Harris, Naudia Phillips, Je'Kaila Roberson
Row 4 - (L-R)Kenadi Bailey, Evangelina Rodriguez, Lillian Ward, Jazlyn Hall, Viviana Hernandez, Evelyn Yanez Santamaria, Kennedi Oliver
Row 5 - (L-R)Russ McAdams- Assistant Athletic Trainer, Mike Romig - Head Athletic Trainer, Nyesha Patillo - Assistant Athletic Trainer
Provide medical coverage for 1600+ middle and high school athletes
50 years combined staff athletic trainer experience
Student aides can earn up to $1000 ($250/year) in scholarship money upon completion of their senior with the program
Majority of student aides go on to pursue careers in a medical field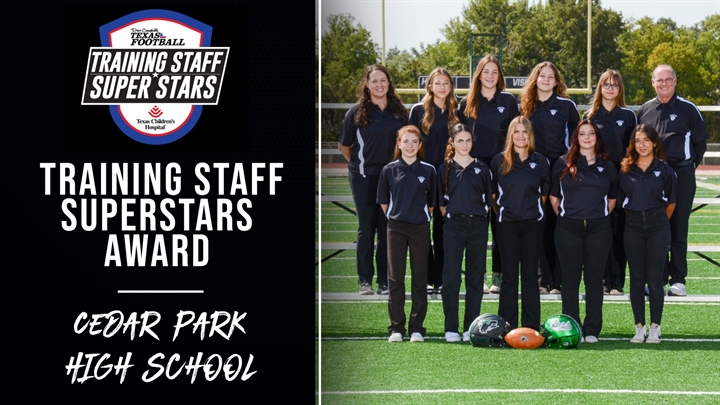 Front (L-R) Norah Goett, Addison Butler, Lucy Zittrer, Scarlet Dennis, Karina Soto
Back (L-R) Coach Stefany Austin, Kristin Kurk, Lauren Wicker, Rheagan Burns, Fiona Flynn, Coach David Bowman
This small but capable Student Training staff has only two (2) seniors the rest are sophomores and freshmen. Size doesn't matter to these young ladies as each Friday, they have to transport all of our necessary football equipment to a district stadium which is not an easy task. Once football season is over each student trainer is required to work a second sport.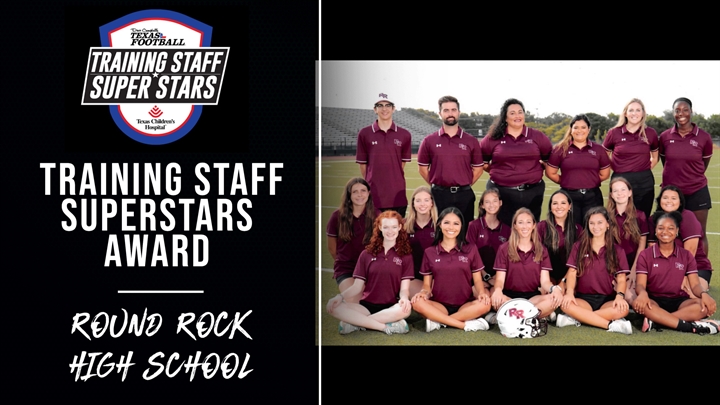 Seated Row: Rachel Hamilton, Yazmin Hernandez, Kylie Branam, Kennedy Marquez, Shania Carr
Middle Row: Adilynn Muston, Mallory Coleman, Ivey McPeek, Isabella Avendano, Jenna Blackwell, Hailey Martinez
Standing Row: Carter Griffith, Staff AT Bryce Cooley, Staff AT Nikki Vincent, Staff AT Kelsey Longoria, Intern Elizabeth Kiley, Taliyah Donaldson
Our Crew is excited to be a part of the 2023-2024 Athletic Seasons and look to help build on our School Record of 11 District Championships from last year.
We are thankful for our Coaching Staff and Administration that helps to encourage and promote the growth of our program. As well as the resources and support to continue to be the BEST for our Dragon Nation.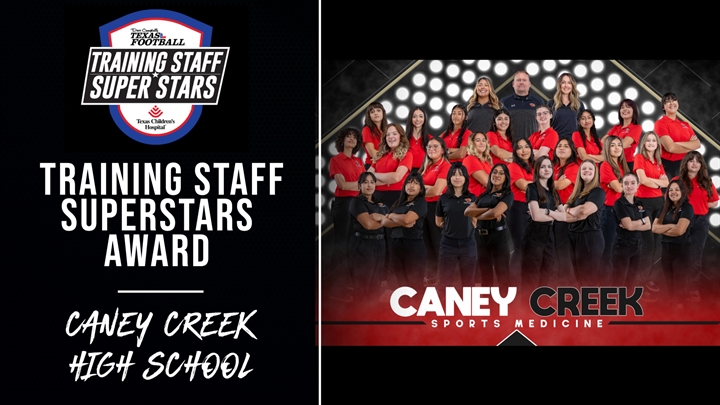 Top row (left to right): Idalia Hernandez, Chad Miller, Kathy Bradley
Second Row Down: (left to right): Saribeth Walker, Jessica Estrada, Analily Organes, Esteffany Balderas, Kalli Jordan, Ruth Gutierrez, Kathryn Sada, Krystal Avila.
Third Row Down (left to right): Zoe Aubrey, Sophie Smithey, Nikki San Nicolas, Maeve Macdonald, Mirian Guevara, Valeria Andrade, Donna Garcia, Linnie Dearing, Karissa Rozell
Fourth Row/ Last Row (left to right): Addie Ascencio, Josefa Zacarias, Jenna Villalobos, Mari Nahuacatl, Rebekah Viands, Samantha Reese, Emily McQueeney, Desiree Cifuentes
Our athletic training staff has a combined 39 years of experience.
We have a phenomenal support staff through Houston Methodist. We are grateful to have Dr. Leo Taarea, D.O. and Zach Palumbos, DPT assisting us each week with our athletes.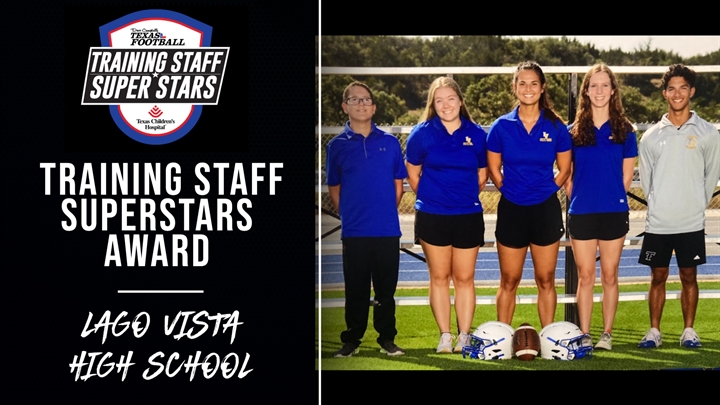 (From left to right) Kason Erwin, Sabrina Vaughan, Greta Villarreal (Head Athletic Trainer), Rylie Greenlees, Ricky Seda (Not pictured: Gage Shook)
- All of our student athletic trainers participate in 1 or more other extracurriculars besides athletic training
- Every Friday morning, we have a "family breakfast" to get ready for game day!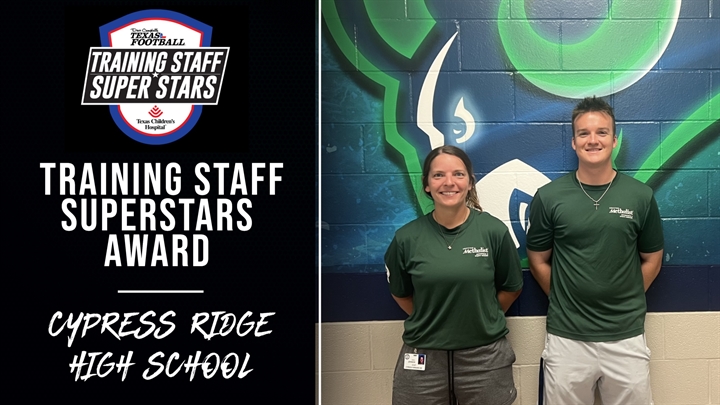 (Left ) Erin Johnson, M.S., ATC, LAT
(Right) Ryan Dougherty, MS, ATC, LAT
We are both Philadelphia Eagles fans.
Ryan is from New York and Erin is from Delaware.
Both Erin and Ryan's favorite food is Italian but as Texas transplants we also both appreciate a good barbecue joint.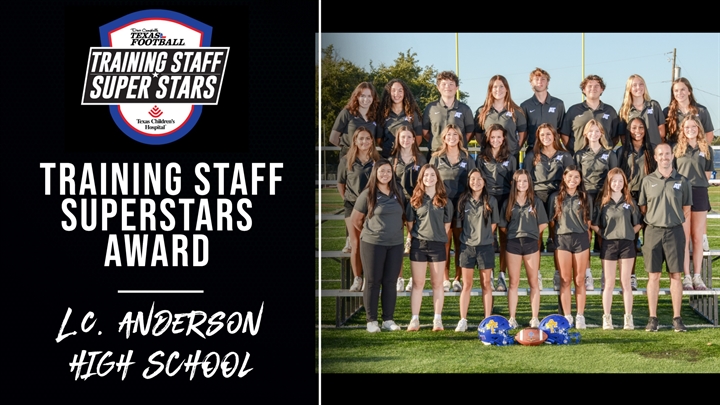 1st Row: Athletic Trainer Amy Ngo, Lana Kornblith, Issa Dy, Presley Morgan, Paloma Lara, Roni Sela, Athletic Trainer Michael Busby
2nd Row: Olivia Barrera, Kiki Coppedge, Fiona Nguyen, Audrey Jones, Elena Schock, Isabel Spess, Kennady Kavanaugh, Amelia Thompson
3rd Row: Emily Burns, Aliyana Hatcher, Weldon Wright, Katya Veazey, Eli Marlowe, Fin Fullmer, Elle Ehlert, Brooke Lonsdale
Missing: Julia Coffman, Bailey Johnson, Briella Lippman, Isabella Orozco, Maddie Stuesser, Marlee Whitford, Dr. Joe Volpe
-Our program consists of 27 Student Athletic Training Aides, 2 certified full-time staff athletic trainers, Michael Busby and Amy Ngo, and 1 team physician, Dr. Joe Volpe
-Our students take Sports Medicine courses during the school day in conjunction with assisting practice, game, and treatments outside of school hours. They are also certified in Stop the Bleed and Heartsaver First Aid/CPR/AED through American Heart Association.
-Many of our students will go on and purse a career in health care (Athletic Training, Physical Therapy, Nursing, etc) but also have students who later pursue business, theater, mathematics, and art.
-On top of caring for the football athletes, our team also services ~850 athletes in a variety of sports, year-round.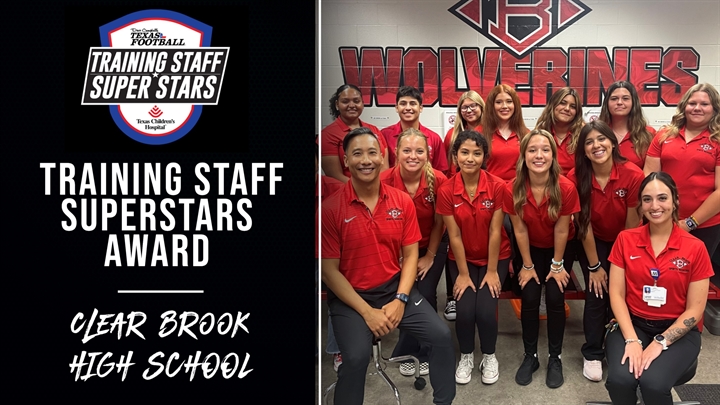 Picture: R to L, Top row: Kaila Baltzell, Edwin Bonilla, Kailyn Meyer, Daisy Huerta, Amy Ramirez, Khloe Herpin, Kynleigh Coppock.
R to L, 2nd row: Isabelle Samaniego, Olivia Oelkrug, Mariana Serrano, Marley Burroughs, Deverie Ramirez.
R to L, bottom row: Steve Tran (Head Athletic Trainer), Ayana Reyes (Associate Athletic Trainer)
Clear Brook HS Athletic Training:
Established in 1988
Prog. has approximately 15-25 student AT aids
2x NATA Safe sports school award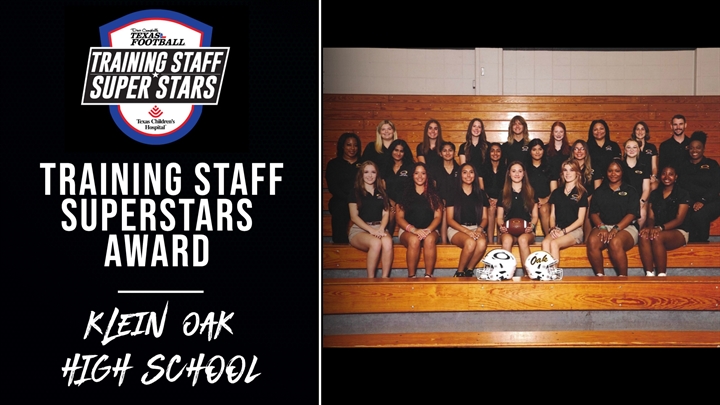 Top Row: Addison Prater, Celeste Bourque, Jade Brantner, Ashton Brumley, Grace Hadley, Kaylee Haynes, Maggie Wahlquist, Mr. Blackburn
Middle Row: Ms. Lyric, Shifa Ali, Zainab Naqvi, Fatima Naqvi, Genesis Reyes, Anai Pereira, Bella Meyers, Ms. Jocelynn
Bottom Row: Maggie Lumpkin, Celine Rodriguez, Marissa Romero, Alivia Reinhardt, Audrey Theiss, Arianna Sparks, Hailey Lewis
Klein Oak has 2 full time staff athletic trainers, 1 athletic trainer through Houston Methodist Willowbrook, and 20 student athletic trainers
Outside of athletic training, Mr. Blackburn competes in Ironman triathlons. He is currently training for Ironman Chattanooga on 9/24 and has competed in the 2022 Ironman 70.3 World Championships while qualifying for the 2023 Ironman and Ironman 70.3 World Championships.
Klein Oak is Ms. Jocelynn's first AT job and she has already made a huge impact at the school and with the student athletic trainers.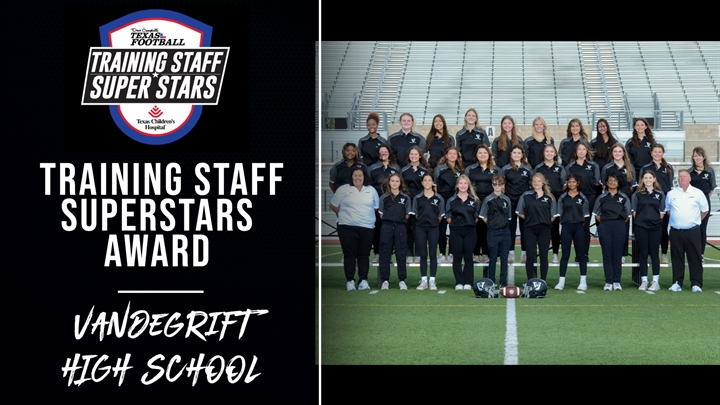 Front left to right- Linda Bowman LAT, Adri Riddick, Marisa Ionnone, Ava Choat, Sam Samas, Gianna Cuthbert, Ananya Kathalgere, Taylor Wuest, Chris Shivers LAT.ATC
2nd row- Alyna Scott, Storm Guillory, Annika Begeman, Jillian Perkins, Nikki Williams, Vivi Landa, Monica McDowell, Devyn Singer, Caroline Erickson, Ella Berkey, Dakota Marberry
3rd Row- La' Kaziah Smith, Aspin Longenecker, Devyn Stevenson, Anna Kavaneva, Katlyn Tan, Amy Covino, Edie Reddoch, Isabella Angus,Nicole Pearle
Our student trainers have been able to work with successful teams in every sport
They help provide care to over 900 athletes during the school year
Last year they were able to work in the State Championship in Football at AT&T stadium
They help us host baseball , softball, and volleyball tournaments each school year
Our school is named after Matthew Vandegrift, who was killed in action in the Gulf War.
CLICK HERE for an archived look at the Texas Children's Training Staff Superstars Award!