The Texas State 7on7 Organization is a private organization not associated with either the UIL or the THSCA that promotes the game of football through 7on7 competitions. The governing body for the Organization is comprised of selected coaches from throughout the state of Texas. The State Organization is governed through its Constitution and By-Laws and holds regularly scheduled meetings every January/July in addition to those as directed by the President of the Board.

The State Organization selects the sites plus organizes and administers all state qualifying tournaments that are used to certify representatives to the Texas State Tournament that is held each summer. The Board of Directors are responsible for making rules changes as well as for general communication and interpretations to Texas high schools.
State Qualifying Tournaments (SQT's) are held throughout the state. These tournaments are hosted by individuals selected by the Organization's SQT Director. Each SQT follows similar procedures as outlined by the Board of Directors. Teams that place* in an SQT qualify for the State 7on7 Tournament.
* Note: SQT's range from 8 teams to 32 teams. The size of the SQT determines the number qualifiers. An 8 team SQT qualifies 1; 16 team = 2; etc.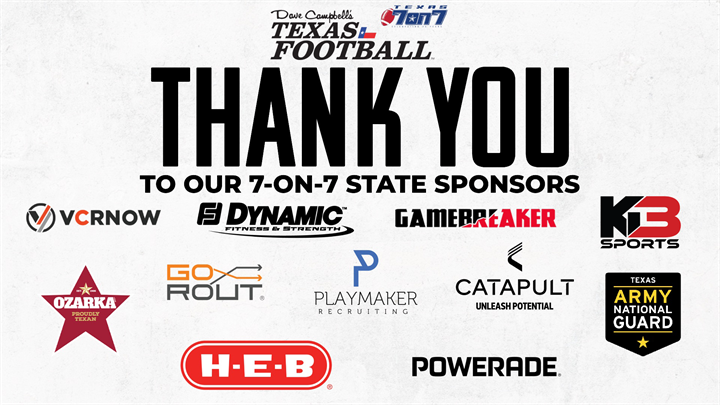 The Texas State 7on7 Tournament is divided into three divisions:
Division I consists of teams that compete in 5A or 6A (public) & SPC or TAPPS Division I (private).
Division II consists of teams that compete 4A & 3A-D1 (public) & all other privates.
Division III consists of teams that compete in 1A through 3A-D2 (public)