Spring football inches closer on the 2023 calendar as February trickles towards March. The state of Texas is primed for another memorable year at the FBS level with UTSA coming off another C-USA title and TCU becoming the first team from Texas to reach a national championship game since Colt McCoy's Longhorns. There are 13 FBS teams in Texas now with Sam Houston moving up. Houston is now in the Big 12, while UTSA, North Texas, and Rice move to the AAC.
Dave Campbell's Texas Football will look at the 10 best players at each position on the football field continuing with offensive linemen.
Past rankings:
1. KELVIN BANKS, TEXAS
2022 review: Second-team All-Big 12
The five-star from Humble Summer Creek immediately lived up to the hype as the day one starter at left tackle for the Longhorns. Banks looked like a future top 10 pick in the NFL Draft in his 13 starts. He was a freshman All-American on numerous lists. He'll protect the blind side of the Texas quarterbacks for two more seasons before moving on to a successful NFL career. He's a special player with NFL All-Pro potential.
2. PATRICK PAUL, HOUSTON
2022 review: First-team All-AAC
Paul was named to his second consecutive first-team All-AAC list after helping the Cougars reach eight wins in 2022. Paul mans the left tackle position, and he'll be protecting a new signal caller with Texas Tech transfer Donovan Smith at the helm. Paul is also an excellent run blocker. He'll lead the way for a healthy Alton McCaskill in 2023 as the Cougars move to the Power Five ranks as a Big 12 school. Paul's must avoid penalties with better frequency to step into All-American conversations.
2022 review: Injured
Foster started in four games before a season-ending injury forced the promising sophomore to the sidelines. As a true freshman in 2021, the Katy Taylor product planted his flag as one of the best centers in the country. He was named to the 2021 SEC All-Freshman Team, and to the FWAA Freshman All-American Team after starting in all 12 games. Foster was a consensus four-star recruit out of high school who also competes in throwing disciplines on the Texas A&M track and field team.
4. CAM'RON JOHNSON, HOUSTON
2022 review: First-team All-AAC
Johnson joined Paul on the 2022 AAC all-conference first team in 2022. He plays left guard next to Paul, forming one of the most formidable tackle-guard combos in college football, especially at the G5 level. The duo should help the Cougars handle the transition into the weekly grind of a crowded Big 12 conference. He started 13 games and allowed just one sack on 556 opportunities. Johnson allowed just one sack in 345 opportunities as a redshirt freshman in 2021.
5. JUSTIN OSBORNE, SMU
2022 review: Second-team All-AAC
A three-star recruit who started his career at Auburn, Osburne was the most consistent player on an underrated SMU offensive line in 2022. He enters 2023 as one of the most experienced guards in the AAC. Osborne started 11 games in 2022, 12 games in 2021, and eight games back in 2020.
6. ANDREW COKER, TCU
2022 review: Honorable mention All-Big 12
Coker played on the same high school offensive line as Foster and Texas starter Hayden Conner back at Katy Taylor. He wasn't the most hyped of the group, but he's made himself into a consistent starter on the outside for the second-best team in college football as of 2022. The Horned Frogs lose their interior starters, which puts more emphasis on tackles such as Coker, who finished 2022 as an honorable mention All-Big 12 player. He's also capable of playing guard.
7. CHRISTIAN JONES, TEXAS
2022 review: Honorable mention All-Big 12
Jones and Banks formed arguably the best tackle pairing in the Big 12, and in the state of Texas in 2022. Both return to those spots in 2023, along with the other three starters from the Longhorn offensive line, as well as a few key backups. Jones started 13 games at right tackle. He's played in 48 games during his career, including 35 starts.
2022 review: Injured
Spencer transferred to Texas Tech prior to the 2022 season, but an offseason injury forced the Western Kentucky product to miss the entire campaign. He's back and nearly 100 percent for the spring, and that's good news for the Red Raiders. The 6-4, 305-pound Spencer played in Zach Kittley's offense back at Western Kentucky and should help sure up the trenches in Lubbock.
9. CLAY SERVIN, RICE
2022 review:
The J.J. Pearce product might leave Rice with over 50 starts if he can stay healthy during the 2023 campaign. He's an experienced leader on and off the field for the Owls. He's well over 2,000 snaps in his career and is the most-experienced player for Rice on the roster. He started as a true freshman back in 2018 and signed in head coach Mike Bloomgren's first recruiting class.
10. BRANDON COLEMAN, TCU
2022 review: Honorable mention All-Big 12
Coleman moved from guard to tackle in 2022 and ended the year as an honorable mention All-Big 12 selection. He's a sure-fire starter for a revamped Horned Frogs team heading into 2023. Coleman spent most of his childhood in Germany before a high school career at Denton High School that led to a collegiate start at Trinity Valley Community College. He emerged as a starter in 2021 after suffering a season-ending injury back in 2020.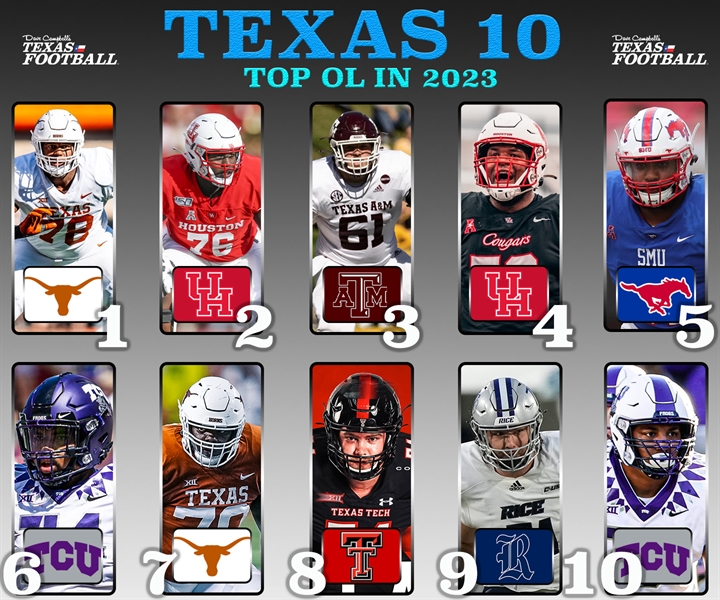 This article is available to our Digital Subscribers.
Click "Subscribe Now" to see a list of subscription offers.
Already a Subscriber? Sign In to access this content.