Spring football inches closer on the 2023 calendar as February trickles towards March. The state of Texas is primed for another memorable year at the FBS level with UTSA coming off another C-USA title and TCU becoming the first team from Texas to reach a national championship game since Colt McCoy's Longhorns. There are 13 FBS teams in Texas now with Sam Houston moving up. Houston is now in the Big 12, while UTSA, North Texas, and Rice move to the AAC.
Dave Campbell's Texas Football will look at the 10 best players at each position on the football field continuing with tight ends.
Past rankings:
1. JT SANDERS, TEXAS
2022 review: 54 catches, 613 yards, 5 TDs
The former five-star recruit from Denton Ryan needed the 2021 season to get used to playing tight end at the college level. His athleticism was on full display in 2022 when he finished second on the Longhorns with 54 catches and five receiving touchdowns. He was third on the team with 613 receiving yards. Sanders enters his third year on campus as a bona fide potential first round NFL Draft pick. He's a mismatch because he's too athletic for linebackers and safeties, and way too big and physical for corners.
2022 review: 22 catches, 233 yards, 2 TDs
Like most of the Texas A&M offense in 2022, Green needed some time to round into form. As a true freshman, however, Green provided hints of a potential breakout campaign in 2023. Green was a four-star recruit out of Dickinson High School in the Houston area, and he possesses real chemistry with starting quarterback Conner Weigman. Expect Green to flirt with all-conference honors as a sophomore in 2023 with Bobby Petrino in College Station to call plays.
2022 review: 34 catches, 458 yards, 5 TDs
Gumms experienced a breakout season in 2022 as a redshirt freshman after finishing the season second on the team in receptions and touchdowns. He was third in receiving yardage. The Houston product was a first-team all-conference selection by the coaches after setting records for a UNT in receptions and yards for a tight end. All that in only six starts. His numbers should only grow in 2023.
4. JARED WILEY, TCU
2022 review: 24 catches, 245 yards, 4 TDs
Wiley became an important piece of the TCU offense in his first year in Fort Worth after transferring from Texas. He made a few big-game touchdown receptions and was a quality in-line blocker at the position due to his size. Wiley will be counted on as a senior leader in 2023 for a Horned Frogs squad that must replace a lot of upperclassmen from the 2022 season.
5. RJ MARYLAND, SMU
2022 review: 28 catches, 296 yards, 6 TDs
Maryland was a perfect fit into the Rhett Lashlee offense. The true freshman from Southlake Carroll was one of the best young tight ends in the American Athletic Conference, and his production should only rise as a sophomore. The loss of Rashee Rice to the NFL means that SMU must spread those catches around, and Maryland figures to flirt with a 50-receptions season in 2023.
6. JAKE ROBERTS, BAYLOR
2022 review: 28 catches, 394 yards, 3 TDs
Roberts was an excellent tight end for North Texas over the last few years who transferred to Baylor to takeover for the departing Ben Sims. Roberts is a tough pass catcher who also knows how to set the edge as a blocker, which is a desired trait in Baylor's wide-zone offense. The emergence of Gumms in Denton meant fewer snaps for Roberts if he had stayed at North Texas.
7. OSCAR CARDENAS, UTSA
2022 review: 31 catches, 438 yards, 2 TDs
All Cardenas does is make the big catch in important moments. He did that to beat UAB in 2021 and again to knock off North Texas in the regular season matchup of 2022. UTSA throws the ball a lot, so he's able to gobble up completions. Cardenas is also a strong blocker. He was honorable mention all-conference in 2022.
8. JACK BRADLEY, RICE
2022 review: 28 catches, 260 yards, 2 TDs
The weapons at Rice don't get enough attention. With JT Daniels in town to take over the quarterback position, those numbers might even grow larger for players like Bradley. He doesn't mind doing the dirty work required by a tight end in Mike Bloomgren's offense, but he's also a safety blanket that thrives on third down.
2022 review: 12 catches, 132 yards, 2 TDs
The Zach Kittley offense spreads the ball, and the offense, around to the point that it is hard for a tight end to collect all-conference numbers. When given his opportunity, Cupp was a difference maker in his first year in Lubbock. The Brock product started his career at Texas A&M, but injuries dampened his time in College Station. Cupp is also one of the best blocking tight ends in the Big 12.
2022 review: N/A
Fox was a three-star recruit from San Antonio who arrived at Kansas State four years ago with plenty of upside. He never found a role as a Wildcat, collecting two catches in a career that spanned 10 games. He didn't see any action in 2022. At 6-5, Fox provides a big target in the passing game and a big body to help set the edge against the run. Maybe a fresh start is exactly what Fox needs to fulfill his promise.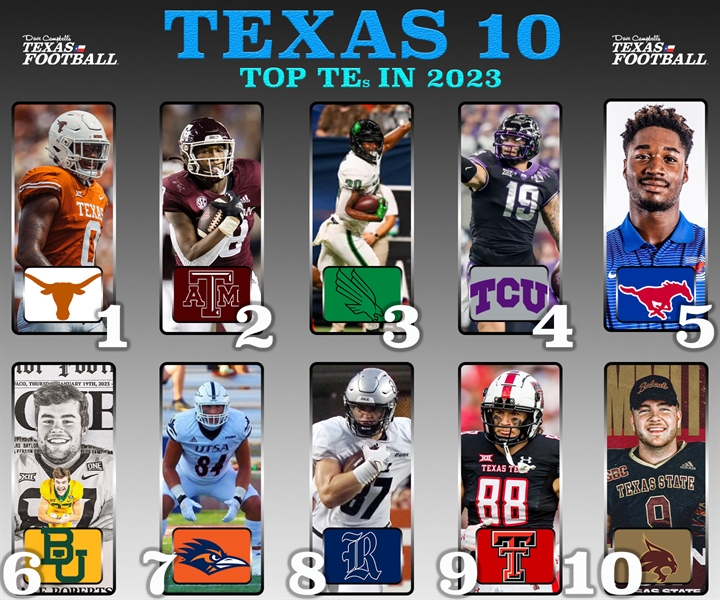 This article is available to our Digital Subscribers.
Click "Subscribe Now" to see a list of subscription offers.
Already a Subscriber? Sign In to access this content.