Spring football inches closer on the 2023 calendar as February trickles towards March. The state of Texas is primed for another memorable year at the FBS level with UTSA coming off another C-USA title and TCU becoming the first team from Texas to reach a national championship game since Colt McCoy's Longhorns. There are 13 FBS teams in Texas now with Sam Houston moving up. Houston is now in the Big 12, while UTSA, North Texas, and Rice move to the AAC.
Dave Campbell's Texas Football will look at the 10 best players at each position on the football field continuing with wide receivers.
Past rankings:
1. ZAKHARI FRANKLIN, UTSA
2022 review: 94 catches, 1,136 yards, 15 TDs
No player in Texas caught more passes, touchdowns, or accounted for more receiving yards than Frankln, who won a Triple Crown of sorts in the Lone Star State in 2022. He's the most prolific receiver in UTSA history and he'll still be catching passes from Frank Harris as the two-time reigning C-USA champs make their first foray into the American Athletic Conference. Franklin, a Cedar Hill product, has 262 catches for 3,348 yards, and 37 touchdowns in his college career.
2. XAVIER WORTHY, TEXAS
2022 review: 60 catches, 760 yards, 9 TDs
Even a down year ended with some of the most production at the wide receiver position for the uber-talented Worthy. He bursted onto the scene as a true freshman and was an all-conference caliber player as a sophomore, but he didn't take the next step into All-American status as many of us expected. He struggled to build consistency in the vertical game with quarterback Quinn Ewers, but the addition of a few outside weapons should allow Worthy to go back to the role he excelled at as a freshman. Worthy is best in the intermediate and short passing game where he can make plays after the catch and get open with precise route running.
2022 review: 53 catches, 649 yards, 2 TDs
By the end of the season, Stewart was arguably the best wide receiver in Texas and emerging as a true No. 1 receiver in the SEC. He ended the year as the team leader in receptions and yards. He averaged 12.25 yards per catch. He topped 100 yards twice and caught at least three passes in every game as a true freshman. The Aggies potentially sport the best group of skill position players in the state and Stewart is the star. He's a future high round draft pick after the 2024 season.
4. AINIAS SMITH, TEXAS A&M
2022 review: 15 catches, 291 yards, 4 TDs (only played in four games due to injury)
Smith is returning for another year in College Station after an injury ended his 2022 campaign four games into the season. He was the top target in the Aggies offense prior to that injury, and he'll be surrounded by a group of playmakers in a new-look offense under coordinator Bobby Petrino. He also helps in the run game and on special teams. His absence allowed Stewart, Moose Muhammad, and Donovan Green space to grow into consistent players. His return should only elevate everyone's game.
5. JOSHUA CEPHUS, UTSA
2022 review: 87 catches, 985 yards, 6 TDs
The UTSA passing attack isn't a one-man show. Harris has a few weapons to utilize, including Cephus, who was a second-team All-Texas selection by DCTF in 2022 after flirting with 1,000 yards receiving on the year. He would've topped 1,000 yards alongside Franklin if he didn't miss a game due to injury. The Spring Dekaney product is an excellent route runner with the ability to stretch defenses and make a play after the catch.
6. LUKE MCCAFFREY, RICE
2022 review: 58 catches, 723 yards, 6 TDs
McCaffrey moved from quarterback to wide receiver in 2022 and it immediately paid dividends for him and the Owls. He led Rice with 58 catches and was second on the team in yards and touchdowns. The wide receiver room is the strength of the team, at least of the offense, heading into 2023 thanks to the return of McCaffrey and Bradley Rozner, who had his appeal for an eighth year of eligibility granted. The Owls also get Cedric Patterson back from injury.
2022 review: 51 catches, 744 yards, 6 TDs
Bradley emerged as the No. 1 receiver for the Red Raiders and offensive coordinator Zach Kittley in 2022. The 6-5 DeSoto product provides a big target who is a menace in the red zone and on third down. He caught eight passes in each of Texas Tech's final two games, closing out the regular season with 173 receiving yards and a touchdown against Oklahoma. He also scored in the bowl win over Ole Miss.
8. TYWIN SMITH, TEXAS A&M
2022 review: 71 catches, 1,039 yards, 7 TDs
Smith caught 71 passes for 1,039 yards and seven touchdowns for a UTEP offense that wasn't exactly consistent at the quarterback position. He'll be surrounded by more talent as a transfer at Texas A&M, moving into the slot position with Ainias Smith.
2022 review: 56 catches, 587 yards, 7 TDs
Hawkins flirted with the transfer portal before pulling his name out and returning to Texas State after G.J. Kinne was hired as head coach. Another DeSoto product, Hawkins led the Bobcats in every receiving category despite missing three games due to injury. The high-powered attack Texas State figures to field in 2023 should rely on Hawkins out of the slot position. He'll put up big numbers if healthy for a full season.
2022 review: 23 catches, 628 yards, 11 TDs
Eleven of Shorter's catches resulted in touchdowns, and he was second on the team in receiving yards despite ending fifth in overall catches. Nearly half of his 23 receptions ended in scores. Shorter averaged an insane 27.3 yards per catch and is arguably the best big play threat in the Lone Star State.
Honorable mentions: Jordan Whittington (Texas), Matthew Golden (Houston), Bradley Rozner (Rice), JoJo Earle (TCU), Roderic Burns (North Texas), JT Clark (UTSA), Moose Muhammad III (Texas A&M), Reynaldo Flores (UTEP), Myles Price (Texas Tech)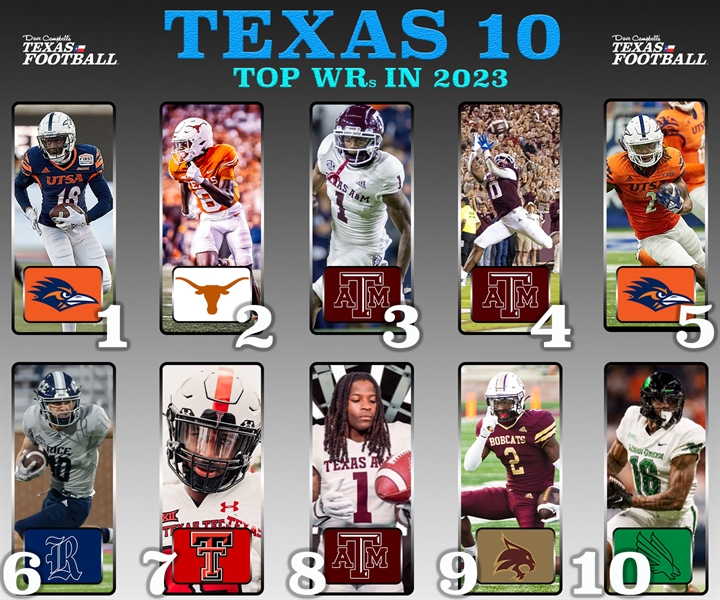 This article is available to our Digital Subscribers.
Click "Subscribe Now" to see a list of subscription offers.
Already a Subscriber? Sign In to access this content.