Rockwall (3-1) at Longview (4-0):
A year ago, en route to its first state championship in 81 years, Longview went into Rockwall and spoiled the Yellowjackets' homecoming. Can Rockwall return the favor and go into Lobo Stadium and end Longview's 20-game winning streak? Rockwall's offense has been downright unstoppable all year averaging well over 50 points per game, led by sophomore QB Braedyn Locke who threw for 342 yards and six touchdowns in last week's 45-38 win over Arlington Martin. WR Jaxon Smith-Njigba has torched defenses all year averaging nearly 200 yards per game receiving and last year had a field day against the Longview defense.
It might be tougher this year as Longview's defense has been outstanding early allowing just 28 points total in four games. In last week's 17-7 win over Louisiana's No. 2 team West Monroe, the Lobos held WMHS to just 138 yards of offense and forced six punts after allowing the early touchdown on the short field after a fumble. QB Haynes King has been solid early on but hasn't had a breakout game yet, but Longview did get RB Kaden Meredith going as he ran for 191 yards and a touchdown in the win. Longview's offense should get going this week, but the big question is can the Lobos get a couple of stops along the way? That's how they escaped Rockwall with a win a year ago and it could be a similar formula in 2019.
Stepp's Pick: Longview by 6
San Benito (2-2) at Midland Lee (4-0):
The Tall City will play host to the Greyhounds from San Benito as Dan Gomez's squad takes the long trip from the Rio Grande Valley to Grande Communications Stadium for a Saturday morning matchup. San Benito may have its hands full with the Rebels who come into this game unbeaten and ranked at No. 21 in the state in Class 6A. The past two weeks, Clint Hartmann's squad has topped the 70-point mark, including last week's 72-26 win over El Paso Eastwood. QB Mikey Serrano threw for 326 yards and six touchdowns, three of those went to Loic Fouonji. The balance of Lee's offense is what has made it so tough to stop as the Rebels are capable of beating defenses in multiple ways. Midland Lee's defense is underrated and when that defensive line gets going, it can be a long night for opposing offenses because if the QB makes a bad read, SMU commit safety Karl Taylor is capable of making game changing plays in the secondary.
San Benito's offense put up big numbers last week, but its defense couldn't get stops in key moments in the second h alf in a 45-37 road loss to Laredo United. QB Smiley Silva will need to play out of his mind if the Greyhounds want to have any hope of keeping this game competitive because the Greyhound defense is going to have a difficult time slowing the Midland Lee attack. Expect the Rebels to head into district play at 5-0 with a big win on Saturday, but expect no shortage of West Texas hospitality for the visitors from the Rio Grande Valley.
Stepp's Pick: Midland Lee by 38
San Antonio Brandeis (4-0, 3-0) vs San Antonio Brennan (4-0, 3-0):
First place in 28-6A is on the line Friday night in San Antonio and more importantly with both of these teams likely going Division II. Playoff seeding is on the line as Brandeis takes on Brennan. Brandeis rolled past San Antonio Clark, 42-7, a week ago as QB Jordan Battles and RB J Nova Rangel combined for five total touchdowns, while the Bronco defense dominated allowing just 151 yards of offense and pitching a shutout. Clark's only score was a fumble return late in the third quarter.
Brennan had a Saturday night game and the Bears knocked off a scrappy San Antonio Taft squad, 29-10. Versatile Darryon Tolefree had over 100 yards rushing and receiving, while rushing for a score and catching a touchdown pass to pace the Bears offense. Both teams are very solid on defense. The key is Brandeis is a bit more explosive and that is the difference in what will be a close, low scoring game.
Stepp's Pick: San Antonio Brandeis by 4
Lubbock Monterey (2-2) at Abilene Cooper (4-0):
After getting off to a sizzling start to the season, Lubbock Monterey has stumbled the past two weeks with back to back losses to Clovis, NM and Lubbock Cooper. The Plainsmen got a great defensive effort in their 21-13 loss to Lubbock Cooper last week and even scored a touchdown, but the offense was missing their spark in QB Coreon Bailey who did not play last week due to undisclosed reasons. Expect Bailey to return this week and will be a big help as Shotwell Stadium will be a tough place to get a win as Abilene Cooper is rolling after back to back wins over crosstown rivals Abilene High and Abilene Wylie.
Last week, the Cougs rolled past Abilene Wylie 30-0, RB Noah Garcia ran for three touchdowns and a pair of interceptions in the first half, one that was returned for a touchdown sparked the rout. Garcia finished with 164 yards rushing on just 13 carries, but expect that workload to increase this week with district play starting up. Wylie finished the game with just 195 yards and that speedy defense for Abilene Cooper has the ability to contain Bailey and that explosive Plainsmen offense attack.
Stepp's Pick: Abilene Cooper by 9
Sherman (3-1) at McKinney North (3-1):
A year ago, Sherman was an afterthought in 7-5A Division I, but the Bearcats stunned the favored Bulldogs in the district opener and that was the difference allowing the Bearcats to sneak into the postseason. Sherman will look to do the same thing on the road this week as it visits McKinney ISD Stadium to try and slow down the incredibly high-powered McKinney North offense. Last week, Sherman's defense was outstanding in a 23-6 win over Justin Northwest, holding an explosive Texans attack to just a fourth quarter touchdown. RB Miketavion Brown ran for 191 yards and Benji Omayebu hauled in a pair of touchdown passes to pace the offense.
North has scored at least 44 points in all four of its games thus far, last week the Bulldogs rolled past 6A Rockwall-Heath 56-34 as QB Dillon Markiewicz threw for 373 yards and four touchdowns and RB Emmanuel Fincher added 163 yards on the ground and three touchdowns. Fincher also threw a touchdown pass as well. North's defense has left a lot to be desired early in the year, but the offense will bail them out much of the time. Sherman is a solid team, but I don't expect the Bearcat defense to be able to hold up and North pulls away for a high-scoring win.
Stepp's Pick: McKinney North by 11
Alvin Shadow Creek (3-0) at Angleton (2-0):
Shadow Creek closed out the non-district portion of its schedule in style two weeks ago as the Sharks blasted Alief Elsik, 63-7, as junior QB Kyron Drones threw for four touchdowns and added another on the ground to lead the way. Shadow Creek's defense was downright nasty in the win holding the Rams to just a pair of first downs on the night and an incredible negative four yards of offense. This week, it gets an Angleton squad that we don't know a ton about as the Wildcats had a Week 1 bye and then had their game last week against Houston Westside cancelled thanks to Tropical Storm Imelda. What we do know about Coach Jason Brittain's squad is they are going to come right at Shadow Creek with that Wing-T offense and are going to play very tough, physical defense.
In two games, Angleton's defense has allowed just a total of 14 points. (Wins over 6A Clear Brook and 5A Humble Kingwood Park). RB Jordan Jones is averaging 171 yards rushing per game and Angleton QB Justin Mayon has been surprisingly effective in the passing game giving Angleton some balance to keep defenses honest. This one will be close, but this Shadow Creek team is just overwhelming when it comes to the talent on the defensive side of the ball. If they remain disciplined the Sharks should slow the Angleton offense down enough to give their offense plenty of breathing room.
Stepp's Pick: Alvin Shadow Creek by 10
Frisco (4-0, 2-0) vs Frisco Reedy (3-1, 2-0):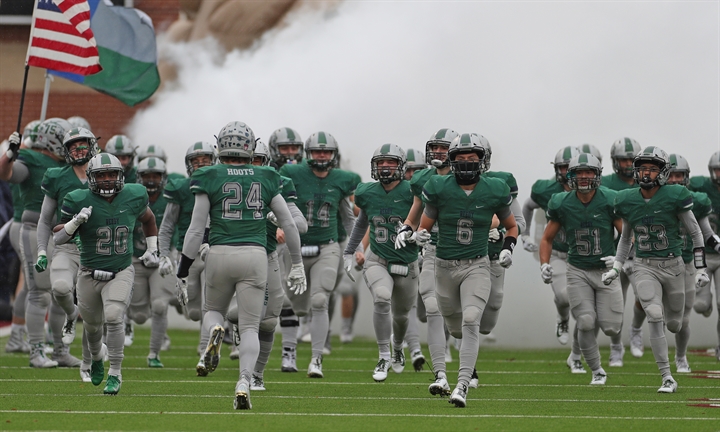 7-5A Division II's title could get decided this week as Frisco ISD rivals Frisco and Frisco Reedy hook up Friday night at the Ford Center. Frisco's offense is still Wing-T based and has shown the ability to be more versatile this year and it's paying off for Jeff Herbert's squad. The Raccons have scored at least 45 points in three of their four games. Last week in a 75-26 demolition of Frisco Lebanon Trail, the Raccoons rolled up 751 yards of offense. Three different backs had at least 100 yards rushing and Chase Lowrey had 162 receiving yards and two touchdowns as everyone got into the act for FHS.
Frisco Reedy improved to 2-0 in district play last week going on the road and getting a hard-fought 35-32 win at Denison. The running game got rolling last week as Kenneth Farragut led the Reedy attack with 176 yards, while speedy Jacob Smith added 114 yards rushing and a touchdown rushing. Boston College commit QB Jalen Kitna had a touchdown pass and a touchdown run, while Will Harbour ran for two touchdowns and also was drilled all five PATs. Reedy's defense contained a dynamic Denison running game, but in the second half, Reedy almost gave up a big lead and that's a concern going against a Frisco squad that is really on a roll at the moment.
Stepp's Pick: Frisco by 3
Clint Mountain View (3-1) at Andrews (3-1):
Surprising Mountain View has gotten it done early in the year with a tough defense and two wins to open the year over opponents from New Mexico. After a loss to a tough 5A opponent in Canutillo in Week 3, the Lobos bounced back by blowing Tornillo out 55-14 last week. They'll have their toughest test of the year this week as they head east to tangle with an outstanding Andrews squad that has the look of a contender in Region I.
Last week, Andrews ruined Snyder's homecoming with an easy 58-13 win as the offense rolled up 603 yards in the win. WR Markeese Lawrence is one of the most dynamic playmakers in all of West Texas and will be a real matchup problem for Mountain View in this one.
Stepp's Pick: Andrews by 31
Dumas (4-0) at Wichita Falls Rider (2-2):
We'll find out just how good the Dumas Demons are this week as they take on a strong 5A opponent in Wichita Falls Rider, on the road. Last week Rider went down to Brownwood and took one on the chin against a surging Lions squad that is in the 4A-Division I Top 10 along with Dumas. Dumas' defense the last two weeks has been sensational as it pitched back-to-back shutouts and after struggling on offense two weeks ago against Wichita Falls High. Dumas' offense got rolling last week in a 56-0 win over Plainview. RB Jacob Mares ran for two touchdowns, while QB Spencer Williams tossed a pair of touchdowns as Dumas rolled up 35 first quarter points.
Rider's got an explosive offense as well led by QB Jacob Rodriguez who is getting a lot of FBS attention. Rider's the bigger school and they are at home taking on a 4A-opponent that's travelling over three hours, we'll lean to Rider in what should be a fun game.
Stepp's Pick: Wichita Falls Rider by 7
Springtown (4-0) at Graham (2-2):
Springtown jumped into the statewide Top 10 last week and didn't do anything to disappoint as the Porcupines rolled past Kennedale, 43-17, as Cameron Rickett ran for 117 yards and four touchdowns, while chipping in 69 yards receiving to lead Springtown. The defense allowed just 10 points, as one of Kennedale's scores came off an interception return for a touchdown. They'll take the trip to the northwest to take on a Graham squad that is better than its record indicates after suffering back to back tough losses to Brownwood and Decatur.
In last week's 56-42 loss, Graham got another monster night from Daniel Gilbertson who had 261 yards from scrimmage and accounted for a pair of rushing touchdowns. The difference in this one is the defensive units and that edge goes to Springtown, its secondary will get tested but have a bit more of a track record in slowing offensive units down, but this one being at Newton Field will be close.
Stepp's Pick: Springtown by 4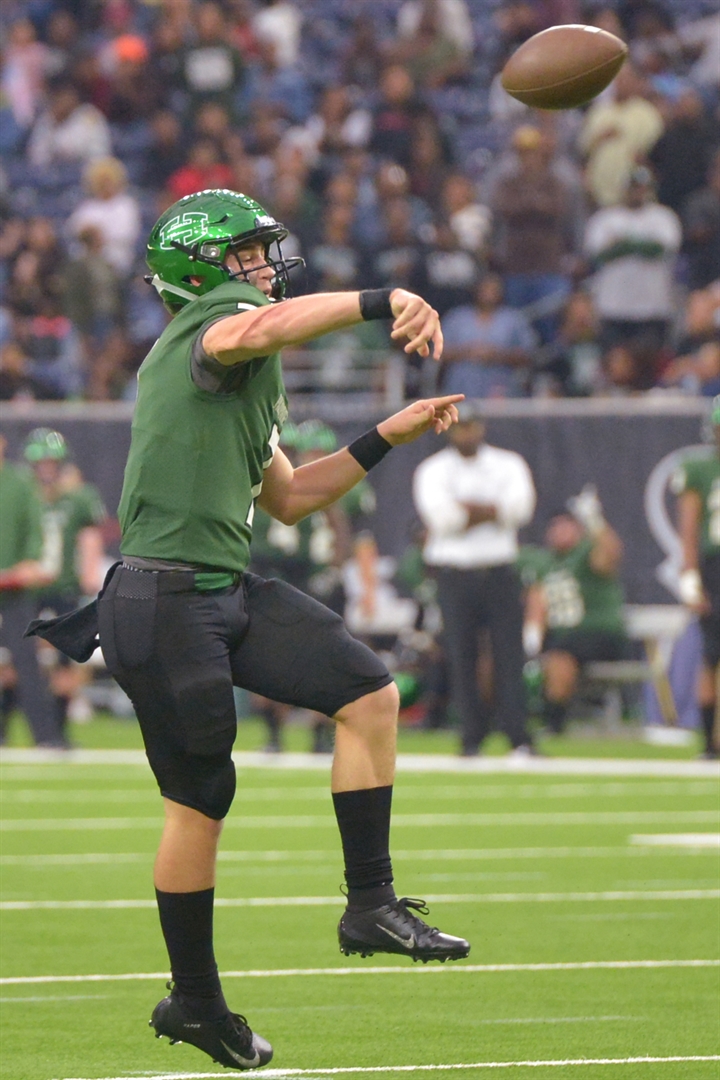 College Station A&M Consolidated (3-0) at Huntsville (2-1):
A&M Consolidated has been flat out dominant early on this season, yet the Tigers are still flying a bit under the radar in a Region III that's headlined by Manvel, Fort Bend Marshall and Huntsville. That can change this week for Lee Fedora's squad if they can go into Bowers Stadium and emerge with a win. Last week, the Tigers rolled past Leander Rouse, 42-3, as Oklahoma-commit Brian Darby, who spends much of his time at RB, moved to WR last week and hauled in three touchdown passes to lead the Tiger offense. Texas A&M-commit WR Devin Price didn't play last week due to an ankle injury but is expected to be 100 percent for the district opener. The Tiger defense did their part in the win holding Rouse to just 93 yards of offense and contributing an interception return for a touchdown.
Huntsville stumbled two weeks ago in a surprising 29-13 loss to College Station. The Hornets got QB Matthew Southern back after he missed the Week 2 win over Port Neches-Groves, but the offense was totally stifled by the College Station defense. Mistakes also played a part as turnovers and poor special teams put the Huntsville defense in bad spots all night long. With a week off to fix some issues, expect a much cleaner performance from the Hornets, but A&M Consolidated may have some of the best front-line skill talent in the state and if its defense continues to dominate, this is a team that can make a deep run.
Stepp's Pick: College Station A&M Consolidated by 6
Lorena (3-1) at Fairfield (3-1):
District play gets rolling in one of the state's toughest districts regardless of classification and two teams who are right on the cusp of a Top 10 ranking meet up in game dripping with playoff implications. Fairfield will be at home looking to bounce back after a disappointing effort last week in a 56-35 loss to Palestine. The Eagles defense had no answers for an athletic Palestine attack that rolled up 559 yards of offense. Most of that came on the ground, so expect a typically pass-heavy Lorena to try and exploit that weakness in the Eagle defense.
Last week Lorena took care of Teague in 34-13 win, RB A.J. Brem rushed for 100 yards and a pair of touchdowns for Lorena, while QB Bradley Lina and WR Ty Moore hooked up for three touchdown passes in the win. Lorena's offense could have another big night and will open 8-4A Division II play with a win.
Stepp's Pick: Lorena by 11
Splendora (1-1) at Liberty (2-1):
Splendora's only played two games early in the year as the Wildcats had a bye in Week 3 and in Week 4 they had their game cancelled due to the flooding in the area from Tropical Storm Imelda. Liberty after dropping its season opener to Huffman-Hargrave has had back to back big offensive showings with wins over Cleveland and Livingston.
Splendora's last outing on September 5 was forgettable as the Wildcats were absolutely shredded in a 75-35 loss to Baytown Lee. The team had to let that poor showing stew for nearly three weeks. Expect an inspired effort from Splendora, especially on the defensive side of the ball.
Stepp's Pick: Splendora by 6
Jacksboro (2-2) at Eastland (4-0):
It'll be a contrast of styles in the Big Country this week as ground-and-pound Jacksboro will visit high-flying Eastland who is unbeaten and making plenty of noise in 3A-Division I. Jacksboro raced out to a 41-14 lead on unbeaten Wichita Falls City View with 10 minutes remaining, but had to hold off a furious rally in the 41-35 win. RB's Gio Salazar and Justin Loucks combined for over 200 yards rushing and three touchdowns to pace the Tigers attack.
Eastland had to deal with Mother Nature and a desperate Childress squad last week and after an hour delay the Mavericks got rolling and knocked off Childress, 25-8, on the road. QB Behren Morton threw for 216 yards and two touchdowns, while rushing for another touchdown as Eastland was held to season lows in points and yardage in the victory. Don't expect two subpar efforts in a row from the Eastland offense and that defense will be keyed in to slow down the Jacksboro Wing-T attack.
Stepp's Pick: Eastland by 16
Winnsboro (3-1) at Gladewater (2-2):
After suffering its first loss of the year to arch rival Mount Vernon, it doesn't get much easier for the Red Raiders as they take on a strong Gladewater squad that's smarting after a 45-0 loss to the number one team in 4A-Division II Texarkana Pleasant Grove. Last week Winnsboro's defense had no answers for Mount Vernon in a 47-28 loss, but its ground-oriented offense showed some good things against a tough defense.
There's not much that can be taken from Gladewater's loss last week, the team was flat out overmatched. It wouldn't surprise me if the coaches didn't even show the film to the team as there probably isn't too much to be gained. That being said, expect Eli Carter and that Gladewater rushing attack to get back on track this week.
Stepp's Pick: Gladewater by 11
Cisco (2-1) at Ballinger (3-0):
District play begins in the Big Country at the 3A-Division II level and last year's district champion Cisco will get a big test off the bat with unbeaten Ballinger, who is projected to be the top challenger for the Lobos. Cisco rolled past Breckenridge two weeks ago, 40-19, as RB Stanley Callahan led a balanced offensive attack rushing for two scores and topping 100 yards on the ground in the victory.
Ballinger is off to its best start in seven years after they blasted past Colorado City, 49-14, two weeks ago Edgar Nunez did a little bit of everything for the Bearcats in the win as he ran for two scores, threw two touchdown passes and he also nailed a 44-yard field goal in the lopsided win. Ballinger's offense will give Cisco trouble, but the Bearcats defense may not be able to stand up to the pounding that the Cisco offense can provide. Cisco wins, but it'll be a battle as Ballinger is definitely much-improved.
Stepp's Pick: Cisco by 10
Newton (3-0) at Gilmer (2-2):
Newton, owners of the state's longest winning streak at 33 games will have one of its absolute toughest tests in this run as it visits Gilmer in a high-profile matchup. Newton does have the edge of having last week off to recover from their physical win over West Orange-Stark two weeks ago, while Gilmer is coming off back to back losses against 4A-Division I powerhouses Paris and Carthage. In last week's 24-15 loss to Carthage, Gilmer hung in with the powerful Bulldogs, getting a huge game from their defense that held Carthage in check.
However, Gilmer's offense just couldn't get on track and that will be a big question as it could be a similar style of play. Newton doesn't have the depth it had a year ago and Gilmer looks to be improved after 2018's disaster. I'm going out on a huge limb here, but at home and fresh off an encouraging effort against Carthage, I'm taking Gilmer to pull the upset. QB Mason Hurt is due for a big game and at home I think he makes the plays needed to pull the upset.
Stepp's Pick: Gilmer by 2
Wellington (3-1) at Panhandle (4-0):
After a lopsided loss to Abernathy two weeks ago, Wellington was written off by some as they took on heavily favored Stinnett West Texas a week ago. Well the Skyrockets had other ideas as their defense put together a monumental effort in a 28-12 win. Sophomore Marc Ramirez got it done on both sides of the ball for Wellington, rushing for 119 yards and a touchdown, while also chipping in 14 tackles, a sack and an interception.
Panhandle made quite the statement last week as the Panthers blew past previously unbeaten Vega, 49-6. RB Houston Heck ran for 187 yards with a touchdown and he also had a touchdown catch of 13 yards in the big win. The 2A football in both divisions in the Texas panhandle is outstanding and these are two of the best going at it. Panhandle gets the slight nod as a young Wellington team is still looking for consistency and it might be tough for them to put together back to back big efforts against larger schools.
Stepp's Pick: Panhandle by 14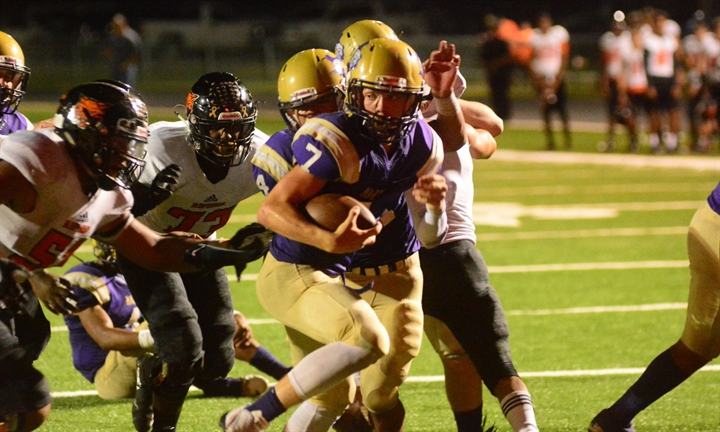 Mart (2-2) at Refugio (4-0):
A year ago, Refugio went into Mart in a rematch of the 2017 2A-Division I state title game and Mart humbled the Bobcats with a big win. That loss was a turning point for Refugio who scrapped its option-based offense and went back to the spread offense with QB Austin Ochoa and Refugio looked like Refugio for the rest of the year. Mart went on to its second-straight state title and dominated in its first year in 2A-Division II. The tables are turned this year as Refugio gets to host this game and are the team with the experience, while a young Mart is still trying to find themselves. Mart after back-to-back losses bounced back in a big way blasting past Riesel, 72-0, as six different Panthers found the endzone led by Roddrell Freeman who tallied four touchdown runs.
Refugio had no trouble last week as it rolled past Hebbronville, 41-0. RB Naaji Gadsden ran for a pair of touchdowns, while Ochoa threw a pair of touchdown passes to lead the Refugio attack. Refugio hasn't forgotten last year's loss and Mart will be going into a very difficult road environment a long way from home. It's a big task for a young team and it'll be interesting to see how they handle things Friday night. Give the edge to Refugio, they are more experienced, more balanced and are at home.
Stepp's Pick: Refugio by 8
Stratford (3-1) vs Hamlin (3-1) at Abernathy:
Talk about a high-powered playoff type game, we've got Stratford and Hamlin hooking up in a neutral site game that was scheduled after both teams lost district opponents who dropped down to the six-man level. Both teams rebounded from Week 3 losses with strong performances last week. Stratford drilled Spearman, 54-0, as Luden Romero ran for 82 yards and a touchdown and also had 105 receiving yards and two touchdowns. I's back-to-back shutouts for the Elks who the week prior knocked off Guymon, OK, 64-0.
Hamlin bounced back from a tough two point loss to Hawley with an easy, 55-7, win over New Home last week. The Pied Piper defense is built to stop the run and they'll key on that Stratford rushing attack this week and Hamlin's offense may have the balance to break the code on Stratford's defense.
Stepp's Pick: Hamlin by 4
Quick Picks
Arlington Lamar (3-0) vs Arlington Martin (2-1)
Stepp's Pick: Arlington Martin by 8
The Woodlands (3-1) at Klein Oak (3-1)
Stepp's Pick: The Woodlands by 6
Austin Vandegrift (4-0, 2-0) vs Cedar Park Vista Ridge (4-0, 2-0)
Stepp's Pick: Austin Vandegrift by 10
El Paso Hanks (3-0) at El Paso Del Valle (1-3)
Stepp's Pick: El Paso Del Valle by 13
Midlothian Heritage (2-2) at Waco La Vega (3-1)
Stepp's Pick: Waco LaVega by 13
Hughes Springs (4-0) at Mount Vernon (4-0)
Stepp's Pick: Mount Vernon by 18
London (2-1) at Hebbronville (2-2)
Stepp's Pick: Hebbronville by 3
Slaton (3-1) at Post (4-0)
Stepp's Pick: Post by 12
Ozona (3-1) at Junction (2-2)
Stepp's Pick: Ozona by 11
Grapeland (3-1) at Evadale (2-1)
Stepp's Pick: Grapeland by 10
This article is available to our Digital Subscribers.
Click "Subscribe Now" to see a list of subscription offers.
Already a Subscriber? Sign In to access this content.