Spring football inches closer on the 2023 calendar as February trickles towards March. The state of Texas is primed for another memorable year at the FBS level with UTSA coming off another C-USA title and TCU becoming the first team from Texas to reach a national championship game since Colt McCoy's Longhorns. There are 13 FBS teams in Texas now with Sam Houston moving up. Houston is now in the Big 12, while UTSA, North Texas, and Rice move to the AAC.
Dave Campbell's Texas Football will look at the 10 best players at each position on the football field continuing with interior defensive linemen.
Past rankings:
1. JAYLON HUTCHINGS, TEXAS TECH
2022 review: 50 tackles, 5.5 TFL, 1.5 sacks, 1 FF, 1 FR
Hutchings was a second-team All-Big 12 selection by PFF for his ability to control the middle of the Texas Tech defense. Much of the attention in Lubbock was paid to future first round pick Tyree Wilson at defensive end, but Hutchings was a physical force who freed up everyone behind him to go make plays. He's not easily moved off his spot and does a great job of shedding defenders to make plays up the middle. Hutchings started in each of Texas Tech's 13 games and is back for his super senior season in Lubbock. He's a Forney product.
2. DAMONIC WILLIAMS, TCU
2022 review: 27 tackles, 4.5 TFL, 1.5 sack, 1 FF
All Williams did as a true freshman was anchor the middle of a defense that went 12-0 in the regular season, knocked off Michigan in the Fiesta Bowl, and became the first team from Texas to play for a national championship in nearly 15 years. Nose tackles in an odd man front rarely build gaudy statisctics that jump off the page, but his job is to keep the linebackers behind him clean by occupying blocks and Williams excelled at that in his first year in college. He'll be a scary sight for Big 12 offenses over the coming years.
3. GABE HALL, BAYLOR
2022 review: 36 tackles, 5.5 TFL, 4.5 sacks, 1 FR
Hall was excellent from his defensive tackle spot in the three-man front utilized by Baylor. He's not quite a nose tackle and he's not a true edge player, but he makes plays from the 4i spot against the run and against the pass. Hall will be the leader of the defensive line with the loss of Siaki Ika. Hall, a 6-6, 296-pounder from Waller, is a physical freak and a tough matchup for any offensive lineman in a 1-on-1 situation.
4. ELIJAH CHATMAN, SMU
2022 review: 39 tackles, 4 sacks, 3 TFL, 1 FR
The Lousiana native is one of the strongest players in the state and should be the anchor once again in the middle of SMU's defense. Chatman started 11 games in 2022 and was second-team All-AAC for his efforts. On top of his defensive efforts, Chatman blocked a kick and returned his lone fumble recovery for a touchdown. Chatman has played in over 40 games in his career and started more than 30 times for the Mustangs. Chatman was a three-star prospect that played both ways for the famed Evangel Christian Academy in Shreveport. Fellow interior defensive lineman DeVere Levelston was also a candidate for this list. The pair should present plenty of problems in the new-look AAC.
5. BYRON MURPHY, TEXAS
2022 review: 26 tackles, 3 TFL, 1 sack
The DeSoto product wasn't given as many opportunities as the other players on this list in 2022 due to Texas' crowded defensive tackle room, but with Keondre Coburn and Moro Ojomo off to the NFL, Murphy is positioned to be the breakout player for the Longhorns defense in 2023. Murphy is explosive, athletic, and powerful. He's not the longest defensive tackle, but he uses leverage well and is a menace against the run and the pass.
2022 review: 32 tackles, 9 TFL, 5.5 sacks
Bradford and Hutchings should form the best defensive tackle duo in Texas, and possibly the entire Big 12. Bradford is a playmaker who lived in opponent's backfields during the 2022 campaign. Like Hutchings, Bradford is returning to Lubbock for his super senior season after starting each of Texas Tech's 13 games in 2022. Bradford was honorable mention All-Big 12 and had the numbers to reach second team status. The Galena Park North Shore graduate has played in over 40 games as a Red Raider and is considered one of the best leaders in the locker room.
2022 review: 32 tackles, 4.5 TFL, 0.5 sacks
The Texas A&M defensive line is undoubtedly talented. Most of the players in the trenches for the Wrecking Crew defense were high four-star or five-star recruits. Turner was no different, and he was the best of the bunch in the middle during the 2022 season. The Aggies need more from him and the likes of Walter Nolen, McKinnley Jackson, and Isaiah Raikes to stop the run and help the edge players create pressure on the quarterback. The Aggies weren't good in either of those categories last season.
8. BRANDON BROWN, UTSA
2022 review: 21 tackles, 6.5 TFL, 1.5 sacks, 1 FF
The strength of the UTSA defense was in the interior of the defense last season, and Brown was a big reason why the Roadrunners had so much success. He played in 14 games, starting seven, as a redshirt freshman back in 2021. He became one of the best players for the Roadrunners as a sophomore. Brown, who played high school ball at Katy Morton Ranch, began his college career at Tulane. Fellow defensive lineman Nick Booker-Brown was also in consideration for this spot, and a strong argument could be made that he's as good, or better, than Brown.
9. T'VONDRE SWEAT, TEXAS
2022 review: 30 tackles, 2.5 TFL, 7 QBH
Moving the big-bodied Sweat off the point of attack is a tough chore for even the strongest interior offensive linemen in college football. The 6-4, 346-pound product of Huntsville should see his role increased in 2023 without Coburn or Ojomo on the depth chart. Sweat and Murphy provide the Longhorns with two defensive tackles that can excel at creating penetration against the run and causing pressure directly in the face of opposing quarterbacks in passing situations.
10. KEENAN STEWART, UTEP
2022 review: 23 tackles, 3.5 TFL, 0.5 sacks, 1 FR
The UTEP defensive line is the strength of the Miners defense and Stewart sets the tone in the middle of the unit. He's a multiple-year starter who provides toughness and leadership out in El Paso. Stewart is a three-time honorable mention All-CUSA member.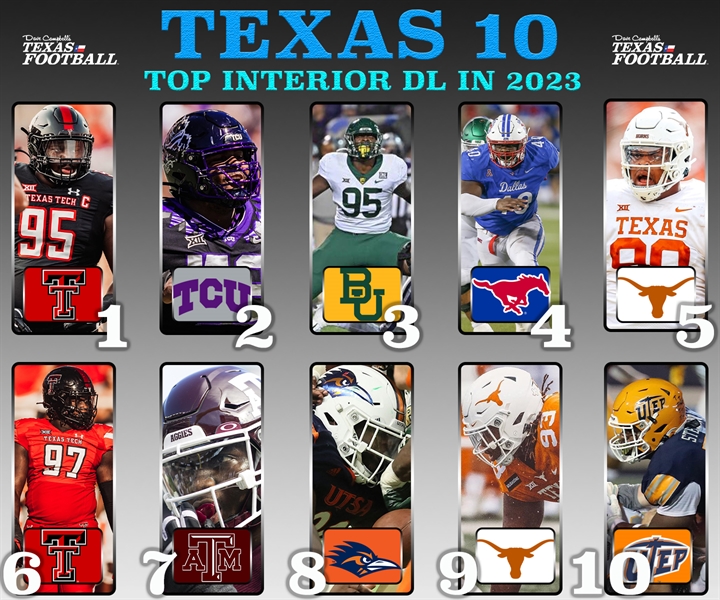 This article is available to our Digital Subscribers.
Click "Subscribe Now" to see a list of subscription offers.
Already a Subscriber? Sign In to access this content.