Fifty days from now, we will officially have real football that counts in the state of Texas. In preparation, we're counting down the 50 most important college football players in Texas.
"Important" is a subjective term, and a difficult one in football. For our purposes, we're looking at a few factors: How much would a team suffer without them? How much production will they be relied to generate? How much will this player raise his team's ceiling? Plus, we throw a little bit of our own judgement into the mix.
Quarterbacks are important anywhere, but there are major spotlights on players in this state. Five different quarterbacks in the state could be first team all-conference. Three should have significant Heisman campaigns.
If you think all the most important players participate in the Power Five – or even the FCS – think again. We have players from every level of the NCAA – FBS, FCS, Division II, Division III – and even a junior college standout.
Here are the 50 most important college football players in Texas heading into 2019.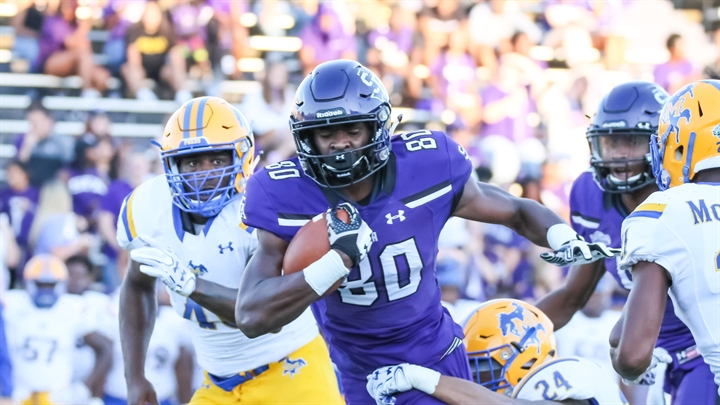 Nos. 50-41
50. Texas Tech LB Jordyn Brooks
Poised to take on a bigger role in Tech's defense after Dakota Allen's graduation.
49. Navarro CC QB Parker McNeil
Highly productive JUCO quarterback who will search for attention in 2019.
48. Rice WR Austin Trammel
Most consistent offensive playmaker on Rice's roster.
47. Stephen F. Austin WR Tamrick Pace
Offensive centerpece of SFA's offense, and Colby Carthel's rebuild.
46. TCU DT Ross Blacklock
Physical beast who's hungry to prove himself healthy after missing 2018.
45. Mary Hardin-Baylor DL Joey Longoria
Disruptive playmaker in the front seven of a national title defense.
44. Tarleton State DB Jai Edwards
Best returning defender on the Lone Star Conference champs will have to shoulder a bigger load.
43. Hardin-Simmons RB Jaquan Hemphill
An All-America candidate before injuries stole much of his 2018 season.
42. Texas A&M S Derrick Tucker
Tucker's improvement will be critical in fixing Texas A&M's pass defense.
41. North Texas WR Rico Bussey
Mason Fine's favorite target will have to work through pressure from top C-USA defenders.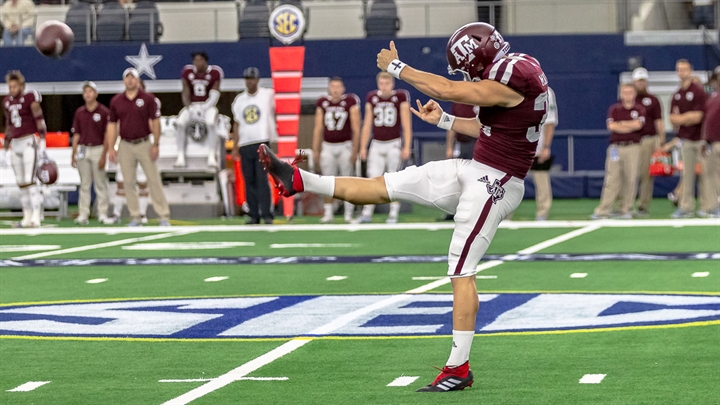 Nos. 40-31
40. Texas Southern WR Tren'Davian Dickson
National-caliber talent has a chance to shine in his second season at TSU.
39. Baylor WR Denzel Mims
Top Baylor playmaker who must have a bounce-back year after Jalen Hurd's graduation.
38. UTEP DT Denzel Chukwukelu
Relentless playmaker is the centerpiece of UTEP's defense.
37. Texas A&M P Braden Mann
Top specialist in the country, bar none.
36. Midwestern State WR Juwan Johnson
Will be relied on to maintain his strong production after losing his QB to the NFL.
35. SMU S Rodney Clemons
Versatile defender showed flashes of brilliance in Kevin Kane's defense.
34. UTSA QB Frank Harris
The last, best hope for Frank Wilson's offense at UTSA is coming off an ACL tear.
33. Houston S Deontay Anderson
Former blue-chip recruit must spur a resurgence on Houston's defense.
32. SMU QB Shane Buechele
Can Buechele replicate his magical freshman year at SMU? If yes, the Mustangs' ceiling rises dramatically.
31. Prairie View A&M QB Jalan Morton
Tasked with being more consistent against the top teams in the SWAC after an encouraging first year.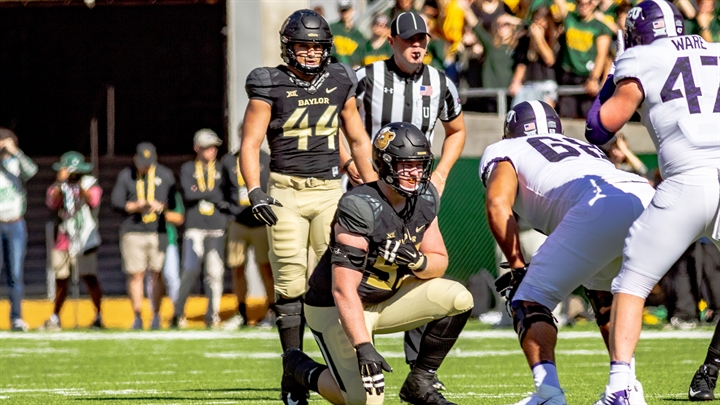 Nos. 30-21
30. Texas Tech CB Adrian Frye
Surprise standout on Texas Tech's defense should take a leadership role in year two.
29. Baylor DT James Lynch
Will slide back inside in 2019, where he must create opportunities for the front seven.
28. TCU CB Jeff Gladney
Top cornerback in the state who can erase the Big 12's best receivers.
27. Sam Houston State WR Nathan Stewart
Three-time 1,000-yard receiver can make an All-America case in 2019 after Davion Davis' graduation.
26. Texas Tech OL Jack Anderson
The centerpiece of Texas Tech's offensive line can become an NFL draft pick with a strong junior campaign.
25. Houston DE Isaiah Chambers
With Ed Oliver gone to the NFL, Chambers must revive a dormant pass rush.
24. Incarnate Word QB Jon Copeland
Led UIW to its first playoff appearance as a freshman – what's next?
23. SMU LB Richard Moore
Athletic playmaker with the instincts to be an all-conference performer in the center of SMU's defense.
22. Abilene Christian LB Jeramiah Chambers
Electric FCS playmaker who will only keep growing, along with ACU's program.
21. North Texas DE LaDarius Hamilton
Lone proven commodity in the North Texas front seven will have to cause havoc.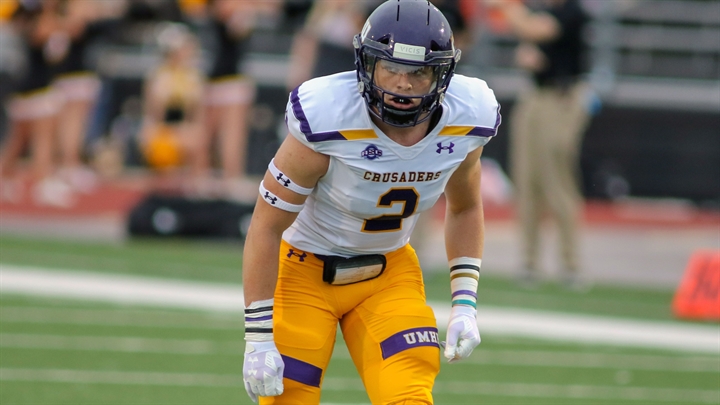 Nos. 20-11
20. Texas A&M-Commerce DB Dominique Ramsey
Arguably the state's top returner earned All-America honors as an all-purpose star.
19. Baylor LB Clay Johnston
All-conference performer at the shallowest position on Baylor's roster.
18. Texas A&M QB Kellen Mond
Mond will have to grow even more against a brutal schedule after losing Trayveon Williams to the NFL.
17. Texas WR Collin Johnson
Will be relied on to push his production after Lil'Jordan Humphrey's graduation.
16. TCU OL Lucas Niang
Centerpiece of TCU's offensive line will have to give a new quarterback plenty of time.
15. Mary Hardin-Baylor DB Jefferson Fritz
Highly disruptive defenseive back who posted 12 interceptions and 7 PBUs in an All-American season.
14. North Texas S Khairi Muhammad
Athletic safety will have to cover major holes left by all the cornerbacks and linebackers graduating.
13. Texas S Brandon Jones
Dynamic safety who makes plays at every level of the defense and will have to mentor other young DBs.
12. TCU LB Garret Wallow
Versatile defender played both safety and linebacker as the Horned Frogs worked through injuries in 2018.
11. Texas State LB Bryan London III
Overwhelming most consistent playmaker on Texas State's defense over the past three years.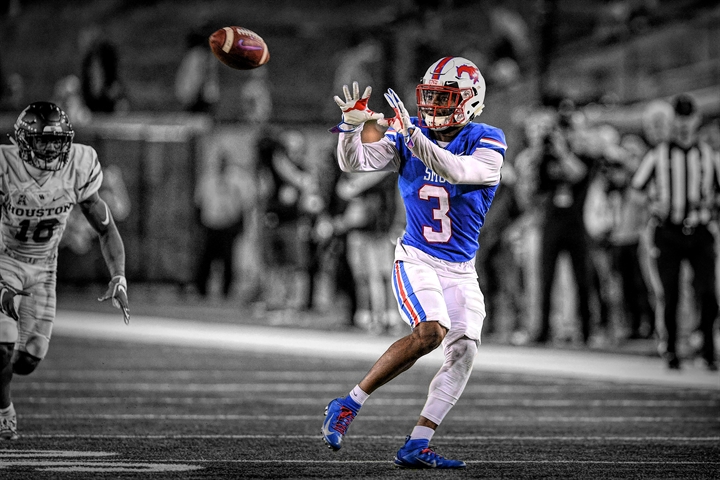 Top Ten
No. 10: Texas A&M DT Justin Madubuike
Stats: 40 tackles, 10.5 TFLs, 5.5 sacks, 3 FFs
Texas A&M's front seven was quietly one of the SEC's best in 2018, but Madubuike is one of the only returners on the unit. With such little returning production, Madubuike has to make the leap from solid contributor to star. He flashed that potential as a rotational piece in Mike Elko's first season, and that will have to continue.
No. 9: TCU QB TBD
Stats: n/a
At this point, the TCU quarterback could be anyone, maybe even you. The competiiton could have as many as six members at this point. Regardless, all eyes will be on the position. Despite having one of the best playmakers in the country, the TCU pass offense barely mustered 200 yards per game. Solid production at this position could key a Big 12 title run. Poor offense could mean fighting for a bowl trip.
No. 8: Texas Tech QB Alan Bowman
Stats: 2,638 yards, 69.4% completion, 17 TDs, 7 INTs
Bowman sure as heck didn't look like a freshman during his first season in Lubbock. In just his second start, Bowman broke the freshman record for passing yards by a Big 12 freshman, a record previously held by Patrick Mahomes – ever heard of him? With a new coaching staff in place and without Antoine Wesley, Bowman has to become a consistently healthy foundational piece.
No. 7: Baylor QB Charlie Brewer
Stats: 3,019 yards, 61.5% completion, 19 TDs, 9 INTs; 375 rushing yards, 7 TDs
Brewer was inconsistent in his first full season as a starting quarterback, but was still undoubtedly excellent. Despite working with a running game and offensive line that struggled to produce, Brewer found ways to keep the offense moving down the field, capped off by a masterful performance in the Texas Bowl. Even more will be on his shoulders in 2019.
No. 6: Texas DB Caden Sterns
Stats: 62 tackles, 8 passes defended, 4 INTs, 3 TFLs
As a freshman, Sterns was already arguably the top safety in the Big 12. He became known for his disruptive plays, but still managed to stay steady in coverage and run defense. With three DBs gone to the NFL, Sterns will have to take an even bigger role in 2019. He's up for the challenge.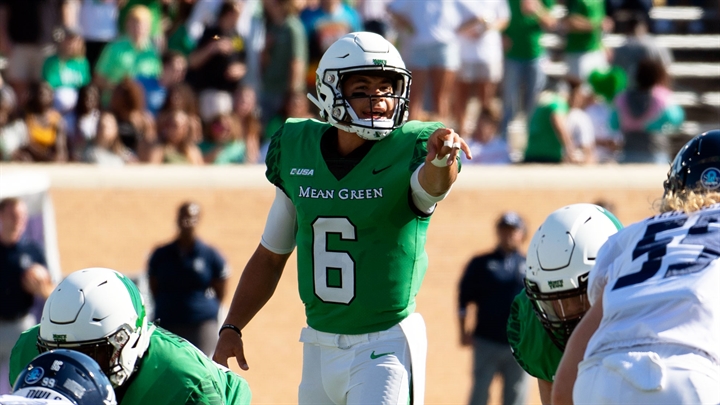 No. 5: SMU WR James Proche
Stats: 93 receptions for 1,199 yards, 12 TDs
Proche took full advantage of Courtland Sutton's departure and became an NFL prospect in his own right. The rising senior lined up both inside and outside for the Mustangs, and helped move along an otherwise inconsistent offense. Proche and quarterback Shane Buechele will be a match made in offensive heaven.
No. 4: Texas QB Sam Ehlinger
Stats: 3,292 yards, 64,7% completion, 25 TDs, 5 INTs; 482 rush yards, 16 TDs
The coverboy of the 2019 Dave Campbell's Texas Football has perhaps the most eyes in the state, and for good reason. There have been seven players in the BCS era to throw for 25 touchdowns and rush for 15. The other six all won the Heisman Trophy. Ehlinger has his work cut out after losing his top receiver and rusher to the NFL. If he can replicate the production and success in 2019, he'll have his shot to be a Heisman finalist.
No. 3: TCU WR Jalen Reagor
Stats: 72 catches for 1,061 yards, 9 TDs; 170 rushing yards, 2 TDs
Reagor's numbers are good, but don't even start to express how important he is to the TCU offense. He caught passes from three different inconsistent quarterbacks, was lined up outside, inside, at running back and in the Wildcat, and still managed to set the TCU record for most consecutive games with a receiving score. In 2019, he'll make an NFL case.
No. 2: Houston QB D'Eriq King
Stats: 2,982 yards, 36 TDs, 6 INTs; 674 rush yards, 6.1 YPC, 14 TDs
Simply put, King is a touchdown machine. Despite missing time with injuries, King posted 50 touchdowns last season. When he went down, the Houston offense went from super elite to just okay. With offensive coordinator Kendal Briles gone to Florida State and two top offensive linemen gone, King's talent will become that much more important.
No. 1: North Texas QB Mason Fine
Stats: 3,793 yards, 64.6% completion, 27 TDs, 5 INTs; 2 rushing TDs
Is this a lifetime achievement award for Fine? Maybe, but it's one that is well deserved. North Texas has gone from bottom-dweller to conference title contender, and Fine is the biggest reason why. He is the first quarterback since the 1970s to win nine games in back-to-back seasons, and has completely rewritten the record books.
This article is available to our Digital Subscribers.
Click "Subscribe Now" to see a list of subscription offers.
Already a Subscriber? Sign In to access this content.