Bo Jackson. Deion Sanders. The Lone Star State's own Kyler Murray. Those are just a few athletes that excelled at multiple sports.
While Anthony Black is not quite on that level just yet, the Coppell High School two-sport star is making a name for himself on both the football field and the basketball court, racking up numerous Division I offers in each sport before he even begins his junior year.
Coppell head football coach Michael DeWitt has watched Black, who was just 15 years old throughout his sophomore season, step up to the challenge time and time again. DeWitt credits Black's hard work as to why he has been – and will continue to be – successful.
"He is a competitor. He likes to compete," DeWitt explained. "He wants to win, and he wants to be great. Great work ethic. It's not easy to play two sports at a high level."
Black possesses strong athletic bloodlines: his mother, Jennifer, played collegiate soccer at Baylor, and his father, Terry, starred on the hardwood in Waco, while averaging 13.4 points, 8.1 rebounds, 3.1 assists and 2.6 steals per game for the Bears while earning all-conference honors.
"My dad gives me tips on how to handle recruiting because he has gone through everything and has done everything that I want to go do," Black said. "My mom tells me to keep all of my options open and to talk to everybody that reaches out because you never know if the coaches will be somewhere else in a couple of years."
Auburn's Bruce Pearl, Baylor's Scott Drew, Texas' Shaka Smart and Texas Tech's Chris Beard have all extended scholarship offers to Black to play basketball, who says playmaking is his best trait on the court.
"I consider myself to be a playmaker," Black said. "I'm a pass-first guy, and I like to get my teammates involved, but if we need to get a bucket, I can go get a bucket. I can get to the basket and can shoot."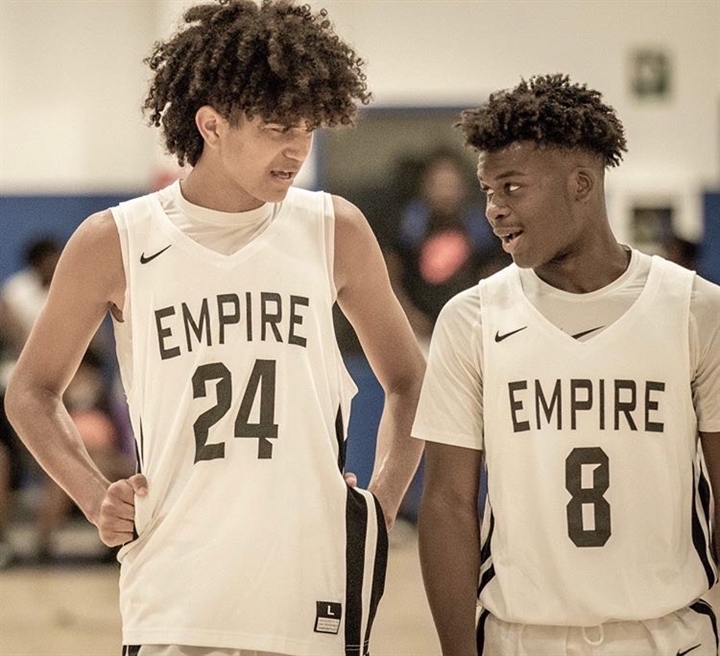 High school basketball evaluator and HoopSeen.com's Garrett Tucker said on Twitter that he thinks that Black is "a potential 5-star prospect" after Auburn extended an offer to the DFW product.
Black enjoys watching how Houston Rockets star Russell Westbrook attacks the basket with a 'dog mentality.' While he believes that he can beat his man and get to the basket, he wants to make defenders pay if they leave him open on the perimeter.
Arkansas, Baylor, Georgia Tech, Houston, Kansas, North Texas and Utah are among the programs that have offered the 6-foot-5, 180-pound Coppell standout to play football for their respective universities. DeWitt says that if Black were featured on Madden, he would have high ratings in hands, catch radius and leaping ability.
"He has a lot of natural ability," DeWitt said. "Height, length, he can jump. The thing that is going to separate himself is maximizing his potential. The sky is the ceiling for him in whatever he chooses."
The Cowboys were forced to play several underclassmen in 2019 and did not have the season that the program has been accustomed to having. Still, Black became a problem for defenses as he grabbed 47 catches for 859 yards and nine touchdowns in District 6-6A, highlighted by a nine-reception, 228-yard, two-touchdown performance against Flower Mound. DeWitt saw Black's confidence grow as the season progressed.
"I always saw potential, but each week you could see him progress throughout the season and develop as a receiver," DeWitt said. "He started to fill out his body and he began to separate himself from kids his age."
The Baylor legacy made play after play for the Cowboys over the course of his sophomore campaign, evidenced by his 18.3 yards-per-catch average. Black describes himself as a deep threat that is too big for corners and too fast for other defenders, but that he wants to "play like a smaller receiver" with quickness.
Black has been working on his route-running this summer in preparation for the upcoming season, even watching YouTube videos of one of the elite wideouts in the National Football League to improve his game.
"I like to watch some of the routes that Odell (Beckham, Jr.) ran, because he runs his routes so well and gets in and out of his breaks. He does all the good stuff. Before the season, I didn't do anything last summer. This summer, I have been working a lot on my routes, trying to perfect my craft."
The Division I prospect explained that while both of his parents were athletes at Baylor, he does not have a school out in front of others. Black also said that basketball was his first love growing up, but that he does not prefer one sport over the other right now. He would obviously love the opportunity to play both football and basketball on the next level.
A multi-sport athlete that Black watched and became a fan of is former Baylor Bears basketball star and Dallas Cowboys tight end Rico Gathers. Gathers became a rebounding machine while playing for the Bears, earning All-American honors in 2015. Afterwards, Gathers tried his hand at football and played three seasons for America's Team.
Juggling multiple sports – Black also runs track – is difficult for anybody to do, much less at a high level. However, seeing Gathers succeed in more than one sport put confidence into Black that he, too, can excel at both if he puts the work in.
"That shows that you can really do both if you work hard and put your mind to it," Black said.
This article is available to our Digital Subscribers.
Click "Subscribe Now" to see a list of subscription offers.
Already a Subscriber? Sign In to access this content.