TCU ready to build off playoff foundation in Fort Worth
Sonny Dykes arrived in Fort Worth with a mission to return TCU to a perennial postseason qualifier that could challenge for a Big 12 title. The Horned Frogs reached 19 bowl games in the last 21 seasons spanning from 1998 to 2018, but the program hadn't played past November in the three seasons preceding Dykes move across DFW from SMU.
Expectations were low for Dykes & Co. The Horned Frogs were picked seventh in the Big 12 and entered the season unranked. They ended the regular season 12-0 and then beat Michigan in the Fiesta Bowl to become the first Texas program to play for a national title since Texas in 2009. Now, expectations are higher, even though TCU ranks 118th in returning production, according to ESPN. That's the thing about smashing the ceiling – it becomes the floor.
"We want to learn from last year and appreciate the experience, but this is a different team," Dykes said. "What we need to be mindful about is not saying we're moving on while always bringing it back up. We need to let it go and start anew."
TCU lost its quarterback, top rusher, best receiver, and an early round NFL draft pick from the interior of the offensive line. Offensive coordinator Garrett Riley also left. Only 33 percent of the 2022 offensive production returns, which ranks second lowest in the 131-team FBS. The defense is better off with 71 percent returning, but Joe Gillespie's unit must replace Thorpe Award winner Tre'Vius Hodges-Tomlinson, leading sacker Dylan Horton, and a mainstay at linebacker in Dee Winters.
"This is a different team," Dykes said. "We have new assistants, we have new players, and even most of the familiar faces are in new roles this season. You must start over and recreate it every single year."
The transfer portal might be a new idea to some coaches around the Big 12, but not to Dykes. He brought Nick Foles to Arizona back in his offensive coordinator days. Helping former DFW high school standouts return home as transfers for a second shot at college football glory is exactly how he helped rival SMU rejuvenate the program and achieve a 10-win season for the first time since the Death Penalty.
The Horned Frogs signed a top 20 transfer class that included former local standouts who signed with Alabama, such as wide receiver JoJo Earle and offensive lineman Tommy Brockermeyer. Six of the 11 transfers added by the end of April previously played football in the SEC, and nine of the 11 played Power Five football at their previous stops. The two that weren't – defensive lineman Rick D'Abreu (East Carolina) and offensive lineman Willis Patrick (Jackson State) – were all-conference performers.
Those transfers were signed to supplement the returning talent. Eight defensive starters are back, including leading tackler Johnny Hodges. The former Navy transfer was a second-team All-Big 12 selection who arrived at TCU – for the first time in his life – 364 days before playing in a national championship game. He's grateful but not satisfied with 2022, a feeling that he says exists throughout the locker room and amongst the whole squad.
"We all still have chips on our shoulders because we don't feel like we showed our best in the final game of the year," he said. "We went from a nobody to a somebody. The best way to attack it is to bring it to every workout, practice, meeting. Do it all at a very high level because we're the target."
DCTF'S TAKE
Sonny Dykes & Co. raised expectations in Fort Worth by reaching the national championship game in Year 1 at TCU. Living up to those expectations becomes a fresh challenge for a new-look starting lineup. The Horned Frogs want to be perennial contenders in the Big 12, and their ability to replace star players with recruits and transfers will be put to quick test. The same test that rival Baylor failed in 2022. If Chandler Morris can duplicate Max Duggan's output, watch out.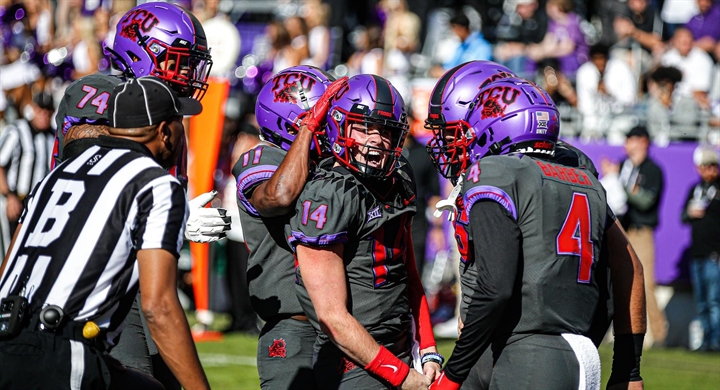 OFFENSIVE BREAKDOWN
The personnel may be almost unrecognizable, but Frogs hope production is more of the same
TCU fans should expect a new-look offensive unit in 2023 thanks to a mass exodus of veteran players from a squad that reached the national championship game. Quarterback Max Duggan, running back Kendre Miller, and wide receiver Quentin Johnston are no longer in Fort Worth, and neither are offensive linemen Steve Avila and Alan Ali.
Same for offensive coordinator Garrett Riley, who took the same gig at Clemson following the season. Head coach Sonny Dykes brought in former Arkansas offensive coordinator Kendal Briles to take over play-calling duty. Briles brings in new terminology and a fresh starting point for passing concepts, but don't expect too much visible change for the naked eye.
"I'm not sure people will notice any difference," Dykes said about the offensive scheme. "Quite a bit different in terms of where the starting point is in the passing game. Garrett used more of a true Air Raid passing game. Kendal begins at a different place, but there is some overlap."
The Chandler Morris era is expected to officially begin in 2023. The sophomore from Highland Park began his career at Oklahoma before transferring to TCU. He earned the job heading into 2022, but a first-half injury against Colorado allowed Duggan to return to the starting lineup and eventually end up in New York as the Heisman Trophy runner-up. Josh Hoover provides depth and competition at the spot.
"Chandler earned the spot last year, but he learned a lot sitting behind Max and watching that run," Dykes said. "We talk to him about being patient. Don't get bored doing the easy stuff. Don't try to score a touchdown on every play. He loves big plays and has that mentality."
TCU brought in multiple transfers to help replenish the ranks at running back and wide receiver. The Horned Frogs lost 67 percent of their offensive production from last season, which ranks 130th out of 131 programs returning to the FBS level. Two Alabama transfers – running back Trey Sanders and wide receiver JoJo Earle – should be Week 1 starters. Emani Bailey and Trent Battle also return to the running back room.
Savion Williams is expected to take over on the outside for Johnston. Oklahoma State transfer John Paul Richardson excelled during spring practices. Jaylon Robinson and Jack Bech were also added to the wide receiver room. Jared Wiley is back to start at tight end.
Both offensive tackles return in Brandon Coleman and Andrew Coker. John Lanz and Garrett Hayes return as inexperienced interior players. TCU added Willis Patrick from Jackson State, and the hope is that he can start at center.
OFFENSIVE MVP
QB Chandler Morris: Fans witnessed Morris' potential firsthand during an upset win over Baylor in 2021. He's the man in Fort Worth after two seasons serving as the primary backup to Max Duggan.
KEEP AN EYE ON
Talent won't be an issue on the offensive side of the ball given the quality of transfers and recruits the Horned Frogs had waiting in the wings after last year. But cohesion could be an issue, especially with a new offensive coordinator. TCU only returns 33 percent of its offensive production, and most of that is at tight end or with the reserves at wide receiver and running back. Getting the new faces on the same page is the challenge.
OFFENSIVE DEPTH CHART
DEFENSIVE BREAKDOWN
Experience, depth and playmakers: Frogs' D has it all to make a sizable leap in 2023
The TCU defense returns 71 percent of its production from 2022, which ranks 40th in the FBS. Former Stephenville head coach Joe Gillespie was hired away from Tulsa to switch the Horned Frogs from their famed 4-2-5 to an odd-man front.
The result was a defensive unit that allowed nearly six points and one-and-a-half fewer yards per carry in 2022 than in 2021. The group should be even better in Year 2 under his tutelage, despite losing stars such as Tre'Vius Hodges-Tomlinson, Dee Winters, and Dylan Horton.
"We're a deeper unit at every defensive position this year compared to last," head coach Sonny Dykes said. "We were short on numbers most of last year at linebacker and cornerback. We feel better about both rooms. Safety should be a real strength for us."
The bodies are bigger along the defensive line, and that was the goal during the switch to a three-man front. California native Damonic Williams took over at nose tackle as a true freshman last season, playing half the year as a 17-year-old. He'll be flanked by Caleb Fox and Tymon Mitchell, which allows the Horned Frogs to field three, 300-pound defensive linemen in the same formation. Redshirt freshmen Michael Ibukun-Okeyode and Paul Oyewale are expected to replace the production off the edge. True freshman Avion Carter was the jewel of the 2023 recruiting cycle.
The linebacker unit returns two all-conference nominees in Johnny Hodges and Jamoi Hodge, combining for 169 tackles last season. Namdi Obiazor, a former JUCO transfer who started twice last season, made the move from safety to linebacker in the spring. Other options include Shadrach Banks, Terrence Cooks Jr., and Marcel Brooks. Freshman Jonathan Bax could be an instant contributor at linebacker, as well.
TCU might be even better and deeper in the secondary, despite losing the 2022 Thorpe Award winner with Hodges-Tomlinson to the NFL. That starts with cornerback Josh Newton, who might've quietly been the best defensive back in Texas last season. Florida transfer Avery Helm, a Texas native, is expected to start opposite of Newton.
Safety is the best position unit on the team, and all three starters return. Bud Clark is back to play the nickel spot, and Abe Camara returns to offer depth and competition at the spot. Mark Perry and Millard Bradford return at the two deep safety positions. Chace Biddle, now a sophomore, could push for some time.
"Safeties used to be guys who were faster linebackers," Dykes said. "Now, they need to be able to run like corners and tackle like linebackers. There are not many guys who can check all the boxes for that position."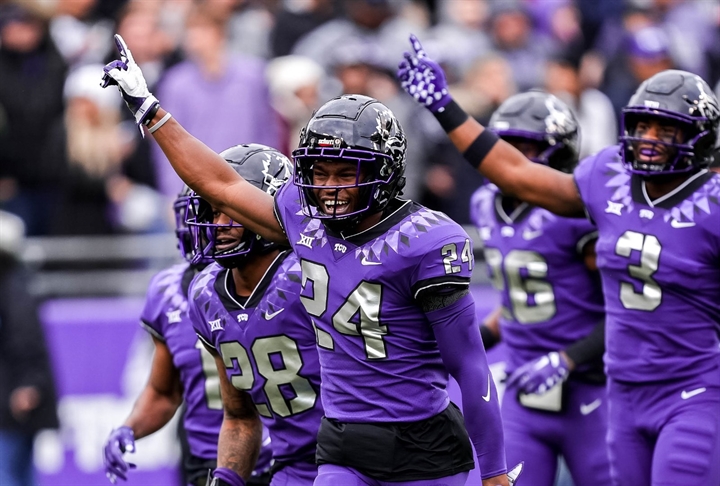 DEFENSIVE MVP
CB Josh Newton: Newton was a first-team All-Big 12 selection last season, and the former Louisiana-Monroe transfer is a leading candidate for the Thorpe Award in 2023.
KEEP AN EYE ON
The TCU offense carried the defense through trying times in multiple games last season. The Horned Frogs won five different contests in which the defense allowed over 30 points, including a 51-45 win over Michigan in the Fiesta Bowl. With so many new faces on offense, including at coordinator, Joe Gillespie's defense needs to be more consistent in 2023. The unit allowed at least 28 points in nine of the 15 games and only held Big 12 opponents under 20 twice on the season.
DEFENSIVE DEPTH CHART
PLAYER SPOTLIGHT: JOHNNY HODGES
Johnny Hodges left Navy a broken young man. Even his parents noticed a change in the Maryland native after two seasons spent at the service academy, so they made him jump into the transfer portal.
Two months went by without much interest despite Johnny's dad, a salesman by trade, email bombing any coaching staff he could Google.
"I was in a dark place mentally when I was leaving Navy," Hodges said. "I was getting treated like dirt and it took away my love for the game. I was down to 215 pounds and had dark circles around my eyes."
Hodges was used to being overlooked. He was a late arrival to puberty, growing four inches and adding 20 pounds of muscle to his frame between his junior and senior year. A former lacrosse player, Hodges held firm to his Navy commitment despite football offers from Rice and Army. He made it onto the field as a freshman in 2020, and then started seven games in 2021 before a falling out with the coaching staff put him on the sidelines.
"I enjoyed my time there," Hodges said of Navy. "I made great friends. I had battled through some demons and had some trials and tribulations, but it made me who I am today. I'm grateful I went through it."
Not many colleges reached out to Hodges in the portal. Northwestern liked his tape but not his transcript. One day as he was at a friend's house about to celebrate finishing a semester at Navy, his phone rang. The voice on the other end of the line was TCU defensive coordinator Joe Gillespie. Hodges' two best games in 2021 were against Tulsa, where Gillespie was the defensive coordinator that year, and against SMU, where TCU head coach Sonny Dykes was in 2021.
"When I found out TCU was offering me, I knew I was headed to Texas," Hodges said. "I had nowhere else to go."
A snowstorm in Maryland almost forced Hodges to miss his reporting date in 2021. He drove 21 hours to Fort Worth, arriving on Jan. 10. He'd become a second-team All-Big 12 linebacker as he led TCU in tackles, and to the national championship game. The date of the game against Georgia was Jan. 9. A one-year glow up that Hodges said only him and his parents could believe.
"Even some of my friends doubted me," Hodges said. "After the season there were days that I'd just break down because I couldn't believe how far I've come and what my life is like today."
2023 AT A GLANCE
TCU figures to remain in the national spotlight a year after reaching the national title game thanks to an intriguing schedule. The Horned Frogs host Colorado and head coach Deion Sanders in Week 1. They also play Houston in the Cougars' Big 12 debut. The last five games of the slate are brutal, however, as TCU faces Kansas State, Texas Tech, Texas, Baylor, and Oklahoma to close out the regular season.
PREDICTIONS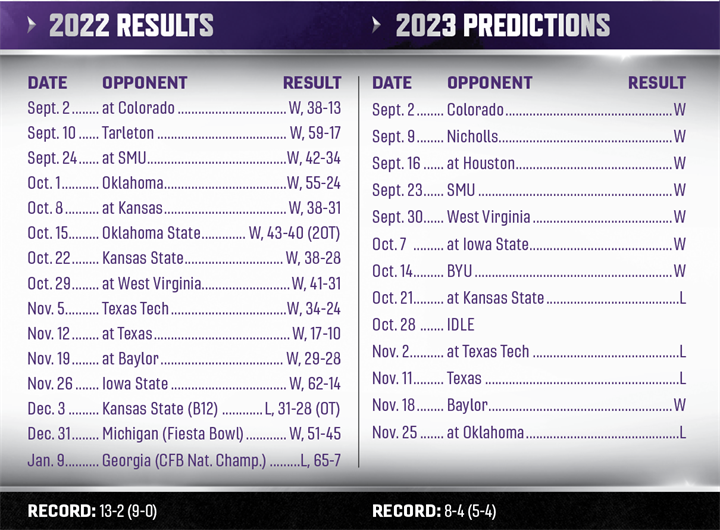 RECRUITING BREAKDOWN
The Expert's Take with DCTF Recruiting Analyst Greg Powers
TCU's appearance in the national title game has provided a big recruiting boost, and the Horned Frogs are poised to continue taking advantage of this momentum. TCU's recent success on the football field has been due in no small part to the coaching staff's savvy approach to recruiting. Head coach Sonny Dykes and his staff have become experts at blending top-level talent from the Transfer Portal with high school signings, and this approach has paid dividends.
3 KEY ADDITIONS:
WR JP Richardson
The Missouri City product comes to Fort Worth after a stint in Stillwater where he had over 500 yards as a sophomore. With the Frogs losing key skill talent, the added depth could make the wideout unit more effective in numbers.
WR JoJo Earle
With his speed and open-field playmaking ability, Earle is a threat to break a big play every time he touches the ball. TCU's need for talented wide receivers makes Earle an even more valuable addition to the team.
WR Cordale Russell
Russell's signing could not come at a more opportune time as the offense will need a big playmaker to step in and fill the shoes of Quentin Johnston. The DCTF four-star is exactly that type of player. Big, strong, and ready to play.
UNDER THE RADAR
DB Randon Fontenette
As a former quarterback, Fontenette's football IQ sets him apart as a safety prospect. He moves very well for his size, showcasing good top-end speed, agility, acceleration, and directional changes. With his long strides, he can cover a lot of ground in deep coverage and sideline to sideline.
WR John Paul Richardson
Richardson's arrival should boost TCU's receiving corps. He's battle-tested with impressive production and experience against Big 12 opponents. If he continues to build on his success at Oklahoma State, he can become one of the top receivers in the conference.
2023 TCU RECRUITING
High school/Junior college (247Sports Rank: 234d)
Player Pos. Ht. Wt. Previous school
Jordyn Bailey WR 5'9 160 Denton Ryan
Jonathan Bax DL 6'2 230 Edna Karr (La.)
Channing Canada DB 6'0 185 Trinity Valley C.C.
Max Carroll LB 6'3 205 Briarcrest Christian (Tenn.)
Avion Carter DL 6'4 260 Amarillo Tascosa
Zachary Chapman DL 6'5 250 Fort Bend Marshall
Cameron Cook RB 5'10 180 Round Rock Stony Point
Markis Deal DL 6'4 290 Naaman Forest
Rohan Fluellen DB 6'0 170 Gilmer
Randon Fontenette DB 6'1.5 190 Brazosport
Vernon Glover Jr. DB 5'11 170 Dickinson
Keviyan Huddleston DL 6'4 235 Tyler Chapel Hill
Jamel Johnson DB 6'1 185 Arlington Seguin
Lafayette Kaiuway TE 6'5 245 Arlington Sam Houston
Jordan Lester DB 6'2 180 Mesquite Horn
Cooper Powers OL 6'5 280 De La Salle (Cali.)
Brione Ramsey-Brooks OL 6'4 380 South Oak Cliff
Cordale Russell WR 6'2 200 North Mesquite
Kylan Salter LB 6'1 210 Cedar Hill
Narado Stoker OL 6'5 310 South Oak Cliff
Mason White DB 6'0 180 Mt. San Antonio College (Cali.)
Benjamin Whitfield OL 6'5 270 Duncanville
Javeon Wilcox DB 6'0 185 Lake Belton
Transfers (247Sports Rank: 18th)
Player Pos. Ht. Wt. Previous school
Jack Bech TE 6'2 215 LSU
Tommy Brockermeyer OL 6'5 290 Alabama
Tico Brown DL 6'1 286 Missouri State
Rick D'Abreu DL 6'2 270 East Carolina
Coltin Deery OL 6'3 275 Maryland
JoJo Earle WR 5'9.5 170 Alabama
Avery Helm DB 6'2 170 Florida
Willis Patrick OL 6'3 285 Jackson State
John Paul Richardson WR 6'0 180 Oklahoma State
Jaylon Robinson WR 5'10 170 Ole Miss
Trey Sanders RB 6'0 215 Alabama
Dylan Wright WR 6'4 215 Texas A&M
Five Key Losses
Player Pos.
Max Duggan QB
Kendre Miller RB
Quentin Johnston WR
Steve Avila OL
Tre'Vius Hodges-Tomlinson DB
This article is available to our Digital Subscribers.
Click "Subscribe Now" to see a list of subscription offers.
Already a Subscriber? Sign In to access this content.