The college football season in Texas starts a week earlier than normal with a Week 0 matchup between North Texas and UTEP. To celebrate us making it through another off-season, we're counting down the 50 most important players in Texas every day until Aug. 27. The list isn't necessarily about which players are the best, though talent plays a major factor in most important.
No. 24: Manase Mose, North Texas senior offensive lineman
The History
Mose was an underrated two-star recruit out of Euless Trinity in the 2017 cycle who chose the Mean Green over offers from Army, Navy, and Tennessee State. He was an honorable mention all-state guard during his prep career, and even made the preseason All-State team for Dave Campbell's Texas Football prior to the 2016 season. Mose took a redshirt as a freshman at North Texas in 2017.
Mose entered the starting lineup as a right guard in 2018 and was named to Conference USA's All-Freshman team, as well as all-conference honorable mention. He started 12 games at right guard again in 2019 for a team that went 4-8. Mose was again a bright spot during a four-win season during the pandemic-altered 2020 campaign.
He started all 10 games at center. Mose started 13 games in 2021 – 12 at center and one at right guard – during a six-win 2021. He was a second-team All-CUSA selection after anchoring one of the best run-blocking offensive lines in college football.
The Skillset
The 6-1, 292-pound Mose is a tough, physical football player who rarely loses a leverage battle. He's one of the most experienced players in the state with 48 straight starts heading into 2022. Availability is an ability, and Mose has proven to be a durable player for the Mean Green at a physically demanding position. He moved to center seamlessly and gives North Texas versatility up front in case of injury. Mose has seen it all, and that skillset will help whichever quarterback wins the job.
The Impact
North Texas ran for 32 touchdowns in 2021 – the second-most in school history – and 4.8 yards a carry. The offensive line only allowed 15 sacks in 13 games. Mose deserves credit for the success on the ground and for putting his unit in the best position to protect the Mean Green quarterbacks. He'll be vitally important again in 2022 with North Texas losing star running back DeAndre Torrey and welcoming in three new transfer quarterbacks – including Grant Gunnell – to compete with Austin Aune and Jace Rudder. Mose provides an experienced face at the center spot and is the leader on offense.
PREVIOUSLY ON THE LONE STAR 50 COUNTDOWN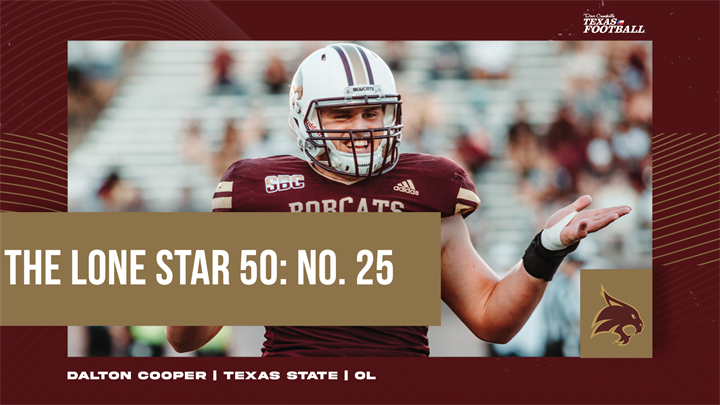 This article is available to our Digital Subscribers.
Click "Subscribe Now" to see a list of subscription offers.
Already a Subscriber? Sign In to access this content.