Texas football really, truly might be back. The Longhorns jumped from seven to 10 wins in Tom Herman's second season, and won the first New Year's Six bowl since 2009.
With more success comes new expectations for the Longhorns. Now, Texas will start top 10 in next season's preseason AP Top 25. The Longhorns will likely be a trendy pick for the Big 12 championship. But perhaps more importantly, the expectations have changed on the 40 Acres.
Here's our full postmortem and review of the 2018 Texas Longhorns football season.
Full list of recaps: UTEP Miners || Rice Owls || Texas State Bobcats || UTSA Roadrunners || SMU Mustangs || Houston Cougars || North Texas Mean Green || Texas Tech Red Raiders || Baylor Bears || TCU Horned Frogs || Texas A&M Aggies || Texas Longhorns ||
Texas Longhorns Season Recap
Final record: 10-4, 7-2 Big 12
Head coach: Tom Herman (39-14, 17-10 at Texas)
Coordinators: OC Tim Beck, DC Todd Orlando
Offensive MVP: QB Sam Ehlinger
Wide receiver Lil'Jordan Humphrey had a heck of a case for this recognition, but Ehlinger took his game to another level this season. The sophomore quarterback threw 25 touchdowns with only five interceptions, and became the first Texas quarterback since Colt McCoy to throw for 3,000 yards. Additionally, he made strides in the short-yardage game, and rushed for 16 scores. The offense is built around Ehlinger's skill set, and he stepped up in a big way.
Defensive MVP: DE Charles Omenihu
Texas was strong across the board defensively, but Omenihu was the gamebreaker who made it all go in the front seven. Omenihu led the team with 18 tackles for loss, 9.5 sacks and five quarterback hurries. No other defensive lineman posted even three sacks for the Longhorns. Omenihu helped open the game up for linebackers Gary Johnson and Anthony Wheeler to work, and that helped a young secondary develop.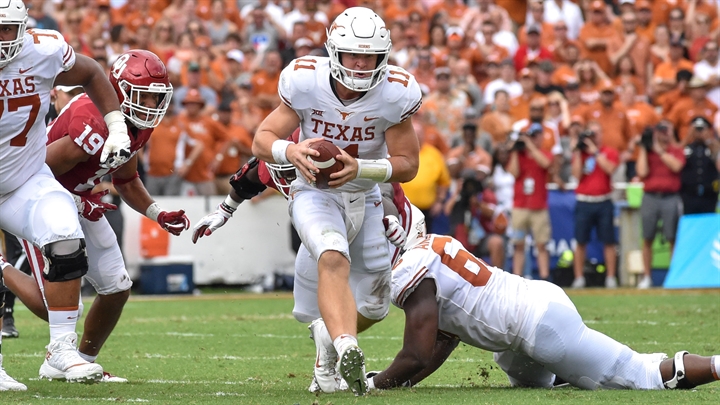 Biggest surprise: Sam Ehlinger's accuracy
We knew Sam Ehlinger was a gamer heading into the year, but his stats were not impressive as a true freshman. Ehlinger completed 57.5 percent of his passes and threw seven interceptions. Several of them were backbreaking.
As a sophomore, Ehlinger quickly became one of the best decision-makers in the country. Ehlinger set the Big 12 record with 308 consecutive passes without an interception. That shattered Geno Smith's record of 273. Ehlinger finished the year with just five picks in 14 starts, compared to seven picks in seven starts as a freshman.
That ability was always within Ehlinger. We saw him do it at Austin Westlake in high school. However, going from inaccurate and mistake-prone to elite levels of decision making in one offseason is tremendous.
Best moment: Sweet as Sugar
There was optimism about Texas' season regardless. The Longhorns won nine games, seemed to be heading in the right direction. But on New Years Day, the Texas timeline moved up dramatically.
The Longhorns faced off against Georgia, a program that was just a few minutes away from heading to the College Football Playoff before losing to Alabama. The Bulldogs were heavy favorites heading in after appearing in the SEC title game for the second year in a row.
Texas was ready. The Longhorns took a 10-0 lead in the first quarter, and pushed the lead out to 20-7 at the half. Ehlinger added a run and two-point conversion to take a dominant 28-7 lead early in the fourth quarter. Georgia scored two touchdowns to make it respectable, but Texas dominated this game. It was a clear sign to the world that Texas is ready to compete at the highest level once again.
Worst moment: Losing to Maryland – again
There were plenty of expectations coming into the year for Texas. It took one game for them to come crashing down.
Maryland went up 24-7 in the first 22 minutes of the game. Texas fought back with 22 unanswered points of its own through the third quarter, but Maryland responded with 10 straight points to win 34-29. This Maryland team was a combined 2-0 against Texas over the past two seasons, but 7-15 against everyone else.
But in a funny way, the lessened expectations paid off. A hungrier Texas team bounced back with wins over USC, TCU and Oklahoma in the next several weeks. But if Texas wants to legitimately compete for the College Football Playoff, slipups like this can't happen.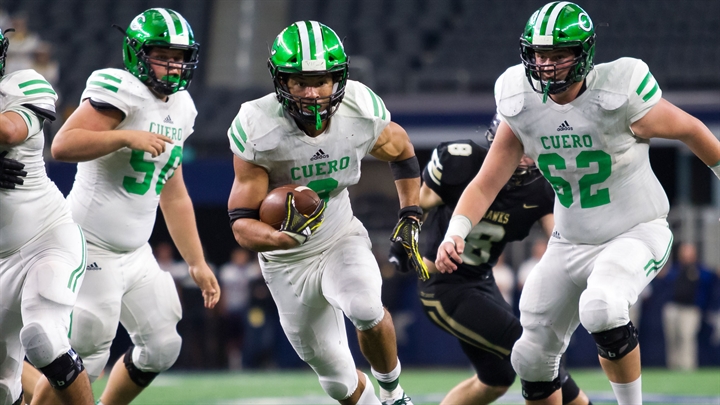 Biggest offseason question: How quickly can the new recruits get up to speed?
It's easy to fall into the trap of thinking Texas was young last year. In some cases, that's true. Ehlinger is a sophomore, Herman is only entering his third year at Texas and All-Big 12 safety Caden Sterns was just a freshman. Other than that, there was plenty of attrition.
In fact, the Longhorns rank dead last nationally in returning production among Power Five teams, per SB Nation. Just 48 percent of the overall production on both sides is coming back after losing key playmakers like Omenihu, Humphrey and linebacker Gary Johnson.
However, the recruiting over the last few years has been phenomenal. Both the 2018 and 2019 classes ranked No. 3 nationally in the composite ratings. Eleven of the top 100 players in the state are headed to Texas. There's a tremendous amount of talent in Austin. Will it be ready to play at the highest level in 2019?
Final evaluation
When Texas hired Tom Herman from Houston, the expectations was that he would be the coach to lead the Longhorns back to prominence. This is a coach who orchestrated a championship offense at Ohio State. He led the Cougars to playoff contention. Herman even brought a five-star to Houston.
The 2017 season was a shaky start. But after the 2018 season, things are clearly heading in the right direction in Austin.
The Longhorns won 10 games for the first time since Colt McCoy graduated, and played in the Big 21 championship game. Next season, the Longhorns should be among the leading contenders for the title. In fact, some services have already projected the Longhorns as a top five team.
Texas appears to be back after 2018. Coming in with playoff expectations will prove whether the Longhorns are really ready to compete.
Overall grade: A