Rice football stepped back to square one in 2018. The Owls brought in head coach Mike Bloomgren from Stanford, but still struggled.
The Owls won their first and last games of the year. The middle was a little more complicated. There were encouraging performances against Power Five and AAC opponents, but the conference slate was unimpressive. Bloomgren has his work cut out to build the roster in his image.
Here's our full postmortem and review of the 2018 Rice Owls football season.
Full list of recaps: UTEP Miners || Rice Owls || Texas State Bobcats || UTSA Roadrunners || SMU Mustangs || Houston Cougars ||
Rice Owls Season Recap
Final record: 2-11, 1-7 Conference-USA
Head coach: Mike Bloomgren (2-11 all at Rice)
Coordinators: OC Jerry Mack, DC Brian Smith
Offensive MVP: RB Austin Walter
Rice didn't have much consistent offensive production, but Bloomgren used Walter all over the field. The senior led the team with 564 rushing yards on 4.2 yards a carry. He also finished No. 4 with 44 catches for 525 receiving yards. Especially with the revolving door at quarterback, Walter's production was essential.
Defensive MVP: DT Zach Abercrumbia
Abercrumbia has announced that he's leaving the program as a graduate transfer, and it's easy to see why he's so sought after. The defensive lineman finished third on the team with 55 tackles and second on the team with 4.5 tackles for loss. He did it from the defensive tackle position, despite not having strong pass rushers around him to help ease the pressure.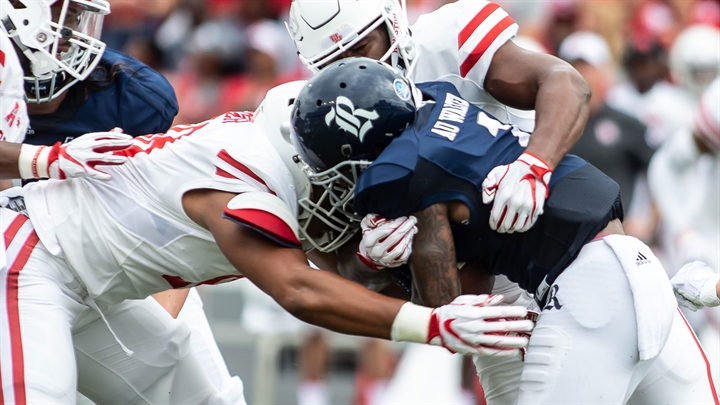 Biggest surprise: Immediate competitiveness
Bloomgren took over a major rebuilding project, but you wouldn't know that watching the Owls early in the season. Rice played a crazy hard schedule to open the season. After Prairie View A&M, the Owls hosted Houston, went to Hawaii, to Southern Miss and to Wake Forest.
After the FCS opener, every game was almost a guaranteed blowout. Just the trip to Hawaii alone is one that can demoralize teams. But while the Owls lost every one of those games, the team showed some impressive signs.
Rice averaged 26.6 points per game in the first five games of the year. None of the losses were by more than three touchdowns, which is pretty impressive for an objectively shallow roster. The Owls had a 100-yard rusher in three of those games. The output didn't last, but it helped set the expectation that Rice was willing to compete with anyone.
Best moment: Otoviano's big day
Especially after playing a longer-than-usual schedule and getting killed by LSU, RIce needed something to help build some positive momentum. Enter freshman running back Juma Otoviano.
Otoviano got some early run against UNT and LSU, and looked pretty good. But against Old Dominion, Otoviano exploded for one of the best games in program history. The true freshman carries for ball 27 times for 224 yards and two touchdowns in an unexpected win.
Otoviano was a monstrous player at Arlington Martin. He rushed for 1,481 yards and 24 touchdowns as a junior, and then was moved to quarterback so he could compile 1,700 total yards and 28 total touchdowns as a senior. The Owls needed a star to step up, and Otoviano finally showed a spark.
Worst moment: Losing to UTSA
Rice showed some signs early in the year. The Owls beat Prairie View A&M and competed with Houston, Hawaii, Southern Miss and Wake Forest. However, their Oct. 6 matchup with UTSA at home was the first sign that the team was in trouble against C-USA competition.
UTSA threw for just 43 yards on 22 pass attempts, but still beat the Owls 20-3 in dominant fashion. The Roadrunners needed just 178 total offensive yards to win this game easily. Oh, and by the way, that was UTSA's final win of the season. The Roadrunners averaged 8.5 points per game in the second half of the year.
This devastating performance led to a period of inconsistency for Rice. The Owls lost 42-0 to Rice a week later, and didn't play another game within one score for a month.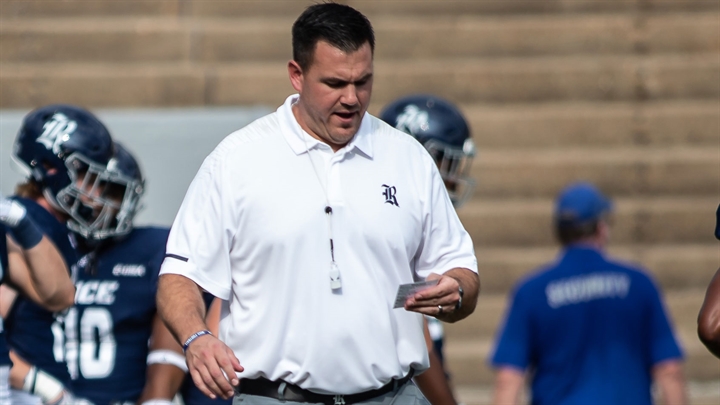 Biggest offseason question: Can Mike Bloomgren institute his culture?
Rice hired Bloomgren away from Stanford for a reason. The Owls deal with many of the same disadvantages as the Cardinal, and having a coach that understands how to maneuver through it all is a major boost.
There was perhaps no more important legacy Jim Harbaugh left at Stanford than a culture of physicality. Even while playing in the finesse Pac-12, Stanford's teams were notorious for physically demolishing its opponents. Bloomgren undoubtedly wants to do the same at Rice.
Even after a 2-11 season, Bloomgren's team showed strides. The Owls played physical games against UTEP, Wake Forest, Hawaii, Houston and Louisiana Tech. However, the effort will have to be more consistent. That starts in the offseason, and it starts with culture. A culture of physicality and tenacity will be essential for Rice's improvement.
Final evaluation
When David Bailiff left Rice, much of the roster left with him. Offensive tackle Calvin Anderson left for Texas, leading passer Miklo Smalls headed to Last Chance U and defensive back J.T. Ibe played at South Carolina. Bloomgren added some late transfers during the offseason, but the roster was in trouble from the start. Injuries didn't help.
Things won't get much easier in the next few months. Running back Emmanuel Esukpa is pursuing a graduate transfer. Defensive MVP Zach Abercrumbia is leaving too. That doesn't even count that several of the top playmakers on both ends are simply leaving due to expiring eligibility.
Bloomgren was always brought in to undergo a multiple year rebuilding process, and nothing has changed. Twenty-two players signed in Bloomgren's first recruiting class, and 16 players have signed this year. As Bloomgren continues to build a roster in his image, the team will improve.
That said, results won't come on the football field quickly. This is a young and rebuilding team. For now, the Owls will have to be content with improvement.
Overall grade: C-
This article is available to our Digital Subscribers.
Click "Subscribe Now" to see a list of subscription offers.
Already a Subscriber? Sign In to access this content.