Texas State's 2018 season was marked by missed opportunities. At the end of a 3-9 campaign, the Bobcats fired head coach Everett Withers and opted to head in a new direction.
Four of the Bobcats' nine losses were within a touchdown. Two others were within two scores. The only blowouts came against Power Five opponent Rutgers, App State and Arkansas State. This team isn't as far away as it seemed.
Here's our full postmortem and review of the 2018 Texas State Bobcats football season.
Full list of recaps: UTEP Miners || Rice Owls || Texas State Bobcats || UTSA Roadrunners || SMU Mustangs || Houston Cougars ||
Texas State Bobcats Season Recap
Final record: 3-9, 1-7 Sun Belt
Head coach: Everett Withers (32-41, 7-28 at Texas State)
Coordinators: OC Zak Kuhr, DC Chris Woods
Offensive MVP: TE Keenen Brown
If Texas State did something good on offense, it was probably because of Keenen Brown. The Bobcats used the Oklahoma State transfer as a blocker, receiver, in the jet sweet and in the Wildcat. Pro Football Focus rated Brown the best tight end in America, and it's easy to see why.
Defensive MVP: LB Bryan London
The defense took a big step forward under defensive coordinator Chris Woods, but a usual suspect helped lead it. Bryan London had another 100-tackle season for the Bobcats in 2018, and added six passes defended. London now has 342 total tackles in three years as a Bobcat, and can add to his total with a strong senior year.
Biggest surprise: Withers' sudden firing
It wasn't a huge surprise that Texas State wanted more. The Bobcats fell from 7-5 in Dennis Franchione's penultimate season to just 7-28 during the Everett Withers era. Withers sold building a foundation on rock instead of just leaning on JUCO recruits and transfers, but his message went cold.
Despite leading a complete rebuild, Teis fired Withers just one game shy of three seasons. The most surprising part was that there were tangible steps. Between Oct. 11 and Nov. 17, the Bobcats went 2-4 against the most difficult stretch of their schedule. The four teams Texas State lost to went a combined 37-14. Three of the games were within one score.
It's hard to evaluate Withers' firing without acknowledging athletic director Larry Teis' position. Teis is firmly on the hot seat after criticism of Texas State's transition to FBS. Ultimately, Teis hired a great young coach in Jake Spavital. But still, Teis deserves all the blame if this hire doesn't work out.
Best moment: Winning on the road
It had been years since Texas State had experienced a winning streak. In fact, the Bobcats hadn't won consecutive games since the final two games of the 2014 season under Dennis Franchione. WIthers had just two road wins as Texas State head coach.
Both those criticisms came crashing to the ground when Texas State traveled to Atlanta to take on Georgia State at Turner Field.
While the final score was only 40-31, that doesn't do justice to just how dominant a performance Texas State had on the road. The Bobcats led 40-17 with just four minutes remaining after a Caleb Twyford touchdown run. GSU scored two touchdowns in the final two minutes to make it look close. After this game – and after Willie Jones compiled 387 yards and three touchdowns – there was hope that the Bobcats finally turned a corner.
Worst moment: Falling flat against Arkansas State
Like we mentioned, there seemed to be so much progress through the middle section of the year. Even just competing against Troy and Georgia Southern was a great sign. But after Withers was fired, the Bobcats collapsed.
This wasn't the best iteration of Arkansas State under Blake Anderson. The Red Wolves had just seven wins heading into the final game of the regular season. Later, the Red Wolves lost to Nevada in a bowl game. But midway through the third quarter, things fell apart.
The Red Wolves went on a 26-0 run to close the game, and end Texas State's season. For a year that showed so much promise at times, it was a disappointing ending to the 2018 season for Texas State.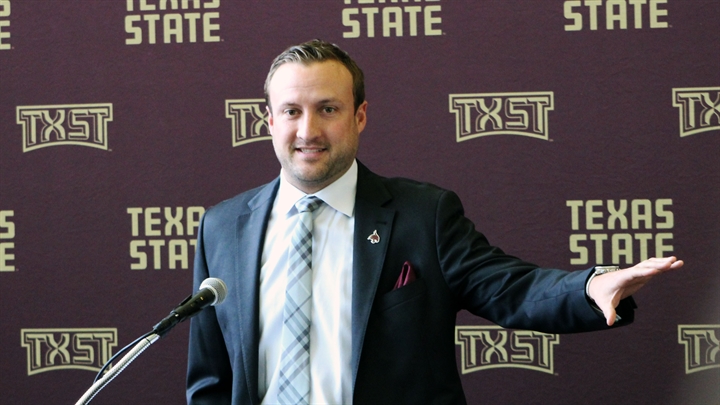 Biggest offseason question: Can Jake Spavital fix the offense?
The coaching search was simple. Texas State wanted to find an up-and-coming offensive coach. Eventually, the Bobcats landed on West Virginia offensive coordinator Jake Spavital. Spavital is immediately the second-youngest head coach in the FBS.
Texas State hired Spavital to do one thing – score points. Athletic director Larry Teis even admitted that losing would at least be better if the games were interesting. But in the Sun Belt, scoring a lot of points is a necessity anyway to win football games.
The Bobcats ranked No. 120 nationally in total offense (330.3 yards per game) and No. 121 in scoring offense (19.8 points per game). Both those marks ranked last in the Sun Belt. The defense made a turn in Chris Woods' final season. Now, the offense must do the same.
Final evaluation
Heading into the year, it was unclear just how far along Texas State was in its rebuild. After gutting the roster and going 2-10 in Withers' first two seasons, it was obvious that the Bobcats needed at least one more year before they could reach competitiveness.
In many ways, this was that year. Texas State showed it could compete with almost any team in the Sun Belt, even if the roster wasn't ready to finish those games. Having a revolving door at quarterback because of injuries didn't help.
Now, Teis has moved the timeline forward significantly. Texas State must compete for a bowl game in 2019 after hiring Spavital. There's no more time to waste. Withers was hired to make a foundation on rock – we won't truly see whether his efforts work until next season.
Overall grade: C-
This article is available to our Digital Subscribers.
Click "Subscribe Now" to see a list of subscription offers.
Already a Subscriber? Sign In to access this content.