The college football season in Texas starts a week earlier than normal with a Week 0 matchup between North Texas and UTEP. To celebrate us making it through another off-season, we're counting down the 50 most important players in Texas every day until Aug. 27. The list isn't necessarily about which players are the best, though talent plays a major factor in most important.
No. 23: Ari Broussard, Rice junior running back
The History
Broussard began his Rice career as a preferred walk-on following a successful prep career at Lusher High School in New Orleans. He was a two-time all-district selection and honorable mention All-State as a senior as a two-way player who starred at running back and linebacker. Broussard was also a two-time All-State finalist in the shot put.
Broussard played on special teams as a freshman in 2018 before earning a scholarship as a running back following the spring of 2019. He'd remain a special teams ace for the Owls during the 2019 season. His breakout performance came in 2020 in the second half against Marshall when he ran the ball 19 times for 62 yards, including carry the rock on 12 of the final 13 plays of the game.
Broussard led Rice in rushing in 2021 with 569 yards on 116 carries. He averaged nearly five yards a carry on the season. He only had 30 carries through the first five games of the season. He carried the ball 86 times over the last seven.
The Skillset
Broussard is a determined football player who worked his way from walk-on to starting running back over a three-season span. That's an impressive feat. He's a hard-nosed runner who doesn't mind contact – hence his years spent at linebacker. He might not be the flashiest rusher or one that will gain 80 yards on one play, but he'll provide the physicality that Rice wants to be known for as an offense. He's always moving forward and is improving as a pass catcher and as a blocker.
The Impact
Rice enters an interesting year under head coach Mike Bloomgren. It is the last year for the Owls to play in Conference USA, and the defense is loaded. The main question remains at quarterback, and that's where Broussard can make an impact. The better he and the Rice rushing attack plays, the less pressure is on the passing game, especially early in the season. Broussard can become a consistent force in the running game if he's given the carries. Expect him to be a focal point early and often for the Owls in 2022.
PREVIOUSLY ON THE LONE STAR 50 COUNTDOWN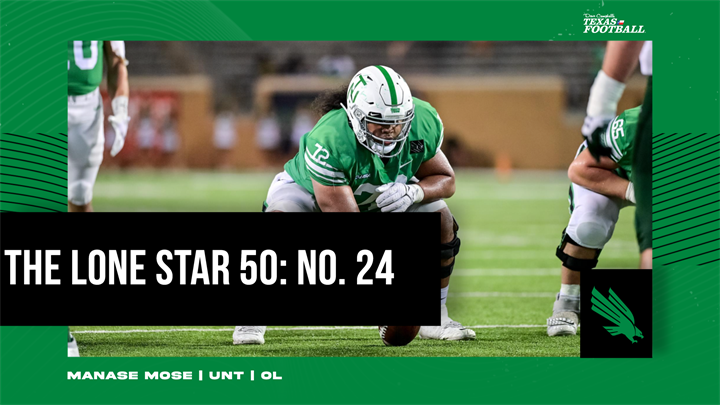 This article is available to our Digital Subscribers.
Click "Subscribe Now" to see a list of subscription offers.
Already a Subscriber? Sign In to access this content.