SAN ANTONIO -- The usual suspects rolled through the 90th Annual Texas High School Coaches Association Convention and Coaching School over three days in San Antonio. Each of the head coaches from the 12 FBS programs in Texas stopped by the press area to do a laidback, semi-informal conference with the media. Well, 11 of the 12. Houston's head coach Dana Holgorsen called an audible and sent Cougars defensive coordinator Doug Belk to talk about the 2022 season and his path to the doorstep of coaching stardom.
This isn't new for Belk. He routinely talks to the press during the season. Holgorsen hopes it helps Belk, 34, prepare for life as a head coach. There's no question that the architect of the Third Ward Defense is destined for a spot leading a college football program. It is only a matter of time. Practice makes perfect, even for coaches hoping to rise up the ranks.
"I've embraced the responsibilities," Belk said. "From being in a room (of media) to a room full of our players, it is good for my development, and I appreciate that he gives me those opportunities."
Holgorsen used his offensive acumen to ascend the ranks. Belk is doing it on the defensive side. Together, the duo is making Houston a true contender for the American Athletic Conference as the program readies for a move to the Big 12 in 2023. Houston went 12-2 last season, reaching the AAC championship game against College Football Playoff invitee Cincinnati and beating Auburn in a bowl game.
"The move to the Big 12 allowed us the budget to keep a guy like Doug on our staff," Holgorsen said. "He's destined to be a head coach, and I hope our resources and success here at Houston allow him to make fewer stops on the way to becoming a head coach than I had to take."
Belk took an interesting route to defensive leader for the upstart Cougars. The Georgia native found himself catching punts and kicks in the CFL and during the NFL lockout after a college career at Carson-Newman. Belk was back home in 2011 volunteering at his former high school football team when then Valdosta State head coach David Dean and a couple members of his staff recruited him to come help the Blazers, a Division II program in the Gulf South Conference since 1981.
"My major was in Computer Information and Business Management, so I never planned on getting into coaching," Belk admitted to the group of media on hand at his press conference. "Some staff turnover allowed me to become a full-time member of the Valdosta State coaching staff, so I fell into it by accident."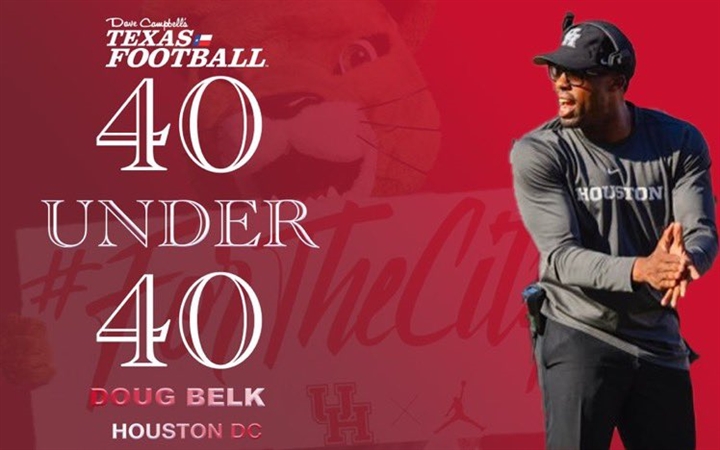 Belk helped the Blazers win a Division II national title and a couple of conference titles in a variety of rolls. He worked with the special teams in 2011 before becoming the secondary coach in the championship season of 2012. His 24-10 record during those years at Valdosta State opened eyes, including Kirby Smart, who is now the head coach of national champion Georgia, but at the time was an assistant on Nick Saban's staff at Alabama.
So, after a phone call, Belk packed his bags and jumped from D-2 to the SEC. He'd remain there for three years as a GA and a cornerbacks coach. He joked that he shadowed Saban for three years, pointing out that he didn't get to talk much. That was okay, says Belk, because he was able to become a football sponge. He'd work alongside defensive gurus such as Saban, Smart, Mel Tucker, and Jeremy Pruitt. It was a tremendous breeding ground for a young defensive coach.
Despite those names, Belk considers Holgorsen to be his greatest influence. Not because of stuff he's learned on the field, but for the opportunities to round out his skills in the coaching profession. There is more to being a successful head coach, and even coordinator, than knowing X's and O's. People management is crucial, as are things such as talking to the media and becoming comfortable with being a face of a program – during good times and bad. Belk joined Holgorsen's staff at West Virginia as the cornerback coach in 2017. He followed Holgorsen to Houston in 2019 as the co-defensive coordinator and safeties coach. He was promoted to associate head coach and defensive coordinator in 2021.
"Our relationship is unique," Belk said of he and Holgorsen. "I've learned a lot from him since joining his staff in 2017. He's taught me how to administrate and lead outside of football, and that's truly a blessing."
Belk immediately made the most of the promotion. The defensive line, dubbed "Sack Ave." thanks to some trash talk during practices, recorded 45 sacks, good for fifth nationally. The defensive unit only allowed 194 yards per game, which was 18th in the nation. The 55.2 percent completions allowed ranked eighth nationally. The 20.5 points per game allowed ranked 19th in the country and the 302.2 yards allowed ranked sixth. Belk was named a semiifinalist for the Broyles Award and is on the Dave Campbell's Texas Football 40 under 40 list in the 2022 edition of the summer magazine.
"Obviously, I want to be great, but at the same time, I try not to focus on that," Belk said about the recognition. "I look at it as I got to go harder and continue to get better. I don't focus on the lists; I focus on the players. They're the ones that deserve most of the credit."
The 2022 season appears to be an opportunity for Houston to reestablish itself as a national contender after decades of feeling left out in the cold due to the collapse in the Southwest Conference. Now, the Cougars are benefitting from conference realignment with a move to the Big 12 in 2023. Houston won a combined seven games in 2019 and 2020 before rebounding to a 12-win season in 2021. Expectations are high in Third Ward, and that means Belk's and Holgorsen's job is keep their players hungry and humble.
"We didn't win a conference championship last season, so our goals are still there to be accomplished," Belk said. "This is a new season and none of those 12 wins carry over. It was good for our offseason to get that win in the bowl game for momentum, but we're starting over just like everybody else."
This article is available to our Digital Subscribers.
Click "Subscribe Now" to see a list of subscription offers.
Already a Subscriber? Sign In to access this content.