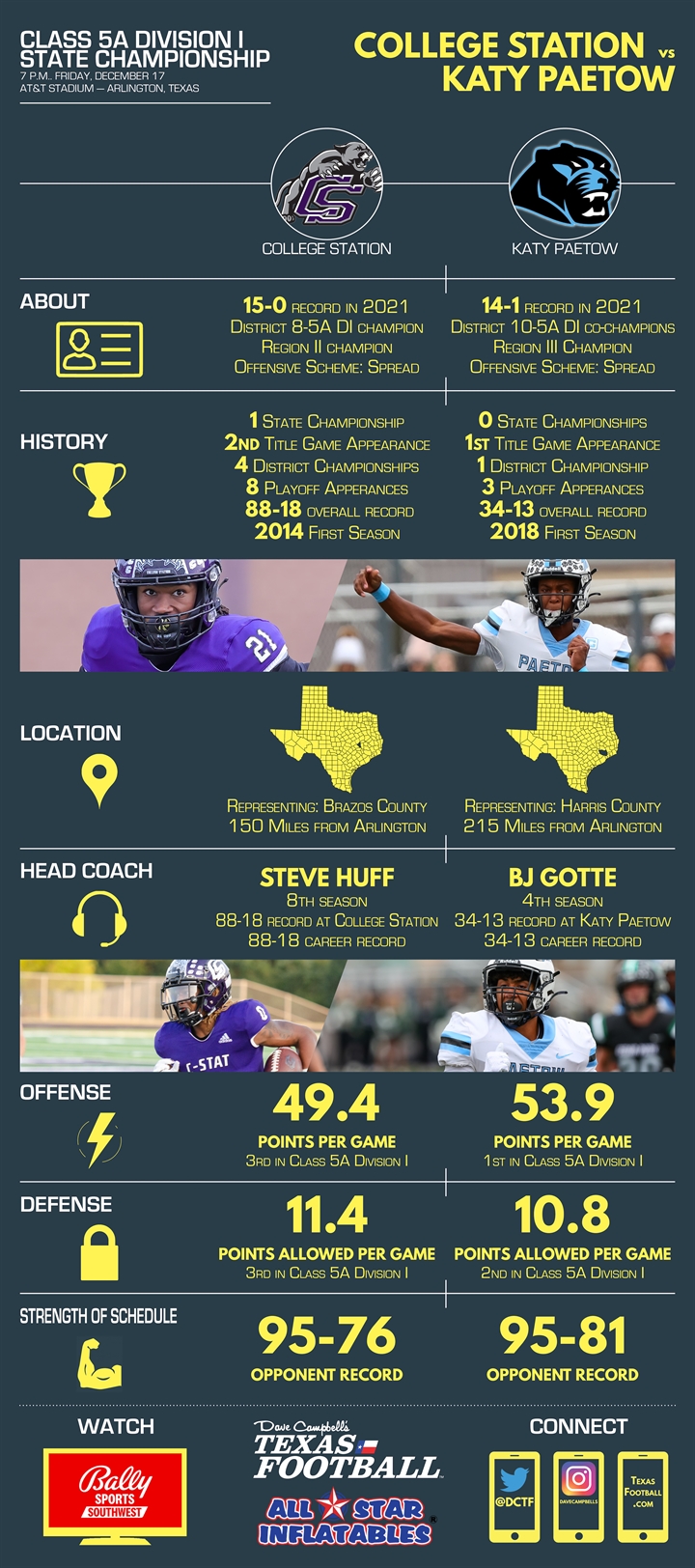 College Station (15-0) vs. Katy Paetow (14-1), 7 p.m. Friday at Arlington's AT&T Stadium
It's a battle of relative newcomers to the scene as College Station, in just its eighth season of varsity football, is playing for its second state title, while Katy Paetow is in the state title game in its fourth season. College Station, although unbeaten, has had to grind the last three weeks to get to this point with close wins over Frisco Wakeland, defending state champion Denton Ryan and last week in a 28-21 win over Mansfield Summit. RB Marquise Collins continued his tear through the playoffs with 230 yards rushing and three touchdowns last week. QB Jett Huff also had a solid night throwing for 163 yards and a touchdown in the victory. Katy Paetow absolutely rolled last week as the Panthers stormed into the state title game with an easy 73-14 win over Corpus Christi Flour Bluff. The Panthers rolled up 600 yards of offense as QB CJ Dumas threw for 204 yards and three touchdowns, while Jacob Brown, Damyrion Phillips and Jayln Richardson combined for nearly 200 yards on the ground and five rushing touchdowns. PHS went three and out on their opening series then scored touchdowns on eight of their next nine drives, with the one non-touchdown drive being a field goal. Paetow's big, physical and fast; they are in essence a big 6A school still playing in 5A at this point, they have 6A numbers across the board and they have the kind of playmakers to take over a game. College Station can not rely solely on Marquise Collins if they want to win this game; the Cougars will need Jett Huff and that passing game to bring balance to the offense.
Stepp's Pick: Katy Paetow by 8
PLAYERS TO WATCH
College Station
RB Marquise Collins - Few have been more consistent this season than College Station's Marquise Collins with over 2,000 yards on the ground and averaging eight yards per carry. Katy Paetow knows that the shifty junior running back is the one to stop if they want to win this one.
QB Jett Huff - College Station's 5-foot-9 rocket arm is why teams can't just focus on Collins in the backfield. Huff can make all the throws he needs to and opens up the middle of the defense every game.
P/K Dawson Schremp - It's not often we get to highlight one of the best legs in the state. Dawson Schremp will be pivotal in giving Katy Paetow's offense a long field to work with since he averages a booming 41 yards per punt and he makes 90 percent of his field goals with a season-long of 39 yards.
Katy Paetow
RB Jacob Brown - Katy Paetow's 6-foot big-play running back is averaging a wild 12 yards per carry this year. It's tough enough to tackle someone of his size but his speed hitting the hole is what's sparated himself from the pack this season.
RB Damyrion Phillips - Katy Paetow's every-down man is a workhorse with second-level speed. Phillips has over 1,200 yards on the ground in a shared backfield while also averaging just shy of eight yards per carry.
LBs Daymion Sanford/Alexander Kilgore - Katy Paetow's two star linebackers are physical specimens with production to back it up. Sanford's explosion off the edge is stuff of nightmares and Kilgore's closing speed only makes things tougher for opposing offenses. Both combined for over 40 tackles for loss and over 20 sacks this season.
(Ishmael Johnson)
KEY MATCHUPS
College Station's Marquise Collins vs. Paetow's front seven
Collins ran for 232 yards and three scores on 32 carries in College Stations' semifinal win over Mansfield Summit. He topped 1,000 yards rushing in the postseason with that effort. When College Station needs a big play, the ball is in Collins' hands. The Paetow defense knows the game plan. Stopping it for four quarters is the defense's biggest challenge. The unit only gave up 14 points in the semifinal win over Corpus Christi Flour Bluff. A similar effort is needed against Collins and College Station.
Paetow's Kole Wilson vs. College Station's secondary
At one point in the first half against Flour Bluff last week, Paetow scored on seven consecutive possessions to build an insurmountable lead en route to scoring 73 points. Wilson jump-started those efforts with a 57-yard punt return for a touchdown. He added four catches for 155 yards and a pair of touchdown catches to go along with his special teams touchdown. College Station is athletic in the secondary and might need to double-team Wilson at times to slow down the high-powered Paetow passing attack.
Experience vs. Inexperience
Katy Paetow didn't play a varsity season until 2018. The Panthers played their first postseason game in program history in 2019, and the 2020 season was cut short in the area round due to Covid-19. This run is the first real playoff push for Paetow, and that can either lead to pressure or to a group playing with nothing to lose. College Station has been here before. The Cougars beat Aledo 20-19 to claim the Class 5A Division II championship in 2017.
(Mike Craven)
PREDICTIONS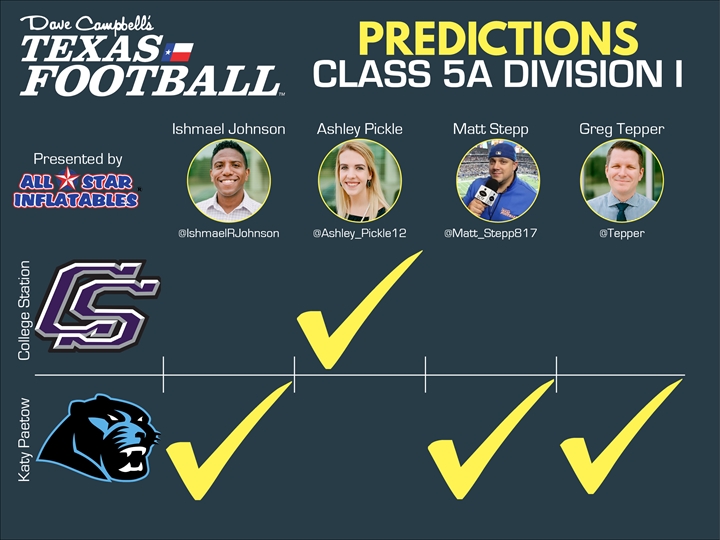 This article is available to our Digital Subscribers.
Click "Subscribe Now" to see a list of subscription offers.
Already a Subscriber? Sign In to access this content.