When you say the phrase "College Football Playoff" down in Waco, Texas, Baylor fans still get a misty look in their eyes. It turns back the clock to Dec. 7, 2014, when the four-team College Football Playoff debuted with its first ever mega controversy.
In the season's penultimate week, TCU ranked No. 3 in the nation, while Baylor sat at No. 6. The Bears pulled off a strong 38-27 win over No. 9 Kansas State in front of ESPN's College GameDay, which felt like the final case for Baylor to jump into the top-four and earn a playoff berth.
It was enough to jump TCU, which fell from No. 3 to No. 6. It was not enough to jump an Ohio State team with a similar record whose best win and worst loss were both notably worse than the Bears. And so on that day, it became clear – this playoff system was not long for this world.
While that was the most visible snub of the post-playoff era, it's far from the only moment that a Texan team has been close. Texas A&M finished fifth in the 2020 playoff rankings, one spot out. Houston was relegated to No. 18 after a tremendous 12-1 season in 2015. Baylor lost quarterback Charlie Brewer in the Big 12 Championship Game in 2019 and finished just outside the playoff.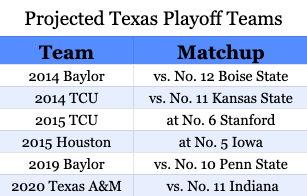 In a new system proposed by the College Football Playoff working group, all of those teams could have had a chance to play for a national championship. The system proposes 12 teams making the College Football Playoff, including the top-six ranked conference champions getting a guaranteed spot. The top four conference champions would get a first round bye, while teams 5-12 would play a bracket setup on the higher-ranked teams' campus.
Take a step back and think about what that means. Last season, Texas A&M likely would have been rated the 6-seed and hosted Indiana the first ever playoff game at Kyle Field. Then, the winner would have taken on Clemson. There's no guarantee that the Aggies could have beaten Trevor Lawrence and the Tigers – but hell, why not give them a shot?
Look, it's important to adjust expectations. I'm not a betting man, but I would bet that none of the five Texas teams we project to have made the Playoff would have won it all over the past seven years. Texas A&M certainly has a shot, but there is a very real chance that none of the Texas schools would eclipse Alabama, Ohio State or Clemson to win a national championship over the next five years either.
But that's not the point. Texas A&M shouldn't need to be decisively better than Alabama to have a shot at a title. TCU shouldn't need to house Oklahoma twice to do it. If SMU or Houston or even UTSA or North Texas fights their way to unscathed seasons, they should be allowed to enter the national conversation.
The criticisms are the same as they have always been: That this will water down the most meaningful regular season in sports. To that I say, what have you been watching the past seven years?
Alabama didn't even make a conference title game in 2017 and won the national championship anyway. Houston went 12-1, was the best Group of Five team by many miles and wasn't even rewarded with a top 10 finish. Coastal Carolina beat two ranked teams, finished the regular season a perfect 11-0, ranked as one of the top six conference champions and didn't even sniff the playoff discussion.
The regular season could mean less… for four teams that are already responsible for 20 of the 28 possible playoff spots. For the other 126 schools, the regular season suddenly becomes astonishingly more meaningful. And for those four, winning the conference and earning a first-round bye is still plenty of value.
"The proposal at its heart was created to provide more participation for more players and more schools," CFP executive director Bill Hancock said. "In a nutshell, that is the working group's message: More participation."
There's another place where I think this could help Texas more than perhaps any other state. Look back at the last few years of recruiting from the state of Texas. As Texas and Texas A&M have struggled, Ohio State, LSU, Oklahoma and Alabama have come into the state and pulled many of the best high school recruits.
247Sports asked Southlake Carroll QB Quinn Ewers – the best quarterback recruit from Texas since the great Vince Young – why so many great Texas high school football players are looking outside the state. His answer was simple.
"Probably because a Texas team hasn't been in the running for a national championship in a little while," Ewers said. "And I don't know about other guys, but like me, I just want to compete at the highest, highest level. Obviously, one day, they will get back there and it'll be great. But right now, I'm just tired of seeing that happen."
Well suddenly, the 12-team playoff format would mean Texas A&M could be a perennial playoff contender. The four Big 12 schools would have a shot every year. Even SMU and Houston could make the case that their season has a chance to end in the Playoff every year.
Simply put, if you are a college football recruit from the great state of Texas, you don't need to leave the state to accomplish your goals and play on the game's biggest stage. You can do it while still staying close to your family and picking a school, system and coaching staff that is right for you.
Listen, the same four teams will likely still win the lion's share of national titles. That would be true whether we had a 130-team playoff or decided titles by AP Poll. In fact, if we named champions solely by post-regular season AP poll and didn't play a national title game at all, Nick Saban, Dabo Swinney and Ed Orgeron all would have the same amount of national titles. That doesn't make the process good.
The great part about college football isn't Alabama or Clemson crossing the finish line, it's the depth of the sport. It's driving up to the Alamodome parking lot, filling TDECU Stadium or sawing horns off at Kyle Field. It's beating your rival, winning your conference and having great football featured on the national stage.
A College Football Playoff expansion means that while Nick Saban will still likely hold the golden oblong trophy at the end of the year, more programs can still meaningfully enter the national conversation every year. That alone is something to celebrate.
This article is available to our Digital Subscribers.
Click "Subscribe Now" to see a list of subscription offers.
Already a Subscriber? Sign In to access this content.