Dave Campbell's Texas Football has released 61 summer edition covers since Dave started the mag in 1960. With two days until the 62nd cover of the "Bible of Texas Football" is released, we ran through our favorites.
We polled members around our office about their favorite covers. Some went back to the origins of the magazine and found editions from the '60s and '70s. Others – read: me – found their favorites in some of the creative design ideas we have done to connect back to the past over the last decade.
Needless to say, what makes a beautiful cover is in the eye of the beholder. Every edition of our storied magazine has something memorable to say – it's why our magazine still has so much power more than 60 years later.
Make sure and keep an eye on TexasFootball.com on Friday as we reveal the 2021 cover for the 62nd edition of Dave Campbell's Texas Football. Trust us, it will compete for the best cover ever on Day 1.
Greg Tepper, Managing Editor: 1963 (Darrell Royal, Scott Appleton)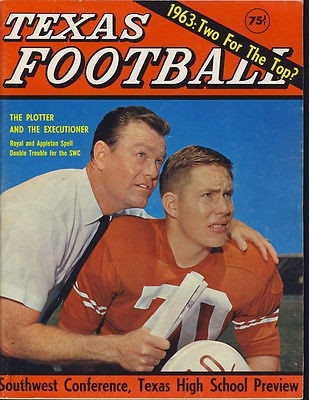 When I think of the cover of Dave Campbell's Texas Football, I think of this iconic image — the iconic peering over the shoulder of his defensive star, pointing him in the direction of the target.
In an age where posed covers were all the rage, this one somehow feels natural and real, like we're privy to a top-secret strategy session. It's so good that we tried to recreate it 53 years later with Kliff Kingsbury and Patrick Mahomes, and as much as I love the sequel, there's nothing like the original.
Shehan Jeyarajah, College Insider: 2016 (Kliff Kingsbury, Patrick Mahomes)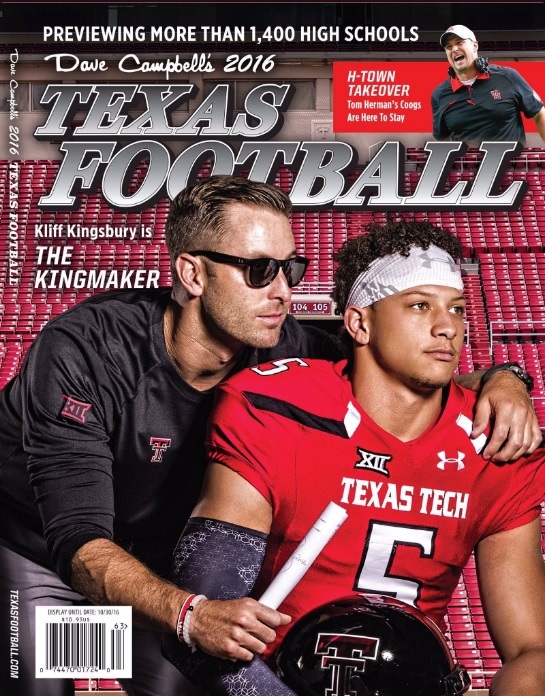 Is some of the power of this cover that it has aged so beautifully with Kliff becoming an NFL coach and Pat on his way to being a Hall of Famer? Sure. But hands down, I think that this cover epitomizes what DCTF is all about.
For one, the staff at Texas Football called their shot, betting on the kid from East Texas and the one-time All-American quarterback turned head coach to create some magic. Even better, we pulled from the great 1963 cover to doit.
Did Kingsbury and Mahomes pull together all their magic in Lubbock? Unfortunately not. But still, that cover goes down as my favorite ever.
Greg Powers, Recruiting Insider: 2016 (Kliff Kingsbury, Patrick Mahomes)
There are so many great covers, but the one that always catches my eye is the Patrick Mahomes cover with Kliff Kingsbury. To me it's the most iconic cover of the recent era. Mahomes was a lot of fun to cover in high school at Whitehouse and seeing him have success in college and now the NFL makes me happy.
Matt Stepp, High School Insider: 1990 (Spike Dykes)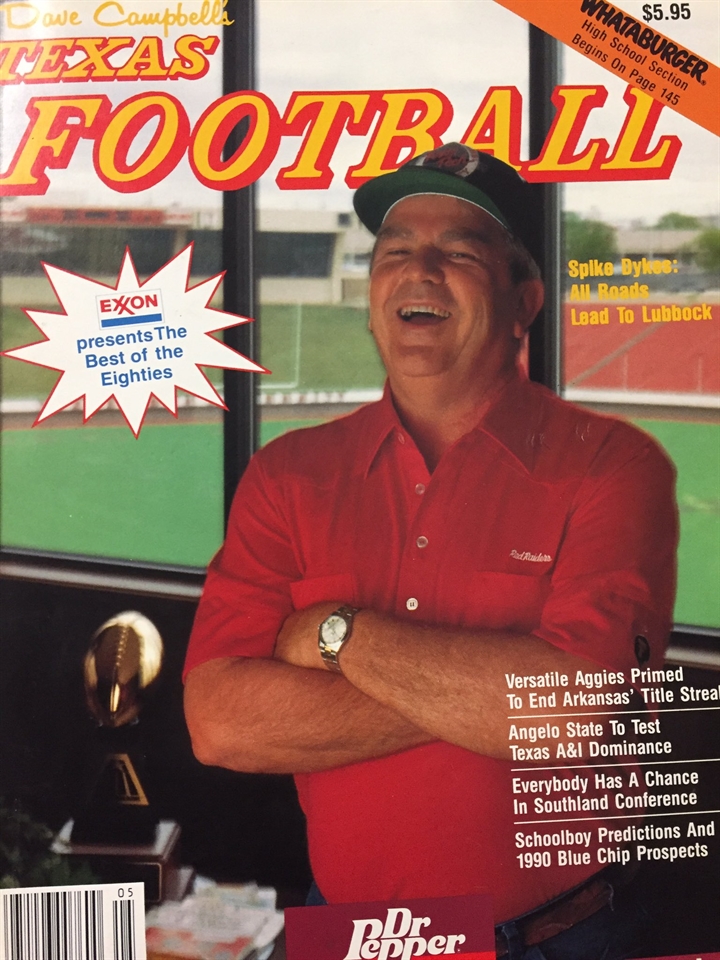 My favorite front cover is probably a tie between 1982 with Gary Kubiak and 1990 with Spike Dykes. The Kubiak cover for me is cool because it's just a great photo where it appears you are getting the pitch from him on the toss sweep.
The 1990 cover with Spike Dykes I think just captures the essence of the kind of man Coach Dykes was. He was West Texas through and through and his success at the college and high school level is underrated to this day.
Ashley Pickle, Video Producer: 1974 (Darrell Royal)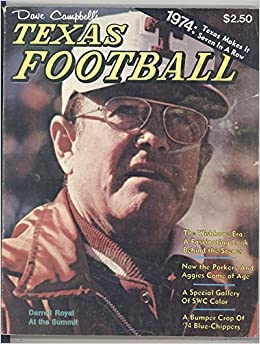 The 1974 edition of Dave Campbell's Texas Football with legendary Texas coach Darrell Royal is one of my favorite covers. I think Royal was the perfect subject to honor as his historic run began to wind down for the Longhorns.
I love the retro "T" logo on his cap and the letterman-type jacket gives a great '70s feel. Last but certainly not least, can we please appreciate the, "Now the Porkers And Aggies Come of Age" byline in reference to the Southwest Conference?! Amazing.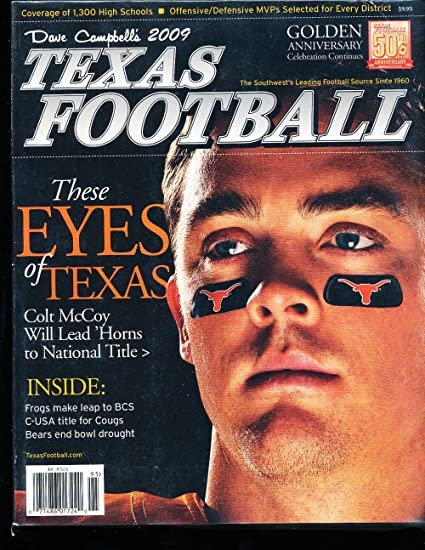 This was a really unique image for us. If you go back in time and look at older covers, we just did not do close-ups like this image of Colt McCoy.
The photo captures the headline perfectly. Until Colt hurt his shoulder in the national championship game against Alabama, it might have been prophetic. The 2009 cover ranks as the best-selling cover in Texas Football history.
Rudy Klancnik, VP of Sales: 1988 (Eric Metcalf, John Roper)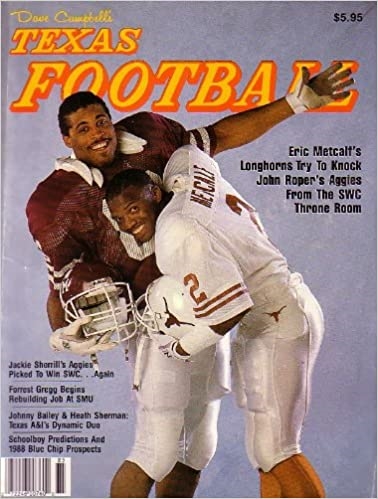 Of the countless memorable covers of Dave Campbell's Texas Football it's the iconic 1988 photo shoot of Eric Metcalf and John Roper that stands above the others for me. Not only does it showcase the greatest rivalry in the state's history but it does so with an unexpected happy twist. Metcalf and Roper actually look like buddies instead of fierce rivals. Love that cover.
But that cover does come with a personal dark side for me. It was the same year I was turned down by Dave himself to write the North Texas football preview. Yes, I was crushed. But I made up for it this year by scoring the all-important NFL previews thanks to another legend, Greg Tepper. Thanks, Greg, for making dreams come true.
William Wilkerson, Web/Social Editor: 1995 (Southwest Conference)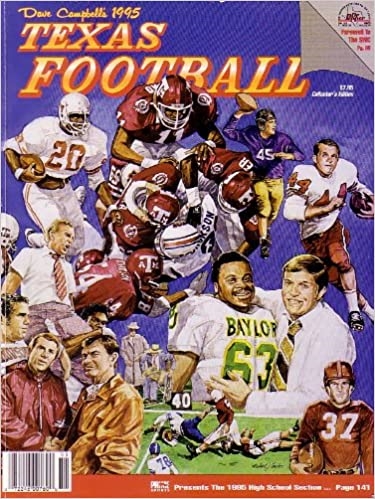 The "Farewell to the Southwest Conference" cartoon cover has always drawn my attention. Not only was it the first cartoon cover of the magazine, it boasts the most teams of any cover I can recall, which is really neat and very Texan.
Plus, Earl is on the cover, so it gets bonus points for that.
Kids, Google "Southwest Conference". It was awesome.
What is your favorite issue of Dave Campbell's Texas Football? Tweet at @dctfCFB and let us know!https://www.youtube.com/watch?v=pv5FG2ki4rE
This article is available to our Digital Subscribers.
Click "Subscribe Now" to see a list of subscription offers.
Already a Subscriber? Sign In to access this content.