NFL scouts needed to get a second home in College Station back in 2014.
The Aggies sent Mike Evans, Johnny Manziel and Jake Matthews to the first round of the draft that year, the first trio of first round picks at A&M since 2014. Kyle Allen, Speedy Noil and future No. 1 pick Myles Garrett entered practice as 5-stars and part of the Ags' best modern recruiting class ever.
But when Texas A&M ran return drills, scouts' eyes would turn away from the known stars as they saw a small, skinny, unrated returner take the ball and zoom down the field with ease against elite SEC athletes.
"They'd be like, "Who's that guy?'" Caleb Eagans said. "I was just fast; I was like a blur."
But for some whose whole life has been defined by exploding from the starting blocks, Eagans' path has forced him to be patient. Personal tragedy took him from working out for NFL scouts every day, to nearly dropping out, to one last chance playing for recent national champion Mary Hardin-Baylor in Division III.
Eagans has a plan to make the rare jump from D-III to the NFL: He wants to break the NFL Combine record in the 40-yard dash. And people who would know believe he can do it.
"It's definitely possible," said Gary Cablayan, director of performance at Evo Sports Training and trainer to NFL Combine record holder John Ross. "As we all know, 4.2 is flying so it's never an easy task, but if everything goes well, it's definitely a possibility."
___
When Eagans graduated from 2A Leon High School in Jewett, the 2014 TAAF Male Athlete of the Year had schools chasing him to play both basketball and football. However, he ultimately settled on a track scholarship at Texas A&M, just one hour south of home.
Texas A&M's football coaches quickly learned that Eagans was on campus and invited him onto the team as a preferred walk-on.
Unfortunately, after a redshirt season, his mother Danna was diagnosed with Stage IV pancreatic cancer. In just a matter of months, the cancer developed to the point that Caleb had to return home. On Sept. 16, 2015, she passed away, right when Caleb would have been in the midst of his sophomore season.
The following months nearly derailed Eagans. The one-time THSCA All-State Academic team member's grades tanked after missing so much time. He nearly had to drop out of Texas A&M, and ultimately decided he couldn't handle both football and track.
"It was a hard time just because I didn't really have anyone to go to," Eagans said. "I didn't have any brothers or sisters. It was just tough for me."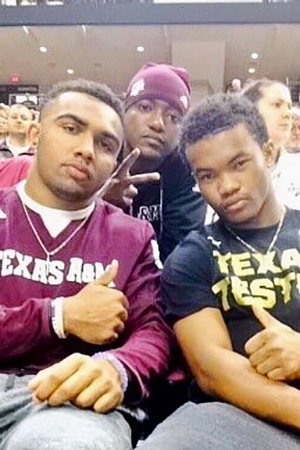 But throughout it all, he remembered a promise he made to his mother: He would graduate from college, no matter the obstacles. He got back to work and pulled his GPA from a 2.1 to a 3.5 before graduating with Texas A&M with honors.
During his time at Texas A&M, Eagans reached out to Cablayan over social media. The longtime speed trainer is best known for working with Desean Jackson, and also helped John Ross break the speed record at the NFL Combine with a blazing 4.22.
"You feel for these kids who are trying to make it," Cablayan said. "I think you always try and give them the best shot possible. Someone his size, his speed is probably the biggest thing that's going to open eyes and open doors, and that's my speciality."
Eagans later worked out with Jackson and other elite athletes at Cablayan's facility in Long Beach, Calif., and was surprised to see he could keep up with some of the world's top athletes. Eagans is also coming around at the perfect time, right as NFL franchises are looking for speedsters like Tyreek Hill and Hollywood Brown to spread defenses. Eagans' top attribute is his ability to accelerate immediately, according to Cablayan, and that should serve him well in the 40-yard dash.
"He's got a lot of potential," Cablayan said. "He's explosive, his speed is great and just the mentality is probably the biggest thing...usually when guys make it to that elite level, it's usually the mental part that takes you to that next level."
___
Eagans ultimately got a second chance to play football at East Central University in Ada, Okla., with two years of eligibility remaining. Unfortunately, he was handed just another obstacle.
He appeared in seven games as a junior, primarily as a kick returner, and also broke the school record in the long jump. The previous record-holder – David Moore – is an NFL receiver with the Seattle Seahawks.
But before his senior season, Eagans suffered a torn groin and two sports hernias that cost him the 2019 season. At that point, he thought his football career might be over. That is, until he got a call from an old friend from Texas A&M.
Former Cameron Yoe standout Aaron Sims ran on the track team with Eagans at Texas A&M, but left school after two years to try and play football. He landed at Mary Hardin-Baylor in 2018 and earned All-America honors as a returner in his first season.
"I heard you were looking for a school," Sims told Eagans at the time. "Man, you come here and I think we'll win the national championship."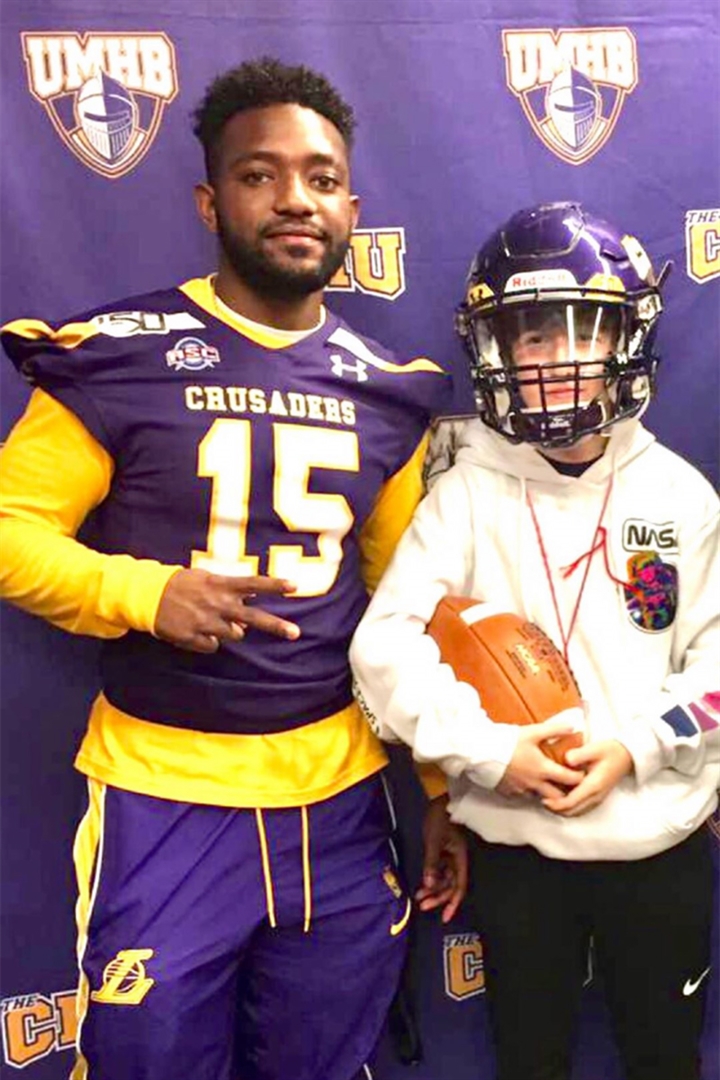 The chance to play mixed with a chance to win at the highest level immediately drew Eagans' attention, along with UMHB's well-regarded teaching program. He immediately became friends with All-American defensive back Jefferson Fritz, another NFL hopeful from the Division III level.
Sims missed the 2019 season with an injury. His absence, along with the loss of big-time playmakers like T.J. Josey, K.J. Miller and Markeith Miller contributed to a less dominant offense. With Sims and Eagans in the fold, suddenly UMHB is one of the fastest offenses in Division III.
"You want guys who want to win national championships and lead us on your team," Sims said. "I feel like it'll be a very big role in helping him get to the NFL."
With the American Southwest Conference postponed until the spring, Eagans plans to come back in Fall 2021 and compete for a national championship. It will be his eighth fall on a college campus – and hopefully his best one yet. And if everything goes well, he will have 20 games of film to show NFL scouts.
"He's very committed to helping our team," said Mary Hardin-Baylor coach Pete Fredenburg. "Unfortunately, he's going to have to wait a while, but hopefully it will make him that much hungrier."
But more than anything, Eagans wants his story to be a tribute to his mother. When it's all said and done, he will have an undergraduate degree from Texas A&M and master's degrees from both Mary Hardin-Baylor and ECU.
Promise kept.
"Really and truly, the biggest thing is you've just got to keep going," Eagans said. "I hope I inspire somebody now that is going through something that's out of their control to keep going and have faith and believe it's all going to work out."
This article is available to our Digital Subscribers.
Click "Subscribe Now" to see a list of subscription offers.
Already a Subscriber? Sign In to access this content.