DALLAS -- Hours before SMU's home opener against North Texas on Sept. 13, players walked into the home locker room at Ford Stadium and were treated to a shock.
The first home game of the season is typically a whiteout. The home rematch with UNT was no exception. Still, the Mustangs usually wear blue at home. None of the players got any whiff of a plan to debut anything new – by design.
The now famous "Dallas" edition SMU jerseys were waiting in their locker.
Defensive tackle Demerick Gary saw the "City of Dallas" logo on the side of the helmet, which matched a tattoo on his calf. It was emotional for many players to get to wear "Dallas" – a Metroplex that four dozen SMU players call home – on the front of their jerseys. The only other team with jerseys like that are the big boys in Arlington.
"I think everybody was excited," Gary said. "Everybody loved it. People were texting me like, 'Where can I get that jersey?'"
When they ran out of the tunnel, the uniforms went viral to almost universal acclaim.
Dallas mayor Eric Johnson was at the game to do the pregame coin toss, at the invitation of SMU coach Sonny Dykes and his staff. He took to social media after the game to applaud his experience, and the new threads.
SMU gifted Johnson one of their traditional jerseys before the season. After seeing the Dallas jerseys in action, he asked if he could get one of those too. His social media in the month since has featured SMU prominently, especially that jersey.
Maybe it's no coincidence, SMU came out of the gate by scoring the first 21 points against North Texas, a program that crushed these same Mustangs last season. The final score was 49-27, but the game wasn't that close. In that moment, SMU reintroduced themselves to the sport, and entered the running for the best alternate jersey in the sport this season.
The attention for the jerseys is nice, but it's only the first step in what is becoming a game-changing campaign at SMU.
The goal is simple: Turn SMU back into the college football team of Dallas, which the Mustangs, ranked No. 19 at 6-0, will have another chance of doing at home against Temple (5-1) at 2:30 p.m. on Saturday on ESPN2.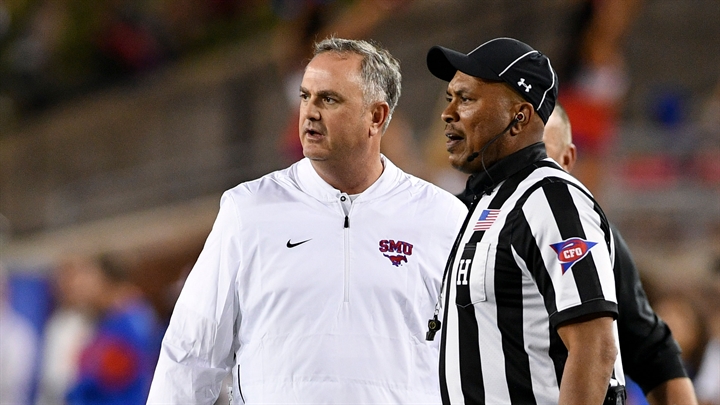 Getting Back to SMU's Roots
Sonny Dykes has known what SMU can be for generations. Like most his age, he grew up watching the Pony Express of Eric Dickerson and Craig James compete for national titles.
His father, legendary Texas Tech coach Spike Dykes, coached against some of the legendary Mustangs teams of the 1980s, back when they were a Southwest Conference foe. Remember, the Mustangs played football in the city alone for nearly half a century before the Dallas Cowboys even existed, winning national championships in 1935, 1981 and 1982, before receiving the Death Penalty in 1987.
"Back at some point, SMU had been Dallas' football program. But for a long time, it hasn't been," Dykes said. "My perspective was it would be really important for us to have support from the entire Dallas community and to be able to recruit the entire Dallas community."
SMU is an exclusive private school with only 6,479 undergraduate students. Even including graduate students, the school has fewer than 12,000 students enrolled. For comparison, Allen High School had 6,664 students at the most recent snapshot day in 2017. The exclusivity helped turn SMU into a top-three university in Texas, per U.S. News and World Report, but has also created a wall between the school and the communities around it.
"I feel like there's a big gap between SMU and Dallas as a whole," Gary said. "The community I grew up in, everybody kind of had this perception of SMU, that there was a lot of rich people here, those types of things."
The school's demographics also don't completely represent the city around it. More than 65 percent of the city of Dallas is either black or Hispanic; fewer than 18 percent of SMU's enrollment self-identifies as one of those two groups.
Even regardless of SMU, Dallas is a city pulled by many different collegiate loyalties. Texas and Oklahoma dominate the city's college football scene. Texas A&M, Baylor, TCU and Texas Tech aren't far behind, and that doesn't count schools like Alabama, Ohio State and Notre Dame with national followings. Even the mayor left the state to earn a Northeastern education. Mixing split loyalties with a sprawling Metroplex makes for unique issues.
"When you think about what makes a successful college football program, the have to be able to engage the local community and they've got to be able to recruit their own backyard," Dykes said. "Those were two things that aren't just important for SMU – I think they're important for every college football program."
Dykes ran into some of the same problems while coaching at Cal from 2013 to 2016. Despite being in the Bay Area near San Francisco, Oakland and San Jose, the university didn't have much of an athletic presence. Unlike at Cal, Dykes believes he is getting the administrative support to do something about it.
After hiring a creative staff with a diverse range of experiences, Dykes sat down to brainstorm how to build a bridge between communities. One change was easy: switching the ubiquitous #PonyUp hashtag to #PonyUpDallas, just as a reminder. But there were bigger goals.
"It's been really important that everyone in the Metroplex felt welcome at SMU," said Lauren Damone, the director of football branding and social media at SMU. "And not just welcome, but felt invited and were able to rally around it."
Soon, they realized that they had the best ambassadors to connect with local communities that the university had to offer – their players.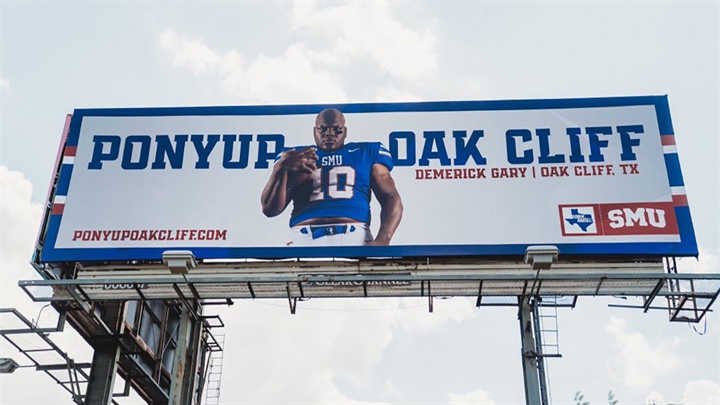 Born and Bred
Drive South on I-35E through South Dallas and you'll be greeted by a towering billboard with the hulking Gary staring down, adorned by "PONYUP OAK CLIFF."
There are matching ones featuring Shane Buechele in Arlington, James Proche in DeSoto, Richard Moore in Cedar Hill, Reggie Roberson in Mesquite and more – eight total, featuring seven players and one assistant coach. All eight billboards are hard to miss with how embedded they are in the communities; that's no accident.
"It's been a year in the making," Damone said. "We were sitting around and had this idea, but we wanted to execute it and make sure we had all the details aligned."
Proche, Moore and Gary take the university south. Roberson and wide receiver coach Ra'Shaad Samples push it to the east. Buechele and TJ McDaniel (Southlake) market SMU to the West. Turner Coxe's billboard is right on the side of the stadium, marketing to Highland Park. Along with the billboard, SMU's creative staff shot "Born and Raised" video profiles.
Players had significant input into what they wanted to present and how they wanted it to be presented. Several brought the staff to their parents' kitchen tables, or to the weight room at their old high school. Even though Gary went to Kimball High School in the city of Dallas, he wanted to make sure the sign said "Oak Cliff," to represent his community.
"A lot of people on this side of town and around us don't even know where Oak Cliff is or that it even exists," Gary said. "That's a big reason why I had pride in it saying Pony Up Oak Cliff.
"A lot of people in my neighborhood come from an area with poverty, gang violence, drug problems, other things. That billboard is more than just football. It's a sign that shows that you have an opportunity to do something. You can make it no matter the circumstances that you're in, no matter where you come from. Anything is possible.'"
Gary said he gets two or three messages a week with people back home saying they passed the billboard, or taking pictures in front of it. In other communities too, seeing former star high school players featured is a source of pride.
"He's a great representative of not just our football program, but our school district and our town," said Southlake Carroll coach Riley Dodge, who drives by the McDaniel billboard all the time while driving through Southlake. "And I think it sends a great message to our kids that if you do things the right way, it can pay off for you...Coach Dykes and that entire staff is thinking outside the box."
Choosing the players to put on the billboard serves multiple purposes. Like any other program, putting future NFL players like James Proche on a billboard is an easy reminder of the talent level of SMU. Additionally, it's a vehicle to connect former players like Gary with their communities. But more than anything, it's a reminder.
Remember all-state linebacker Richard Moore, Cedar Hill fans? The one who won a pair of state titles? You can still watch him do big things at Ford Stadium on Saturdays.
"James has been here for four years and I think people sometimes forget that he's just up the road," said SMU football chief of staff Anthony Crespino, who faced a familiar dilemma trying to find favor in Chicago at his former job at Northwestern. "You kind of tie the community back to the school and help grow a fan base off that."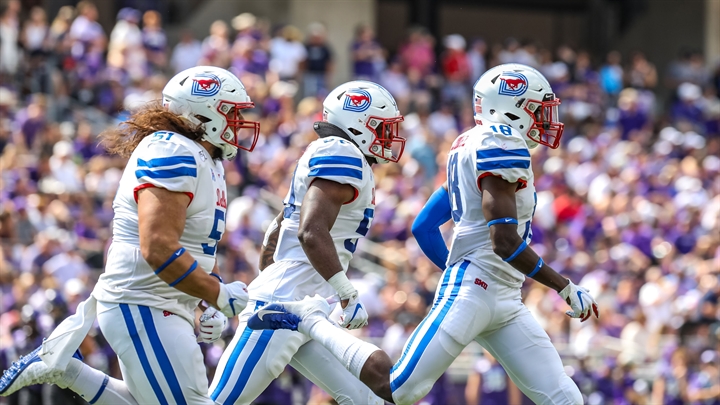 The Dallas Jerseys
It was in the initial meetings that Dykes first mentioned the idea for a Dallas jersey. He's not a big fan of alternate uniforms, especially for a program at SMU that has an iconic jersey, but he could be persuaded with an alternate that was well thought out.
Arkansas used virtual replicas of the Cowboys jerseys during a matchup with Texas A&M in 2018, so the staff wanted to stay away from that. SMU is a proud program, so there's plenty of pressure to get it right. Since none of the full-time creative staff are originally from Dallas, they went back to the history books to look for inspiration.
The search started with "Dandy" Don Meredith, the original Dallas Cowboy and a two-time All-American at SMU. Those old 1966 Cowboys kits ended up being the base for the pant stripe and number style. The stripe on the sleeve and the helmet is pulled from the current Dallas Cowboys kit.
Since the old jerseys didn't typically use a name on the front of the jersey, the staff had to get creative. They ended up going all the way back to SMU alum Lamar Hunt, who owned the Dallas Texans. The creative staff pulled the script Dallas text from the Texans branding and putting it on the jersey's chest.
The final touch was the City of Dallas logo, but with the green leaf switched out for an SMU Mustang. It was a logo that the football program had used before, but it popped on the helmet. More important, it perfectly represented the symbiosis between SMU and Dallas - the point of the whole exercise.
The jerseys were ordered in February. Keeping the jerseys a secret for six months was hard enough. Head equipment manager Jason Jones and the equipment staff had to apply nameplates and decals under the cover of night. None of the creative staff even saw the jerseys until the video shoot over the summer. No one was even allowed to have a picture of the jerseys on their phone. It wasn't worth the risk.
The reaction from the world exceeded even the team's expectations. The social platform UNISWAG named the jerseys the best of the week when they were revealed. Even when the Mustangs wore the jerseys a second time at TCU – a shocking 41-38 win – the excitement remained constant.
"The amount of buzz those uniforms created just by them wearing it is a win in our book," Crespino said. "Our players liked it. The majority of the fan base liked it. People are talking about SMU football and that's the goal."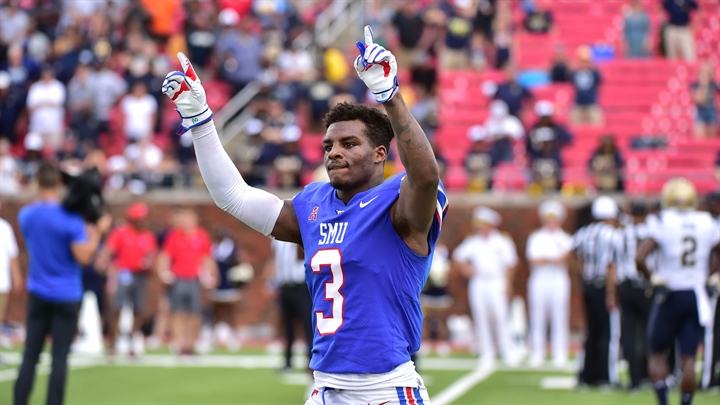 Building a Future
The jerseys and billboards are the most visible parts of the Dallas campaign, but SMU is trying to do the little things right too.
Players go and do community service during the season on Fridays, often visiting local schools to read and have lunch with kids. Others go and visit patients in the hospital, often at Children's Hospital in downtown Dallas. Engaging with young people is key.
"When you give a kid a T-shirt and they're 6 or 8 years old, and they wear it every day, there's a sense of pride that grows from that being their hometown school," Dykes said. "I loved the Dallas Cowboys when I was a kid because I grew up in the state of Texas and that was part of growing up in Texas. We wanted to try and create the same thing with kids in Dallas.
"If you're a kid in Dallas, you should grow up an SMU fan because that's your hometown team. That's kind of been our way of thinking from the very beginning."
Everyone around the staff also makes it a point to prioritize Dallas businesses. All the recruiting graphics are done by Dallas businesses. All the food is catered by Dallas restaurants. All the T-shirts are printed by Dallas printers. As chief of staff, Crespino sees to it.
"It's kind of like an everyone-on-board type deal," Crespino said. "If the program is successful, it helps the school, which helps the city. Everybody gets to celebrate it."
Johnson continues to be a strong advocate for the program publicly, even wearing an SMU hat during an appearance at the Texas Tribune Festival and making a mayor's bet with Fort Worth mayor Betsy Price before the battle of the Iron Skillet. SMU is also trying to engage with other locals. Boxer Errol Spence was an honorary captain at the North Texas game.
Dykes has said on many occasions, he understands that many fans in the city are already fans of other college football programs. That's fine. SMU is happy to be your second favorite team.
So, how does SMU measure the success of this campaign? It's complicated. There are no foolproof indicators. But already, everyone is happy with the early signs.
The jerseys were one of the most talked about kits of the 2019 season. The post revealing the uniforms on Instagram is the most-viewed post at SMU since Dykes arrived.
SMU's attendance is up from 19,383 fans per game in 2018 to nearly 23,000. The 28,142 fans that turned out for the 43-37 triple-overtime thriller against Tulsa were the most since SMU sold out Ford Stadium against Tom Herman's Houston squad in 2016. With Temple coming to town for the first ranked matchup involving SMU since 1985, expect the crowd to eclipse that number.
Of course, getting off to the first 6-0 start and earning the program's best national ranking since Reagan plays a part. Between success and campaigning across Dallas, SMU wants to make attending games habit. SMU wants to be Dallas' football team.
"I think the idea that you win the football games and all of a sudden the people come and you sell out your football stadium, that's not the way it works," Dykes said. "You have to do things like this consistently for a long time to where this just becomes what people do.
"I think it needs to be every one of our goals to make Dallas better. If Dallas is better, SMU is better. If SMU is better, Dallas is better."
This article is available to our Digital Subscribers.
Click "Subscribe Now" to see a list of subscription offers.
Already a Subscriber? Sign In to access this content.