Big 12 football media days are right around the corner. As part of it, we will once again be taking part in the 2019 Big 12 Media Preseason Football Poll.
The poll includes picks for final Big 12 standings, All-Big 12 Conference Teams, Offensive Player of the Year, Defensive Player of the Year and Newcomer of the Year. Coincidentally, all three of our picks for the major awards – and 18 of the 29 all-conference picks – played high school football in the state of Texas.
You can also find a variety of these picks – and many more – in our summer preview magazine, which hits bookshelves the first week of July. Become a subscriber to
*note: Our ballot will remain paywalled until the Big 12 releases its official versions next week.
Preseason Awards
Offensive Player of the Year: Jalen Reagor, TCU (Waxahachie)
Defensive Player of the Year: Caden Sterns, Texas (Cibolo Steele)
Newcomer of the Year: Jalen Hurts, Oklahoma (Channelview)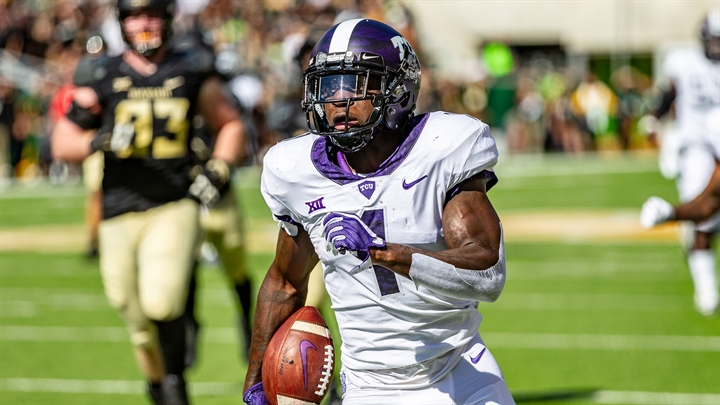 Preseason All-Big 12 Conference Team
Offense
QB: Sam Ehlinger, Texas (Westlake)
RB: Pooka Williams, Kansas
RB: Kennedy Brooks, Oklahoma (Mansfield)
FB: Cade Brewer, Texas (Lake Travis)
WR: Tylan Wallace, Oklahoma State (Fort Worth South Hills)
WR: Jalen Reagor, TCU (Waxahachie)
WR: CeeDee Lamb, Oklahoma (Richmond Foster)
TE: Grant Calcaterra, Oklahoma
OL: Lucas Niang, TCU
OL: Jack Anderson, Texas Tech (Frisco)
OL: Samuel Cosmi, Texas (Atascocita)
OL: Zach Shackelford, Texas (Belton)
OL: Creed Humphrey, Oklahoma
PK: Evan Staley, West Virginia
KR/PR: Pooka Williams, Kansas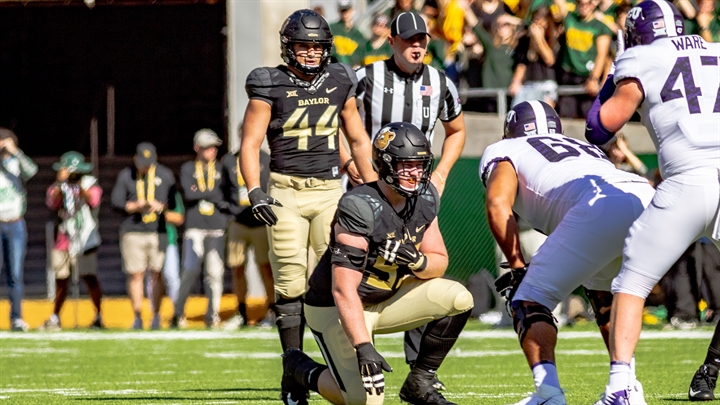 Defense
DL: James Lynch, Baylor (Round Rock)
DL: Ray Lima, Iowa State
DL: JaQuan Bailey, Iowa State
DL: Ross Blacklock, TCU (Missouri City Elkins)
DL: Reggie Walker, Kansas State
LB: Clay Johnston, Baylor (Abilene Wylie)
LB: Garret Wallow, TCU
LB: Kenneth Murray, Oklahoma (Missouri City Elkins)
DB: Caden Sterns, Texas (Cibolo Steele)
DB: Jeff Gladney, TCU (New Boston)
DB: Adrian Frye, Texas Tech (Houston Eisenhower)
DB: Innis Gaines, TCU (Beaumont West Brook)
DB: Greg Eisworth, Iowa State (South Grand Prairie)
P: Kyle Thompson, Kansas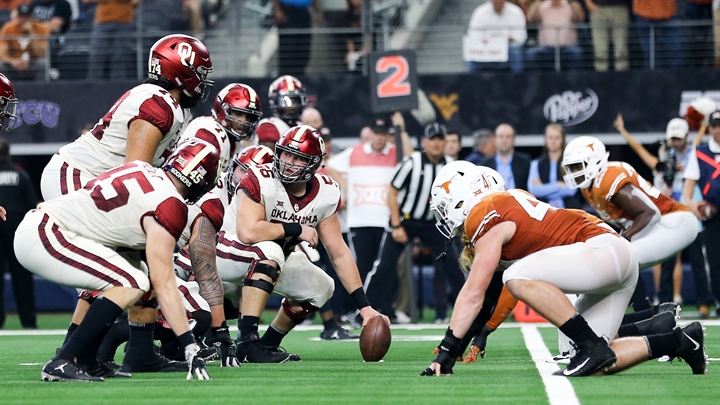 Predicted Standings
1. Oklahoma Sooners
2. Texas Longhorns
3. Iowa State Cyclones
4. Baylor Bears
5. TCU Horned Frogs
6. Oklahoma State Cowboys
7. West Virginia
8. Texas Tech Red Raiders
9. Kansas State Wildcats
10. Kansas Jayhawks