There are stars known by a single name that resonate in the football landscape of Texas — Earl, Johnny, RG3, Vince, Kliff. Dave Campbell's Texas Football believes that there's another to be added to the list: Jimbo.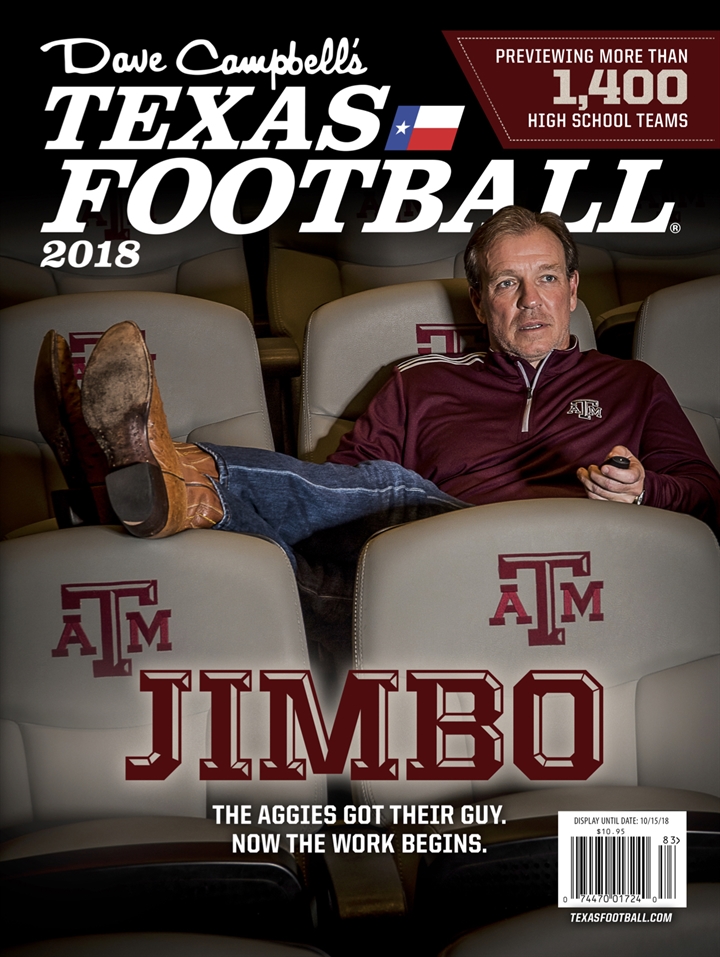 The 59th annual edition of 'the bible of Texas Football' revealed its storied cover on Tuesday featuring new Texas A&M coach Jimbo Fisher for its latest iconic image. The headline tells the whole story: "JIMBO — The Aggies Got Their Guy. Now, The Work Begins." It's the first time the Aggies have made the cover of the magazine since 2013.
"Picking the cover of Texas Football is one of our toughest decisions every year," said Greg Tepper, Dave Campbell's Texas Football managing editor. "This year was no exception. But Jimbo Fisher's arrival in College Station — and the excitement and expectations that have come with it — is, in my mind, the most compelling story in the state, and that's certainly cover-worthy."
For the third consecutive year, the magazine will feature a second cover, and this one features the most dominant player in college football — Houston defensive lineman Ed Oliver is proudly declared as "BEAST — Ed Oliver Is The Most Dominant Player In America."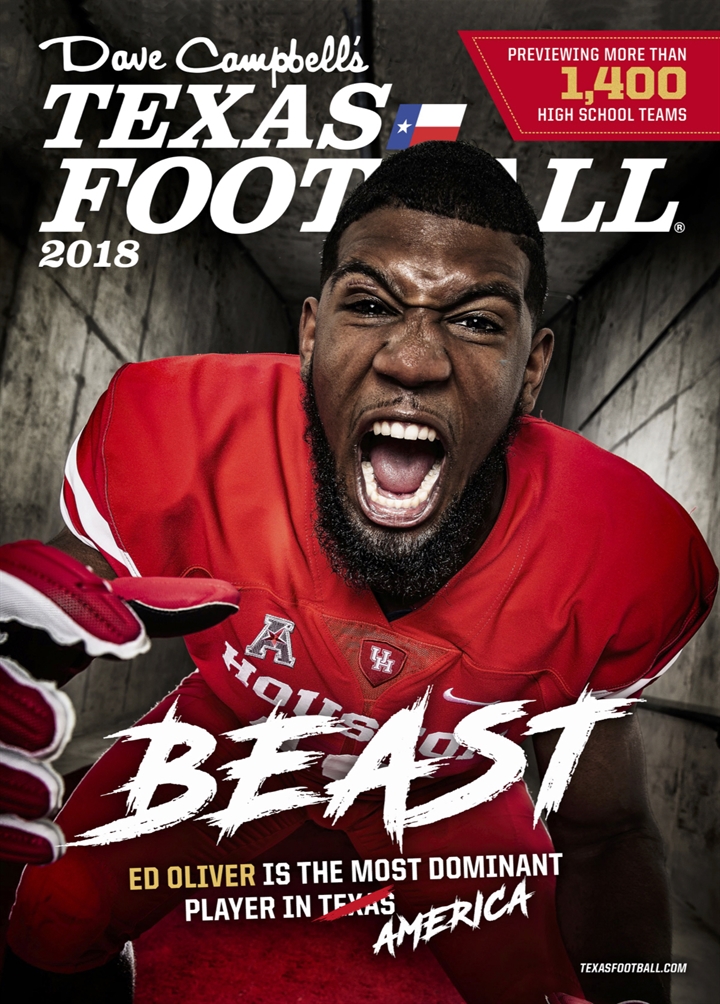 "Ed Oliver is such a rare player," Tepper said. "A homegrown star who decided to stay local and play for his hometown team, and he's blossomed into the single-most unstoppable player in college football. He's Texas through and through, and it's an honor to put him on the cover."
The 400-page all-color annual magazine covers football in Texas — from high school to recruiting to college to the pros — as no other publication can. Inside the 400- page magazine, readers will find:
The inside story on new Texas A&M coach Jimbo Fisher and how he landed in College Station, by David Ubben, now of The Athletic
A must-read profile of Houston defensive lineman Ed Oliver, told by David Barron of the Houston Chronicle
A fascinating feature on a tiny Far West Texas town that was once home to the most dominant team in Texas high school football…only to give up football altogether, written by Greg Tepper
Individual team previews of more than 1,400 Texas high school football
In-depth analysis of each in-state FBS program's 2017 team, plus coverage of Texas' FCS, DII, DIII and JUCO teams
Deep-dive conference previews, including which Texas team will duke it out for Big 12 supremacy, A&M's brawl in the SEC, North Texas' C-USA title hopes and more
The Preseason All-Texas College team, honoring the top college players in the state
The annual Super Teams and Top 300, honoring the top recruits in the state
The coveted Coverboy spot for every high school classification
BECOME A DCTF INSIDER
Need your copy of Dave Campbell's Texas Football? Become a Dave Campbell's Texas Football Insider! Get two magazines — the 2018 summer edition and the 2018 recruiting edition (coming in December) — as well as a year's worth of exclusive online content at TexasFootball.com, including expanded previews of every Texas high school football team and lots more. Available for a limited time for $19.95.
To request interviews with Managing Editor Greg Tepper, please contact 972-428-5721 or greg.tepper@texasfootball.com. To download high-resolution images of the cover, visit TinyURL.com/DCTFCover18. The 2018 summer edition of Dave Campbell's Texas Football will begin to hit shelves in stores across Texas on or about June 28.
About Sports In Action, LLC
Sports In Action, LLC owns the Dave Campbell's Texas Football media brand. Dave Campbell's Texas Football is a registered trademark of Sports In Action, LLC. Sports In Action, LLC is a Texas-based Limited Liability Corporation and is based in Carrollton, TX.
This article is available to our Digital Subscribers.
Click "Subscribe Now" to see a list of subscription offers.
Already a Subscriber? Sign In to access this content.