Let's Try This Again: GJ Kinne aims to put Bobcats' trying history in the rear-view mirror.
At some point, things have to go right, right?
The same adage has been echoed around college football in the state of Texas for 10 years – if Texas State could figure it out, they're going to be a force.
Three head coaches and over 10 seasons in the FBS without a bowl and it's still the same story. A new administration has turned a new leaf in San Marcos with athletic director Don Coryell and new pro-athletics president Kelly Damphousse. The duo made their first marquee hire in December in G.J. Kinne to be the next head coach. He became the first native Texan head coach in San Marcos since Brad Wright in 2011.
Kinne was tied to other jobs, including his alma mater at Tulsa, after leading Incarnate Word all the way to the FCS semifinals in his very first season as a head coach.
"I wanted to be at Texas State, I chose to be at Texas State," Kinne said in his introductory press conference. "I'm from Texas and that was important to me."
And he quickly highlighted why Coryell and Damphousse made him their top target for the job: "We are going to recruit Texas high school football."
Texas State only signed four high school players in the 2021 and 2022 signing classes, opting for a derided transfer-centric approach.
"My goal was to hire someone with demonstrated leadership experience, success as a head coach, established relationships with Texas football coaches, and success with recruiting and developing players," Damphousse said in a statement.
At times, the transfer policy wasn't an illogical one. With the portal and NIL playing essential roles in college football, holding on to players for four years that you recruit out of high school is far from a guarantee.
"I don't think that's necessarily a bad train of thought, I just don't think it's sustainable in Texas," Kinne said. "Like you can't do that in Texas. There are too many good coaches, there's too many good players. I think you got to have those guys that you can develop."
Kinne exudes a quiet confidence and charm, not unlike his mentor and former head coach at Gilmer, Jeff Traylor, now at UTSA. His goal was to become an FBS college head coach by the time he turned 35. He accepted the Texas State job the day before he turned 34. Even after stops in the NFL as an assistant under Doug Pederson with the Philadelphia Eagles, college was where he saw himself. The "ball" aspects of the NFL were right up his alley, but when it came down to it, he missed the relationship-building of the recruiting scene as well as constructing a roster to his liking.
"I think if I went back to the NFL ever, I'd want to be like a GM," Kinne said.
For someone with Kinne's confidence, he's open in his desire to win – at any costs. He took the UIW job with the intention to call plays on offense, but soon delegated that to offensive coordinator Mack Leftwich, whom he brought with him to Texas State. But his most prominent hire came in the form of an established icon. Former Texas State player and head coach David Bailiff was tabbed as the program's special assistants to the head coach. Bailiff was part of the program's recent most successful run from 2004 to 2006.
"I've already leaned on him heavily just for advice," Kinne said. "It's one of those deals where it's a sounding board."
As for his relationship with Traylor? The two still talk … but there's a looming Week 2 occasion that's lessened the communication just a tad.
"I was calling him once a week, now it's like probably once a month," Kinne laughed. "… After Week 2, it'll be back to normal."
DCTF'S TAKE
Texas State's issue last season wasn't necessarily talent as it was execution and polish. G.J. Kinne imported a lot of playmakers from his UIW team as well as some significant help at skill positions. Is that enough to give the Bobcats a boost like they've never seen in FBS?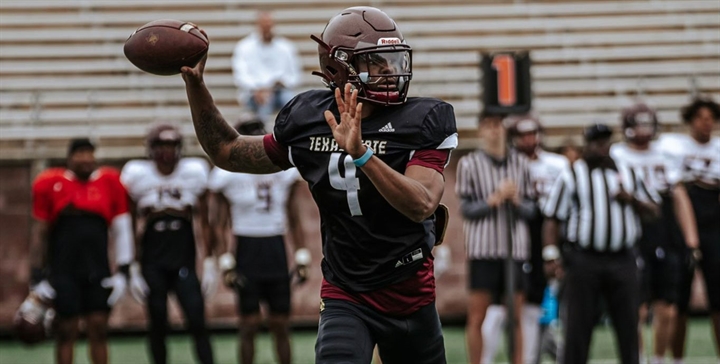 OFFENSIVE BREAKDOWN
With GJ Kinne at the controls and playmakers galore, Bobcats' offense could ignite
It's go-time, both literally and figuratively.
Texas State's tenure in the FBS has been marred by putrid offense. The Bobcats have never had a quarterback throw for 3,000 yards and have only had one rusher eclipse the 1,000-yard mark.
The architects of the best offense in the FCS last season - head coach G.J. Kinne and offensive coordinator Mack Leftwich - hope to ignite a massive change. Helping out will be an offensive line that was essentially entirely imported from Incarnate Word. Five offensive linemen, including FCS All-American Nash Jones, lead the revamped unit.
"Out of the places I saw, this one just felt like home," Jones said. "I know (OL) Coach ( Jordan Shoemaker). I know the system and I know what is asked of us. I really agree with the philosophy here and the people here."
But the biggest coup for the program was behind center. UIW's offense was in large part as explosive as it was due to quarterback Lindsey Scott Jr. . So, whomever Kinne brought in would have a lot on his plate. Naturally, that led him to acquiring perhaps the most explosive athlete in the transfer portal, former Arkansas quarterback Malik Hornsby out of Fort Bend Marshall.
"I believed in Coach G.J. and Coach Leftwich," Hornsby said. "They believed in my talent, to come showcase my talent as a quarterback instead of playing receiver or anything like that."
With Hornsby comes a ton of unproven talent in CJ Rogers and Ty Evans, who have yet to take a meaningful in-game snap. Leading returning receiver Ashtyn Hawkins (587 yards, 7 touchdowns) announced he was entering the portal before withdrawing his name. He'll work under new receivers coach and passing game coordinator Craig Stutzmann, who previously served as offensive coordinator at Utah Tech where he called one of the more open offenses (No. 6 in passing) in college football, the "Spread-N-Shred". Kinne isn't hesitant about surrounding himself with other offensive-minded individuals.
The base of the offense is a mix of air raid with Gus Malzahn-adjacent run concepts. But those expecting a complete replication of the top offense in FCS will need to pump the brakes. Yes, Kinne inherited a fairly talented group of veteran playmakers and recruited one of the best quarterbacks in the country. But surrounding them is a lot of inexperience.
"We're going through some bumps in the road," Leftwich said. "Any time you install a new offense, it's new for the quarterback, new for the receivers, there's a lot of growing pains that go with that."
OFFENSIVE MVP
Malik Hornsby: The former standout at Fort Bend Marshall and transfer from Arkansas looks poised to take the controls of G.J. Kinne's high-powered attack.
KEEP AN EYE ON
How Texas State's wideouts come along. Obviously all eyes will be on the quarterback position, but with the exception of Ashtyn Hawkins last season, wideouts struggled to create separation consistently.
OFFENSIVE DEPTH CHART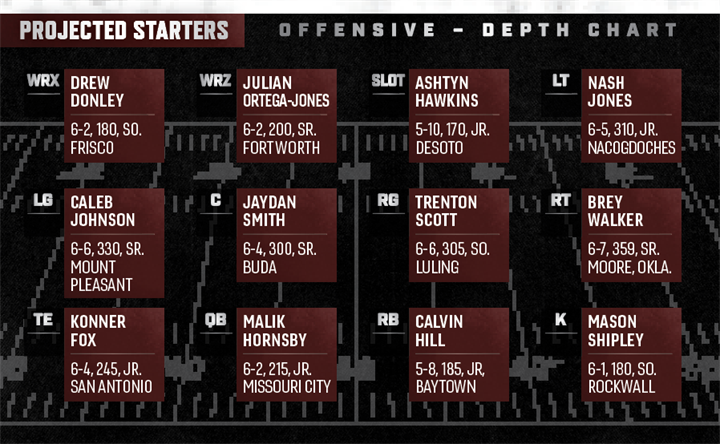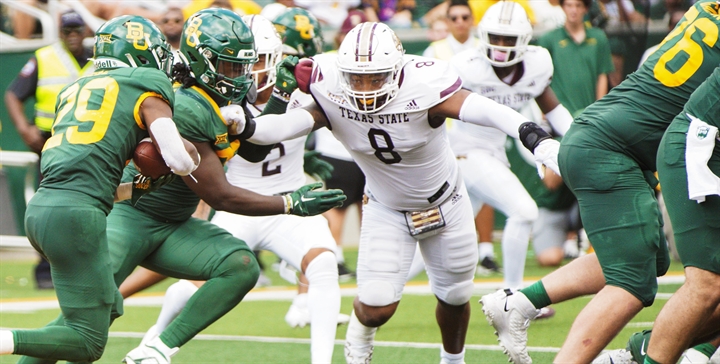 DEFENSIVE BREAKDOWN
Overlooked but undeterred, Bobcats' defense ready to build on last year's quiet success
The most undercovered story at Texas State this offseason is the defense.
When G.J. Kinne was hired, naturally everyone harped on UIW's explosive offense directed by him and offensive coordinator Mack Leftwich. But last season, despite a dismal record, Texas State's defense was still one of the best in the state. And UIW's defense, directed by Jonathan Patke, led the FCS in tackles for loss. With an up-tempo offense leading to more possessions per game, it's hard to gauge Patke's unit on pure yardage. More plays mean more possessions, mean more times the defense will be on the field. But that only creates more ways for Patke, a Houston-native, to be unique in his playcalling.
"They want to push the tempo, they want to score, score, score and we want to do the same on defense," Patke said. "We want to be aggressive, create tackles for loss, sacks, turnovers. We kind of mesh together and the high-powered offense, the great offense we had last year, if we could give them the ball a couple more times a game, that's just more chances we're going to win."
Like most defensive minds, Patke's philosophy and scheme evolved from a basic 4-3 to the modern 4-2-5 with the advancement of spread offenses. Texas State will flash different looks, but the base will be that 4-2-5 formation. Patke cut his teeth under Manny Diaz at Miami, one of the more aggressive defensive coaches in college football before eventually being hired by Kinne at Incarnate Word and now Texas State.
The Bobcats return a few significant playmakers from last year's unit such as safety Tory Spears, edge rusher Jordan Revels and second-leading tackler London Harris to name a few.
"We clicked already," Spears said of the secondary. "It's just weird to me because I'm the only one that's going to be leaving after this year."
Spears will be paired with the likes of Oklahoma transfer Joshua Eaton and All-Southland import Kaleb Culp.
"I honestly don't care if I take another snap," Spears said. "I want to get everybody in the room better than me, play better than me. When I'm gone, they still got more years here."
In the new scheme, Patke trusts his secondary in man coverage as he creatively dials up blitzes in the front seven.
"When I'm on a man, there's nobody else to focus on," Eaton said. "… My eyes are on my man and when the ball comes, I wait and know I can make a play."
Other names to watch defensively will be Ben Bell, Dan Foster Jr. from Marshall and Deven Wright from Boise State.
DEFENSIVE MVP
Jordan Revels: One of the key cogs in the Bobcats' front seven, Revels racked up 70 tackles, 11 tackles for loss and 4.5 sacks during a standout junior season.
KEEP AN EYE ON
How the defensive line develops will be big. Texas State previously ran a lot of odd-man fronts, so the team may see some positional shifting to fill out the defensive front. Jordan Revels may end up shifting back down from an edge rusher to defensive end in some situations.
DEFENSIVE DEPTH CHART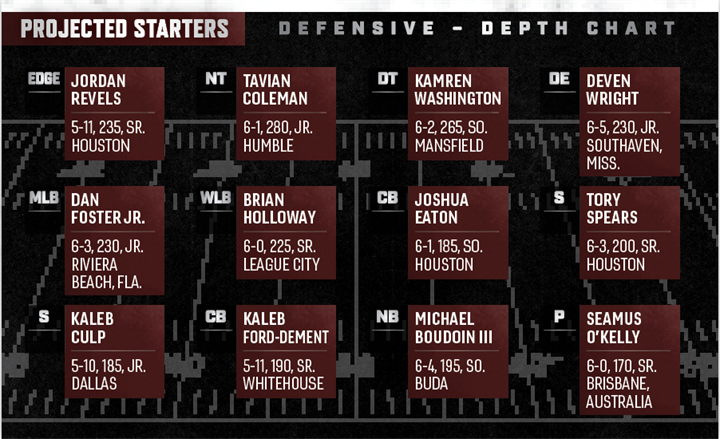 PLAYER SPOTLIGHT: LINCOLN PARE
When Lincoln Pare announced his transfer to Texas State, he, unknowingly, wasn't coming alone.
The Arkansas State running back transfer got word that his chancellor, Kelly Damphousse, was following him to San Marcos to be the university's new president.
Pare previously had a good relationship with Damphousse and that's just carried over. Damphousse has been extremely visible at nearly every athletics event.
"Whatever sport, whatever was going on with the school," Pare said. He's everywhere. I don't know how he does it. But he's everywhere.Really, honestly, you could show up to whatever game you want to, and he'll probably be there, and you could just hit him up."
Much like the university's new president, Pare's quickly found himself in a position of leadership. A year ago he was the unknown addition to an already deep backfield, but by season's end he became one of the biggest surprises of the year rushing for 772 yards as a sophomore and adding 209 yards receiving.
"When you have a guy like Calvin Hill and Jahmyl Jeter it's awesome, because the relationships that I was able to build with them, even before the season started, was incredible," Pare said. "… So originally coming in, I think any guy is going to want to just put what they have out there and try to get on the field in anyway possible."
Naturally, Pare's caught the eye of his new head coach.
"Both of those guys (Pare and Hill) have been two guys that have been here that provided some leadership and stability, and you know, guys you can kind of lean on," Kinne said.
Pare announced his intention to enter the transfer portal following Jake Spavital's firing on Twitter. The Tennessee-native removed his Twitter post soon after Kinne's hiring. He understood the business-like mentality it took for him to embrace a new coaching staff.
"You really look at what (Kinne) did, and what kind of offense he runs, and as a football player, no matter the position, I don't know how you don't want to be in an offense like that with how explosive it is, and how much they run the ball, how much they throw the ball and how fast they move, and how many possessions they get a game," Pare said. "I wouldn't say it's that hard of an offense to learn. But getting all the bells and whistles and everything running together is definitely a difficult task. But once we get it down, I think it's going to be very, very deadly."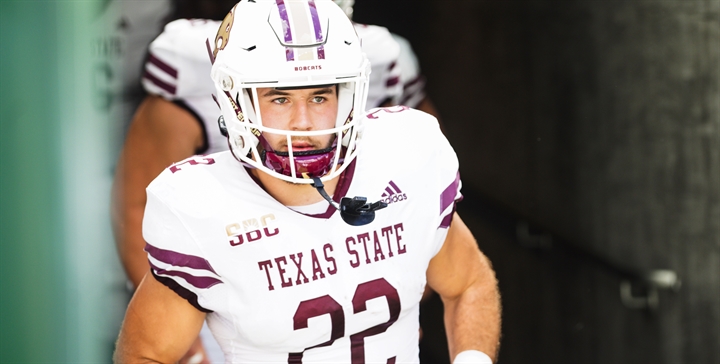 2023 AT A GLANCE
When Jackson State is your FCS "money" game, you're in for a rough non-conference slate. Luckily for Texas State, they avoid James Madison and Appalachian State in the Sun Belt. The West is still wide open despite the likes of South Alabama coming through, so a modest run could be in the cards during Kinne's first season in San Marcos.
PREDICTIONS
RECRUITING BREAKDOWN
The Expert's Take with DCTF Recruiting Analyst Greg Powers
G.J. Kinne and his staff's commitment to Texas recruiting was evident from the start, with 250 percent more Texas-based high school players signing in 2023 than in 2022. To overhaul the roster, they also targeted junior college and Transfer Portal talent, prioritizing former Texas high school stars. Their "Take Back Texas" movement is a refreshing approach in San Marcos.
3 KEY ADDITIONS:
OL Marcus Alexander
The former 2019 DCTF Rising Hot 100 member comes to the Bobcats from Oklahoma, where he had difficulty cracking the depth chart. However, expectations are still very high in San Marcos for the former Sunnyvale standout.
DB Joshua Eaton
Eaton, a former four-star from Aldine MacArthur, struggled to get much playing time during his three-year stint at Oklahoma. Eaton has long arms and a physical playing style, making him a solid addition to the Texas State defense.
QB Malik Hornsby
Texas State fans have reason to be excited with the addition of Hornsby, a former four-star recruit out of Fort Bend Marshall. He is an electric runner who can shred defenses with his lightning speed and agility.
UNDER THE RADAR
DB Amarion Atwood
Atwood played in the same secondary that produced Baylor and TCU signees, so at times, he was overshadowed, but he learned to play with a chip on his shoulder. That spark makes him a unique talent as he flies around to make highlight-worthy plays in coverage.
TE Konner Fox
Don't sleep on the addition of a blocking tight end in an offense that is looking to establish the run game. Fox's experience in the Big 12 at Kansas State will help him settle in quickly at Texas State. Fox, who prepped at San Antonio O'Connor, is making a homecoming in his return to the Lone Star State.
2023 TEXAS STATE RECRUITING
High school/Junior College (247Sports Rank: 101st)
Player Pos. Ht. Wt. Previous school
Justin DeLeon OL 6'3 290 Kingsville King
Jo'Laison Landry DL 6'3 240 C.E. King
Chris Dawn Jr. WR 5'7 155 Mesquite Horn
Bami Badusi OL 6'6 310 Mansfield Timberview
Derick Mourning LB 6'3 210 Kilgore JC
PJ Hatter QB 6'1 180 Spring Westfield
Michael Boudoin DB 6'3 200 Navarro College
Donerio Davenport RB 5'11 205 Kilgore JC
Jake Simpson TE 6'4 210 Frisco Independence
Amarion Atwood DB 6'0 170 Mesquite Horn
Dontavius Burrows DB 6'0 205 Tyler J.C.
Bobby Crosby DB 6'1 195 Cisco College
Kalil Alexander DL 6'3 215 Coffeyville C.C.
Terry Webb DL 6'3 300 Kilgore JC
Transfers (247Sports Rank: 74th)
Player Pos. Ht. Wt. Previous school
Shadeed Ahmed WR 6'0 170 Marshall
Marcus Alexander OL 6'4 340 Oklahoma
Derrick Brown LB 6'3 202 Texas
Bryce Cage DL 6'4 260 Southeastern Louisiana
Tavian Coleman DL 6'1 285 Utah State
Beau Corrales WR 6'4 210 SMU
Kaleb Culp DB 5'10 185 UIW
Drew Donley WR 6'2 170 Cincinnati
Joshua Eaton DB 6'2 180 Oklahoma
TJ Finley QB 6'6 250 Auburn
Kaleb Ford-Dement DB 5'11 190 Washington State
Dan Foster LB 6'3 240 Marshall
Konner Fox TE 6'5 265 Kansas State
Jason Gold DL 6'3 250 Northwestern
Malik Hornsby QB 6'2 180 Arkansas
Darius Jackson DB 6'1 175 Missouri
Caleb Johnson OL 6'6 330 UIW
Nash Jones OL 6'4 290 UIW
Ismail Mahdi RB 5'9 180 Houston Christian
Emeka Obigbo OL 6'4 315 UIW
Jimeto Obigbo OL 6'4 320 UIW
Dorion Strawn OL 6'5 315 UIW
Brey Walker OL 6'7 335 Oklahoma
Kole Wilson WR 5'9 165 UIW
Deven Wright DE 6'6 230 Boise State
Five Key Losses
Player, Pos.
Levi Bell DL
Kyle Hergel OL
Layne Hatcher QB
Dalton Cooper OL
Davon Sears DL
This article is available to our Digital Subscribers.
Click "Subscribe Now" to see a list of subscription offers.
Already a Subscriber? Sign In to access this content.