Eager to put lackluster 2022 behind them, Aggies mix it up and go back to basics
Texas A&M proved that the blue-chip ratio doesn't guarantee success last season when one of the most talented rosters in college football limped to a 5-7 finish in Year 5 under Jimbo Fisher.
Injuries and youth, alongside a stale offense and immaturity off the field, plagued the Aggies and forced Fisher to rearrange his coaching staff in the offseason, including the addition of offensive coordinator Bobby Petrino.
The 12th Man hopes the mass exodus of more than 30 players to the transfer portal is addition by subtraction. At least that's what the current roster believes, according to star wide receiver Ainias Smith, who chose to return for his senior season after missing the final eight games of the 2022 campaign with an injury.
"At the end of the day, you can have a bunch of talent, but if everyone is playing for themselves, what happens to the team?" he asked rhetorically. "I think we saw what can happen. This group of guys is all on the same page and we all have the same goal. The best teams are built by guys who are working for the same purpose."
Improvement is relative in the mighty SEC West, and the road theoretically only gets harder in 2024 when Oklahoma and Texas join the fray. An improved Aggies squad doesn't mean an easy run to a conference title. The roster is still littered with young faces, though it's chalked full of experience due to those trials by fire in 2022.
Texas A&M is 39-21 overall and 23-18 in SEC play through five seasons of Fisher's reign. The Aggies are 13-11 and 6-10 in conference over the last two seasons. Kevin Sumlin was 15-11 overall and 8-8 in the SEC over his final two years in charge. Take out the 9-1 run during a weird COVID season and Fisher's overall record at Texas A&M is 30-20 with a 15-17 mark in the SEC.
Even with the departures, Texas A&M ranked in the top 10 overall in returning production, according to ESPN.com. The Aggies return 82 percent of their offense, including Smith, wide receiver Evan Stewart, and two productive quarterbacks. The defense brings back 77 percent of its production, including safety Demani Richardson and a talented defensive line.
"There's more maturity on this team," Smith said. "The young guys gained experience last year. The team camaraderie is as high as I've seen it."
Expectations in College Station remain the same despite a losing record in 2022, and that's to compete with the blue bloods of the SEC for a conference title. LSU made the jump from mediocre in 2021 to the SEC title game in 2022. The talent at Texas A&M means the Aggies can realistically cling to those aspirations despite only winning six SEC games in a single season twice since joining the conference back in 2012. One of those times was in that first year with a roster built by Big 12 recruits, and the other was during the COVID season of 2020.
"We need to get back to doing the little things right," Smith said. "Make your bed. Go to bed on time. Get to study hall. Don't miss meetings. Eat right and put in the work. The little things are the things. We'll be a better football team if we go back to the basics."
DCTF'S TAKE
On paper, Texas A&M is one of the most talented rosters in the nation. The Aggies added a great offensive mind in Bobby Petrino and another group of uber-talented recruits and transfers to compete in the SEC. But the game isn't played on paper. Even an improved Texas A&M team doesn't guarantee a result better than seven or eight wins. We wouldn't be shocked if the Aggies stormed to 10 wins or suffered another losing season. Maybe that's the problem in College Station.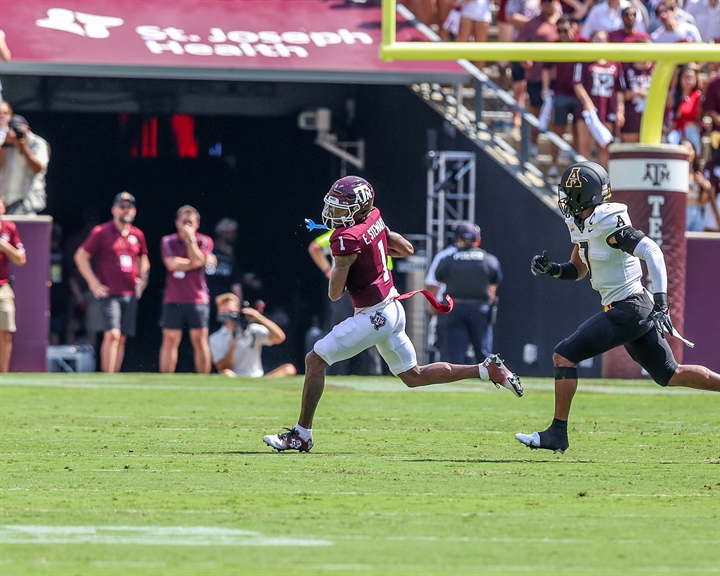 OFFENSIVE BREAKDOWN
Aggies' attack gets an overhaul and a new coordinator — can they reclaim their punch?
Numbers don't lie. The Aggies averaged 32.6 points per game during the 9-1 2020 season that represents Jimbo Fisher's best team in his five seasons at Texas A&M. That average dropped to 29.3 in 2021 and fell off a cliff to 22.8 during a 5-7 2022 season. The team threw 20 touchdowns in 10 games in 2020. The Aggies only threw 18 in 12 games last season.
The answer for Fisher was to hire outside help, and he found just that in former head coach Bobby Petrino, who took a quick stop in Las Vegas as the offensive coordinator at UNLV before arriving in College Station this offseason. Petrino coached Lamar Jackson to a Heisman Trophy and is known as an offensive guru who should liven up the Aggie attack.
Conner Weigman and Max Johnson competed in the spring for the quarterback position. Most assume Weigman, a sophomore who was a five-star recruit out of Cypress Bridgeland in the 2022 recruiting class, is the favorite to start in Week 1. He completed 55.3 percent of his passes for 896 yards in five appearances as a true freshman. Weigman threw eight touchdowns and avoided throwing an interception in 132 passing attempts. Johnson, a one-time LSU transfer, is a steady, experienced player who looked great in the spring game.
The starting quarterback won't lack receiving options. The program's top four leading receivers from the 2022 team return, including former five-star recruit Evan Stewart. Now a sophomore, Stewart could emerge as an all-conference player and a future first round NFL draft pick. He's that special. Moose Muhammad and Smith also return at WR. Noah Smith was a name that emerged during spring.
Donovan Green, who caught 22 passes for 233 yards and a pair of scores as a true freshman in 2022, is one of the best young tight ends in the SEC.
The biggest hole to fill on offense is at running back where the Aggies can no longer rely on Devon Achane. Reserves Amari Daniels and Le'Veon Moss return after combining for 63 carries last season. True freshman Rueben Owens is a wildcard at the position and in the return game.
Texas A&M must improve up front to compete in the SEC. The interior of the line should be strong if center Bryce Foster can remain healthy. He'll be flanked at guard by Kam Dewberry and Layden Robinson. Reuben Fatheree II and Trey Zuhn return at tackle, while freshman Chance Jackson impressed during the spring. Aki Ogunbiyi, Mark Nabou and Remington Strickland provide depth in the middle.
OFFENSIVE MVP
WR Evan Stewart: The Frisco Liberty graduate is one of the most talented players in Texas and is poised for a breakout season in College Station as a sophomore.
KEEP AN EYE ON
Tight end is a valued position in the Texas A&M offense, and that won't change with the arrival of Bobby Petrino as the play caller. Sophomore Donovan Green emerged as an all-conference talent as a true freshman in 2022. Expect former four-star prospect Jake Johnson to join Green on the big stage in 2023. Johnson, the brother of Aggie quarterback Max Johnson and the son of former NFL quarterback Brad Johnson, played in five games last season and is expected to see a bigger role as a sophomore.
OFFENSIVE DEPTH CHART
DEFENSIVE BREAKDOWN
Aggies' secondary carried the load in 2022; Can the front seven hold up their end?
The Texas A&M defense was a tale of two units during the five-win 2022 season. The passing defense was the best in the nation as stars like Antonio Johnson, who is now off to the NFL, and Demani Richardson shut down opposing passing attacks. However, the rush defense ranked 123rd in the nation as the front seven struggled to create havoc plays or play as a unit in Year 1 under defensive coordinator D.J. Durkin.
Talent won't be an issue in College Station, especially on the defensive side of the ball. The secondary is loaded again despite losing Johnson and cornerback Jaylon Jones. Tyreek Chappell returns at cornerback and the Aggies added ACC stars Tony Grimes (North Carolina) and Sam McCall (Florida State) to the room.
Richardson returned for his super senior season after leading the unit in tackles last season. Jardin Gilbert will start at free safety, while sophomore Bryce Anderson is expected to take over at nickel. Jarred Kerr and Jacoby Mathews provide depth at safety.
The defense line might be even more talented than the secondary, at least on paper. The Aggies return their eight best players up front, including a loaded interior unit consisting of McKinnley Jackson, Shemar Turner, Walter Nolen, and Gabriel Brownlow-Dindy. Nolen is a former five-star recruit who began to look like one consistently during the spring.
Five-star defensive tackle DJ Hicks arrived in the summer. The Katy Paetow standout was the top-ranked player in Texas for the 2023 recruiting class, flipping his pledge late to the Aggies from Oklahoma. Four of the eight defensive players Texas A&M signed in the 2023 recruiting cycle play defensive line.
The edge consists of elite talent needing to take the next step. The Wrecking Crew only managed 19 sacks in 2022, which was 111th out of 131 FBS teams. A real leader needs to emerge on the outside with high-level recruits such as Fadil Diggs, Stewart, and LT Overton possessing the talent to flirt with double-digit sack numbers. Enai White is another player who showed flashes in the spring. No player on the roster recorded more than three sacks last year.
Linebacker feels like the weak spot for Texas A&M heading into the season. That position was the main culprit for the poor rush defense that allowed 209 yards a game on the ground. Edgerrin Cooper and Chris Russell Jr. return to start in the middle of the 4-2-5 defense. True freshman Taurean York, a Temple product, led the Aggies in tackles during the spring game. They brought in linebackers Jurriente Davis (Jacksonville State) and Aidan Siano (Rice) through the transfer portal.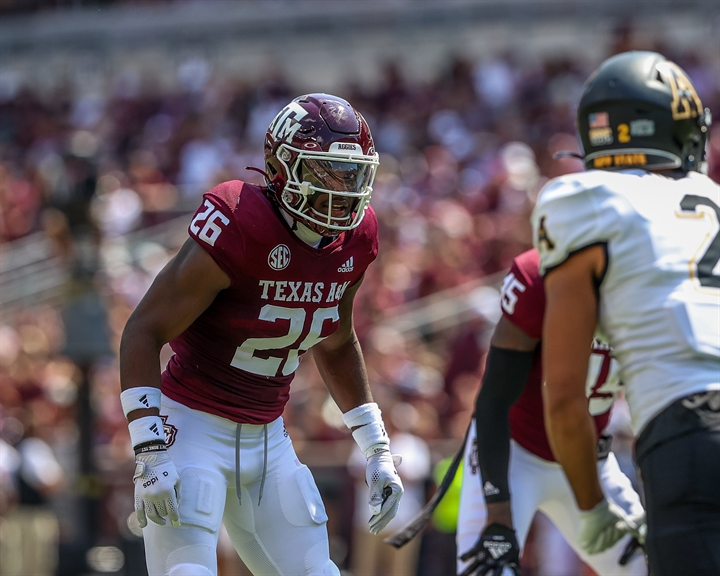 DEFENSIVE MVP
DB Demani Richardson: The Waxahachie product provides experience and leadership to the Wrecking Crew. He led the team with 73 tackles last season. He also broke up five passes.
KEEP AN EYE ON
Fine margins decide games in the tightly contested and talented SEC, so special teams become vital. The Aggies return starting place kicker Randy Bond and punter Nik Constantinou in 2023. Bond was 13 of 17 on field goals last season, going a perfect 9 for 9 from inside 40 yards. The junior also didn't miss a single point after attempt. Constantinou averaged 41.74 yards a punt with seven traveling over 50 yards. He pinned the opponents inside their own 20 on 23 occasions.
DEFENSIVE DEPTH CHART
PLAYER SPOTLIGHT: AINIAS SMITH
Texas A&M wide receiver Ainias Smith had a choice to make. The senior could declare for the NFL Draft despite not being fully healthy after suffering a season-ending lower body injury in Week 4 of 2022, or he could return to College Station for one more ride with the 12th Man.
In the end, not being able to perform at 100 percent during the scouting process made the decision for Smith.
"The injury played a big role in my decision," Smith said. "A lot of prayers went into it. Talks with my family, doctors. I wanted to be smart about it. I knew it was best for me to come back, get right, and know the NFL will be there."
Smith also gets a chance to cement his legacy as one of the most productive players in the long history of Texas A&M football. His 127 career receptions rank 10th all time for the Aggies. A solid season should put him in the top five alongside names such as Ryan Swope and Christian Kirk. He's fought through injury and a COVID-shortened season in a roller coaster ride of a collegiate experience.
The lowest moment of that ride took place in 2022 when he was hurt while blocking against Arkansas. He missed the final eight games of a five-win season, and his chance to achieve a dream of hearing his name called in the NFL Draft. Smith couldn't walk for months and said that he didn't feel back to full strength until late in spring practice.
"Last year, I was in a dark place for a long time," Smith said. "I couldn't walk. We were losing. Things weren't going right even outside of football. It was a tough time."
The comeback story allows Smith to return to his roots as an underdog. The 5-10 Smith was a three-star recruit out of Fort Bend Dulles in the 2019 cycle who didn't possess great size or blazing speed. All he did was get open at elite camp after elite camp until the Aggies took notice. Smith had prepared his whole life for the moment. His older brother, Maurice, played cornerback at Alabama and Georgia, as well as with the Miami Dolphins.
"Watching him growing up gave me a lot of motivation and inspiration to follow in those footsteps," Smith said. "He taught me a lot. Mostly, he always reminded me to enjoy the process."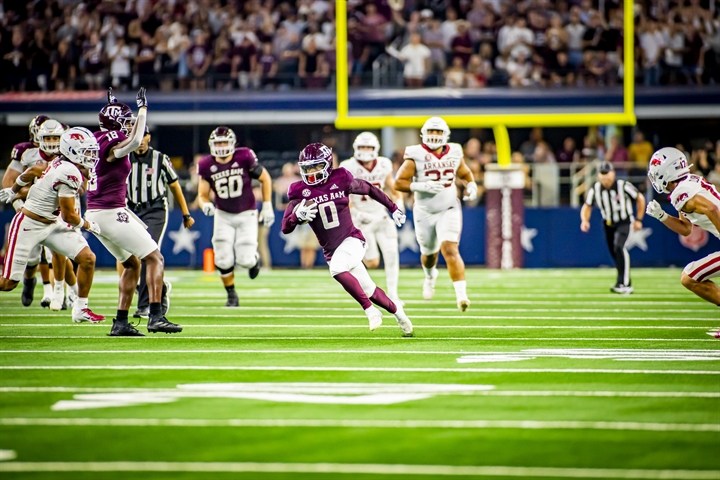 2023 AT A GLANCE
The good news for the Aggies is that five of Texas A&M's first six contests take place in the rowdy confines of Kyle Field. Business picks up in October when the Aggies host Alabama, take a trip to Tennessee, and then return home after an idle week to face South Carolina. November trips to Ole Miss and LSU could determine the perception of Year 6 under Jimbo Fisher.
PREDICTIONS
RECRUITING BREAKDOWN
The Expert's Take with DCTF Recruiting Analyst Greg Powers
After inking the No. 1 class in the country last year, Texas A&M took a step back as far as the national ratings are concerned. However, Aggies everywhere should be excited about the new additions. Two of Texas's top three highest-rated prospects still signed to play in College Station. There was some attrition from that remarkable 2022 class, but Fisher and Co. hit the Transfer Portal harder this cycle to balance the roster.
3 KEY ADDITIONS:
DB Tony Grimes
The former North Carolina defensive back brings experience and talent to an Aggies' secondary in dire need. The Virginia Beach native had a solid 2022 campaign, recording 36 tackles, seven pass breakups, and one forced fumble.
DL DJ Hicks
The state's No. 1 prospect and the DCTF Rising magazine coverboy is the ideal defensive line prospect. He has the get-off and the edge-bending ability of a five-star defensive end and the strength and power of a five-star defensive tackle.
RB Rueben Owens
The Aggies landed one of the state's most highly sought-after recruits in the form of the consensus five-star running back. Owens should turn heads early with his impressive speed and eye-popping highlights.
UNDER THE RADAR
DL Rylan Kennedy
Kennedy made a splash in his senior year as a basketball player-turned-gridiron star. His quickness and athleticism make him a formidable threat to opposing ball carriers, and his limited gridiron experience points to his developmental upside. He may need some time, but his pass-rush potential is exciting.
LB Taurean York
The DCTF three-star from Temple was the No. 1 inside linebacker in Texas. The one-time Baylor commit flipped to Texas A&M late in the cycle. With a pure love of football, York's an unstoppable tackling machine. As a field commander, he recognizes plays quickly and relentlessly pursues the ball.
2023 TEXAS A&M RECRUITING
High school/Junior college (247Sports Rank: 12th)
Player Pos. Ht. Wt. Previous school
Naquil Betrand OT 6'6 350 Philadelphia Northeast (Penn.)
Chase Bisontis OT 6'6 305 Don Bosco Prep (N.J.)
Dalton Brooks RB 6'1 185 Shiner
Raymond Cottrell WR 6'3 215 Milton (Fla.)
David Hicks DL 6'4 290 Katy Paetow
Chantz Johnson LB 6'0 210 College Station
Rylan Kennedy Edge 6'4 210 Mansfield Lake Ridge
Rueben Owens RB 5'11 190 El Campo
Jaden Platt TE 6'5 235 Haslet Eaton
Marcel Reed QB 6'1 175 Montgomery Bell Academy (Tenn.)
Bravion Rogers CB 5'10 185 La Grange
Daymion Sanford LB 6'2 220 Katy Paetow
TJ Shanahan IOL 6'4 325 Austin Westlake
Samu Taumanupepe DL 6'3 380 HumbleAtascocita
Micah Tease WR 6'0 180 Booker T. Washington (Okla.)
Jayvon Thomas CB 5'11 170 South Oak Cliff
Colton Thomasson OT 6'8 325 Smithson Valley
Tyler White P 6'3 200 Southlake Carroll
Taurean York LB 6'0 220 Temple
Transfers (247Sports Rank: 42nd)
Player Pos. Ht. Wt. Previous school
David Bailey RB 6'0 225 Colorado State
Josh DeBerry DB 5'11 177 Boston College
Finn Dirtine IOL 6'4 316 Boston College
Derek Ferraro OL 6'6 305 Richmond
Jurriente Davis LB 6'1 225 Jackson State
Tony Grimes DB 6'0 195 North Carolina
Jaylen Henderson QB 6'3 205 Fresno State
Jerry Johnson III RB 6'1 240 Rice
Preston Landis RB 5'10 205 North Texas
Sam McCall DB 6'1 180 Florida State
Aidan Siano LB 6'0 235 Rice
Jahdae Walker WR 6'4 185 Grand Valley State
Five Key Losses
Player Pos.
Antonio Johnson DB
Devon Achane RB
Jaylon Jones CB
Matthew Wykoff OL
Andre White LB
This article is available to our Digital Subscribers.
Click "Subscribe Now" to see a list of subscription offers.
Already a Subscriber? Sign In to access this content.