SAN MARCOS - - When Kelly Damphousse interviewed for the Texas State presidency last summer, the university and search firm had eight bullet-points that were essential for the position.
The first was to establish Texas State University's reputation on a national stage and the final point was someone who understood the value of athletics. The then-Arkansas State chancellor saw both of those as intertwined and for Texas State, the former started by fixing the latter, more specifically on the gridiron.
"We've got to fix football," Damphousse recalled saying early in his tenure. "We're operating really well in all the other sports. But our reputation suffers because football is not doing well."
Before this season, Texas State was 23-73 since its last winning record in 2014 and has yet to earn a bowl bid since moving up to the FBS level.
When Damphouse was announced as the next president in April 2022, the reception back in Jonesboro was mixed, to say the least, but only based on the university's subpar reputation as an FBS program. "Really? That's where you're going?"
"They thought it was not a great university, but it's a great university, "Damphousse said. "But the reputation of the football was dragging it down. That's why I put a lot of pressure on Donnie (Don Coryell) to say we've got to do whatever it takes."
Just over 12 months later, Damphousse is by far the most popular individual on Texas State's 500-plus acre campus and it has to be seen to be believed.
The Canadian-turned-Texan took over as university president in July 2022 succeeding Denise Trauth, who served 20 years. Since taking office, he's been everywhere from games to sorority events and even just walking through the main quad on campus. He's made it a mission to be ever-present on social media in promoting all aspects of Texas State.
This fall is the first time he and athletic director Don Coryell had an entire off-season to drive hype in anticipation for the football season. GJ Kinne, the first head football coaching hire under their watch, made his home debut this past Saturday, two weeks after the program's first-ever win over a Power Five school. It was the first major opportunity to see if Damphousse's presence translated into tangible excitement.
---
I pitched the idea of following Damphousse around on gameday to Texas State and was obliged but met with one question, "Do you have good shoes?" The man gets around.
An assistant coach responded something similar when I explained my assignment, "Wear good shoes!" Okay, I get it.
We met outside of the T-Association tailgate tent just before they presented the 2022-23 women's basketball teams their Sun Belt Championship rings. His wife, Beth, had to pry him away from the swarm of students and alumni at the main tailgate area in order to make the event on time.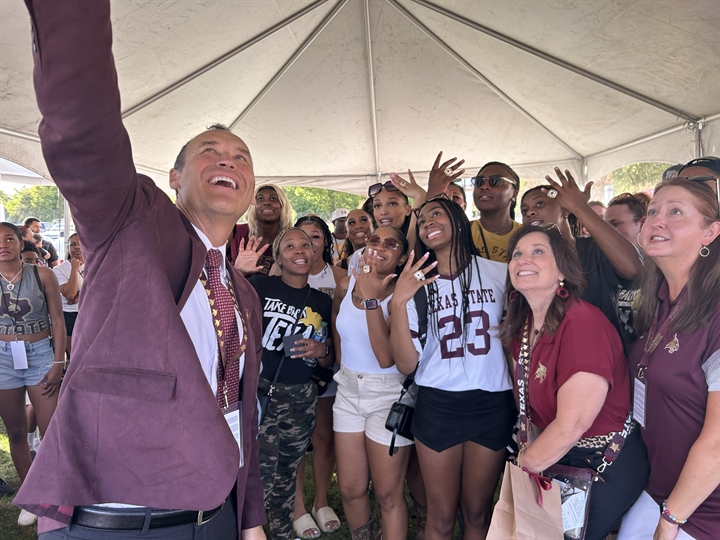 Kelly, donning in a maroon suede suit jacket, introduced me to his wife, explained my mission for the day and without hesitation, Beth's first full sentence to me: "Hope you wore great shoes!"
Despite being often handed other people's phones for photos, the president also takes plenty of his own that he later posts to his personal Twitter, Instagram or BeReal. He flashed his phone to show me how many photos he has saved – Over 130,000. Most of them being selfies with students. I had to ask if it ever got tiring, the attention, the requests, but he said it doesn't. In fact, he never denies a photo request.
"I know it's not me that's important, it's the presidency," Damphousse said. "This may be the only time anyone of them ever get to meet a president."
Before kickoff, Damphousse made his way to the student section located on the opposing sideline. The applause was only later rivaled by when the team eventually took the field 30 minutes later, led by the president on motorcycle.
Eventually there were so many students handing him their phones for a photo that he just climbed into the stands and made his way all the way through row-by-row – from endzone to endzone. I didn't follow him.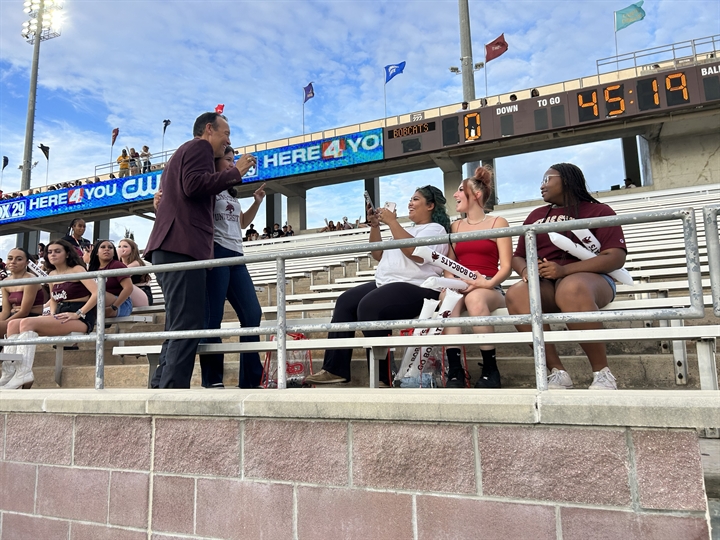 "You have six Saturdays to make memories that last a lifetime," Damphousse said of his mantra in recruiting students to games. "All we're asking for is to go have fun out there (at tailgate), and then come in here and bring it in here."
During the game, he's glued right next to the team standing with staffers and former players watching every play intently.
Just before halftime, he's back up to his Legacy suite mingling with boosters who get their own photos. It wasn't just students, everyone wanted to at least introduce themselves to him. He and Beth go from suite-to-suite sparking conversation with all the alumni within and in between each visit, Beth refreshed his memory on whose room they were about to enter.
The constant marketing and relationship-building has been pivotal in fundraising for the Bobcats' new weight room expansion to the endzone complex. The $37 million expansion broke ground in May and is the first major venture Damphousse and Coryell plan to make in the athletic program.
"I think people haven't had hope and it's not the fans' fault," Damphousse said. "Hope is a powerful motivator and when our fans start to believe, and it's reciprocal relationship to the more fans we have, the better our players play and then our coaches get hyped up."
As they wrapped up their visits, Beth checked the game clock and reminded Kelly that halftime was approaching. The couple said their goodbyes and went back to their suite. Initially, I thought there was an obligation they had to tend to at halftime and it turns out there was, kind of.
The only time both Kelly and Beth Damphousse weren't on their feet socializing was to watch the Texas State Strutters and marching band perform in-full. It was the only time that the mingling stopped.

This past fall saw the largest freshmen enrollment for the third consecutive year with 7,892 first-year students. The new administration wanted to capitalize with starting a new tradition in reinvigorating a previously dejected fanbase from the ground-up.
The steps, the photos, the smiles, it's all to drive enthusiasm. Damphousse understands that even outside the students, the alumni have been disillusioned and have to be won back.
"The highest attendance games we've ever had, we were blown out in almost every single one," Damphousse said. "So, you pull out all the stops and get 25,000-plus fans to come here and then lose 40 to 10, who wouldn't be disappointed in that?"
But was it all worth it? We got a glimpse of the answer late in the fourth quarter when the attendance was announced.
Saturday's number inside Bobcat Stadium said enough – 24,118. It was the ninth-largest attendance and by many accounts, one of the loudest atmospheres in recent memory, particularly among the students, watched the Bobcats put up a 77-34 win over Jackson State. Coming off Texas State's loss to UTSA in Week 2, a Top 10 crowd for Texas State's home-opener against an FCS program was far from anticipated.
"That was unbelievable, and that's why I came to Texas State for stuff like that," Kinne said of the atmosphere. "I mean we can do some special things here with that, so just really appreciative of the fans."
The combination of Kinne's team being statistically one of the most exciting offenses with Damphousse and Coryell's grassroots campaigning on campus and in the city reflected in over 7,000 students showing up. Since 2016, Texas State has never finished higher than eighth in the Sun Belt for percentage capacity attendance. Since joining the conference, the program's never finished higher than fifth. The season's just begun, but for a fanbase that's notoriously dejected, it was a promising start.
"A lot of people that had been here over time had told me that (fans) don't even fill up half the stadium," quarterback TJ Finley said. "For the Bobcat Nation to come out today and support us, that was very big … The more they show up, it helps us and gives us the confidence that the city believes in us."
Kinne became their first big investment and so far it's paying off. He was someone who initially wasn't a candidate because they presumed that he would be in for the Tulsa job at his alma mater. But Kinne initiated contact.
Ten minutes into the meeting, they knew he was the guy after diagramming plays on napkins and more importantly, stressing the importance of reestablishing Texas State's ties to the high school scene.
But with potential success comes the need for more. More expectations, more support and most importantly – more money. Kinne's contract has incentives baked in that include bonuses for explosive plays, conference championships and potential bowl game appearances. Even then, the administration knows that that won't be enough if all goes to plan.
"We continue with this success, it will lead us needing to kind of keep this group together," Damphousse said. "Sure, you can't keep people forever, but you have to invest in football, so that football can be successful because a successful football team reflects a quality university."
The most applied school in Texas. The highest number of top 25 percent high school graduates in the university's history and becoming an R1 institution. Those are milestones that Texas State's executive administration can now more easily relay to donors and alumni with this current momentum in athletics.
Damphousse mentioned one thing during Kinne's opening presser that could've been taken as an off-hand comment but still raised some eyebrows: The eventual construction of an indoor facility. Did he get caught up in the moment or is that fabled elusive building in his plans?
"We're gonna do it," Damphousse said. "We have to do it. I just have to say I was embarrassed to find out that we were using the local high school's indoor facility.
"That's a lot of ships that rise when you build an indoor facility. So, it's not if, it's when and it's a number one priority for me after the two new buildings we're going to build; a new residence hall and a new classroom building but this one's going to be right there."
He admitted they need private money. The estimated figure given was $4 million to $5 million from someone willing to put their name on it. That's the hard part. But the administrative team has a plan for it on request from Damphousse and it even has a prospective location where the current parking lot is behind the endzone complex.
---
Both Damphousse and Coryell waited near the tunnel at the end of the game for the players to do their ritual final lap of the field giving thanks to the remaining fans. They try to dap up each player and coach that ran past them en route to the locker room.
Heading into the post-game press conference, I caught Coryell quickly leaving the team meeting room and after a quick goodbye, he turned back around to ask one last question, "How're your feet feeling?"
This article is available to our Digital Subscribers.
Click "Subscribe Now" to see a list of subscription offers.
Already a Subscriber? Sign In to access this content.