Joey McGuire plans to continue the honeymoon period between his football program and the Texas Tech faithful indefinitely.
The Red Raiders knocked off future SEC programs Texas and Oklahoma at home in McGuire's first year as a collegiate head coach. The former Cedar Hill state champion also led Texas Tech to its first winning record in the Big 12 since Mike Leach roamed the sideline in 2009.
And the success wasn't limited to the football field. Jones AT&T Stadium is undergoing a $200 million makeover, as are the football offices and training facility. Texas Tech is also on the cutting edge of NIL collectives, offering each player on the football team $25,000 a year. All that momentum creates new expectations as McGuire & Co. hope to prove that the entire Big 12 is all West Texas.
"The energy in this building is unreal," McGuire said. "People on the outside are going to say, 'Well, let's see what happens if they don't win,' but that's not the plan. We know there will be tough times and tough games, but that's when the brand comes in."
McGuire wants his football team to be the toughest, hardest-working, most-competitive team in the country. The eight-win 2022 campaign was a great start. It set a marker for a program that was average at best in the 10 years preceding his arrival. Texas Tech hadn't won eight games since 2013. The team was 42-55 overall and 23-49 in the Big 12 in the eight years prior to 2022. The team hadn't won more than three conference games in the same season since 2015.
The period of mediocrity appears to be in the rear-view mirror. The Red Raiders return two quarterbacks with NFL aspirations, as well as their leading running back and wide receiver. All the key cogs on the offensive line also return to Lubbock. Eight of the 11 starters on defense from the bowl win over Ole Miss are also back. The Red Raiders rank 64th in overall returning production at 64 percent, but the offense returns 75 percent.
"We feel ready to contend for the Big 12," McGuire said. "Half the battle is getting our guys to believe that, and there is a heck of a lot more belief right now than this time last year because everything was so new. We really care about each other. This is a great locker room."
Texas Tech enters the 2023 season as a dark horse candidate to win the Big 12. Kansas State lost Deuce Vaughn and other weapons from the 2022 Big 12 championship team. TCU graduated its best player at literally every position on the field. Texas and Oklahoma are always the most talented team, but the Sooners showed cracks in the armor last season with a new coach and the Longhorns haven't been trustworthy since Colt McCoy left The Forty Acres.
And with Texas and Oklahoma on the way out the door after the 2023 season, Texas Tech is as well positioned as anyone remaining or joining the conference to plant a flag as a perennial contender. As the playoff expands to 12 next season, winning the Big 12 becomes a golden ticket into the College Football Playoff.
"This thing is just getting started," McGuire said about the momentum in Lubbock. "I'm excited about the future here."
DCTF'S TAKE
Texas Tech is emerging as the dark horse to win a Big 12 championship in 2023 after a strong first season under Joey McGuire. The Red Raiders beat Texas and Oklahoma at home. They finished above .500 in the Big 12 for the first time since 2009. And the money is pouring in to help fund new facilities and to build a winning roster. Texas Tech can position itself as a new Big 12 power with another step forward in Year 2.
OFFENSIVE BREAKDOWN
With skill position talent abound and Kittley back at the controls, prepare for fireworks
A high-powered attack engineered by offensive coordinator Zach Kittley last season reminded Texas Tech faithful of the glory days in Lubbock. The Red Raiders scored 34.12 points per gamein 2022, good for 27th in the nation. The unit was 22nd in the FBS in total offense at 461.4 yards per contest. The group returns 75 percent of the production from last year, which is 31st-most in college football.
"Kittley came in and figured out the best way to maximize our offensive talent last year," head coach Joey McGuire said of his hot-shot offensive coordinator. "His football IQ is off the charts. He's going to be a heck of a head coach one day."
Texas Tech returns two quarterbacks with starting experience. Senior Tyler Shough, a one-time Oregon transfer, was 4-0 in games he started in last year. He completed 59.9 percent of his passes, throwing seven touchdowns to four interceptions. Former four-star recruit Behren Morton impressed in nine appearances, tossing seven touchdowns. The Red Raiders started three quarterbacks for multiple games in McGuire's first year due to various injuries. Donovan Smith transferred to Houston following the season.
"We have two quarterbacks who will play on Sundays," McGuire said. "Competition makes us all better, and I think both know that they need each other. Injuries are a part of this sport."
Texas Tech hopes to improve on a running game that averaged just 3.9 yards a carry in 2022, though some of that number is tied directly to the offensive line allowing 41 sacks in 13 games. Tahj Brooks, a Manor product entering his senior season, returns after leading the team in rushing the past two seasons. He has 1,514 yards and 18 touchdowns in his three-year college career. Sophomore Cam'Ron Valdez offers a change of pace with added speed and elusiveness. McGuire calls him a one-cut runner who can add a big-play dimension to the rushing attack.
The weapons are plentiful on the outside. DeSoto native Jerand Bradley emerged as a true No. 1 threat last season. Myles Price and Xavier White are back to gobble up targets in the slot. Midland Lee product Loic Fouonji is poised for a breakout season as a senior. Drae McCray is a name to watch after transferring in from Austin Peay.
Most of the offensive line is back. Tackles Monroe Mills and Caleb Rogers are flipping sides. Cole Spencer is healthy after missing 2022 with an injury. Dennis Wilburn and Landon Peterson also return in the interior. Depth should also be improved as young guys mature into the system.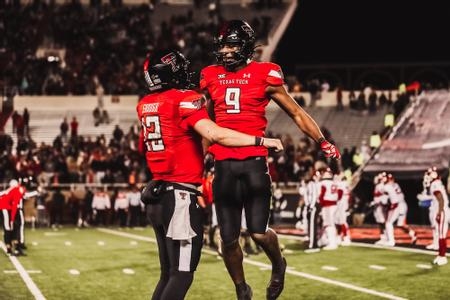 OFFENSIVE MVP
WR Jerand Bradley: Bradley, a 6-5 sophomore from DeSoto, caught 51 passes for 744 yards and six touchdowns last season.
KEEP AN EYE ON
The Texas Tech offensive line allowed 41 sacks in 13 games last season. The 3.15 sacks allowed per game ranked 112th out of 131 FBS teams. The return of Cole Spencer from injury should help. He'll slot in at left guard after missing last year due to injury following a transfer from Western Kentucky to follow offensive coordinator Zach Kittley. Tackles Cole Rogers and Monroe Mills are switching sides with Mills asked to play left tackle. Improved pass blocking will unlock the Red Raider offensive potential.
OFFENSIVE DEPTH CHART
DEFENSIVE BREAKDOWN
High-risk offense puts defense under pressure, but Red Raiders ready to rise to the challenge
Playing defense at Texas Tech is no easy task. The Red Raiders run more plays than anyone else in the Big 12, and the program's reliance on fourth downs can put Tim DeRuyter's unit in a bind. Some defensive coordinators might bristle at the expectation to stop a team after relinquishing field position in favor of percentages, but not in Lubbock.
"Joey (McGuire) does a great job of explaining our strategy on fourth down and the math behind the decisions," DeRuyter said. "I'm an analytics guy myself, but I do kid with him that he's lucky that I'm not looking for my next job. A young DC wants to defend an 80-yard field."
The defensive unit returns eight starters from the bowl win over Ole Miss, but the group only returns 52 percent of its production from last year, according to ESPN. The Red Raiders must replace first-round draft pick Tyree Wilson on the edge, as well as leading tacklers Krishon Merriweather and Kosi Eldridge, who was denied an extra year of eligibility by the NCAA. Defensive backs Marquis Waters and Reggie Pearson are also gone.
The good news is that interior defensive linemen Jaylon Hutchings and Tony Bradford Jr. return to anchor the defensive unit. The pair is the best defensive tackle duo in the Big 12, and the state of Texas. They combined for 14.5 tackles for loss and seven sacks in 2022, but they're main job is to keep the linebackers free so that the second level can make big plays.
"Getting those two big guys back in the middle of our defense was invaluable," McGuire said. "It all starts up front, and you're not moving those two off their spots very often. They make life easier for everyone else."
Senior Myles Cole and sophomore Joseph Adedire are tasked with replacing Wilson's pass rushing production. Outside linebackers such as Jesiah Pierre and Isaac Smith should also help disrupt the passer. New middle linebackers are needed, and McGuire expects a big year from junior Jacob Rodriguez. Senior Tyrique Matthews should also start.
The secondary should be a strength for the Red Raiders with cornerback Malik Dunlap returning after an all-conference performance in 2022. Dadrion Taylor-Demerson returns at free safety as the team's leading tackler from last year. Former Texas transfer Tyler Owens is expected to take over at boundary safety. Rayshad Williams, a former transfer from UCLA, is in the mix to start at cornerback opposite of Dunlap. Cameron Watts, Joseph Plunk, and Maurion Horn are amongst the reserves hoping to push for playing time at defensive back in the fall.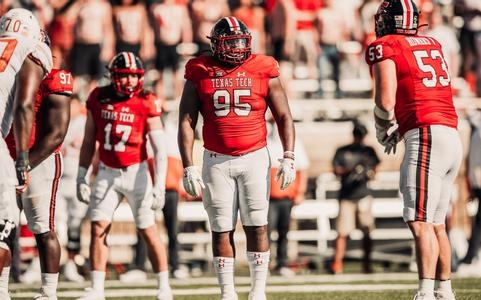 DEFENSIVE MVP
DL Jaylon Hutchings: Great defense starts on the interior of the defensive line and Jaylon Hutchings might be the best defensive tackle in Texas. He recorded 5.5 tackles for loss last season.
KEEP AN EYE ON
Linebacker is the trouble spot for Texas Tech entering the 2023 campaign, at least on paper. The Red Raiders lost leading tackler Krishon Merriweather, so new faces must emerge on the second level for a Red Raiders defense that was quietly the strength of the team for chunks of the 2022 season. Jacob Rodriguez and Tyrique Matthews are expected to man the middle of the defense. Jesiah Pierre and Isaac Smith are names to know at the outside linebacker spot. Bryce Ramirez's return would be a huge psychological boost.
DEFENSIVE DEPTH CHART
PLAYER SPOTLIGHT: TONY BRADFORD
Texas Tech defensive tackle Tony Bradford was so disgusted that he couldn't even watch. He was a senior at Galena Park North Shore and the usually stout Mustangs defense had allowed 36 points in regulation to Duncanville in the 2018 Class 6A Division II championship.
North Shore trailed by five points with the final seconds ticking off the clock as quarterback Dematrius Davis' Hail Mary heave landed in the arms of Ajani Carter for a game-winning touchdown that will live forever in Texas high school football lore.
"I was on my knees and I had my head down praying because I thought the defense cost us a state championship game," Bradford remembered. "All of a sudden, I hear our fans screaming and everybody started running around me. I looked up and saw the replay on that big screen."
The rest is a blur. Bradford remembers running onto the field at AT&T Stadium in Arlington to celebrate with his teammates. He threw his helmet into the air, and then never retrieved it. He admits that he's still not sure what happened to that helmet. And he doesn't care. It was the perfect end to a prep career that more than prepared him for the challenges he'd face as a collegiate athlete at Texas Tech.
"North Shore is basically a young college team, so I felt ready for the next level," Bradford said. "Our offseason workouts and the way we were coached prepared us for this grind. That's why you see so many of us from those teams across college football."
Bradford returned for his senior season with one goal in mind – return to Jerry World to claim another championship. This time, it'd be a Big 12 title with his surging Red Raiders. He recorded 32 tackles, including nine for loss and 5.5 sacks last season.
Bradford and fellow defensive tackle Jaylon Hutchings form the best interior defensive line in the Big 12, and in the Lone Star State. Hutchings recorded 50 tackles a year ago. They hope to lead the program to new heights before riding off into the West Texas sunset.
"I came back to help this program take the next step," Bradford said. "We took a giant leap forward last year with the new staff. The only thing left for us to do is bring home a championship and put this program on track to be a real national power as the playoff expands."
2023 AT A GLANCE
Texas Tech can make a national statement in Week 2 when the Red Raiders host an Oregon team that figures to enter the 2023 season ranked near the top 10. The Big 12 slate is relatively friendly for Joey McGuire's group. Texas Tech doesn't face Oklahoma and hosts TCU and Kansas State. The final game of the season is a trip to Austin to face Texas for the last time in a long time.
PREDICTIONS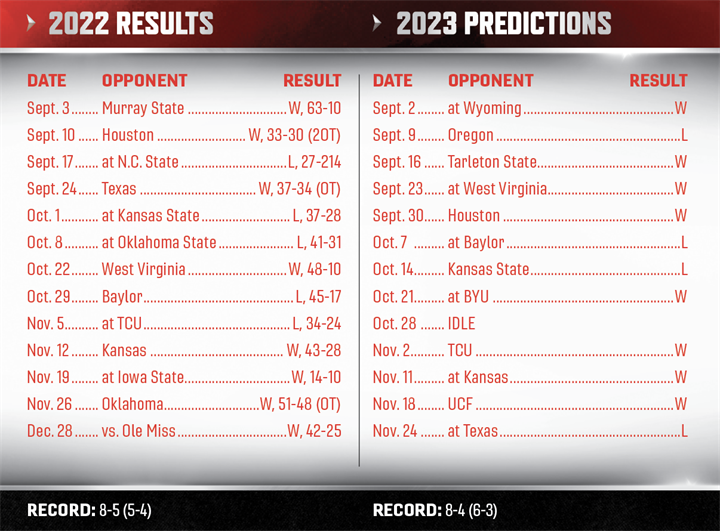 RECRUITING BREAKDOWN
The Expert's Take with DCTF Recruiting Analyst Greg Powers
Under Joey McGuire's leadership, the Red Raiders have experienced a positive shift both on and off the field, with an emphasis on recruiting in-state talent. This year, McGuire's recruiting efforts yielded promising results, especially on the defensive side of the ball. The five highest-rated signings were all on defense. The talent is there, and now it's all about development.
3 KEY ADDITIONS:
DL Isaiah Crawford
Texas Tech is making a statement with the addition of Crawford, the highest-rated prospect in its 2023 recruiting class. The Red Raiders were able to flip his commitment from conference foe Baylor, which is impressive enough.
DL Dylan Spencer
The one-time Texas commit is an intriguing defensive line prospect who burst onto the scene as a freshman at West Orange-Stark playing running back and wide receiver. He matured into a monster with a penchant for stopping the run.
DB Jordan Sanford
Sanford's blazing 10.6 speed caught Tech's attention, and his versatility in the secondary should help him make an immediate impact. Sanford's coverage skills and willingness to tackle are valuable assets that add to his tremendous upside.
UNDER THE RADAR
DB C.J. Baskerville
After playing two seasons at San Diego State, the former DCTF three-star arrives with two years of eligibility remaining. The Aztecs got a steal when they signed him in the Class of 2021 out of Richland. Baskerville is a strong tackler with good ball skills and range, and he should make an immediate impact.
OL Nick Fattig
Fattig is the foundation of an offensive line haul that Tech is proud of but does not get enough credit. He's a big, physical blocker who moves well and is strong and thick in the lower body. Fattig can plow through defenders to get to the next level of the defense.
2023 TCU RECRUITING
High school/Junior college (247Sports Rank: 36th)
Player Pos. Ht. Wt. Previous school
Tre'Darius Brown DL 6'3 300 Natchitoches Central (La.)
Kaden Carr OL 6'5 320 Lubbock-Cooper
Jayden Cofield DL 6'3 325 Manor
Isaiah Crawford LB 6'4 210 Post
Demarion Crest-Daniels WR 6'3 185 El Paso Parkland
John Curry LB 6'3 195 Lubbock Coronado
Jmaury Davis RB 6'2 190 Clarendon
Miquel Dingle Jr. LB 6'1 215 Duncan Byrnes (S.C.)
Nick Fattig OL 6'4 275 Clear Springs
Justin Horne LB 6'1 200 John Curtis (La.)
Brenden Jordan DB 6'0 200 Mansfield
Chapman Lewis DB 6'1 170 Burleson Centennial
Aiden Meeks WR 5'10 170 Rockwall
Ansel Nedore DL 6'3 245 Round Rock
Marcus Ramon-Edwards ATH 6'3 200 Lubbock Trinity Christian School
Braylon Rigsby DL 6'2 290 Woodville
Jordan Sanford DB 5'11 185 Mansfield Timberview
Dylan Shaw OL 6'4 300 Flour Bluff
Daniel Sill OL 6'5 290 A&M Consolidated
Dylan Spencer DL 6'4 240 C.E. King
Marquez Stevenson WR 6'0 170 Captain Shreve (La.)
Jake Strong QB 6'2 200 Justin Northwest
Miles Thompson ATH 6'0 165 Cedar Rapids Washington (Iowa)
Kelby Valsin WR 6'1 180 Arlington Bowie
Amier Washington DL 6'3 245 Little Cypress-Mauriceville
Tyrone West WR 6'1 190 Humble
Anquan Willis RB 6'0 220 Wichita Falls Rider
Transfers (247Sports Rank: 57th)
Player Pos. Ht. Wt. Previous school
C.J. Baskerville DB 6'2 180 San Diego State
Quincy Ledet DL 6'3 270 ULM
Steve Linton DL 6'5 215 Syracuse
Deandrae McCray WR 5'10 170 Austin Peay
Rusty Staats OL 6'5 265 Western Kentucky
Terrell Tilmon DL 6'4 210 Oregon
Five Key Losses
Player Pos.
Tyree Wilson DE
Krishon Merriweather LB
SaRodorick Thompson RB
Marquis Waters DB
Kosi Eldridge LB
This article is available to our Digital Subscribers.
Click "Subscribe Now" to see a list of subscription offers.
Already a Subscriber? Sign In to access this content.