With the move to the Big 12, Coogs ready to put years of preparation into practice
Houston was sentenced to college football purgatory when the Southwest Conference dissolved after the 1995 season. The resurrection back into the national spotlight as new members of the Big 12 required stops in Conference USA and the American Athletic Conference while familiar foes such as Texas, Texas Tech, and Baylor enjoyed life as Power Five members.
The Cougars are back in the big leagues for the 2023 campaign in a crowded Big 12 that still includes the Longhorns and the Oklahoma Sooners. They must maneuver these new waters without recent stars such as quarterback Clayton Tune, wide receiver Tank Dell, and safety Gervarrius Owens.
Dana Holgorsen was hired away from Big 12 member West Virginia by the Houston brass prior to the 2019 season to prepare the program for this exact moment. He helped the Mountaineers transition from the Big East to the Big 12 over a decade ago. Holgorsen holds a 27-20 record in four seasons at the helm of the Third Ward, including a 20-7 mark over the past two seasons.
"We've put this place on a solid foundation over the last four years to prepare ourselves for this moment," Holgorsen said. "We've won 20 games in two years and back-to-back bowl games for one of the only times in the history of this program. We're a more talented team than when I took over and there are a lot of dudes in this building that are only here because we're moving to the Big 12."
Holgorsen is the first to admit that his Cougars underachieved during an eight-win season in 2022. They entered the year with conference championship aspirations following a 12-win campaign in 2021. Houston lost three conference games and both of its matchups with Big 12 programs last season, including a double-overtime thriller at Texas Tech. Kansas beat the Cougars the following week by 18.
"We didn't handle the expectations well last year," Holgorsen said. "We got kicked down a little bit. I hope that chip (on our shoulder) comes back as a program like we had going into 2021. We need that edge because where we're going, we're not going to have it as good as most of the other programs."
Consequences exist after a three-decade long timeout from major college football. Houston is working on plans for new facilities and an improved NIL structure. Season ticket sales are soaring. Attention in a crowded city is growing. A schedule that includes home games against TCU and Texas should help. But everyone involved knows that success on the field is the only way to pack the stands consistently and grow the athletic budget. And winning in 2023 won't be easy.
Week 1 includes a matchup against a UTSA program that took the Cougars to three overtimes to start 2022. An improved Rice squad gave Houston all it could handle last year, as well. The Big 12 schedule begins with a home game against national runner-up TCU and a road game two weeks later against a Texas Tech squad that finished over .500 in the Big 12 in 2022 for the first time since Holgorsen's mentor, Mike Leach, roamed the sidelines back in 2009.
"We know what we're up against," Holgorsen admitted. "I know our team is better top to bottom, but we'll be finding out quickly if that is enough for us to hang in the Big 12."
DCTF'S TAKE
Transition is never easy. Every game in the Big 12 feels like a coin flip and the Cougars could finish anywhere from eight to four wins without surprise. They're facing a higher level of competition while breaking in a new quarterback and multiple fresh faces on the defensive side of the football. Holgorsen knows the Big 12 and was hired to put the Cougars in position to compete in Year 1. That's a tough task given the conference's depth heading into 2023.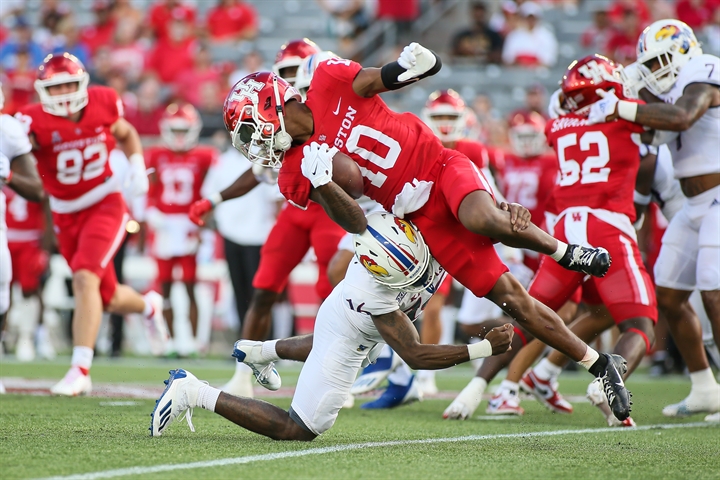 OFFENSIVE BREAKDOWN
Plenty of new faces in key places, Coogs hope to continue their offensive fireworks show
Houston posted a top-20 scoring offense for the second straight season in 2022, led by quarterback Clayton Tune and wide receiver Nathaniel Dell. The duo is now off to the NFL, while offensive coordinator Shannon Dawson took the same job at Miami. It is up to head coach Dana Holgorsen and a new cast of characters to match the output of the last two seasons.
Holgorsen brought in Texas Tech transfer Donovan Smith at quarterback to compete with Lucas Coley for QB1 honors. Houston watched Smith firsthand during a double-overtime loss to the Red Raiders in 2023. Smith is a solid pocket passer who can serve as a physical runner in short-yardage situations and on the goal line.
The running back room figured to be bolstered with the return of former freshman All-American Alton McCaskill, who missed the 2022 season with an ACL injury. He went through spring practice in Houston before entering the transfer portal. McCaskill set a Houston record for most touchdowns scored by a freshman with 16.
The good news for the Cougars is that they went through the same process last year with McCaskill out due to injury. Brandon Campbell, who transferred home to Houston in 2022 after beginning his career at USC, might be the featured back in 2023. He'll be joined by sophomore Stacy Sneed. Kelan Walker and Maurice Reed are also options.
Balance should exist on the outside in 2023, as well. Tune to Dell was such a dynamic partnership that it was hard to spread the ball around to other players. Wide receivers such as Matthew Golden, Samuel Brown, and Joseph Manjack IV should see more targets. Holgorsen is excited about talented true freshmen arriving this summer like Mikal Harrison-Pilot and Jonah Wilson. The staff is also excited about the progress of tight end Matt Byrnes, who takes over for the departing Christian Trahan. "We might not have a guy in the slot capable of catching 100 passes, but that doesn't mean our passing offense can't be even more dynamic thanks to the depth out wide," Holgorsen said. "On the whole, the guys coming in are better than the ones leaving. We won't lack talent at the skill positions."
Offensive line is a concern, especially the depth. Holgorsen expects the Cougars to add multiple players in the trenches through the transfer portal prior to the start of 2023. Paul, a two-time All-AAC selection, headlines the group at left tackle. Center Jack Freeman is a consistent anchor in the middle.
OFFENSIVE MVP
WR Matthew Golden: Someone must replace Nathaniel Dell's production and Golden, a former four-star recruit who showed flashes as a freshman, is the most likely candidate to become Houston's no. 1 receiver.
KEEP AN EYE ON
Houston was one of only two FBS teams in Texas to start the same quarterback in every game last season. Injuries were a constant theme for Texas Tech transfer Donovan Smith during his time in Lubbock, so the Cougars are best served by having options at the position. Sophomore Lucas Coley, a Converse native who started his career at Arkansas, ended the 2022 season as the backup to the departed Clayton Tune. He'll push Smith, and both are likely to play significant roles.
OFFENSIVE DEPTH CHART
DEFENSIVE BREAKDOWN
Coogs hoping that growing pains of 2022 pay dividends for defense in 2023
Losing Marcus Jones and Logan Hall to graduation after a 12-win 2021 season and key injuries early in the 2022 to stars like Gervarrius Owens and Derek Parish derailed the Third Ward Defense. Doug Belk's group dropped from the 19th-best scoring defense in FBS in 2021 to 112th last season. The unit allowed 32.2 points per game during an eight-win 2022 campaign, which was nearly 12 points more than it allowed in a 12-win 2021 season.
"The youth showed up early, as did the injury bug," Belk said. "We played musical chairs in the lineup throughout the year with a few season-ending injuries and some guys who were in-and-out of the lineup with ailments. We never hit a groove."
The defense must go through another reinvention heading into 2023 with multiple-year starters such as D'Anthony Jones, Donavan Mutin, and Jayce Rogers no longer on campus. Belk looks to familiar leaders such as Hasaan Hypolite, who is moving from safety to linebacker, as well as emerging playmakers such as Nelson Ceaser and Chidozie Nwankwo.
The transfer portal also allows for quick fixes at trouble positions. Houston used the portal to add starters and depth to the defensive unit. The problem is that not all that talent arrived in the spring semester, so a few of those fresh faces must make instant impacts on short notice. The Cougars are counting on transfers such as edge rusher David Ugwoegbu (Oklahoma), linebacker Ish Harris (Texas A&M), and all-conference cornerback Malik Fleming (East Carolina).
"We lost a lot of production to graduation or the NFL over the past two years, and we need those new faces to come in and help out," Belk said. "We had 18 guys who weren't here in the spring. We'll need a couple of those guys to get here in the summer and become some of our best players on defense. That's the new reality."
Ceaser and Nwankwo are set to headline the defensive line with hopes that Ugwoegbu arrives from Oklahoma ready to contribute to Sack Ave. Belk's defensive line lacked depth due to injuries in 2022 and that lowered the sack numbers and put a ton of pressure on a young secondary. High hopes exist for the linebacker duo of Malik Robinson, who dealt with injuries last season, and Trimarcus Cheeks. Players such as Jamal Morris, Treylin Payne, and transfers such as Harris should provide depth for a group losing its top five tacklers.
A healthy Alex Hogan should help settle the cornerback position. New leaders must emerge at safety.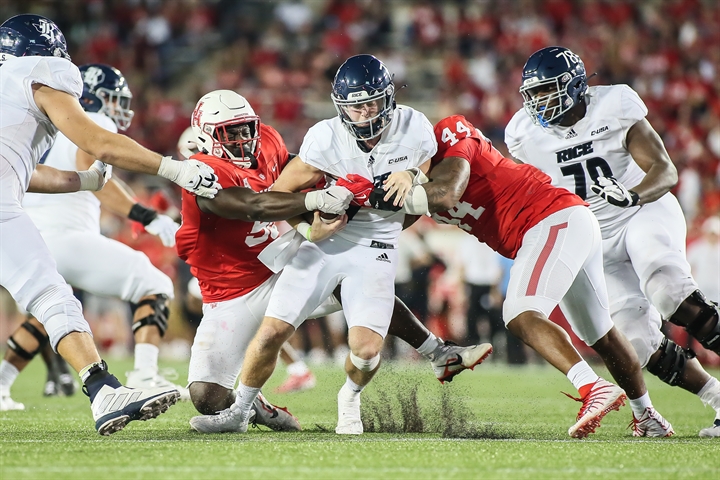 DEFENSIVE MVP
LB Hasaan Hypolite: A three-time team captain entering his fourth year as a starter for the Cougars. His ability to transition to linebacker is pivotal for Houston's defensive efforts.
KEEP AN EYE ON
Third down defense cost Houston repeatedly in 2022 as a combination of youth in the secondary and injuries to the team's top pass rushers put defensive coordinator Doug Belk's group in a bind. Houston was 110th nationally in third down defense, allowing opponents to convert over 43 percent of the time. The passing defense ranked 122nd in the FBS ranks by allowing 278.6 yards per game through the air. The unit was 47th in total sacks.
DEFENSIVE DEPTH CHART
PLAYER SPOTLIGHT: PATRICK PAUL
Houston left tackle Patrick Paul, a two-time All-AAC first-team offensive lineman, didn't need to look far to find his college destination. That's because there weren't many places to look. The Jersey Village product left high school as a three-star recruit with two offers, and he barely counts one of them.
"Tulsa was my first offer, but I think I only got the offer because my brother (Chris) played there," Paul said. "Houston came around two weeks later. After my first visit here, I committed. I just knew it was the place for me."
Paul's first year on campus in the Third Ward was a dream. He kept his redshirt despite starting the final three games at left tackle. He entered 2020 as the entrenched starter for Clayton Tune's blindside and started the first two games of the campaign before a high ankle injury ended his season. He also caught COVID-19 and had to deal with a new world in the middle of a new dilemma – rehabilitation after surgery.
"It was a rough year," Paul said about 2020. "That was the first time to be truly injured and need surgery. It teaches you that football isn't forever."
Paul overcame rehab and earned his starting spot at left tackle by the start of a 12-win 2021 season that culminated in his first all-conference selection. He started all 14 games and only allowed three sacks on 526 opportunities. He played 1,000 snaps and was a first-team All-Texas selection. He overcame. Conquered. And so had the Cougars. The lows transformed into peaks.
"I felt like I had something to prove," Paul said. "I had to teach myself that I still had it because I couldn't walk for two months at one point. I learned a lot about myself during that process. Football became the reward."
Paul was a team captain during the 8-4 2022 campaign where he was once again named first-team all-conference and All-Texas. He allowed one sack in 565 opportunities and was the second-highest graded pass blocker among tackles by PFF. His brother was selected in the seventh round of the 2022 NFL draft by the Commanders. Teammates know the younger Paul will follow in those footsteps after one more year at home.
"He's real technical. He's grown so much as a player since he got here with me in 2019," defensive end Nelson Ceaser said. "He understands what a pass rusher is trying to do. He's a first round guy."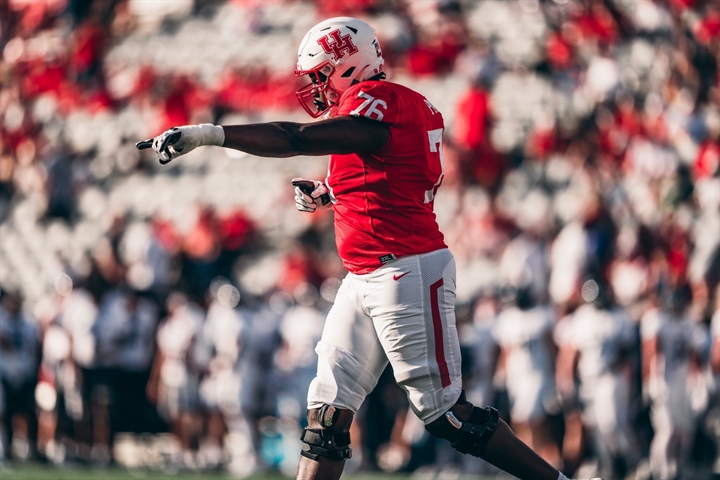 2023 AT A GLANCE
The schedule offers Houston no favors in its debut season in the Big 12. A home game against UTSA in Week 1 is no gimmie. The first conference game of the year is against a TCU squad fresh off a trip to the national title game. The schedule also includes trips to Kansas State, Texas Tech, and Baylor. A home game against Texas in October is the headliner.
PREDICTIONS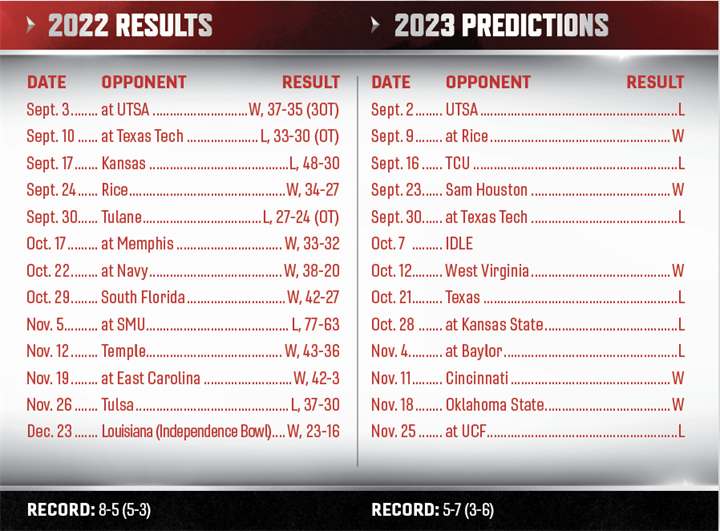 RECRUITING BREAKDOWN
The Expert's Take with DCTF Recruiting Analyst Greg Powers
Houston's recruiting strategy is starting to resemble TCU's, which has been highly successful in recent years by striking a balance between high school and Transfer Portal recruiting. With a deep pool of top-level talent in the city, Houston has a prime opportunity to capitalize on this approach, especially following its move to the Big 12. Switching conferences should also allow Houston to compete at a higher level and raise its national profile, which could help the team recruit more stars.
3 KEY ADDITIONS:
OL Jaylen Garth
Garth announced his intentions to transfer to Houston from Texas in August 2022, but his commitment counts towards the Class of 2023 numbers due to scholarship limitations. The former four-star from Port Neches-Grove is athletic and versatile.
WR Mikal Harrison-Pilot
The highest-rated prospect in the class was also one of the most highly-recruited prospects in the nation. Harrison-Pilot has a solid connection to UH, as his father, Chris Pilot, played linebacker for the Cougars.
WR Jonah Wilson
Houston landed a coveted commitment from a four-star wide receiver who had previously been pledged to Texas. Wilson's impressive basketball background is evident in his ability to win contested catches with his big frame.
UNDER THE RADAR
WR Ja'koby Banks
Banks, a dynamic athlete with blazing speed and elusiveness, brings his versatile skillset to Houston. Though he primarily played quarterback prior to his senior year, Banks transitioned seamlessly to wide receiver and showcased his playmaking ability as a pass-catcher.
LB David Ugwoegbu
This defensive stalwart has one year of eligibility after a solid career at Oklahoma. 2022 was by far his most productive on the field, as he earned honorable mention All-Big 12 honors after collecting 109 tackles and 7.5 tackles for a loss. His experience and production will both be valued assets.
2023 HOUSTON RECRUITING
High school/Junior college (247Sports Rank: 48th)
Player Pos. Ht. Wt. Previous school
Ja'koby Banks WR 5'9 175 Fort Bend Marshall
Johnsley Barbas DB 5'11 165 Centennial (Ga.)
Justin Benton DL 6'1 280 Newton
Cayden Bowie OL 6'3 290 Port Arthur Memorial
Juwon Gaston DB 5'1 185 Northwest Mississippi C.C.
Mikal Harrison-Pilot WR 6'0 190 Temple
Parker Jenkins RB 5'10 185 Klein Forest
Latreveon McCutchin LB 6'2 205 Austin LBJ
Caleb McMickle QB 6'1 190 Fellowship Christian School (Ga.)
Michael Patterson DB 5'10 165 Fort Bend Marshall
Christopher Pearson DB 6'1 190 Orange Beach (Ala.)
Jett Runion TE 6'5 230 Aubrey
Re'Shaun Sanford RB 5'7 165 Harker Heights
Jamaal Shaw DB 6'1 180 West Orange-Stark
Jalyn Stanford DB 5'11 185 Jenks
Ja'Ryan Wallace WR 6'3 185 Denton Braswell
Jonah Wilson WR 6'2 195 Spring DeKaney
Transfers (247Sports Rank: 27th)
Player Pos. Ht. Wt. Previous school
Max Banes OT 6'5 307 Akron
Joshua Cobbs WR 6'4 205 Wyoming
Peyton Dunn IOL 6'7 315 UL Monroe
Malik Fleming CB 5'9 180 East Carolina
Jaylen Garth OL 6'5 285 Texas
Brian George DB 6'2 190 Texas A&M
Isaiah Hamilton DB 6'1 165 Texas Southern
Adari Haulcy DB 5'11 220 New Mexico
Jalen Hunt DL 6'3 235 Michigan State
Stephon Johnson WR 6'0 175 Oklahoma State
Brandon Mack DL 6'4 240 Ole Miss
Jack Martin P 6'0 180 Alabama
Tony Mathis RB 5'11 195 West Virginia
David Ndukwe IOL 6'6 240 Western Kentucky
Mike O'Laughlin TE 6'5 230 West Virginia
Aubrey Smith LB 6'2 220 Colorado
Donovan Smith QB 6'4 190 Texas Tech
David Ugwoegbu LB 6'4 250 Oklahoma
Five Key Losses
Player Pos.
Clayton Tune QB
Nathaniel Dell WR
Gervarrius Owens S
Donavan Mutin LB
Alton McCaskill RB
This article is available to our Digital Subscribers.
Click "Subscribe Now" to see a list of subscription offers.
Already a Subscriber? Sign In to access this content.