Lake Belton had an impressive 8-3 season in its first year of UIL competition in 2022, and the players returning under the direction of Broan Cope have built a strong foundation of winning, going 24-6 in three years.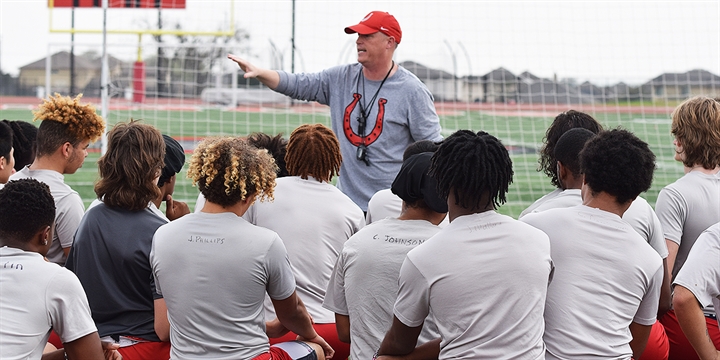 2024
DL Garrett Combs (6'4, 250): The move in from Salado is bringing a very physical presence to the Broncos' defensive front. With a stout, well filled-out upper and lower body, Combs quickly passes the eyeball test. On tape, he uses his hands well to get off of blocks and relishes finishing tackles with authority. Combs has already secured an offer from Northwestern State and more should follow.
CB Selman Bridges (6'4, 165): A long and rangy cornerback prospect whose 4.4 40-yard speed translates well in the pads. His height is not a concern on the island as he is able to sink his hips and hang step for step with the fastest wide receivers. Bridges may draw some comparisons to Seattle Seahawks CB Tariq Woolen (UTSA), who finished third in Rookie of the Year voting and led the NFL in interceptions. On the recruiting front, Bridges has secured over 20 scholarship offers, and schools like TCU, Texas Tech, Alabama, LSU and USC are a sampling of the colleges that fans should note as contenders.
WR Micah Hudson (6'1, 195): The DCTF five-star is among the nation's most heavily recruited prospects, collecting 35 scholarship offers. The opposition usually gameplans to try and limit Hudson's touches, but he can beat double teams consistently. Lake Belton's offensive staff finds creative ways to get him the football. There isn't much he can't do on a football field. He has strong hands, runs exceptional routes, and has uncanny playmaking ability. Hudson is a four-sport high school athlete and an excellent student in the classroom. He has yet to name a top schools list, but we are closely tracking schools like Texas, Texas A&M, Texas Tech, Alabama, Ohio State and more.
Other Names to Know: OL Kaden Bradshaw (6'3, 240), OL/DL Adam Walden (6'4, 360), LS Isaiah Koonce (5'10, 225), ATH Torre Mallard (5'10, 170), ATH Ty Legg (5'10, 170), S Peanut Brazzle (5'11, 180), ILB John Cole (6'0, 195), WR Tyrus Jackson (6'0, 165), ATH Cameron Hamilton (5'9, 170), ATH Tre Phillips (5'11, 180)
2025
The 2025 class features a couple of names to know up front in OL Brett Harmon (6'3, 250) and OL Caleb Loper (6'5, 220). Harmon has a strong football pedigree as he is the son of UMHB head coach Larry Harmon.
Lake Belton will be looking to RB/LB Josh Mallard (6'0, 170) and RB Ryan Camacho (6'1, 200) to step up and lead the rushing attack. Mallard attended the Next Level Athlete Texas Top 100 Showcase in Dallas and may also have a big impact on defense, stepping in for TCU signee Javeon Wilcox.
QB Eli Mascarenas (5'11, 170) will be competing for the starting QB spot vacated by Connor Crews.
Other Names to Know: K Tommy Stephens (6'5, 155), OL Diego Velasquez (6'2, 215)
2026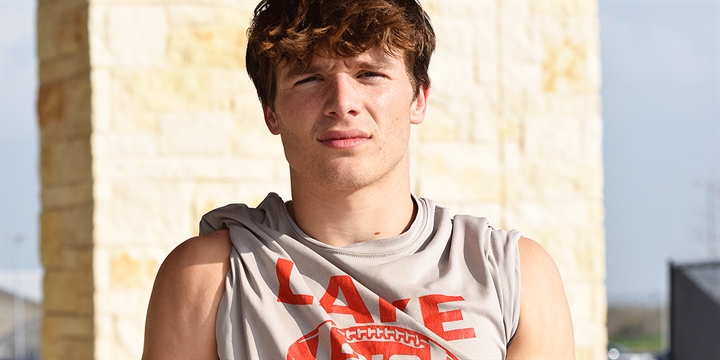 The future of the program is moving up from sub-varsity teams that won a whole lot of games last season. QB/ATH Davion Peters (6'1, 170) is a touchdown machine who can beat you multiple ways. He will be competing with Mascarenas for the starting QB job but could factor in at a number of positions. He is a legitimate D1 prospect who will command attention as soon as he has varsity film.
Expectations are also high for WR Braxtan Cope (6'1, 180) and LB Gavin Owens (6'2, 180), as they will be essential elements of the team and could develop into players who could excel at the college level.
Other Names to Know: OL/DL Jacob Johnson (6'5, 320)
This article is available to our Digital Subscribers.
Click "Subscribe Now" to see a list of subscription offers.
Already a Subscriber? Sign In to access this content.