That was quick.
One day after legendary Galena Park North Shore head coach Jon Kay announced he was leaving to take the linebackers coaching position at Rice, the Mustangs have named their new head coach. And they didn't have to go far to find him.
North Shore offensive coordinator Willie Gaston, a North Shore legend in his own right as a player, was named the next head football coach on Tuesday morning, according to multiple sources.
Gaston, who was a star quarterback at North Shore from 1999-2001, played his college ball close to home at the University of Houston. He moved to the secondary and was a four-year letterman for the Cougars, starting in over 30 games during his career. After a brief stint in the NFL with the Baltimore Ravens, Gaston got into coaching and landed at his alma mater for the 2008 season.
"It's coming full circle," he said. "I never originally set out on this journey to be a head coach and it kind of happened organically."
He worked primarily with North Shore's quarterbacks from 2008-2015, where he was part of the Mustangs 2015 title team. In 2016 he was promoted to offensive coordinator where he's been the architect of some of the most dynamic offensive attacks in the state. The most famous of which was the 2018 North Shore offense led by Dematrius Davis, Zach Evans and Shadrach Banks that beat Duncanville in the famous "Hail Mary" game. Overall, he's coordinated three state title teams and his best coaching jobs may have come the past two years.
In 2021, with a freshman quarterback Kaleb Bailey leading the Gaston's offense, the Mustangs knocked off favored Duncanville to win the state title. In 2022, after an injury in Week 7 sidelined Bailey for the rest of the season, Gaston revamped the Mustangs offense to take advantage of the talents of WR turned QB David Amador to advance all the way to the 6A-Division I title game before falling to Duncanville in a classic 28-21 slugfest.
"North Shore is a special place to me," he said. "I still have family on the East Side, I'm from here, my wife is from here and went to school here. I'm coaching kids of parents I went to school with. It's personal for me. I see a lot of myself in these kids I coach every day, I don't take it for granted. North Shore has played a huge part in my life."
Kay's impact is large on Gaston as well as he tries to replace a Houston legend.
"I get emotional talking about Coach Kay," Gaston said. "We go back to 1996 at Cunningham Middle School where he coached me as a seventh grader. Coach Kay has supported me throughout my playing days and helped me grow as a coach and a man. His number today is the same as it's always been and I'll always be grateful for him being a part of my life and one of my greatest mentors."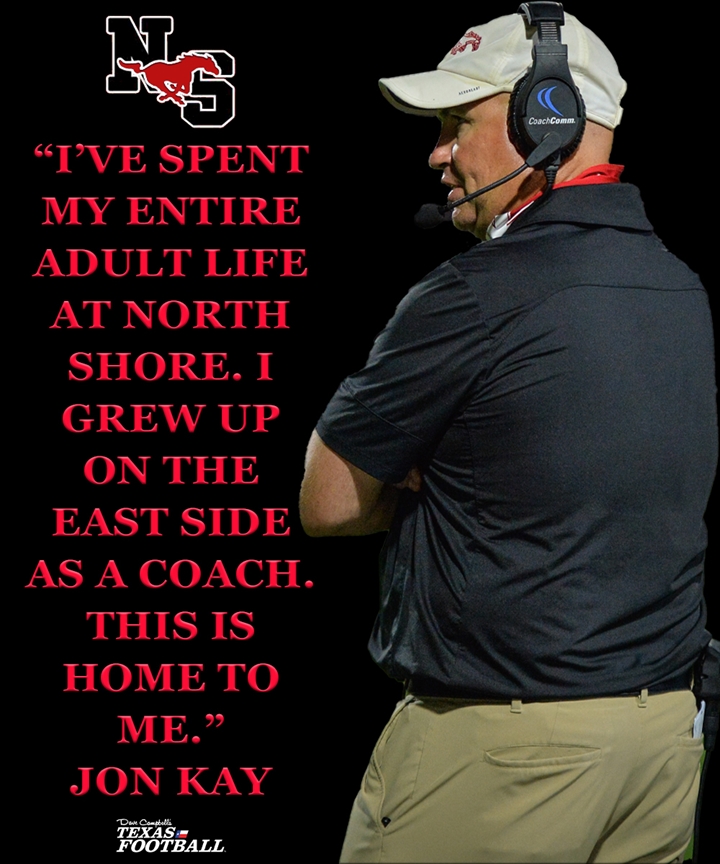 This article is available to our Digital Subscribers.
Click "Subscribe Now" to see a list of subscription offers.
Already a Subscriber? Sign In to access this content.