Dave Campbell's Texas Football has confirmed that Galena Park North Shore head Jon Kay will step down to join Mike Bloomgren's staff at Rice as linebackers coach.
Kay's departure brings an end to one of the most successful runs of a head coach in the Houston area. He posted an incredible 117-18 record in nine seasons, includiing state championships in 2015, 2018, 2019 and 2021. Kay led North Shore to a 15-1 record and a state title game appearance in 2022.
"I've spent my entire adult life at North Shore," Kay said. "I grew up on the East Side as a coach, this is home to me. I've also got to practice what I preach to these kids and get a little bit uncomfortable and try something new and this was an amazing opportunity."
A long-time North Shore assistant coach under David Aymond, Kay did what many thought couldn't be done - he followed a legendary coach and ended up exceeding what his mentor had done in building the North Shore powerhouse. Aymond, who built the North Shore program from a perennial bottom feeder to a contender, spent 20 seasons at North Shore, but he only managed one state title. Kay managed to exceed his mentor in state titles by his fourth season.
Kay's ability to coach on the defensive side of the ball is unquestioned and he'll be an asset for Rice in recruiting because of his credibility within the Houston area and in Texas high school football in general.
"I'm excited to work with Coach Bloomgren and the staff at Rice," Kay said. "There will be an adjustment for me learning the college game, but I think being home in Houston will help with that. I don't have to move or try to learn a new city, things like that. I can be focused on Rice football and getting my position group ready."
As for North Shore, it immediately becomes one of the state's most attractive openings as they'll once again be a favorite to win state in 2023. With that type of success. the smart money is Galena Park ISD takes a strong look internally at the North Shore staff to look for the Mustangs next head coach.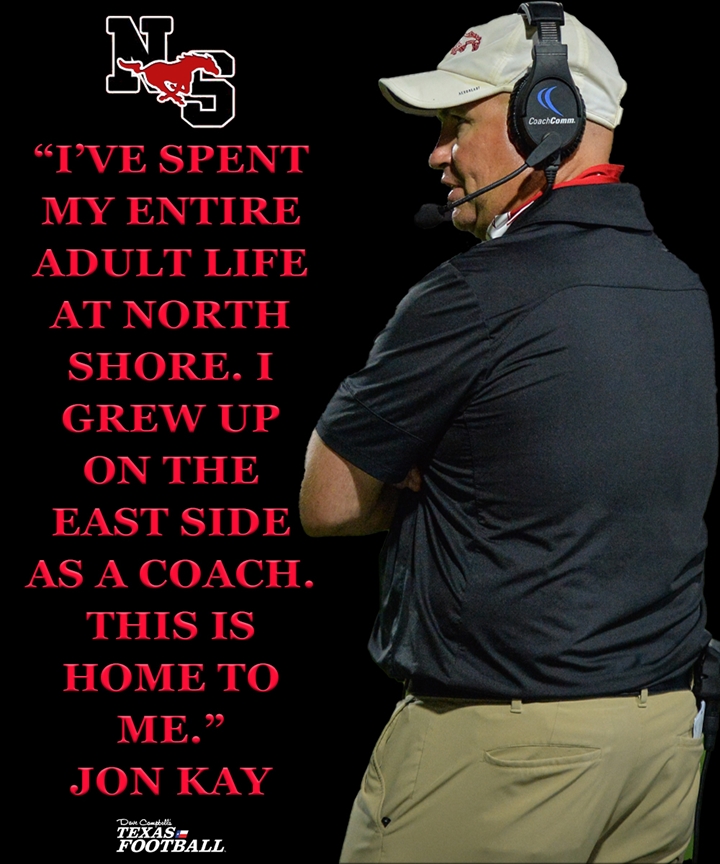 This article is available to our Digital Subscribers.
Click "Subscribe Now" to see a list of subscription offers.
Already a Subscriber? Sign In to access this content.