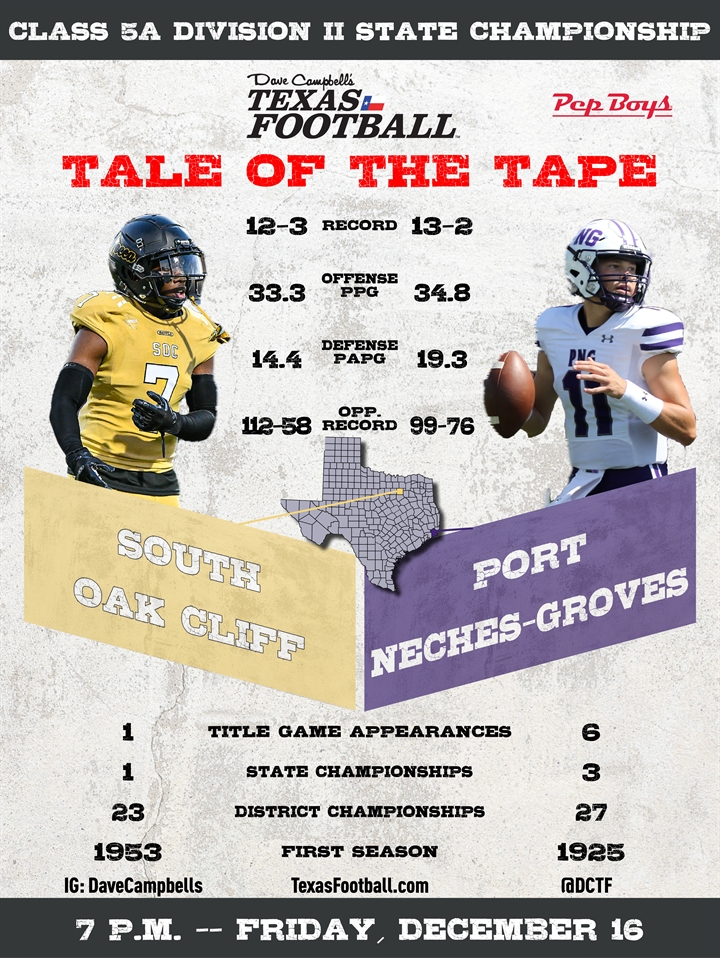 South Oak Cliff (12-3) vs. Port Neches-Groves (13-2), 7 p.m. Friday at Arlington's AT&T Stadium
In what may see the biggest crowd of the weekend, defending Division II state champion South Oak Cliff will look to make it back-to-back titles against surprising Port Neches-Groves.
The Golden Bears have gotten it done with defense in this playoff run as many of their big name offensive weapons are either out with injury or battling injuries and are less than 100 percent. Last week South Oak Cliff took down previously unbeaten Argyle in a 14-6 slugfest. SOC held an Argyle offense that averages well over 400 yards a game to just two field goals and 188 yards of total offense on the night. RB Jayvon Thomas, a Texas A&M commit, led the Golden Bears with 57 yards and a score on the ground, while Danny Green had 50 yards and the team's other touchdown in the fourth quarter.
PNG got off to a slow start under first year head coach Jeff Joseph, but the Indians are peaking at the right time as they simply dominated Liberty Hill, 42-14, to advance to the title game for the first time since 1999. Versatile ATH Shea Adams had a touchdown catch and two short touchdown runs, while QB Cole Crippen tossed a pair of touchdown passes for the Indians offense, but the real story was the PNG defense, which after a couple of shaky moments early totally shut down Liberty Hill's vaunted Slot-T attack.
This game will be a low scoring defensive battle. Turnovers and mistakes will be magnified in a major way. SOC gets the edge because they've been on the big stage before and their defense top to bottom gets the edge over PNG.
Stepp's Pick: South Oak Cliff by 7
PLAYERS TO WATCH
South Oak Cliff
Senior DL Billy Walton - A monster pass rusher who's going to try and make PNG's life miserable in the backfield. Even against double teams, Walton's proven to be a massive problem to deal with.
Senior DB Malik Muhammad - The future Longhorn doesn't need an introduction as one of the best corners in the nation. He's SOC's star in the secondary and isn't afraid to mix it up from sideline-to-sideline and make tackles in the run game.
Senior RB Tedrick Williams - SOC's offense has been up and down this year making Williams' value in the run game even more pivotal. The Mecca may not score a ton every game but they will meet you head-to-head in the trenches and force you to stop the run thanks to Williams' emergence along with fellow back Danny Green Jr.
Port Neches-Groves
Junior RB Isaiah Nguyen - PNG will try to attack a very stout SOC defense with a balanced attack led by their talented back who had over 180 yards on the ground against Liberty Hill. It's not often that a team plays against the Slot-T Panthers and come out with the best running back on the night, but Nguyen proved to be just that in the state semifinal.
Senior QB Cole Crippen - Crippen's output will be very critical against Malik Muhammad and the SOC secondary. The Golden Bears' have shown to be vulnerable at times when forced to play catch-up, so it'll be important for the PNG offense to strike early and turn this into a comeback affair.
PNG Front Seven - SOC is also one-dimensional on offense this season due to both injury and inconsistency behind center. PNG already shut down Liberty Hill
- Ishmael Johnson
KEY MATCHUPS
SOC's OL vs. PNG's DL
South Oak Cliff plans on bullying PN-G in the trenches thanks to a monster offensive line that tends to push opponents around. The physical nature of the Golden Bears' big boys in the trenches sets the tone for both sides of the football. The Indians haven't seen a collection of players that size this season. PN-G allows fewer than 20 points per game and can't be physically outmatched up front if the Indians hope to pull the upset.
PNG QB Shea Adams vs. SOC's secondary
We dare you to find a more talented collection of defensive backs than the group South Oak Cliff fields on a weekly basis. Malik Muhammad is committed to Texas. Jayvon Thomas is on his way to Texas A&M. Taylor Starling is pledged to Colorado, while Abdul Muhammad is headed to SMU. They'll be tasked with slowing down Adams and the Indian's high-powered passing attack. PN-G is averaging 32.25 points per game in four playoff wins.
- Mike Craven
PREDICTIONS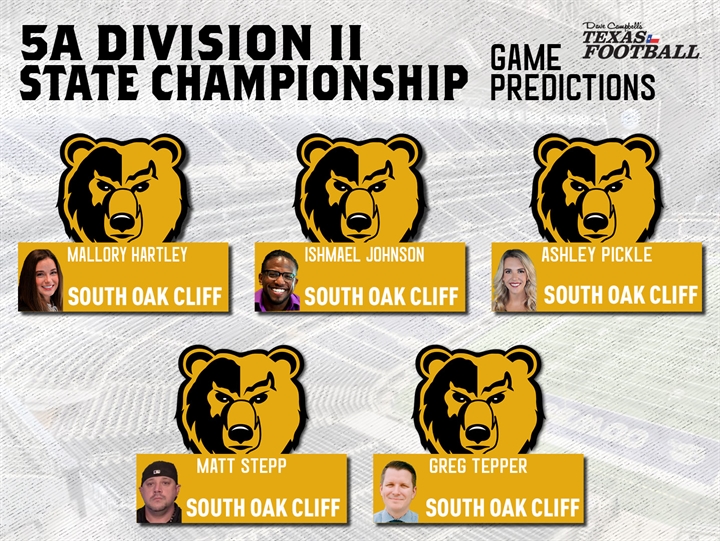 THE PICKS
This article is available to our Digital Subscribers.
Click "Subscribe Now" to see a list of subscription offers.
Already a Subscriber? Sign In to access this content.