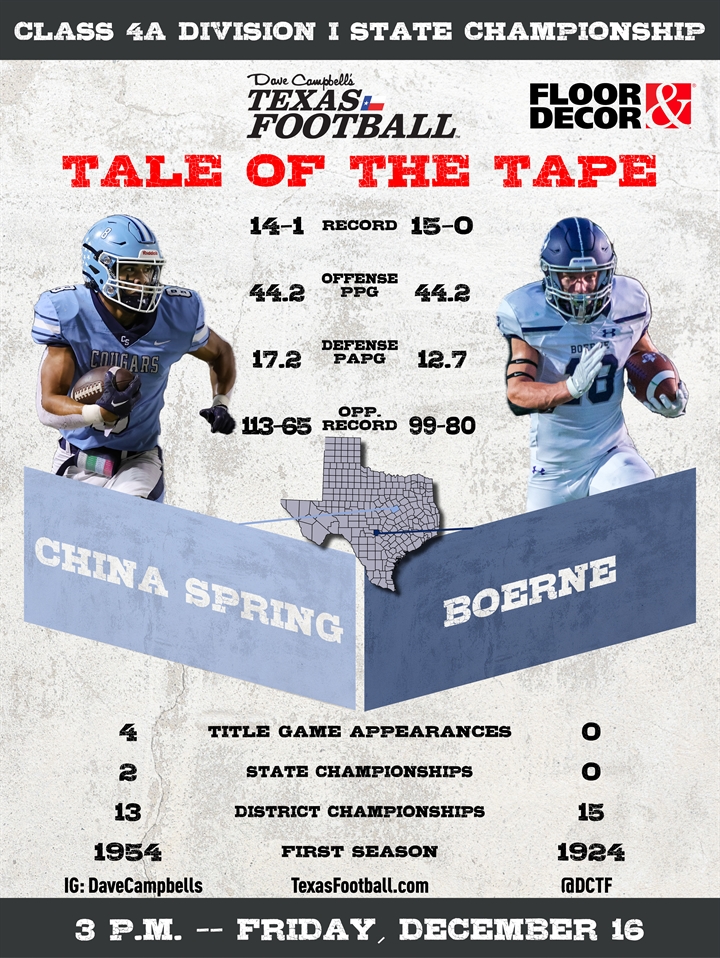 China Spring (14-1) vs. Boerne (15-0), 3 p.m. Friday at Arlington's AT&T Stadium
China Spring will look for its second straight state title this week, but to get it done the Cougars have to get past a Boerne squad that is surging at the right time and looks like a real force out of the San Antonio area.
The Cougars, who moved up to Division I after winning the Division II crown a year ago, got pushed by Decatur last week but walked away with a 33-27 win at fog filled Newsom Stadium. Do-it-all ATH Tre Hafford had nine receptions for 112 yards (two of them for touchdowns). QB Cash McCollum threw for 171 yards and two touchdown passes to lead the China Spring attack and RB Kyle Barton had a pair of short touchdown runs for the Cougars.
Boerne may have had the most impressive semifinal win of any squad last week as the Greyhounds simply dominated Tyler Chapel Hill, 35-0, to advance to their first ever state title game.
Boerne's defense was the story as they totally dominated Chapel Hill up front holding one of the state's most explosive offensive units scoreless and forcing five turnovers. RB TJ Dement running behind a big and physical offensive line ended up with 180 yards on the ground and three touchdowns, while Adam Hicks added 75 yards on the ground.
China Spring is very good up front, but I'm not sure they can matchup with Boerne up front on either side of the ball. So the key for the Cougars, who do have an edge at the skill spots, is can they play Boerne to a stalemate up front and give their playmakers a chance to do damage? After last week, I think Boerne's play in the trenches is good enough to lead them to a title.
Stepp's Pick: Boerne by 2
PLAYERS TO WATCH
China Spring
QB Cash McCollum - One of the finalists for 2022 Mr. Texas Football, McCollum does it all for China Spring. He threw for for 2,100 yards and 22 touchdowns during the regular season, and has continued to put up crazy numbers during the postseason. He often completed north of 60 percent of his passes any given week, and can take a game over with his legs if necessary. A winner.
WR/DB Tre Hafford - Hafford had himself a night in the state semifinals, hauling in 10 catches for 119 yards and two touchdowns to help get the Cougars back to AT&T Stadium. He's made those types of performances weekly occurances. Lightning quick, Hafford is nearly impossible to keep in check. He's going to make plays. Can the Greyhounds do anything to slow him down?
WR/LB Tristan Exline - One of the better all-around playmakers on China Spring's squad, Exline nearly had 100 tackles in the regular season, including 11 tackles-for-loss and two sacks. When he's not making plays defensively, Exline is almost certainly making plays out of the slot, where he had over 600 yards through the first 10 games.
Boerne
QB Jaxon Baize - What a dazzling season this sophomore has had under center. Baize, whose brother, Braden Baize, is hiis top target, threw for over 2,400 yards and 37 TDs during the regular season, all while throwing just four interceptions. He spearheads an offense that's averaged 45.4 points per game so far during the playoffs.
OL Sam Waters - One of the main reasons the Greyhounds have been so dominant offensively is because of their unanimous 1st-team all-district offensive tackle. Waters (6-4, 260) is often a man amongst boys. He also sports a 4.0 GPA.
DL Braden Bays - An uber-talented interior linemen who constantly finds himself in the backfield thanks to a quick first step. At 6-3, 250, Bays has an unlimited gas tank and eats up double teams. He'll be key to stopping Cash McCollum, who, when he runs, loves to go up the middle.
- William Wilkerson
KEY MATCHUPS
China Spring's special teams vs. Boene's special teams
Close games are often decided by the third phase of a football game. China Spring and Boerne enter the Class 4A Division I state championship game at a combined 29-1. China Spring is the defending champion, while Boerne is undefeated and on a roll. A missed extra point or a blocked punt or a big return could easily be the difference between tears of joy and ones of agony.
Boerne OL vs. China Spring DL
Another place that close games are won and lost is in the trenches. The Boerne offensive line has bullied opponents during the 15-0 start to the season. The Greyhounds are averaging over 160 rushing yards per game and the group does a great job protecting sophomore quarterback Jaxon Baize. The China Spring defensive line must shut down the Boerne rushing attack and find ways to create pressure on Baize to slow down the Greyhounds offense.
- Mike Craven
PREDICTIONS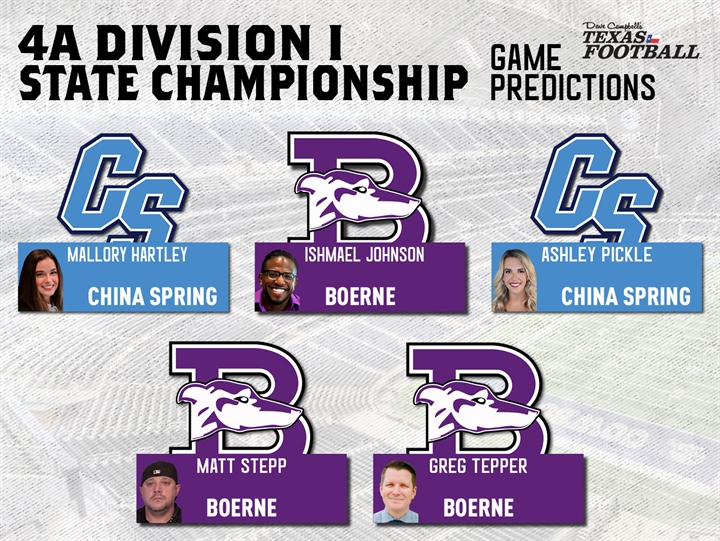 THE PICKS
This article is available to our Digital Subscribers.
Click "Subscribe Now" to see a list of subscription offers.
Already a Subscriber? Sign In to access this content.