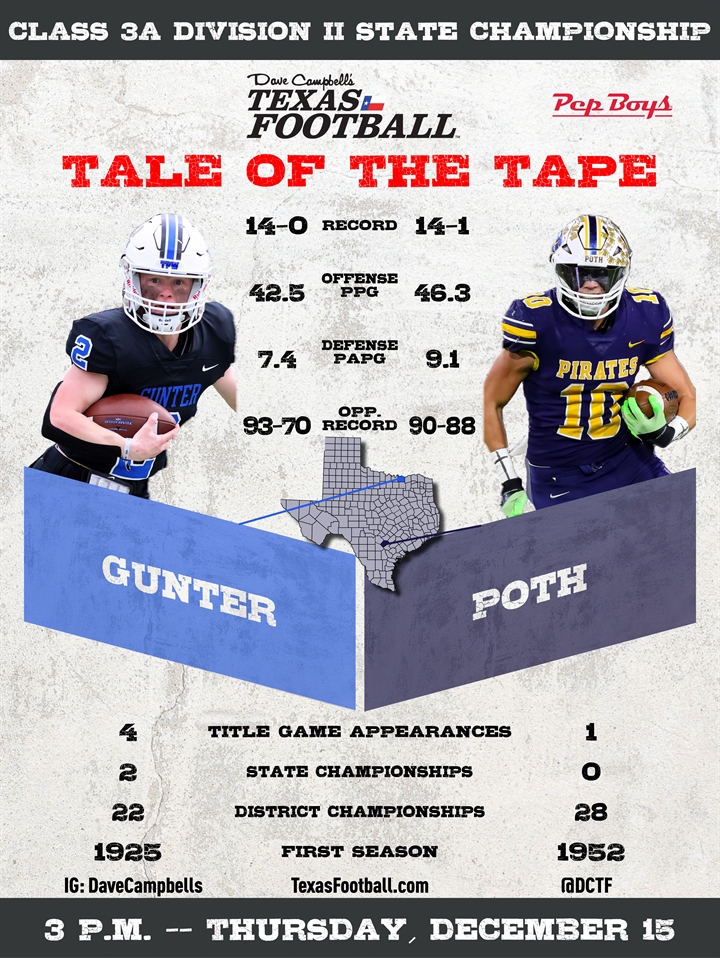 Gunter (14-0) vs. Poth (14-1), 3 p.m. Thursday at Arlington's AT&T Stadium
It was a classic in Abilene last Friday as Gunter and Canadian, in what has essentially become their annual state semifinal war, played another classic at Abilene Christian University.
This time Gunter came out on top on the strength of a last second touchdown and a missed PAT to beat Canadian 21-20 and advance to the state title game for the fifth time in seven seasons.
Ivy Hellman's 10-yard touchdown catch from Walker Overman with 17 seconds left in the game was the game-winner. Hellman also had a touchdown run in the first quarter, while Overman threw a third quarter touchdown pass to pace the Tigers.
Gunter has state titles in 2016 and 2019 and they'll take on a Poth squad playing for a state title for the first time since 1968 as the Pirates offense exploded to drop Cinderella story Gilmer Harmony, 51-28, last week. QB Zane Raabe threw for two touchdowns and added 151 yards on the ground and a touchdown, while RB Matthew Bunn scored five times, including four on the ground. Poth ran for 354 yards on the night and only punted once in the win.
The real question for Poth will be how do they handle the moment on this big stage against a Gunter squad that's been to the top of the mountain and knows exactly what to expect. Gunter's experienced and battle-tested and I think they jump on Poth early and coast to a comfortable win.
Stepp's Pick: Gunter by 15
PLAYERS TO WATCH
Gunter
Senior RB/S Ethan Sloan - Is there anything that Ethan Sloan doesn't do or hasn't done for Gunter at some point? The Tigers have used their star in almost every situation over the course of his career and we should expect no less against Poth on both sides of the ball.
Junior QB Walker Overman - Gunter's already one of the most talented rushing attacks in the state ever year so when they add a gifted quarterback to the arsenal, it just makes the Tigers nearly unguardable. Walker Overman's emergence this season has been a gift with his ability to hit both the short pass and set up the deep shot every now and then.
Junior WR Cannon Lemberg - Gunter's big play target will get one or two shots per game when defenses get sick of defending the pistol or when secondaries have cheated up to defend Ivy Hellman in the short-to-middle passing game.
Poth
Senior RB/OLB Zane Raabe and Senior RB/MLB Matthew Bunn - Poth's potent rushing attack goes as Zane Raabe and Matthew Bunn go. Bunn is the workhorse that leads the team with 181 carries, but Raabe has over 1,800 yards on the ground to his name as the team's leading rusher. Both combine for a remarkable 62 touchdowns and haven't been slowed down once this year. Gunter's defense has been stout, particularly in the postseason, meaning the Pirates' toughest test awaits in Arlington.
Junior WR Gabriel Silansky - Don't be surprised if Gunter forces Poth to use its playmaking wideout in Silansky a bit more than they're used to. When called upon, the junior's put up over 400 yards receiving and seven touchdowns on the outside.
- Ishmael Johnson
KEY MATCHUPS
Poth QB Zane Raabe vs. Gunter LBs
Poth averages 46.4 points per game. The Pirates are on a 12-game winning streak and have scored at least 40 points in 11 of their 15 games on the season. When the offense is humming and quarterback Raabe is racing through defenses with his legs, the Pirates are nearly impossible to stop. He was held in relative check in the 12-6 win over Tidehaven in the semifinals. Gunter's linebackers are charged with shadowing Raabe and forcing Poth to rely on other offensive playmakers to score points.
Poth defense vs. Gunter's play-action
Pardon defenses that struggle with Gunter's offensive attack. The Tigers use motion and eye candy to create number advantages in the running game, much like triple-option teams that utilize formations such as the Slot-T. The difference for Gunter is the use of play-action with the quarterback in the Pistol. Once a defense sells out to stop the run, a play-action pass leaves a wide receiver wide open in space. Poth must stay disciplined and prevent Gunter from creating big plays in the passing game.
- Mike Craven
PREDICTIONS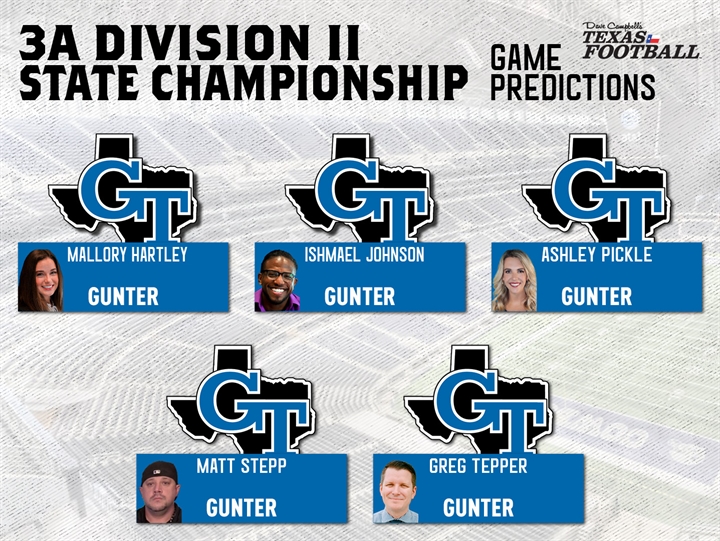 THE PICKS
This article is available to our Digital Subscribers.
Click "Subscribe Now" to see a list of subscription offers.
Already a Subscriber? Sign In to access this content.