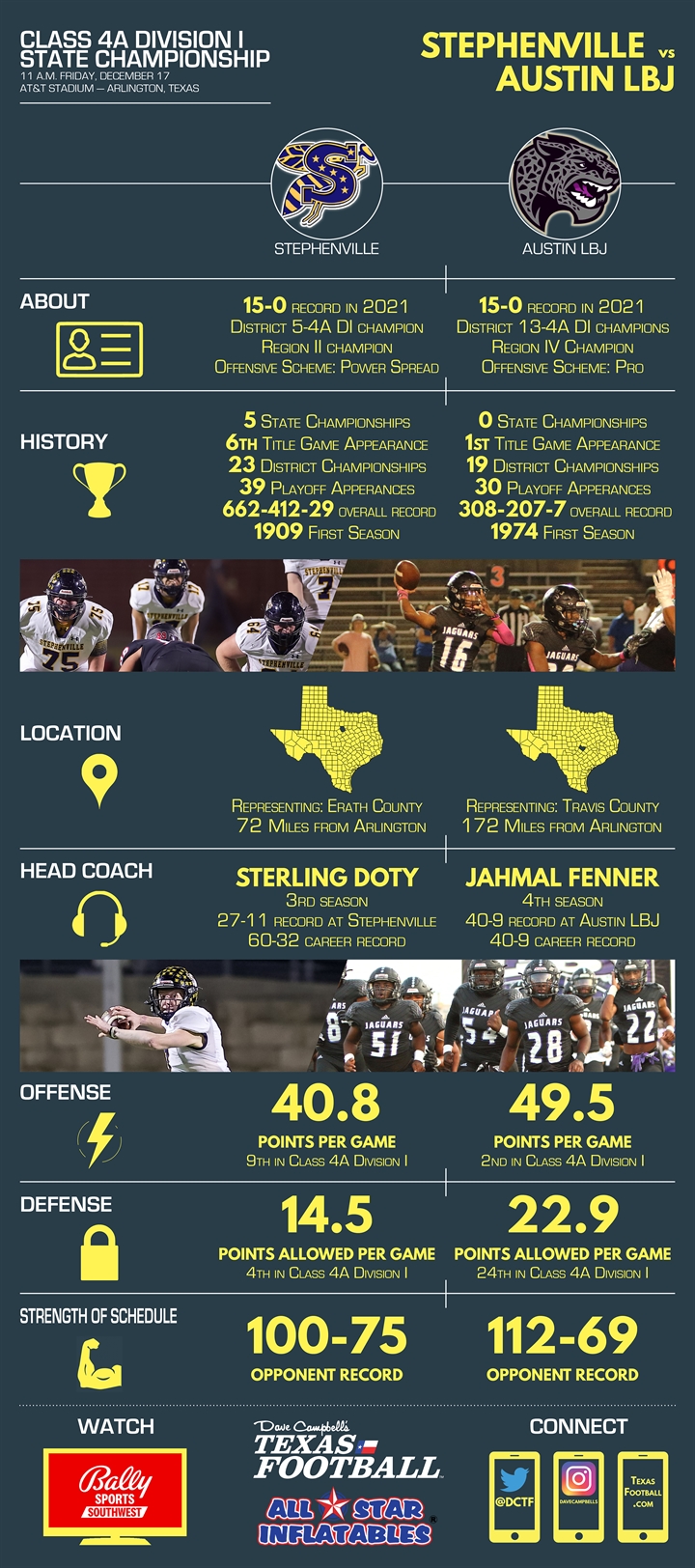 Stephenville (15-0) vs. Austin LBJ (15-0), 11 a.m. Friday at Arlington's AT&T Stadium
Unbeaten Stephenville will be looking for its sixth state title in school history Friday morning as the Yellow Jackets take on Austin LBJ, one of two inner-city programs who have made the state title game. Both teams won absolute thrillers last week by the exact same 38-35 score. Stephenville took out Wichita Falls Hirschi as QB Ryder Lambert threw for 220 yards and two scores and rushed for a third touchdown to lift the Yellowjackets past a tough Hirschi squad in a game that featured six lead changes. RB Julian Iribarren chipped in 106 yards rushing and a touchdown for the 'Jackets. LBJ needed some late heroics to knock off Tyler Chapel Hill on Saturday afternoon in a thrilling 38-35 win. A 7-yard touchdown pass from Oscar Gordon III to Noah Baker with nine seconds remaining lifted the Jags to the win. LBJ rallied back from a 35-26 deficit with just over seven minutes remaining in the game. Sedrick Alexander led the LBJ offense with 210 yards rushing and three touchdowns, while QB Gordon tallied 231 yards of offense and the game winning touchdown pass; backup RB Cyronn Miller added two additional rushing touchdowns for the Jaguars. Stephenville's defense, which has been so good all season long, had major issues containing the playmakers of Hirschi. LBJ is even more dynamic so can the 'Jackets defense keep up? I think Stephenville adjusts this week, fixes a few things and wears a very thin LBJ squad down in the fourth quarter.
Stepp's Pick: Stephenville by 5
PLAYERS TO WATCH
Stephenville
QB Ryder Lambert - In true Stephenville fashion, Ryder Lambert's arm is what gets the Yellow Jackets churning. The junior with nearly 4,000 yards to his name this year will easily be the best quarterback Austin LBJ has faced and you'll see why he has almost 50 touchdowns to just four interceptions during his stellar season.
WR Coy Eakin - A surefire all-state candidate, Coy Eakin will be the focus of the Jaguar defense with over 1,800 receiving yards and 26 touchdowns to his name. Don't be surprised to see him line up in the backfield either.
LB Corbin Poston - Stephenville's senior man in the middle of the defense will need to have one of his best games to keep pace with LBJ's playmakers who are deadly in space. If he and Reese Young can control the middle of the field, the Jackets are in business.
Austin LBJ
RB Sedrick Alexander - The every-down man for LBJ's attack will be the focus of Stephenville's defense and the Jaguars won't shy away from giving him the ball as much as they need to. He's not the biggest but might be the most athletic player on the field for either team.
QB Oscar Gordon III - The Jaguars' southpaw signal caller has the arm to feed LBJ's armada of playmakers and has the mobility to make things nightmarish for Stephenville's defense when things break down or on the read option if given the chance.
WR/DB Trent Leary - One of LBJ's leading wideouts has stepped up huge on both sides in the playoffs. If he catches in space, watch out. Not many can stay with him. And on defense, look for a big play opportunity to go his way at least once.
(Ishmael Johnson)
KEY MATCHUPS
Stephenville's passing game vs. LBJ's secondary
It'll be a strength vs. strength matchup when Stephenville's offense is on the field against the Jaguars defense. Stephenville quarterback Ryder Lambert threw for 194 yards in the 38-35 semifinal win over Wichita Falls Hirschi. Reece Elston and Coy Eaken caught 13 passes for 180 yards in the victory with Eakin catching a 22-yard touchdown to give Stephenville its final lead of the contest. The Jaguars' secondary is athletic, and the pass rush is dangerous. LBJ can earn an edge by taking away the deep passes and forcing Stephenville to drive down the field.
LBJ running back Sedric Alexander vs. Stephenville's front seven
LBJ running back Sedric Alexander rushed for three touchdowns in the thrilling semifinal win over Tyler Chapel Hill. One of those came in the fourth quarter to get the Jaguars back within one possession. Alexander is a workhorse who can grind out yards with toughness and break big runs with his speed and balance. Stephenville must bottle him up and force LBJ into third-and-long situations. The Jaguars are in trouble if the running game isn't cooking with Alexander leading the way.
Pressure vs. Expectation
The stakes are always high in a state championship game. The stakes are even higher for programs attempting to make history. LBJ represents a rare opportunity for an inner-city school to claim a title. The Jaguars have never played in a state title game in their history and came up one win short of reaching this same opportunity in 2020. It is important for LBJ to play without that pressure. Stephenville is a program with a history of success and the expectation of reaching title games.
(Mike Craven)
PREDICTIONS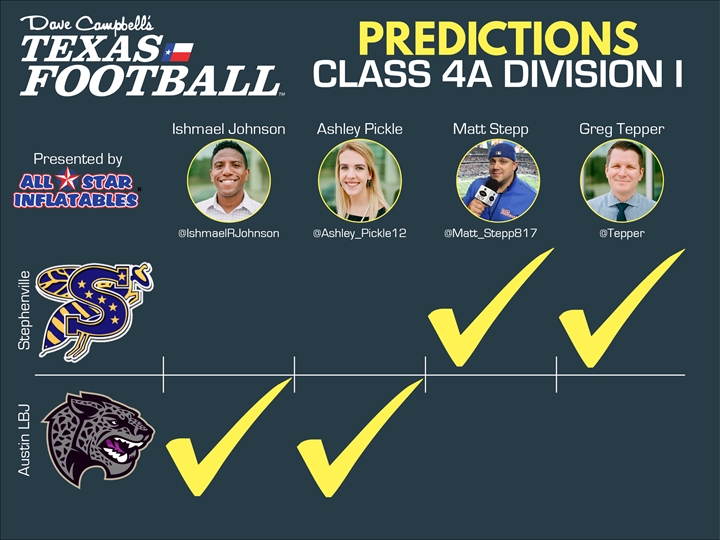 This article is available to our Digital Subscribers.
Click "Subscribe Now" to see a list of subscription offers.
Already a Subscriber? Sign In to access this content.