Before we completely flip the page to the 2022 recruiting cycle, Dave Campbell's Texas Football wanted to get down to the bottom of some of the most pressing questions we could think of for 2021 recruits.
So, we surveyed 32 of the top Texas high school football recruits promising anonymity so that they could speak openly and honestly about the questions posed.
Next up:
How hard was it to pick a school without spending time on campus for official/unofficial visits?
Very hard

Extremely hard

Insanely difficult

very hard

Not hard, i've been to the school i chose before

I knew what I wanted in picking a school, so it was not as difficult.

Very difficult, very stressful. I wouldn't wish it on anybody. Lots of sleepless nights

Really hard because your not sure what it's like at the school so you have to yes and go off the people

not too gard

Very hard

Not very hard, I knew I wanted to go to Tech since before the pandemic

Not too hard for me because I knew where I wanted to go.

I did spend time at the campus I'm now at.

Very??

Hard but an awesome experience

I visited schools before covid so it wasn't very difficult but there was some schools I wanted to take official visits to because I had never gotten to see them before

I got to go to the school I committed to before the shut down

wasnt too hard

It wasnt that hard in my opinion

Wasn't that hard really, made a great decision

Very very hard and frustrating

it was okay but i visited TCU & love at first sight

Very difficult

pretty difficult

I was committed before the pandemic

Rougher

Very difficult, not being there in person

Extremely hard

extremely hard

It was hard in general. The officials probably would've made it even harder.
Do you feel like the pandemic limited the offers you would have gotten vs. a normal year?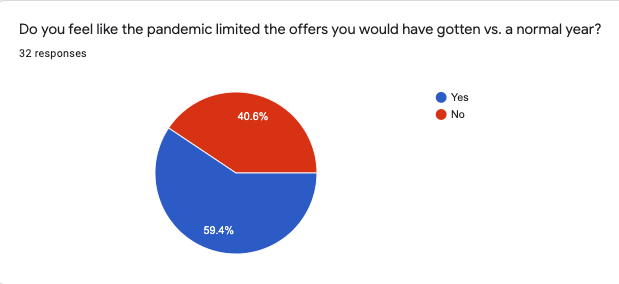 How did schools differentiate themselves while having to recruit primarily online?
It was really all the same. Only difference was the effort to stay connected

virtual tours

they did a lot of zoom calls

Relationships, I think I got to spend a lot more time talking to coaches and building relationships than I would have in other years.

Some state in touch some got even more in touch with some dropped off

Lots of FaceTime calls

Letting me see what they do and where I would be

showing me who really wanted to take the time and reach out

Just sending me letters and building a relationship with me

I could tell who really wanted to recruit me by how much they kept in contact with me.

Showed who was really interested

I went off of the conversations I was having with the coaches and who I could relate with and what kind of people I felt like I could get along with.

Virtual Tours

Got creative

Just the approach they had in conversations

Showing everything the school has to offer and not just football

By making conversations personal and not hitting me every day

didnt play a big part with me

Baylor reached out almost everyday

It's a bigger difference from seeing the coaches online rather than in person and seeing the college because this has never happened before

They couldn't come see me in person which really hurt me, I think the ncaa did a really bad job of how they handled recruiting and the eligibility this year

By setting zoom meets & virtual meets

Building relationships

the relationship built over text and facetimes, imagies and videos sent of campus and facilities, and edits and videos made for me

None

Zooms and facetimes

More contacted

Tbh idk

Certain ones would contact more

tried to make us experience it oncampus feeling online

They did virtual visits

How much attention they gave me
Do you think you utilized your high school campus recruiting coordinators for communication to schools more than you would have in a normal year?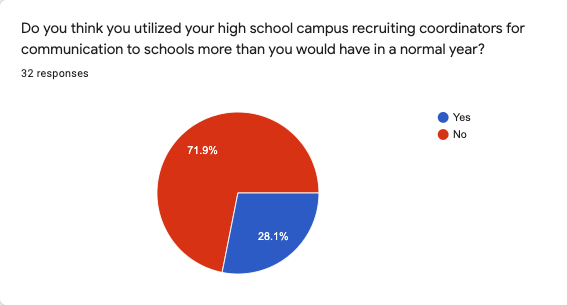 This article is available to our Digital Subscribers.
Click "Subscribe Now" to see a list of subscription offers.
Already a Subscriber? Sign In to access this content.