What does a booster club do to raise money when it can't do the things it's done for years? That scenario faced many clubs across the state in 2020, none more than the Creekview Mustangs Booster Club.
"It's been an interesting couple of months," said Steven Sallis, the booster club president. "We couldn't even sell t-shirts at the stadium. Any time you can sell things face-to-face, it's better than doing things digitally."
Sallis developed his passion for football before digital options to support football programs. He saw how the South Grand Prairie community supported football teams anchored by B.J. Johnson, and that's how he wants his community to support the Mustangs today.
"I want my kids to experience football the way I did," he said. "We were the community superstars. I want all of these boys to have a sense of that."
In 2020, Sallis and his fellow club members did what they had to do by rethinking things.
They couldn't hold the annual Senior Mom's Breakfast. There was no preseason swim party where the families and players could get to know each other. And then the season arrived with a new set of restrictions, including the news that the club couldn't sell its merchandise and signage at the stadium.
"I know a lot of ways to raise money, but we just couldn't do a lot of those things this year," he said. "We were looking forward to making things happen next year, getting back to having garage sales, festivals and things like that."
Down but not out, the club pressed forward.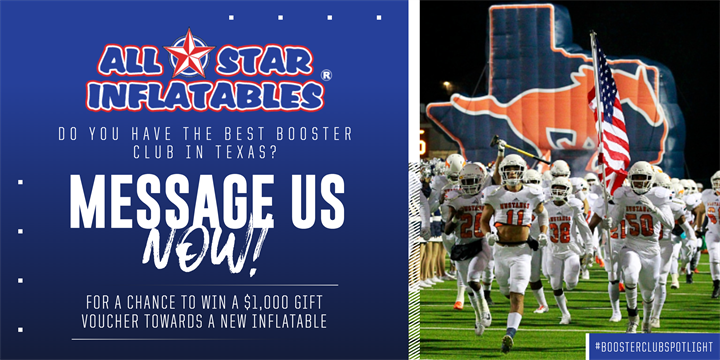 They took the bulk of their operations digital, starting almost from the ground up. Sallis built the club a website – it turns out Google offers to host a website when you sign up for an email address – and the club went to work converting all of its traditional projects from in-person to online.
"We created the website and put our media guide there," Sallis said.
That gave the club a place to publicize the businesses that continued to support it. Along with ads for businesses, the media guide included shoutouts to players – ads purchased by family and friends.
The club did enough to provide the football team with some key items. Members worked with local restaurants to make sure the team still had pregame meals. The club also prioritized purchasing fabric splashguards the players could wear inside their helmets.
"We wanted to do that for the parents who were cautious about their kids playing," Sallis said. "It eased their minds to know that we were taking precautions."
That precaution proved to be one of many that enabled the Mustangs to play their full 10 game season, something many programs around the state weren't able to pull off. The players' dedication to the season, Sallis said, deserves commendation, and the club hopes it gets at least one more chance to celebrate that success.
"When this hit and we couldn't do anything in a normal way, it really tugged at my heart," Sallis said. "These seniors now…they need to know that people care, and not just their parents. We want them to know that our club will go the extra mile."
This article is available to our Digital Subscribers.
Click "Subscribe Now" to see a list of subscription offers.
Already a Subscriber? Sign In to access this content.