In a tremendous effort, Austin Westlake 2022 QB Cade Klubnik (6'1, 170) was able to help orchestrate the Chaps to a monumental win over North Shore.
"Overly excited," Klubnik said with relief in his voice. "Just so happy for this team and so thankful for them. We just never quit. We didn't get rolling at times, but we never quit. We never stopped. We never gave up. We just kept going and kept grinding. Just so happy."
Leading 17-7 at halftime Klubnik was able to lead his offense to several timely drives to keep North Shore at arm's distance.
The third quarter was a bit of a grind as North Shore started to find their footing. With the tides shifting in the game, Westlake found themselves in the midst of adversity.
Losing 21-17 with 4:16 to play the Austin based powerhouse trailed for the first time all season.
An unreal stat to fathom but how they responded was even more impressive.
"Honestly in the third quarter, nothing. We did horrible, but we bounced back when it really mattered. Went and scored to get the winning drive," Klubnik said of the game-winning drive.
With the clock bleeding Westlake made several plays to push the ball into the red zone for a late-game scoring opportunity. Setting up that field position was Klubnik's best ball of the afternoon as he completed a long pass downfield to Rice 2021 WR commit Michael Taaffe (6'0, 180).
Several plays later, Klubnik battled his way into the end zone on fourth and goal run for the game winning score with 1:43 to play. Capping off a gutsy effort by the Westlake offense.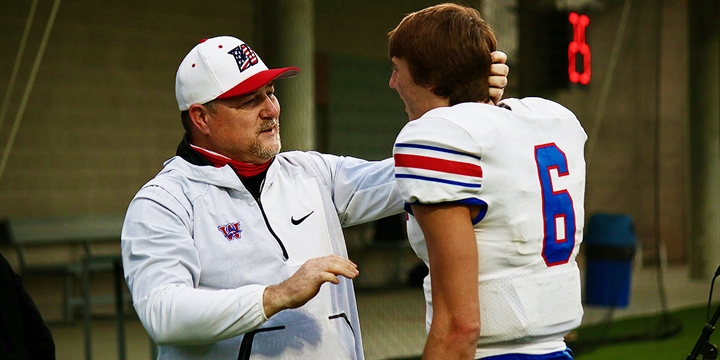 Klubnik has 26 offers from schools like Auburn, Georgia, LSU, North Carolina, Texas and TCU.
All of the previously noted schools are programs Klubnik mentioned as being in contact with him fairly frequently. The DCTF four-star added that Clemson has also been in contact (no offer).
"I've been super thankful for all the opportunities from colleges. Right now just really been focusing on the season as much as I can," Klubnik said.
With Texas being in his backyard, DCTF wanted to get Klubnik's thoughts on the Longhorn program's recent coaching changes.
"That was big. I haven't had any contact with any of them since," Klubnik said while adding that he doesn't know a whole lot about Steve Sarkisian. Although he did refer to him as an "offensive genius."
Klubnik and Austin Westlake will compete with Southlake Carroll on Saturday at 7:00 pm for a 6A Division I state championship.
This article is available to our Digital Subscribers.
Click "Subscribe Now" to see a list of subscription offers.
Already a Subscriber? Sign In to access this content.