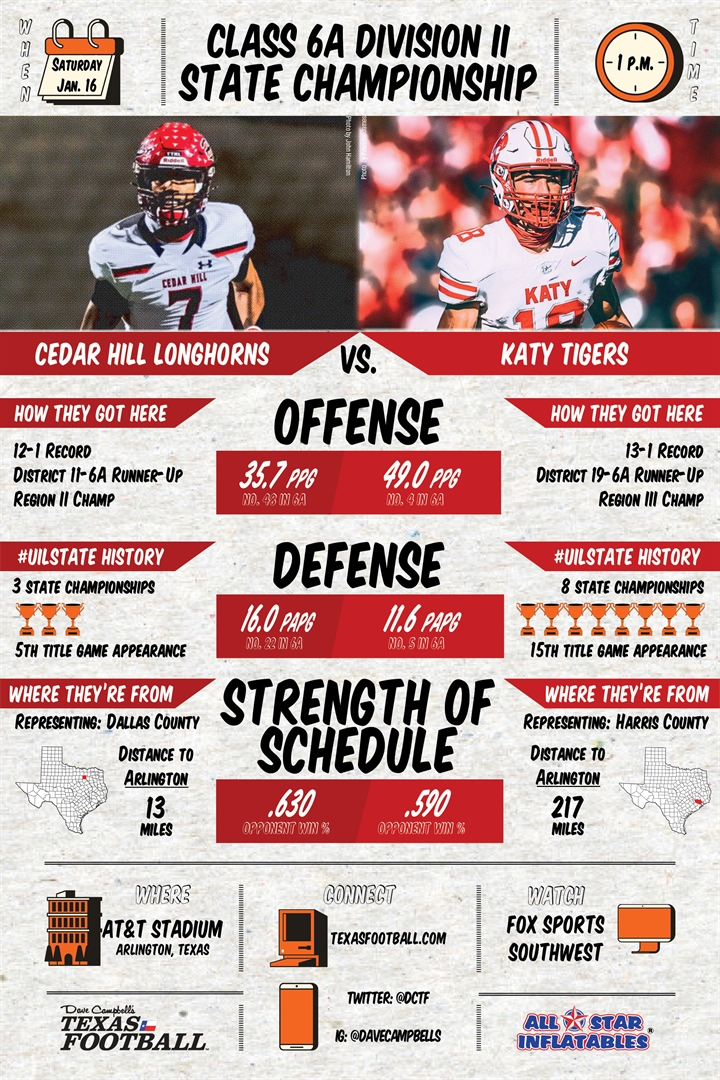 Looking for a place to stay for the game? Check out Live! by Loews
GAME PREVIEW
It's the fourth state title meeting between these two squads, as Cedar Hill and Katy played three straight years from 2012-2014.
Cedar Hill got it done with a supreme defensive effort last week taking down Denton Guyer, 27-17, and avenging a heartbreaking playoff loss to the Wildcats a year ago. Tennessee signee Kaidon Salter will attend his first classes in college just four days after the state title game, but he's got one more game to play after putting the Longhorns on his back with 318 yards of offense and three total touchdowns in the win, Salter had a passing, rushing and receiving touchdown.
Cedar Hill's defense was the story holding Guyer to just a single touchdown in the second half; the Longhorns speed and front four simply controlled the Guyer attack in the final two quarters.
Katy had no such issues in the semifinals as the Tigers absolutely dismantled Buda Hays Consolidated, 63-7. In the last two weeks the Tigers have outscored opponents 114-21.
Katy raced out to a 42-0 halftime lead on the strength of a suffocating defense that allowed just 10 total yards on Hays' first five drives and forced two turnovers, while the Katy offense led by senior RB Jalen Davis and younger brother sophomore Seth Davis got the running game going; they combined for all six first half touchdowns.
Katy's big offensive line and straight ahead, downhill rushing style should negate the speed advantage that Cedar Hill's defense has. Expect a close, low scoring game, but Katy in the fourth quarter with that big offensive line wears Cedar Hill down.
Stepp's Pick: Katy by 10
PLAYERS TO WATCH
Cedar Hill
QB Kaidon Salter - Before the end of the month, Salter will be enrolled at Tennessee begin his journey as the Vols future quarterback. But he still has unfinished business to tend to in high school. The dual-threat is the heartbeat of the Longhorns' program; he has one of the strongest arms in the country and is equally capable of disrupting a game with his legs.
DB Jalon Peoples - One of the top 2022 defensive backs in the state, Peoples is a lockdown corner that will be counted on to not only do his thing on the perimeter, but also come downhill and support against Katy's massive offensive line and powerful run game. He has to stay fundamentally sound and not peak in the backfield too much so as not to give up a big play over the top.
Offensive line - If the Longhorns are going to win this game they're going to have to keep Salter upright. That task falls on Cedar HIll's offensive line, which will have their hands full against an overwhelming Tigers front.
Katy
Davis Brothers - Seth and Jalen Davis are the 1-2 running back punch that benefits from a terrific offensive line. Seth ran for 168 yards and three scores and also threw for a TD in the Tigers' win over Hays last week. Jalen added 110 yards and two TDs in the win.
DBs Hunter Washington & Bobby Taylor - Washington, a Florida State signee, and Taylor, a top 2022 cornerback, will have their hands full with a dynamic Cedar Hill passing attack. Salter has one of the strongest arms you'll ever find on a high school quarterback; seeing how these two DBs will be able to matchup to that downhill attack will be as entertaining as anything this game has to offer.
C Vasileios "Bill" Katsigiannis - Of all the terrific offensive linemen that have come through this program, none have ever had as many pancake blocks in one game as Katsigiannis. He set the program record with 14 in the regional finals. His ability to control the point of attack, specifically up the middle where Katy loves to run, will be key in the Tigers' success.
- William Wilkerson
KEY MATCHUPS
Katy guards vs. Cedar Hill LBs
Katy is known for its electric running backs and brothers Jalen and Seth Davis have embraced the opportunity to lead the offense. However, Cedar Hill's linebackers are athletic and have helped the Longhorns hold opponents to just 12.4 points per game in the playoffs. Katy's line has nicknamed itself O-Line High (OLH) for its success so far led by its own Greek Freak, center Bill Katsigiannis. The running game needs to get to the second level and win its matchups.
Cedar Hill WRs vs. Katy DBs
Tennessee signee QB Kaidon Salter is the star on Cedar Hill's offense, but the Longhorns' athletic receivers have powered a dynamic passing game that can attack either downfield or side-to-side in the screen game. Elite recruits Bobby Taylor and Hunter Washington lead a tremendously talented Katy secondary, but the Tigers will need to play disciplined for several seconds each play against a Cedar Hill offense that thrives off extending the play.
- Shehan Jeyarajah
PREDICTIONS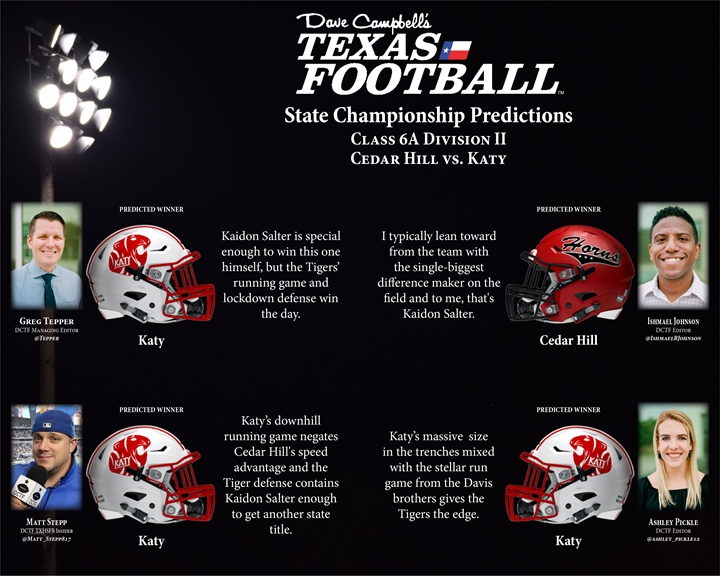 Playoff Central: Everything you need to follow the playoffs in one place. Brackets, times, locations, names to know, expert breakdowns and predictions.
This article is available to our Digital Subscribers.
Click "Subscribe Now" to see a list of subscription offers.
Already a Subscriber? Sign In to access this content.