When Scotty Walden was still a young coordinator at East Texas Baptist, he held a passing camp for high school quarterbacks.
Many young signal-callers from around the area wanted to learn the tools that suddenly made ETBU into an offensive juggernaut. More wanted to learn the secrets of the boisterous, blonde-haired 25-year-old wunderkind zooming through the ranks of Division III football.
One of those quarterbacks came with his head coach from Paris. Tim Billings had a long history in college football, but was at Paris North Lamar to have a chance to be closer to family. At most, he hoped to help his QB get some instruction. He didn't realize that a chance encounter with Walden was about to change both of their lives.
"I didn't know anything about him," Billings said. "I only realized when I got there how young he was."
After seeing Walden work with players, Billings was intrigued. He asked to watch some of ETBU's offensive film. Walden didn't know much about who this random coach from Paris was, but he obliged. A few hours later, Billings came out of the film room wide-eyed. He followed Walden around, almost shadowing him.
Billings knew it right then. He found a star.
"It's kind of like when I see a quarterback – there's some quarterbacks that can spin it, but some of them just have 'It,'" Billings said. "If we could can it and sell it, that would be great. Sometimes you just know. He's just got that 'It.'"
When Billings joined Jay Hopson's staff at Southern Miss, he couldn't help but remember that dynamic young coach who seemed ready to take on college football. After one year, receivers coach John Wozniak left USM for Oklahoma State. Immediately, the table was laid.
"I was like, I've got a coach you need to interview," Billings said. "I think he's going to be special. I think he has a chance to be a superstar in this profession."
Three years later, that 30-year-old Texan is now the youngest head coach in the FBS. Officially, he's an interim coach tasked with holding a program together after Hopson's resignation. Ask those who know him best and the message is clear: Walden is ready.
"I don't know if it could be harder," former ETBU coach Josh Eargle said. "But I don't know if there's any more of a right man for that job than Scotty Walden."
* * *
To get to East Texas Baptist University, hop on I-20 and keep driving until there's almost nowhere left to go in Texas. Marshall sits 20 minutes west of the Louisiana border, hundreds of miles from big-time college football.
Scotty Walden's path to Marshall was an astronomical rise. The Cleburne product spent time at NAIA Dordt University and D-III Hardin-Simmons. In search of playing time, he landed in Alpine, Texas at Sul Ross, deep in Big Bend.
After his playing career ended, Walden joined SRU's staff as a graduate assistant. Just months in, he was handed the reins of the offense – at the ripe, young age of 23, younger than a number of the players on the team. Plenty on the Division III roster were three years older than him.
Walden was first introduced to spread tempo at Hardin-Simmons. At Sul Ross, the offense switched from spread pistol to spread tempo to even Power I-formation thanks to the roster transforming due to injuries. With that knowledge – plus a marathon brainstorm session drawing plays on scratch paper at the Sul Ross library – Walden created his first playbook.
"I ran every offense that you can possibly run and what I learned really quick is that the No. 1 thing you have to have is an identity," Walden said. "You have to know who you are."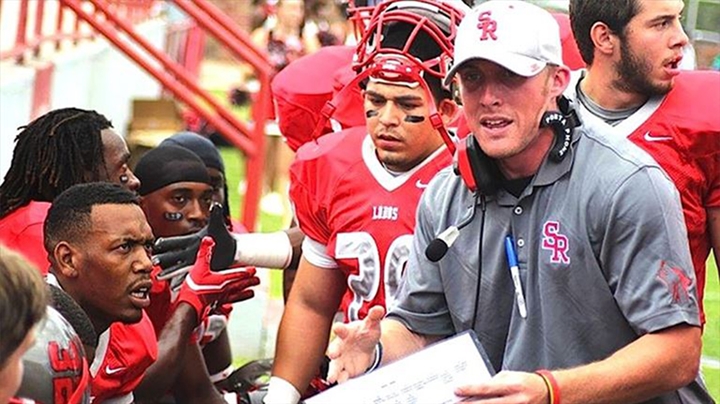 The identity was simple. Walden wanted to be fast. Fast as hell. Snap the ball, run the play, get up to the line while defensive linemen hustle to get off their butts kind of fast. He had no idea if his plays would even work in real life. The results were immediate.
The ragtag bunch of Lobos led the whole NCAA – FBS, FCS, Division II and Division III – in total offense at an absurd 581.9 yards per game. The scoring offense ranked sixth across classifications. The Lobos put up 75 points against Mississippi College and 70 points against Texas Lutheran in consecutive games.
When Eargle was hired as the new coach at East Texas Baptist, he looked around the country for offensive coaches and was surprised to see one of the best was in his own conference. The real kicker? He opened Walden's online profile and saw he was not just offensive coordinator – but still a graduate assistant.
"I had never heard that before in my life," said Eargle, who is now tight ends coach at Kansas. "I was just curious enough to find his email and have a phone call."
Quickly, the pair connected over their shared love of mentoring young men and it quickly became clear that their values were a perfect fit. Eargle offered Walden the job – a full-time job – and Walden packed up and moved 650 miles east.
Was Eargle bothered by the fact that Walden was just 23 years old, younger than many of the players at East Texas Baptist? It came up. What also became clear was Walden was mature beyond his years, and that he was willing to draw a line in the stand to separate himself from players.
"With our staff budget, we were going to infuse a young staff anyway," Eargle said. "I wanted to have a ton of energy on the field. I wanted to have guys bouncing all around. Scotty embodied that."
* * *
Walden may have looked like one of the guys, may have jumped in the middle of huddles and even pushed his way into drills. But when it came down to business, Walden coached his players hard.
To try and acclimate players to his frenetic pace, Walden ran a drill he called "Perfect Plays." One coach would place the ball, one would run a stopwatch and Walden would call plays. After Walden shouted out a play, the players would have to run to the line of scrimmage, set up and run it. Then he'd blow the whistle, yell out another play call and the players would have 12 seconds to do it all over again.
If anyone made a mistake – false start, incorrect route, miscommunication, anything – everyone on the team had to do up-downs.
"I don't know if you've ever been in East Texas when it's icy in February," former quarterback Josh Warbington said. "It's not fun. It's on a grass field. It's cold. It's not fun to get soaking wet at 6 in the morning when it's 32 degrees outside."
Even though practice started at 6 a.m., Walden was always bright and alert. He shied away from coffee, preferring instead to mainline Advocare Spark into his system. Walden is rarely found without it. Whether it's the Spark or his natural charisma, hundreds of times a day, players would hear "Snap it! Snap it! Snap it!" to get the ball out quicker and quicker.
That speed was present in everything from playcalling, to drills and even meetings. Walden didn't have a real playbook at East Texas Baptist. He'd jot a few plays on the whiteboard and ask players to copy it down. The concepts were simple enough to learn, but everyone had to get on the same page. That's why everything centered on the Perfect Plays drill.
"With his offense, it doesn't matter what the defense is in, they're wrong," Warbington said. "That was their whole goal is every player had a certain progression. It doesn't matter what defense you're in, what you do, you're wrong...there's somewhere someone will be open.
"We did things so many times that it was ingrained in our brain. When we put everything together, couldn't nobody stop us. It didn't matter if the Green Bay Packers were there – we could be them. It didn't matter."
Adam Ledyard, assistant athletic director for communications at East Texas Baptist, still remembers the first time he had to run stats for a Walden offense. The Tigers opened the 2013 season against Austin College. When these two teams met a year earlier, ETBU scored 17 points and reached a modest 409 yards. It became clear quickly that this year would be different.
The first drive ended in a fumble, but the second drive is when things really started clicking. Brooks Holder completed a pass for six yards. Hurry up. Toi Glover ran for two yards. Hurry up. Holder ran for seven yards. Hurry up.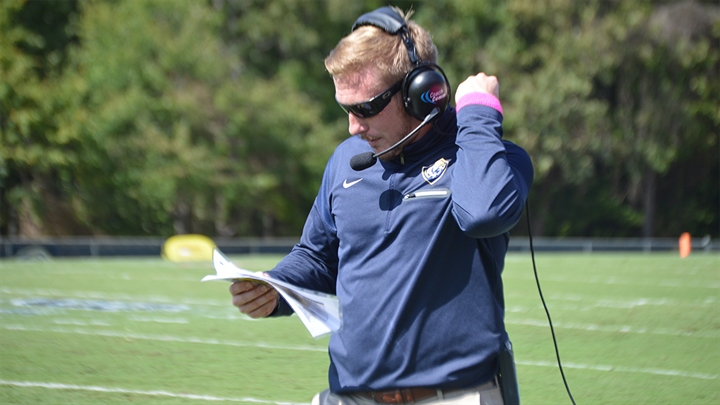 "It's like coffee on steroids," Ledyard said. "It was so quick. I was like, oh my goodness, start writing these plays down now. It was so quick and we had to quickly get used to putting in the plays. It was like 10-15 seconds between plays, like go, go, go, go. I had never seen anything like that before."
Before Ledyard could believe it, the Tigers sped down the field and John Gable capped it off with a 5-yard touchdown. The drive ran 10 plays and included an Austin College penalty, but took just 3:10 – 17 seconds off the clock per snap. The onslaught continued all day long. The final tally: 98 plays, 611 yards of offense and a 52-34 win.
The Tigers only finished that first season 3-7, but the offense jumped more than 50 yards and six points per game. That was just the beginning. The next year, ETBU won four home games for the first time in 11 years. Quarterback Josh Warbington was a semifinalist for the Gagliardi Award, the Division III Heisman Trophy. In 2015, the Tigers won a share of the American Southwest Conference and posted a winning record for the first time in a decade.
The next year, while the staff was at a coaching convention, Eargle sent Walden a text to meet him in the lobby of their hotel. When Walden arrived, Eargle asked him if he wanted to be the next head coach at East Texas Baptist.
Eargle was close to accepting a Division I job at Austin Peay as a position coach, a decision bolstered by access to medical care for his daughter.
"It wasn't a conversation at all," Eargle said. "It was like 'Scotty, are you interested? Yeah! AD, are you interested? Yeah!' It took less than 24 hours to keep what was being built there going."
In an instant, Scotty Walden – just 26 years old – became the youngest NCAA head football coach in America.
* * *
Being an offensive coordinator taught Walden how to coach football. Being a head coach was a completely different world.
"I really think my time at ETBU was valuable because I feel more comfortable in the chair [at Southern Miss] right now than when I first got the job at ETBU," Walden said. "I did not feel comfortable for probably the first three to four months."
Suddenly, everything in the program had to be built in Walden's image. And of course, that meant building everything to be fast. Walden brought on several young up-and-comers to keep the energy up.
"Once I got immersed in that offense and system, the culture of the program, everything you do is fast, everything you do is full speed," said then-offensive line coach Josh Cochran, now a graduate assistant at North Carolina. "That's how Scotty lives his life – everything he does is full speed."
What made his transition harder was that he was faced with incredible tragedy right from the start. In just his third month on the job, two freshmen players – Tre Harrison and DJ McClintock – tragically drowned.
"He grew up real quick as a first-time head coach," Ledyard said. "You hate to ever see any student-athletes pass away, but to have someone as caring as he is be there for the team, he grew so much heading into that year."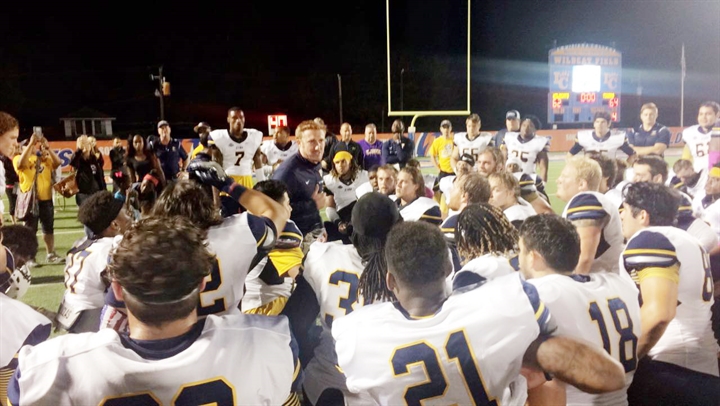 While ensuring those who needed outside help after the incident got it and keeping an open door, Walden still managed to get his players focused on the season ahead. Warbington graduated and was now a graduate assistant, but the team was still ready to move forward on the football field.
The Tigers zoomed out of the gates to a 5-0 start for the first time in program history. ETBU even reached No. 15 in the polls before running into powerhouse Mary Hardin-Baylor. Still, the Tigers replicated their 7-3 season and Dru Smith set the single-season passing touchdowns leader. It wasn't a second straight championship season, but it was a heck of a year for a first year coach.
Naturally, the final game of the season came against Sul Ross, Walden's alma mater. The Lobos ran 83 plays, posted 524 yards and dominated the game 47-18 to ruin what became Walden's final game at East Texas Baptist. Fittingly, Sul Ross took the Walden playbook and turned it right back at him.
But even in that one season, Walden helped lay the foundation at East Texas Baptist.
"He showed me how to work, how to spend time gameplanning, how to love on kids and how to continue to be a competitor as a coach at the same level that you had as a player" said Kirk Bryant, former ETBU assistant and quality control coach at Baylor. "He was really big into that."
Bryant learned that the hard way that despite his professionalism, the competitive fire still burned deep within Walden. During the offseason, many staffers would get together and play pickup basketball
If Walden happened to lose though, they'd have to run it back. If he lost again, he'd want to run it back again. What do you say to the head coach. Every day, it seemed as though Walden would keep playing until he won.
"That dude is a freaking competitor," Bryant said. "If you're in an alley with someone and you've got to fight your way out, or even just play a pickup basketball game, he's the dude I'd pick."
East Texas Baptist has not posted a losing season since 2015.
* * *
No one wanted Walden's first head coaching job at the Division I level to come like this, least of all Walden. However, after his blazing, winding path to FBS athletics, Walden is ready to put his stamp on college football.
Even in his short career, few coaches have dealt with the ups and downs of being thrust into the OC's chair, turning a Division III program into a winner at 26 and holding a program together after an incredible off-field tragedy.
"The kids needed someone to motivate them and keep them up," Billings said. "You put all that up there, there's one guy who would be the best for that job and it's Scotty Walden."
As for the folks in Marshall, things are better than ever. Head coach Brian Mayper is the first ETBU coach since Ralph Harris in 2002 and 2003 to post back-to-back winning seasons. The Eargle/Walden tenure helped launch a new era of success for the program. Marshall, Texas, is still keeping a close eye on its adopted son.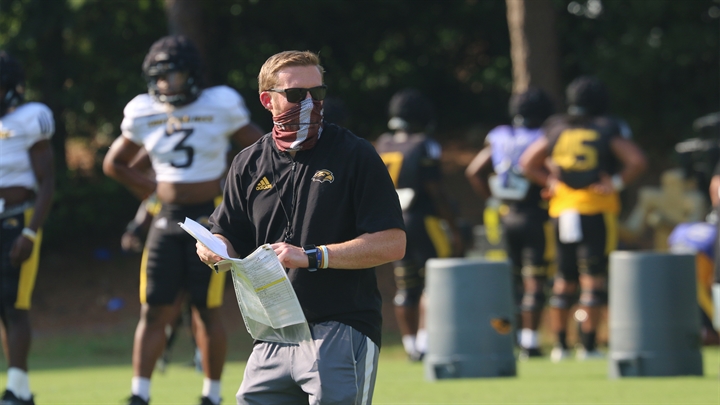 "Even watching social media, so many people from ETBU are wishing him well and congratulating him and saying they know he'll do well because they saw who he was here," Ledyard said.
Will Walden be considered for the full-time head coaching job after the season? It's hard to say. Bitter divorces tend to bring out the worst in college football programs. But whether it's in Hattiesburg or elsewhere, the legend of Scotty Walden is just getting started.
"He's just a great example of hard work, working your way up from Cleburne, Texas, and chasing a dream," Eargle said. "I really believe that he'll be the head coach either at Southern Miss or some other lucky school for a really, really long time."
___
All photos courtesy of Southern Miss athletics, East Texas Baptist athletics and Sul Ross athletics
This article is available to our Digital Subscribers.
Click "Subscribe Now" to see a list of subscription offers.
Already a Subscriber? Sign In to access this content.