For many, the start of a new year is often about reflection – reminiscing on the past 12 months of good decisions, bad ones, lessons learned and the like.
Well, we're no different at DCTF.
We're certainly not always right. Just ask anyone that uses our preseason magazine projections as ample bulletin board material to fuel a season worth remembering. Trust us, we've heard it every year, and perhaps contrary to common thought, we do find it fun when teams prove us wrong; it's part of the unpredictability and parity that makes Texas high school football our fun obsession.
Now that the 2019 season is completed, we though it'd be a perfect time to give some of those teams the recognition (And apology) they earned.
Here are five teams that we got wrong based on our 2019 summer preview magazine.
This isn't to say that there are only five teams that we projected incorrectly, just the ones that stood out most prominently. We can always flush this list out even more at a later date giving proper credit to other teams.
5. Post Antelopes (15-1, 5-0)

What we said: Post would finish third in District 2-2A Division I
What they did: Won 2-2A Division I, 2A DI state runner-up

Now, before I get too far, I should mention that Matt Stepp pegged the Bold Gold as one of his sleeper teams to watch in 2A DI, so if you want someone at DCTF to laugh at, don't include him.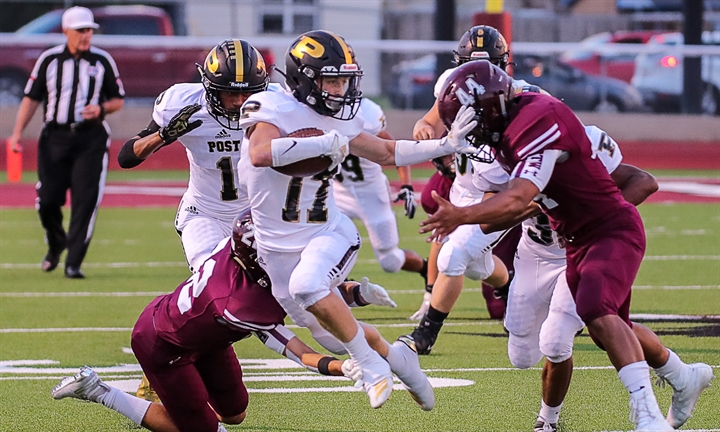 District 2-2A DI is one of the most underrated in the smaller classifications in terms of difficulty. Even after losing a gifted senior class in 2018, we felt that New Deal was still the team to beat and Post's best shot would come in 2020 when their talented juniors were seasoned seniors.
Michael Pittman's team had other ideas imposing a powerful running game with Ashton Jefferson, Taytem Thetford and Nathan McDaniel partnered with a stifling defense that held all but two opponents in the regular season to 14 or less and put the Antelopes on their way to their first state title appearance in program history.
4. Pflugerville Weiss Wolves (9-3, 6-1)

What we said: Weiss would finish last in District 13-5A Division II
What they did: Finished second in 13-5A Division II, regional semifinalist

One of the best turnarounds in the state this season caught everyone off guard and that includes us.
Going from 0-10 to a winning record? That's pretty tough. Making the playoffs? Okay you're getting crazy here. Doing all of that and then competing for a district championship all the way up until the final week of the season? Insanity.
The senior-heavy Wolves made everyone take notice after a 42-0 shellacking of reigning district champion Leander Glenn in Week 5 before heading into a de facto district championship game 9-1 against the eventual winners, Brenham.
After really struggling to move the ball in year one, Weiss' offense stepped up in a big way this year to match the defensive talent it flashed in 2018. With an offense able to control the ball when it needed to, the Wolves' defense pitched three shutouts and showed a lot of people that Weiss is a CenTex program on the rise.
3. El Campo Ricebirds (10-3, 4-2)

What we said: El Campo would finish last in District 13-4A Division I.
What they did: Finished third in 13-4A Division I, regional finalist.

Sure, El Campo had Charles Shorter this season, but where was the other help going to come from? This district's tough!
Well, the answer to that was sophomore Johntre Davis. Davis, an eventual All State honorable mention became the bell-cow for the Ricebirds' rushing attack but in addition to him, freshman Rueben Owens added a third feature to El Campo and helped put together one of the best rushing attacks in 4A DI Region IV. The Ricebirds' only losses on the year were to playoff teams including Liberty Hill which went on to become a regional finalist. Oh and by the way, all three of them will be back in 2020. You're not catching us off guard this time.
2. Dallas Jesuit Rangers(9-5, 5-2)

What we said: Dallas Jesuit would finish sixth in District 9-6A.
What they did: Finished second in 9-6A, upset Longview in area round, regional finalist.

Want to make some noise? Upset the reigning 6A Division II state champions in the area round of the playoffs.
But even before the Rangers' win over Longview that shook the state, Jesuit was a team vastly overlooked. After a 2-8 season a year ago, it should've been noted that four of those eight losses were by 10 points or less and two were one-score games, results that could've flipped on any other given Friday.
Although Brandon Hickman's team started the year 0-2, they rattled off six of their next eight and met the challenge of facing the Lobos early in the playoffs head-on propelled by E.J. Smith's 164 rushing yards and four touchdowns. A 10-point loss to Spring Westfield in the regional finals halted what was a complete turnaround season.

What we said: Omaha Pewitt would finish fourth in District 11-3A Division II.
What they did: Won 11-3A Division II, 3A DII state runner-up.

Oh, jeez.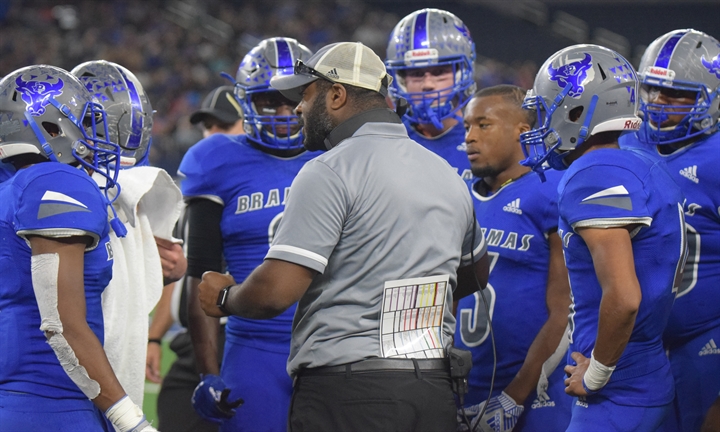 Okay where to start with this one…
We knew Pewitt was too much of a playoff staple to count them out of the top four in the district, that's good, right? Okay, probably not…
Pewitt not only shattered our expectations this season topping District 11-3A Division II, the Brahmas did it with perhaps the most dominant rushing attack in the state that wasn't nearly talked about enough with nearly five 1,000-yard rushers led by senior La-Jathan Allen who topped 2,100 yards on the year.
When they upset district foe Daingerfield, the only team to beat them in the regular season heads turned out east towards Omaha to see what Triston Abron's Brahmas were up to. What happened next? Allen, junior Tanor Mines and the Pewitt defense played the game of their lives against unbeaten East Bernard to send the Brahmas to AT&T. And while they fell short to state champion Gunter, Paul Pewitt has the honor of being the team that most proved our expectations wildly wrong in 2019.
This article is available to our Digital Subscribers.
Click "Subscribe Now" to see a list of subscription offers.
Already a Subscriber? Sign In to access this content.