Oct. 6, 2018, was a great day for college football in the state of Texas.
Texas headlined the day by kicking a late field goal to beat No. 7 Oklahoma. Texas A&M added a top 15 win in overtime against Kentucky, and Baylor hit a late field goal to beat Kansas State.
None of those games, though, were the craziest in the state that weekend.
One game was played in two different cities and two different stadiums on two separate days. It involved two top 10 teams, two trips to Golden Corral and was decided by two fourth quarter kicks.
In the end, only one team's NCAA playoff hopes died that weekend.
This is the story of Texas A&M-Commerce's 20-19 win over Midwestern State, the craziest rivalry game you didn't watch.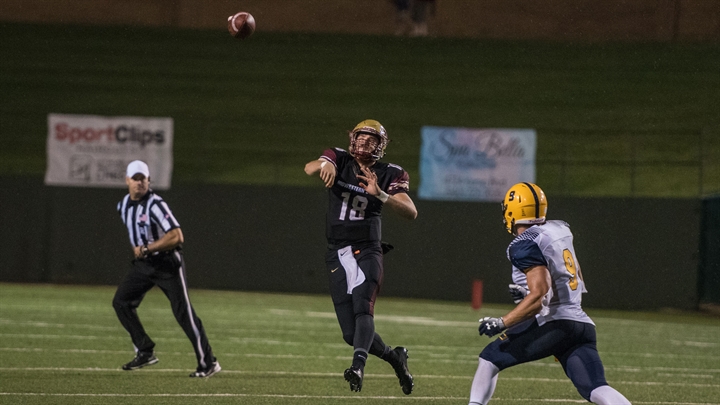 Saturday Night Lights
Mayhem always seems to follow these teams when they meet, with six of the last seven games decided by six points. Two of the last three were one-point wins. Midwestern State quarterback Layton Rabb was a finalist for the Harlon Hill Award, the D-II Heisman, in 2017. He lost it to TAMUC quarterback Luis Perez.
"We're two high-level programs," Midwestern State offensive lineman Austan Davis said. "The talent that has gone through these two programs the past couple of years has been ridiculous. The year we won the conference is when they won the national championship. That should tell you the kind of rivalry this has been."
Heading into the 2018 iteration, Texas A&M-Commerce was fresh off a national championship, and Midwestern State was ranked No. 4 in the polls. Even though it was early in the season, there were major conference championship and playoff implications. It was a game that needed to happen.
In hindsight, the game should have started earlier. The athletic department at Midwestern State consulted with meteorologists to see whether they should move the game up, but they gave the all clear. The rain started early and pushed the start back 30 minutes.
Midwestern State got off to a good start, scoring the first touchdown of the day from Rabb halfway through the first quarter. TAMUC quarterback Kane Wilson answered to end the first quarter and gave the Lions a 10-7 lead. MSU-Texas knotted it up with only a few minutes left in the second quarter at 10-10.
"I just remember the high levels of intensity," MSU cornerback Jaydon Cunigan said. "Every time we play Commerce, that's how it is. I love every game that's intense."
But dark clouds covered the field as the halftime whistle sounded. Heavy lightning all over North Central Texas made things far more complicated.
Athletic directors and coaches for both schools got on calls with Lone Star Conference commissioner Jay Poerner, while players sat with wet jerseys in the locker room. It became fairly obvious that playing the game later that night was unlikely with the way the weather was moving. But still, Poerner made clear that he wanted the game to have a conclusion. A 10-10 tie at halftime wouldn't do it for two teams with championship aspirations.
"Please, explore all options," Poerner told them over the phone.
That's where this story really starts.
8:15 p.m: No Room at the Inn
It's uncommon for a game to be canceled and continued the next day, but not unheard of. In preparation, Texas A&M-Commerce athletic director Tim McMurray and his staff started calling hotels in the area to accommodate his team on short notice.
"Typically, a football team needs a hotel with a meeting space and all of that, but we just needed a place to rest," McMurray said. "We were calling even Best Western and places that might not be a traditional football team hotel on a Friday night because we just needed a place to rest our kids and get back up to resume the game."
McMurray started with the Embassy Suites in Denton, where the team stayed the night before, but the hotel didn't have any room. The staff called one hotel – no luck. Then another. And another. Soon, the numbers started piling up.
By the 40th or 50th hotel, McMurray asked why the heck every hotel in North Texas seemed to be booked. Well, one front desk clerk said, blocks of rooms are rented in North Texas to stay in after going to Oklahoma casinos. The staff continued calling hotels as far as 80 miles away from Wichita Falls. It didn't matter. No one was prepared to take in a whole football team.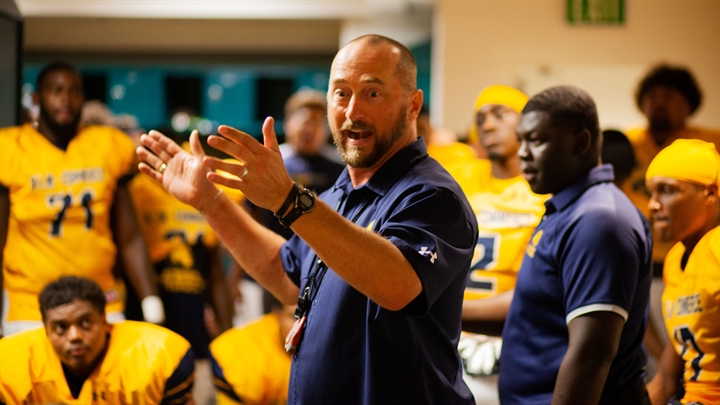 10:45 p.m: Heading Home
Both TAMU and MSU's players were still in the locker room, waiting, and hoping for the weather to clear. Some were up and active, trying to keep the adrenaline pumping. Others just sat quietly, waiting for any news.
"It was just anxiousness," Cunigan said. "We were just waiting to get back out there, adrenaline running. We felt like we were playing really well at the time, so we just wanted to keep that motor going."
Eventually, McMurray and Lions coach Colby Carthel gave up and decided to send their players back to Commerce. The game wasn't officially cancelled, but it simply wasn't going to be able to continue at Memorial Stadium. No one was happy about it.
"I was just like, I want to finish playing the game that night," Texas A&M-Commerce defensive back Dominique Ramsey said. "They said we just gotta go home and we'll determine later if the game is going to be played."
The Lions, somewhat annoyed, got out of their pads and got on the buses for the long three-hour trip back to Commerce. Midwestern State players were also told that the game was likely cancelled, and got out of their pads around 11 p.m.
Midnight, Sunday: Trying Everything
At nearly midnight, Midwestern State announced that the game was a no-contest and would not be made up. Privately, though, the athletic directors and Poerner worked every avenue to find a situation. Because of the gravity of this game, Poerner wanted the second half to be played.
Bringing the players back to Wichita Falls again the next day was off the table. It would be completely unfair to the Lions. McMurray called the athletic director at SMU, where he used to work. Ford Stadium in Dallas emerged as an option to continue the game, though it would have been a much further drive for Midwestern State.
Reps from both schools reached out to high schools in the area to see if they might be able to accommodate them. They quickly learned that many high school stadiums didn't employ cleaning crews on the weekends to avoid overtime pay, so the stadiums would likely not be in adequate sanitary condition to play in after Friday Night Lights.
McMurray put in what he called a "Hail Mary" call to North Texas athletic director Wren Baker to see if there was any chance of using Apogee Stadium. UNT was fresh off a win over UTEP, and Baker was about to get on a plane from El Paso back to Dallas.
Baker, a former Division-II athletic director at Northwest Missouri State, was open to helping. After the staff landed, UNT associate vice president Jared Mosley gave McMurray a call.
North Texas offered Apogee Stadium and waived the facility fee – but it had to be at 1 p.m. Seth Littrell typically holds Sunday evening practices, so the field had to be completely cleared by 6 p.m., in preparation. TAMUC pushed for 3 p.m., just to give the players an extra hour of rest.
"I reminded them that we're only playing 30 minutes of Division-II football," McMurray said. "So there's not the extended TV timeouts, there's not a whole lot, it'll go fairly quickly."
Eventually, everyone agreed to a 2 p.m. start at Apogee Stadium the next day.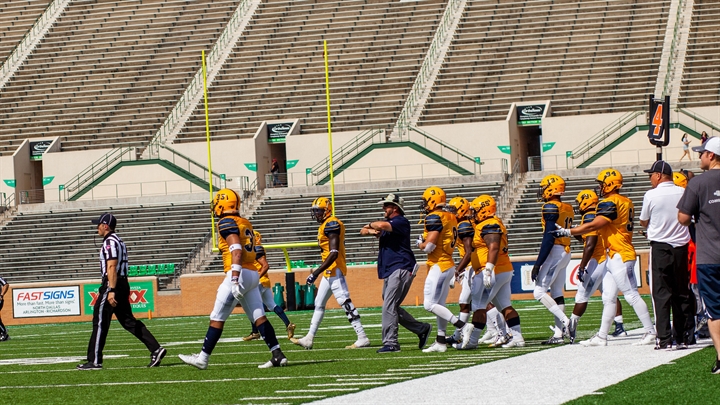 1:30 a.m: The Text Trees
Texas A&M-Commerce was still on the bus back home when it got the text that the game would continue in Denton the next day.
"From right there, they were like, we've got a game tomorrow, be here early at… it was early. I don't even know," Ramsey said.
Players got back to their beds at nearly 3 a.m., and only had a few hours to sleep before having to get on a bus.
Midwestern State players got home earlier, but didn't get the news until late. Maskill sent out multiple texts over the evening, saying the game was cancelled, saying it was back on. Finally, at nearly 2 a.m., the team received a final text that the game would continue the next day in Denton.
"It was a quick turnaround, we had guys every which way," Rabb said. "A bunch of group texts were sent out. It was a hectic little 30 minutes trying to make sure everyone was heading home and to bed."
Rabb was hanging out with his family at home when he got the message. The player who went to sleep only learned when someone banged on his door. Some weren't as lucky.
"It was already about 2 a.m. when I found out," MSU cornerback Damarcus Wilson said. "I had to stop partying and get right. After going through a half, you're going to be dehydrated. It was hard to adjust from a Saturday night to getting ready for a Sunday afternoon."
7:30 a.m: Outrageous Logistics
Putting on a college football game doesn't just happen, as Maskill knows well. At 5:30 a.m., two hours after he left Memorial Stadium, Maskill was banging on his trainer's door to get the training staff together for the trip.
McMurray and Midwestern State athletic director Kyle Williams were on the phone with all the football ops personnel to get things organized by 6 a.m. They pulled a chain crew together, organized refs staying in town (some were from out of state), finding people to run stats and work the clocks. The Texas A&M-Commerce PA voice at the time was the late Roger Emrich, the Voice of the Cowboys; thankfully, there wasn't a conflict with the Cowboys game, so he drove up from Dallas. UNT had some staff on hand to help too.
Just hours after announcing that the game was back on, Maskill had his Midwestern State players meet. Since the old jerseys were wet, the players had to change into other jerseys for the second day. The cafeteria was unprepared to feed a whole football team, so MSU asked the local Golden Corral to open up early and feed the players.
"It was a hassle," Maskill said.
A few hundred miles away, Carthel had his team meet at 7:30 for an 8 a.m. departure to get to Denton, barely six hours after arriving home. The team also stopped at a Golden Corral on the way at 9:30 a.m. – how many restaurants are prepared to feed a whole football team?
"The kids were running on adrenaline," McMurray said. "Some hopefully slept on the bus. Some slept on the way back over Sunday morning. To me, it's like a golf round, everyone is playing in the same conditions so there's no distinct advantage."
Since Midwestern was the home team, the Mustangs got the nicer locker room. TAMUC was in the visiting locker room. Fans were told that admission was free for anyone who came to the game, and plenty made the drive.
"Even though we went to another location, there were still fans from both teams coming and cheering us on," Wilson said. "Really, the atmosphere for the competition level that we play, it's a high level. It's a little rivalry there, so it was a little extra."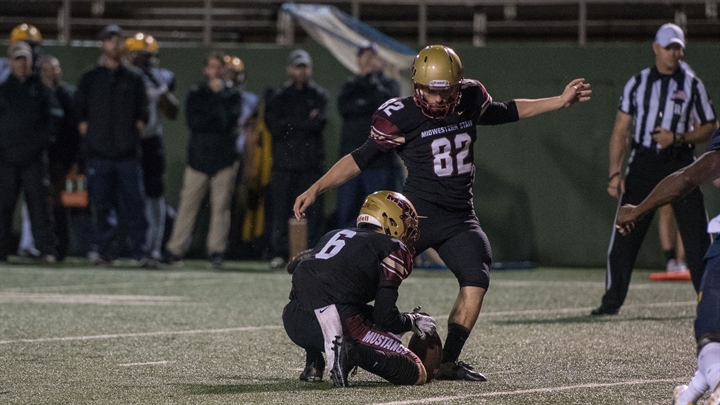 Photo Finish
There were exhausted players on both sidelines during warmups. MSU's players were working off only a couple hours of sleep. Commerce's were even worse off. But once Jaron Imbriani kicked the ball off for a touchback to start the second half at 2 p.m., about 17 hours after halftime started, both teams were laser focused.
"That wasn't a championship game, but it felt like the playoffs were on the line," TAMUC tackle Amon Simon said. "Win this game and we'd be good...if they beat us it's over, we go home. WE had a couple more games, but those games don't mean anything if we lose that game, you don't get any awards off of that."
Midwestern State came out motivated. Rabb found all-conference wide receiver Juwan Johnson for a 38-yard completion deep in Lion territory, and Vincent Johnson rushed it in for a score a few plays later. Texas A&M-Commerce got back into the red zone on the next drive, but had to settle for a field goal. The score was 17-13 Mustangs entering a critical fourth quarter.
The defending champion Lions punched back. Wilson completed a 19-yard pass to flip the field, and TAMUC got some help from an unsportsmanlike conduct found to get back into the red zone. Wilson rushed for a four-yard touchdown, and Texas A&M-Commerce took its first lead of the second half. However, the Lions mishandled a punt on the next possession and it went back for a safety, cutting the lead to just 20-19, and setting up a photo finish.
With the season on the line, Rabb engineered an 11-play drive, picking up three first downs and getting right on the cusp of the red zone. MSU brought out Imbriani to kick a long, but manageable, 39-yard field goal. The holder came out onto the field late, so Imbriani had to rush and kick it. The Lions swarmed the line, and linebacker Brooks Saathoff came up with a huge blocked kick to preserve the lead.
Midwestern State's defense stood tall again on the next possession, holding the Lions to just five plays and giving them the ball back at the MSU 45 with just 52 seconds left, down one.
Rabb completed a 21-yard pass to Xavier Land to get into Lion territory. After two incompletions, he completed another 16-yard strike to Land with 15 seconds left. A substitution infraction brought the ball to the 13-yard line, setting up a 30-yard chip shot for Midwestern State. The blocked field goal earlier was in everyone's mind.
"The kicker is just an average kicker," Maskill said. "[The first time], the holder gets on the field late, he has to hurry it, misses it terribly. Well that affected the next time we kick it. Right there, it only affected that play, but psychologically, it affected the next one."
Imbriani went back, made contact... and missed the 30-yard field goal. Nearly 24 hours and 100 miles later, Texas A&M-Commerce escaped with a 20-19 victory, just their second win over powerhouse Midwestern State in the past 14 seasons.
"That game just goes to show, when you don't execute the little things, it really shows," Davis said. "That was the difference between us winning and losing this game."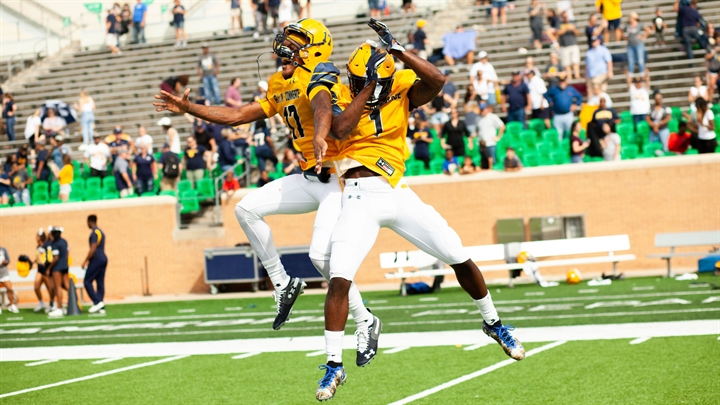 Season-Long Implications
All the talk about playoff implications was real. When November came around, Texas A&M-Commerce just earned a spot in the D-II playoffs. Midwestern State got left out, a decision that the Lone Star Conference is still griping about. MSU players even attended Azusa's playoff game against Tarleton; APU lost 58-0, just like all the players expected.
"We knew it, everybody knows it, the NCAA knows it," Maskill said. "They had some silly stat about how they played, beating a top 10 opponent in the second half of the season – who gives a shit? You go on and voice your frustrations about how you feel and don't feel and then you go forward. It's over. It's done. Just learn from it."
Texas A&M-Commerce earned a trip back to the playoffs, despite an identical 10-2 record. The win over MSU ended up being all the difference.
"It was like nothing I've ever been through," McMurray said. "I certainly hope, if the weather stays true, it will be nothing like I ever have to go through again this weekend."
What will Maskill remember most from the craziest game of his career, which lasted the better part of 24 hours and was played at two locations against the defending champs?
"I remember that we lost the God dang game."
Photos: Evan Luecke for Texas A&M-Commerce/Courtesy Midwestern State athletics
This article is available to our Digital Subscribers.
Click "Subscribe Now" to see a list of subscription offers.
Already a Subscriber? Sign In to access this content.