DENTON -- When Graham Harrell left North Texas to take the offensive coordinator job at USC, head coach Seth Littrell didn't limit his search to just air raid candidates. Instead, his search spanned both coasts.
Eventually, it took him down to the FCS level, and nearly 2,000 miles away to Cheney, Wash. And even though the search took him just 70 miles away from Mike Leach in Pullman, Wash., the coach he got isn't from that tree.
If you ask Bodie Reeder, he doesn't quite fit on any tree at all.
"I'm not air raid," Reeder told Dave Campbell's Texas Football. "I don't know what I am. If I had to describe my brand of offense, I would just call it a winning offense."
Reeder isn't lying. In just his second year as offensive coordinator at Eastern Washington, Reeder led the Eagles to the FCS national championship game against North Dakota State. His offense averaged 528.2 yards per game and 43.1 points per game, both of which ranked in the top five nationally.
"The things he was doing at Eastern Washington offensively really intrigued me," Littrell said. "It was very similar to what I had done before at North Carolina and Indiana. He was doing special things. When I got on the phone and talked to people he had worked with, I was even more intrigued."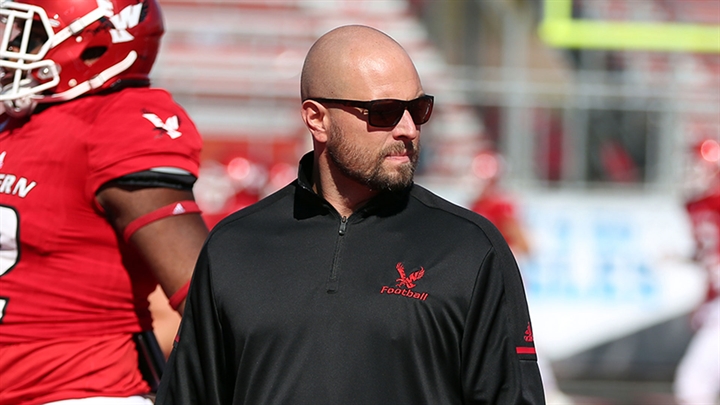 Finding a fit
Littrell isn't the first coach to be intrigued with Reeder, the youngest FBS coordinator in Texas. Despite being just 32 years old, Reeder has already built an impressive resume.
He played quarterback at Eastern Illinois and earned his first offensive coordinator job at Wisconsin-Stout just two years after graduating college. Oklahoma State coach Mike Gundy quickly plucked him for a quality control and quarterbacks job in Stillwater, Okla.
Reeder came to Eastern Washington after former head coach Beau Baldwin left to take the Cal offensive coordinator job, and quickly had success. The Eagles took a small step back in 2017, but rebounded quickly in 2018 with a title game berth.
Three weeks after the FCS national title game, Harrell left for USC. Since it was late in the cycle, Littrell quickly reached out to peers and talked through candidates. Two weeks later, Reeder was hired as the newest coach at North Texas.
The move for Reeder was a natural progression. His Eastern Washington squad reached the national championship game, so there was a sense that Reeder was ready for the next level. Additionally, his wife's family lives in Flower Mound. Getting to move closer to her home, especially with a baby on the way, was a huge benefit.
But more than anything, Reeder just had to get around Littrell.
"We had done great things at Eastern Washington, but I thought it was time to move on and continue to learn," Reeder said. "I knew what the guys at Eastern Washington knew. I knew that guys at Oklahoma State knew. I knew nothing about what Seth Littrell thought of offense, and I had to get in there and figure out.
"You look at his career and he's won a lot of games at places where they haven't won a lot of games. He's doing something right. I wanted to see what it was all about."
Even though their outward personalities are very different, it didn't take long for Reeder and Littrell to mesh.
"He's a very knowledgeable X's and O's guy," Littrell said. "It's easy to tell that when you have one conversation with him."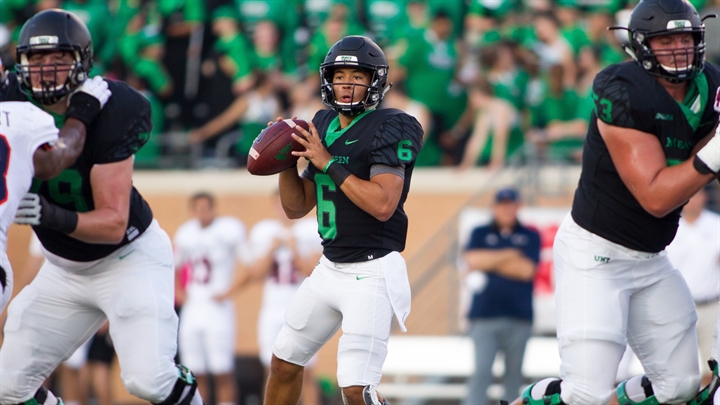 Scheme improvements
Reeder's offense has many similarities to what North Texas has done before, especially in terms of passing concepts. However, the overarching philosophy is different than Harrell when it comes to multiplicity, pace and balance.
North Texas primarily ran out of three- and four-wide receiver sets a season ago. That kept Rico Bussey, Jalen Guyton, Jaelen Darden and Michael Lawrence on the field for the majority of snaps, along with one running back – usually DeAndre Torrey – in the backfield.
Reeder will still use some of those open sets, but also wants to work in plenty of other looks. He doesn't shy away from using multiple tight ends and multiple running backs. In general, expect tight end Kelvin Smith to be a bigger part of the game plan. The tight end or H-back helps create versatility.
Additionally, runs won't always come out of spread alignments. Instead of spacing the field side-to-side, Reeder will work with additional blockers in and around the line of scrimmage. Run-pass options, or RPOs as they've been dubbed, are a critical part of the game plan.
A season ago, North Texas struggled to put away games. All three regular season losses came after blowing double-digit leads, and the inability to get conversions on 3rd-and-short didn't help. Reeder wants to rebuild the short-yardage game from scratch.
"I think you have to, at times, change your personnel so your backs have a chance to be successful," Reeder said. "Give them a chance to be successful, running behind the tight end, running behind the fullback –"
The fullback?
"Yes, the fullback. You can still do that in the spread and the gun. You have to help them have a chance. It's not that these backs can't get those yards, you just have to help them and give them a chance."
When Reeder talks about balance, he means it. Look no further than his final season at Eastern Washington.
The Eagles entered the 2018 season with senior quarterback Gage Gubrud, a two-time finalist for the Walter Payton Trophy – the FCS version of the Heisman. The game plan coming into the year was to lean on his elite arm. But after five games and 217 points, Gubrud went out for the season with a toe injury. Instead of panicking, Reeder modified his playcalling philosophy.
Over the final 10 games after Gubrud's injury, Eastern Washington upped the carries from 34.8 to 37 per game. The efficiency went down – noticeably – but the reliable rush helped open the pass game for sophomore quarterback Eric Barriere.
By the end of the year, running back Sam McPherson ranked No. 4 nationally in rushing yards and EWU ranked No. 20 in passing yards. Five different players posted at least 350 rushing yards. Ten players had double-digit catches and twelve caught a touchdown. The highlight was a dominant 74-23 win over rival Portland State – does that name ring any bells, Mean Green fans?
"Everyone gets a piece," Reeder said. "That's something I'm proud of. If our guys are willing to buy in, everyone is going to get a share of the rock. It's fun to play in and it's fun to coach in.
"What's true balance? It's spreading the ball around, not seeing whether you can run the ball as many times as you throw it."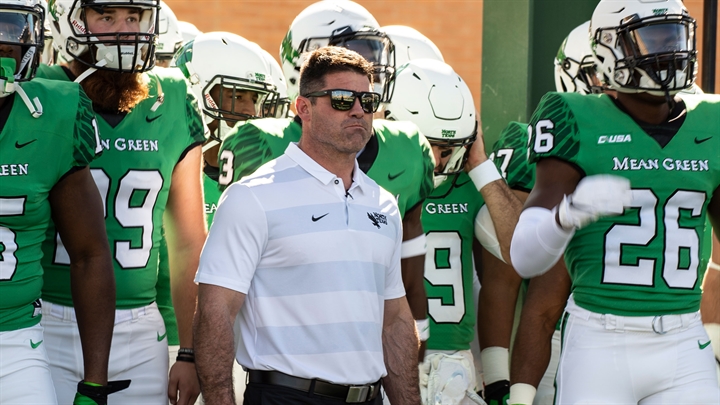 Runaway train
Three years ago, Littrell hired Harrell – then an outside wide receivers coach at Washington State – to build a moribund North Texas program. Things are a little different in Denton now.
North Texas has won nine games in consecutive seasons for the first time since Hayden Fry in the 1970s. The offensive coordinator, along with several other coaches, have been poached by Power Five programs. Littrell was too, over the offseason. This is a much more attractive job than it was coming off of a 1-11 season.
More importantly, quarterback Mason Fine is back, which Reeder describes as a "freaking blessing." Top receiver Rico Bussey is back. Top rusher DeAndre Torrey is back, as are the top three offensive linemen. In the back of his mind, Reeder has to know that succeeding in 2019 could have huge ramifications for his career.
"It meant a lot when [Littrell] hit me up because it's almost like you're getting on a train that's moving real fast," Reeder said.
However, there is still plenty to prove. North Texas has yet to win a conference championship under Littrell. The Mean Green also fell short of 10 wins each of the past two years, and dropped all three bowl games under Littrell. The last one was a crushing loss to Utah State in the New Mexico Bowl.
Continuing the Harrell momentum with a traditional air raid hire would have been easy, and there are names out there like Doug Meacham. But ultimately, Reeder is up for the challenge of taking the University of North Texas to the next level.
"It wasn't broken when I got here – that's the biggest thing," Reeder said. "But I have to be honest with myself, I don't know what Graham Harrell knows, I only know what I know. It would be a disservice to myself and them to try to be anything else."
This article is available to our Digital Subscribers.
Click "Subscribe Now" to see a list of subscription offers.
Already a Subscriber? Sign In to access this content.