DALLAS -- Texas Tech athletic director Kirby Hocutt didn't expect to be home for the holidays. That wasn't the plan.
The plan was always to see Texas Tech play Duke at Madison Square Garden, and then focus on the bowl game after Christmas. But after a five-game losing streak to end the season – and Kliff Kingsbury's tenure at Texas Tech – a bowl game never came.
Instead, Hocutt sat on his couch on Dec. 15 and flipped on the first bowl game of bowl season.
The New Mexico Bowl featured two of the better Group of Five teams in America, as nine-win North Texas faced off against 10-win Utah State. Both came within inches of winning their conferences. It seemed like a perfect way to open bowl season.
When the opening whistle sounded, it became clear that Utah State – even without its head coach – was on another level. The Aggies physically dominated the Mean Green, a team that blew out SEC opponent Arkansas earlier in the year.
Utah State scored a touchdown on the third play of the game. It forced three interceptions and five punts in the first half alone. The Aggies scored 24 unanswered points during a dominant second quarter, and knocked UNT quarterback Mason Fine out of the game after crushing the Mean Green front.
In the midst of the dominant second quarter, Hocutt was impressed. He picked up the phone and dialed the number of one of his newest hires, a man who agreed to move 1,000 miles and lead the Texas Tech football program barely two weeks earlier.
"I want some of that."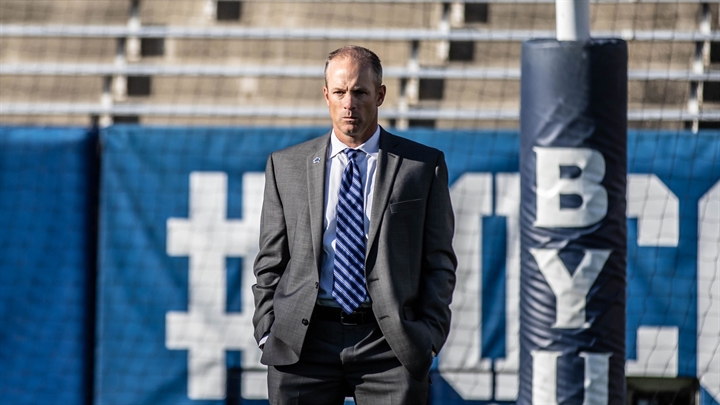 Rising under the radar
Matt Wells didn't blow people off the page when he was hired at Texas Tech. In many ways, it was the least flashy hire Hocutt could have made.
Dana Holgorsen was interested in the job, and he would have brought instant credibility from another Big 12 program. Seth Littrell and Neal Brown were former Tech assistants who quickly earned the label as hot Group of Five coaches. Plenty of people behind the scenes even pushed to bring Mike Leach back to West Texas.
With those recognizable names on the table, traversing all the way to Logan, Utah, to get a coach who has never coached at a Power Five school drew the ire of many Red Raiders fans.
But while Wells is relatively anonymous among national college football fans, he's been a favorite of those in the profession for years. When Tech hired him, he received glowing endorsements from Bob Stoops, Mack Brown and Wes Welker.
It took four games as head coach at Utah State for him to get Hocutt's attention.
Four games into his head coaching tenure at Utah State in 2013, Wells faced off against Lane Kiffin's USC team. The Trojans were one of the most talented teams in America, with future NFL players like Cody Kessler, Marquise Lee and Nelson Agholor on offense.
But even though the Aggies seemed to be severely overmatched, the battle at the Coliseum turned into a dogfight. Utah State held the highly-touted offense to just 164 passing yards and 3.0 yards per carry.
USC escaped with a 17-14 victory. Even so, USC linebacker coach Mike Ekeler couldn't shake the game from his mind.
Ekeler called his friend, Hocutt, after the game. Hocutt had just hired Kingsbury to lead Texas Tech months earlier and the Red Raiders were off to a quick 4-0 start. Kingsbury was signed to a lengthy extension months later, and Hocutt had no plans to hold a coaching search for many more years.
Nevertheless, Ekeler had to tell Hocutt about what just happened against a Mountain West opponent.
"Hey, you need to keep an eye on this head coach," Ekeler told Hocutt.
Even with all the talent in the world, Ekeler saw the USC staff struggle to plan for a Utah State squad that was schematically difficult. The Trojans struggled to deal with the physicality that Utah State instilled in its program. It didn't hurt that Wells had a heck of a defensive coordinator by his side that year: Todd Orlando.
"[Ekeler] felt lucky to beat them," Hocutt said. "And this is USC playing Utah State!"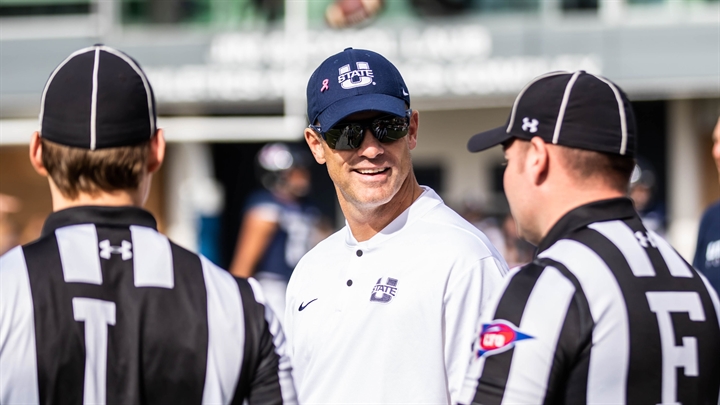 Building consistency in a football desert
Utah State is a tough place to win. Between 1981 and 2010, the Aggies had just two winning seasons. Funnily enough, Wells was on the roster for both of those teams. But still, the Aggies had little to no periods of sustained success in program history.
"Before Gary Anderson, it was awful," said Scott Garrard, radio voice for Utah State athletics. "Football at Utah State was as bad as any program in the country."
Wells' 44-34 record in six seasons doesn't sound particularly impressive. Contextualize it with the history of Utah State football. His 44 wins is good enough for No. 2 in Utah State history. The leader, E. Lowell Romney (yes, uncle to Mitt Romney and namesake of the Utah State stadium until 2015), started coaching when Woodrow Wilson was president.
Anderson helped turn the program around. His team won four games in his inaugural 2009 season, which was the most since 2002. Wells joined the staff as quarterbacks coach from New Mexico in 2011. That season, the Aggies went to a bowl game for the first time since 1997.
A year later, Wells was promoted to offensive coordinator. The Aggies won 11 games for the first time in program history, and Anderson left to take the Wisconsin job. Wells was quickly promoted to head coach to try and maintain what was built.
Wells won 19 games in his first two seasons, which was the best two-year stretch by a Utah State head coach since John Ralston in 1961 and 1962. The only issue? The program was a little too successful.
Future Texas coach Tom Herman poached Orlando to run his defense at Houston. Josh Heupel was the offensive coordinator in 2015, and was quickly stolen away by Missouri. They weren't alone. Between 2014 and 2016, only two assistants stayed on staff.
That has always been the issue at Utah State. Talented coaches have stopped through the program, like Orlando, Dave Aranda and Mike Sanford. None of them stay. After sustained success under Anderson and Wells, it finally started to bite them. It all culminated in 2016 with a huge setback.
"Coach Wells won't say this, but I'll say this: they lost an entire recruiting class because of the transition," Garrard said. "It bit them in the butt in a bad way. They were in a lot of close games that year, but it was what it was – a 3-9 season."
There was concern that Wells missed his chance, that he couldn't be the same coach without Todd Orlando, that he coasted on Anderson's success and now couldn't build his own. It hurt worse that the scoring offense fell to No. 107 nationally with the two coaches that stayed – his brother Luke Wells and Jovon Bouknight – sharing offensive coordinator duties.
'They never shied away from it," Garrard said. "They never said it was anyone's fault but their own."
But even after the poor results, Wells never lost sight of his process and values. He made some savvy hires, including David Yost as offensive coordinator. Utah State also brought in another recruiting class that they felt fit their program.
A year later, Utah State doubled from three to six wins. One year after, Utah State won 11 games for just the second time in program history.
The Mountain West took notice. Wells became just the fourth coach in conference history to win multiple outright Mountain West Coach of the Year awards. The others? Urban Meyer, Gary Patterson and Rocky Long.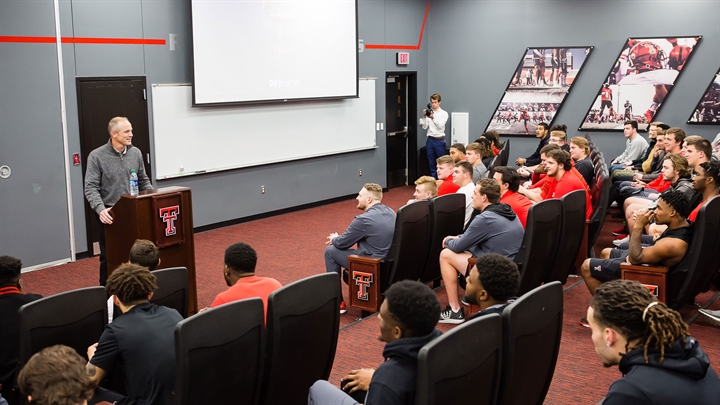 Finding a perfect fit
During his introductory press conference as head coach at Texas Tech, Wells went through his customary thank yous to everyone who helped get him there.
"Most of all, the thank you goes to my staff and my players at Utah State. I ain't…"
And then he stopped himself and glanced at his wife, Jen. Jen Wells, a speech therapist by trade, helped nudge Matt away from using phrases like "ain't" and "fixin'" in public appearances. Matt, a native Oklahoman, sometimes slips back into old habits.
This crowd didn't seem to mind too much. The group of Red Raider fans at United Supermarkets Arena gave him a standing ovation. Wells smiled and shrugged at his wife. The fans were on his side.
"I guess that's okay now in Texas, isn't it?" Wells said.
Wells is a graduate of Utah State. He spent the last eight years in Logan, Utah, and raised a family there. The Wells family has three children, and all are between nine and 15 years old. Needless to say, it took a perfect situation and a perfect fit to leave all that.
"The answer was always no or not now until the phone call from Kirby [Hocutt]," Wells said. "It came at a good time."
Wells saw an opportunity to compete at the highest level in the Big 12 conference at a school that has potential. It didn't hurt that he now lives just a few hundred miles from his hometown in Sallisaw, Okla. Wells' mother even drove down to see her son speak at an event in Dallas in February.
He easily pitched the majority of his staff on coming, including coordinators Yost and Keith Patterson. Wells was even able to pull a few former assistants who left for greener pastures with the allure of a Power Five job.
"It creates continuity," Patterson said. "It makes for a quicker transition because everyone knows what to expect from day-to-day operations."
Recruiting Texas was a huge attraction for the young coach too. There were 36 players in the state of Utah that were rated composite three-star prospects. There are a cool 373 such prospects in Texas. One hundred and twenty-nine of the top 1,000 prospects reside in Texas; six are in Utah.
"I've recruited Texas before," Wells said. "I've never recruited the state of Texas with an in-state logo on. That's going to be fun."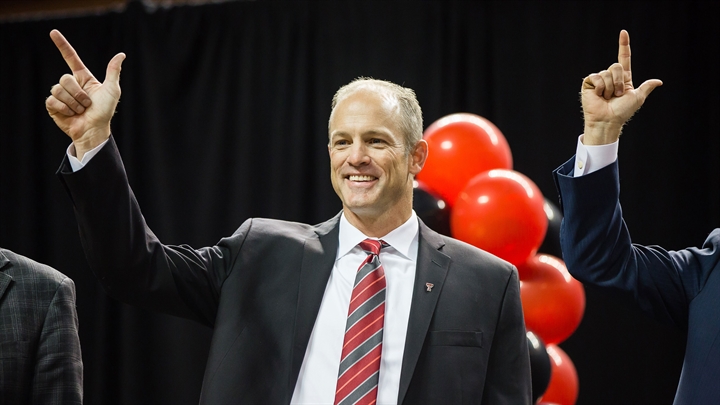 Wells knows what he's up against. Winning 11 games in the Mountain West doesn't mean anything to Texas Tech fans, especially at a school many of them had never heard of before December. Unlike several other rumored candidates, Wells never coached at Texas Tech. Yost served under Leach briefly at Washington State, but the Wells hire is still a departure from the pure air raid.
Hocutt put the challenge out to his future head coach before the hire was even made.
"We will be elite in football again. I guarantee you, we will be elite in football again," Hocutt said after Kingsbury was fired. "This program has been there before and we'll get there again. The spirit that has lived right here at Jones AT&T Stadium before, it's still there."
In some ways, that's true. The Red Raiders were in the national championship picture barely a decade ago. Under Leach, the Red Raiders reached as high as No. 2 in the AP Top 25, and finished ranked in five of his final six seasons. Texas Tech is doing it in other sports, including men's basketball under Chris Beard, baseball under Tim Tadlock and track under Wes Kittley.
But in another very real way, Wells is tasked with doing something that hasn't been done in a generation. The Red Raiders haven't won a conference championship since 1994. They haven't won an outright conference crown since winning the Border Conference in 1955.
Building a culture doesn't happen overnight, especially on defense. It will take time. But when the process is complete, Wells is confident that it will be a team that Texas Tech fans will remember.
"I'm going to be who I am, and I think I can be who I am in Lubbock and at Texas Tech," Wells said. "I truly believe what in what we did at Utah State – tough, blue-collar, football junkies, players with an edge, underdog mentality.
"I think it fits Lubbock. I think it fits Texas Tech."
This article is available to our Digital Subscribers.
Click "Subscribe Now" to see a list of subscription offers.
Already a Subscriber? Sign In to access this content.