Duncanville 2020 standout Chris Thompson Jr. (6'2, 205) set an early tone in a 51-7 win over Southlake Carroll with a bone-crushing hit on Carroll RB TJ McDaniel.
"We were fired up," Thompson said of the defense. "Our coach said that Southlake Carroll's coach said something about that they didn't believe in us and that that they didn't think we were supposed to be here, so we just fueled off that quote."
Thompson has offers from schools like Alabama, LSU, Ohio State, Stanford, Texas, and Texas A&M to play safety on the next level but has recently moved into the box to play linebacker. A move that has helped shape the team's playoff run.
"It has made all the difference in the world on our defense," said Duncanville head coach Reginald Samples on Thompson's position switch.
"That was one of the weaknesses that we had. Since he has moved there, it has changed the whole scope of our defense. He's a great player."
"I am a safety," Thompson added. "I am showing my versatility right now. I just want to help my team. I am doing this for my team."
Duncanville 2020 QB Ja'Quinden Jackson (6'2, 200) racked up 280 yards of total offense and scored four TDs.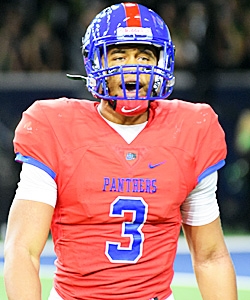 Jackson has already earned offers from schools like Alabama, Baylor, LSU, Oklahoma, TCU, Texas, Texas A&M, Texas Tech, and more.
"He is a good player and not only is he a good runner he throws the ball well," Samples said. "He is a well-rounded player. Not only that, he plays hard. He made a lot of good reads."
The Panthers will face Allen next week in the 6A-DI state semifinals.
"We have got to play hard," Samples said when asked about Allen. "We have got to play like tonight. We have got to play hard."
"No history, we just want to win one more."