Whataburger and Dave Campbell's are joining forces again! Watch our announcement below:
Dave Campbell's Texas Football and Whataburger have teamed up to give fans the opportunity to honor the best and brightest stars in Texas high school football with the 2018 Whataburger Super Team!
For more on the partnership, read the official announcement here.
We need YOUR help to select the 2018 Whataburger Super Team! The final ballot is official, and voting starts Monday, Nov. 5, and closes Monday, Dec. 31.
VOTING HAS CLOSED. RESULTS WILL BE ANNOUNCED SHORTLY.
Fans should follow the Whataburger Super Team on Facebook and Twitter for more information.
Here are the players on the ballot for the 2018 Super Team:
QUARTERBACKS
Austin Phillips Wolfforth Frenship
Behren Morton Eastland
Chandler Morris Highland Park
Chandler Rogers Mansfield Lake Ridge
Chase Griffin Hutto
Christian Huey Sundown
Colin Gonzales Louise
Cutter Sparks Shallowater
Dailon Smith West Sabine
Dematrius Davis Galena Park North Shore
Grant Gunnell St. Pius X
Grant Tisdale Allen
Gunner Capps Carthage
Haynes King Longview
Hudson Card Lake Travis
J.D. Head Pearland
Jacob Clark Rockwall
Jacorian Green Marshall
Jared Wiley Temple
Jacob Zeno John Jay
Josiah Ortega Rio Hondo
Keyshawn Johnson Falls City
Landry Gilpin Mission Veterans Memorial
Luke Latimer Childress
Malachi Brown San Angelo Central
Malik Hornsby Fort Bend Marshall
Mason Brandenburger Clifton
Michael Black Haltom
Mike Chandler Converse Judson
Nick Jimenez Hewitt Midway
Otto Wofford Mason
Peyton Bevel Stamford
Peyton Powell Permian
Raymond Montez El Paso Del Valle
Rocky Morris Goliad
Roschon Johnson Port Neches Groves
Taylor Anderson Westlake
Trey Guajardo PSJA
Tyler Rodriguez Bonham
Velton Gardner Dallas Skyline
RUNNING BACKS
A.J. Brown Calallen
Aaron Dumas El Paso Americas
Anthony Watkins F.W. South Hills
Ashton Stredick Needville
Billy Morgan Chico
Caleb Gerber El Paso Pebble Hills
Cameron Rickett Springtown
Campbell Speights McAllen Memorial
Chase Gilmore Graham
Dailon Smith West Sabine
Daimarqua Foster Hirschi
Darius White Hardin
Darren Battle Magnolia
Darwin Barlow Newton
De'Mitri Monroe Van Vleck
Deion Hankins El Paso Parkland
Deondrick Glass Katy
Dometreus Pruitt Honey Grove
Gabe Nelson Longview Pine Tree
Isaiah Spiller Klein Collins
Ja'Kobe Cooper Lexington
James Fullbright Hewitt Midway
Jase McClellan Aledo
Jayvon Davis Houston Nimitz
Jonah White Merkel
Jordan Shelton Kempner
Keiran Grant Cuero
Kendre Miller Mt. Enterprise
King Doerue Tascosa
Kyle Harrison Liberty Hill
Montavian Hunt Jasper
Nasir Reynolds Dallas Hillcrest
Quintan Jackson Benbrook
R.J. Smith Katy Tompkins
Ryan Mesa Santa Rosa
Salih Williams Floresville
Sebastion Porter Garrison
Seth Dixon Hereford
Seth McGowan Mesquite Poteet
Sincere McCormick Converse Judson
T.J. McDaniel Southlake Carroll
Tyrek Horne Mart
Tyvon Hardrick Victoria West
Westen Halcom Glen Rose
Zach Evans North Shore
WIDE RECEIVERS & TIGHT ENDS
A.J. Gonzaque Mission Veterans Memorial
Anthony Brown Belton
Arjei Henderson Fort Bend Travis
Austin Stogner Plano Prestonwood
Baylor Cupp Brock
Beau Bedford Decatur
Bubba Lloyd C.C. Miller
Caleb Forrest Hutto
Carson Neel Cedar Park
Chase Lane St. Pius X
Colin Howard Concordia Lutheran
Dalton Hobbs Pleasanton
Daniel Enriquez Edinburg Vela
Diamonte Francois Pflugerville Connally
Dillon Carter Argyle
Dony Givens Beeville Jones
Douglas Hodo Boerne
Finnegan Corwin Highland Park
Garrett Hewitt Hawley
Garrett Wilson Lake Travis
Jackson Allen Marion
Jacob Stanley Dublin
Jahrad Taylor F.W. Brewer
Jalen Wydermyer Dickson
Jaxon Smith Rockwall
Jonathan McGill Coppell
Jordan Whittington Cuero
Kamden Perry Longview
Kelvontay Dixon Carthage
Khatib Lyles El Paso Parkland
Kolby Tanner Whitney
La'Vontae Shenault DeSoto
Langston Anderson Midlothian Heritage
Logan Kyle Tomball Memorial
Luis Ramos Dumas
Michael Hernandez S.A. Southside
Miguel Payan Brownsville Hanna
Mykal Blanco El Paso Hanks
Parker Washington Fort Bend Travis
Ralph Rodriguez C.C. Miller
Seth Meador Denton Guyer
Theo Wease Allen
Trace Edwards Stamford
Trent Evans Canadian
Trenton Waggoner St. Pius X
OFFENSIVE LINE
Andrew Coker Katy Taylor
Brannon Brown O'Connor
Brock Gunderson Cypress Woods
Caiden Walker Newton
Cam'ron Johnson Shadow Creek
Cameron Hataway Southlake Carroll
Certaidrian Brooks Allen
Chance Billington John Tyler
Chandler Knandel Aledo
Chris Aldridge Clear Springs
Chris Cassidy Angleton
Cole Birmingham Katy
Colton Smith Cleburne
Elijah Ellis Paris
Evan Henry DeSoto
Gabe Aldridge Clear Springs
Isaiah Hoofkin Dulles
Jade Ashalintubbi Elysian Fields
James Taylor North Shore
Blake Webster Westlake
Jayden Borjas Edinburg Vela
John Scalli Klein Oak
Jordan Jefferson Navasota
Jorge Hinojosa Edinburg Vela
Kadrian Gonzales Victoria West
Kenyon Green Atascocita
Kody Walterscheid Muenster
Landon Peterson Permian
David Ornelas Colorado City
Chris Banks Goliad
John Brunner Brock
Marcus Alexander Sunnyvale
Marcus Williams Longview
Preston Wilson Argyle
Rodquice Chaney Elsik
Ronald Copney Smithson Valley
Ryan Speis Woodsboro
Sebastian Sosa Brownsville Veterans Memorial
Stanley Mark Cibolo Steele
Steve Carter Cedar Hill
Tyler Johnson Oak Ridge
DEFENSIVE LINE
Aja Hernandez La Feria
Andrew Apodaca University
Armonie Brown Refugio
Avelino Garcia San Benito
Braedon Mowry Katy Taylor
Breylon Garcia Lufkin
Carl Williams Lufkin
Coltin Knobloch Archer City
Da'Juan McMillan Port Arthur Memorial
David Neil Westlake
Daylon Bartosh Lorena
Demarvin Leal Converse Judson
Devin Martrinez Belton
Fred Thacker Alto
Isaiah Martinez New Diana
Jacob Mechler Andrews
James Sylvester Newton
Jamie Ferguson S.A. Madison
Jason Gold Clear Springs
Jayden Jernigan Allen
Jeff Griffin El Paso Andress
John Brand Flower Mound Marcus
Jordan Revels North Shore
Kane Bradford Dallas Skyline
Keivie Rose Henderson
Kiante Liggins El Paso Andress
Kobe Gibson Edinburg Vela
Kori Roberson Manvel
Lloyd Murray Hirschi
O'Tay Baker Mesquite
Raquan Thompson Killeen
Rason Williams II Elsik
Sean Rogers Rusk
Steven Parker South Oak Cliff
T.J. Franklin Temple
T'Vondre Sweat Huntsville
Taurean Carter Mansfield Legacy
Tony Bradford Jr. North Shore
Trey Moore Cuero
Vershaud Richardson Paris
LINEBACKERS
Austin Black Edna
Bershard Glaspie Mesquite Poteet
Caden Gilbreath Seymour
Caleb Martinez Canadian
Carson Holt Stamford
Chase Petter Argyle
Cole Daggett Fort Stockton
Curley Young Hendrickson
Dallan Dil Dumas
David Gbenda Cinco Ranch
David Powers El Paso Franklin
Daylon Green San Angelo Central
Gerard McKnight Cy Ranch
Ian Ochoa Edinburg Vela
Isaiah Darter Childress
Jake Carter Seymour
Jax McCauley Vandegrift
John Stone Tahoka
Jose Cruz Brownsville Hanna
Josh Wyatt C.E. King
Kenyon Hedrick Chico
Kevin Jendrusch Falls City
Adam White Wakeland
Lucas Eatman S.A. Reagan
Luis Gutierrez, Jr. Edinburg Vela
Maki Carabin Alamo Heights
Marcel Brooks Flower Mound Marcus
Marcus Johnson Hewitt Midway
Matt Jones Permian
Monte Cluck Boerne
Monto President Temple
Morgan Holcomb Childress
R.J. Orebo Dayton
Ramon Zamarripa Laredo United
Santino Palizo Laredo Alexander
Smith Essman Midland
Trey Stephens Lubbock Coronado
Tyrone Brown Beaumont United
Will Williams El Paso Chapin
Wyatt Harris Aledo
DEFENSIVE BACKS
Aaron Lowe West Mesquite
Alex Hogan Houston Lamar
Anfernee Orji Rockwall
Ben Montgomery Katy Taylor
Bobby Wolfe Houston Madison
Brandon Joseph College Station
Charles McClure Odessa High School
Corien Azema Langham Creek
Craig Woodson South Grand Prairie
Cy Shope Pottsboro
Deshawn McCuin Jacksonville
Dontavius CampbellEl Paso Parkland
Erick Young F.B. Bush
Gage Graham Stephenville
Gus Garza M.V. Memorial
Hunter Bunch Sonora
Hunter Henry Lake Travis
Isaiah Essissima F.B. Hightower
Ja'Corey Benjamin Alief Hastings
Jack Koetting Canadian
Jacob Thomas Corsicana Mildred
Jeffery Carter Mansfield Legacy
Jesus Sanchez Pampa
Juan Saucedo Whitney
Kenneth Robinson South Grand Prairie
Kevin Anderson Lewisville
Marcus Riley New Braunfels
Marques Caldwell Alvin
Myles Brooks Hendrickson
Rakeeb Adeyemi Permian
Roderick Roberson Royse City
Roy Rush Saginaw Boswell
Ryan O'Keefe Round Rock
Seven Sanchez PSJA North
Tamauzia Brown Newton
Tre Coburn Spring Westfield
Ty DeArman Arlington Bowie
Tyree Haynes Victoria East
Virdel Edwards II Plano Prestonwood
Xavier Player Cibolo Steele
KICKERS
Caden Davis Coppell
Miguel Payan Brownsville Hanna
Romario Perez C.C. Veterans Memorial
Alan Orona La Grange
Cade York Prosper
PUNTERS
Colton Wilson Abilene
Ty Warwick New Caney
Cooper Clemons Whitehouse
Nick Falsone S.A. Churchill
Ryan Hanson Taylor
Below are the members of the 2017 Super Team:
OFFENSE
Quarterback: Matthew Baldwin, Lake Travis
Running Backs: Brendan Brady, Cibolo Steele; Jahmyl Jeter, San Antonio Brennan
Receivers: Tommy Bush, Schertz Clemens; Mikey Garcia, Mission Veterans Memorial; Jalen Preston, Manvel
Offensive Line: Silas Robinson, Yoakum; Walker Hankinson, San Antonio Alamo Heights; Brannon Brown, San Antonio O'Connor; Reese Moore, Seminole; Trey Stratford, Allen
Kicker: Cameron Dicker, Lake Travis
Utility: Cameron Thomas, Round Rock Westwood; Daimarqua Foster, Wichita Falls Hirschi; Kelan Walker, DeSoto; Brock Sturges, Allen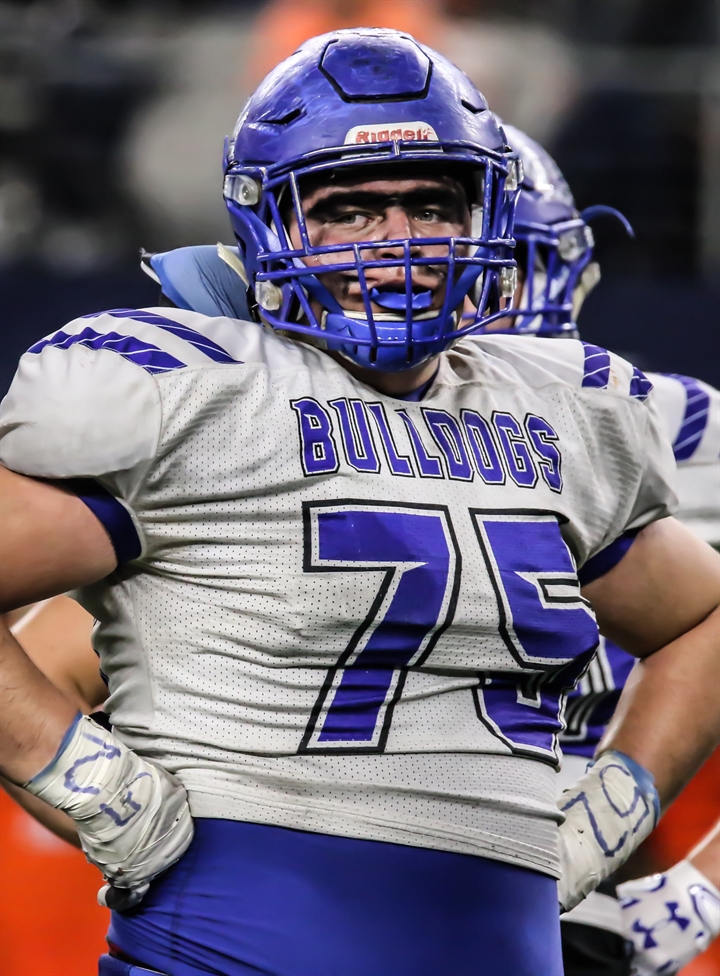 DEFENSE
Defensive Line: Ryan Reza, San Benito; DeMarvin Leal, Converse Judson; Jared Stellbauer, Bremond; Brandon Matterson, San Antonio Brandeis
Linebackers: Nathan Sanchez, McAllen Memorial; Matt Elizondo, San Antonio Churchill; Jared Pedraza, Franklin
Defensive Backs: Caden Sterns, Cibolo Steele; Zaire Taylor, San Antonio O'Connor; Gage Smith, San Angelo Central; Jordan Austin, Lancaster
Punter: Peyton Powell, Midland Christian
Utility: Anthony Cook, Houston Lamar; Dekalen Goodson, John Tyler; Trevor Williams, A&M Consolidated; Jonathan McGill, Coppell
FANS CHOICE AWARDS
Top vote-getters not named to Offense or Defense, regardless of position
Tanner Mordecai, Hewitt Midway; Kalon Barnes, Silsbee; Elijah Hines, Port Arthur Memorial; Isaiah Haggerty, Tyler Bishop Gorman; Jack Traugott, Victoria East; Alec Brown, Corpus Christi Calallen; Emil Oliva, Laredo Nixon; Jarell Cherry, Dallas Carter; Bobby Brown, Arlington Lamar; Deion Hankins, El Paso Parkland