HERE IT IS! THE 2018 WHATABURGER SUPER TEAM:
Dave Campbell's Texas Football and Whataburger have teamed up to give fans the opportunity to honor the best and brightest stars in Texas high school football with the 2018 Whataburger Super Team!
For more on the partnership, read the official announcement here.
Fans should follow the Whataburger Super Team on Facebook and Twitter for more information.
Dave Campbell's Texas Football and Whataburger are proud to honor the best and brightest stars in Texas high school football with the announcement of the 2018 Whataburger Super Team. Texas high school football fans across the state cast over 300,000 ballots on TexasFootball.com, and 40 outstanding athletes from all parts of Texas rose to the to top to be named with this unique honor.
WHATABURGER SUPER TEAM OFFENSE:
Quarterback: Chase Griffin, Hutto
Running Backs: Deondrick Glass, Katy; Quintan Jackson, Benbrook
Receivers: Garrett Wilson, Lake Travis; Baylor Cupp, Brock; Jordan Whittington, Cuero
Offensive Line: Chandler Knandel, Aledo; Isaiah Hoofkin, Dulles; Stanley Mark, Cibolo Steele; Jayden Borjas, Edinburg Vela Kicker: Cade York, Prosper
Utility: Daimarqua Foster, Wichita Falls Hirschi; Sincere McCormick, Converse Judson; Daniel Enriquez, Edinburg Vela; Dar
WHATABURGER SUPER TEAM DEFENSE:
Defensive Line: DeMarvin Leal, Converse Judson; Armonie Brown, Refugio; Jamie Ferguson, S.A. Madison; Trey Moore, Cu Linebackers: Chase Petter, Argyle; Wyatt Harris, Aledo; Daylon Green, San Angelo Central
Defensive Backs: Xavier Player, Cibolo Steele; Seven Sanchez, PSJA North; Brandon Joseph, College Station; Erick Young, Fort Bend Bush; Punter: Colton Wilson, Abilene
Utility: Jack Koetting, Canadian; Anfernee Orji, Rockwall; Gage Graham, Stephenville; Marcus Riley, New Braunfels
WHATABURGER SUPER TEAM FAN'S CHOICE:
QB: Malachi Brown, San Angelo Central
RB: A.J. Brown, Calallen
WR: Michael Hernandez, S.A. Southside
OL: John Brunner, Brock
DL: Aja Hernandez, La Feria
LB: Lucas Eatman, S.A. Reagan
DB: Hunter Bunch, Sonora
UT: Jonah White, Merkel
Headliners of the team include Hutto quarterback and UCLA signee Chase Griffin, Converse Judson defensive end and Texas A&M commit Demarvin Leal, Lake Travis wide receiver and Ohio State commit Garrett Wilson, Wichita Falls Hirschi running back and TCU signee Daimarqua Foster, and Cuero athlete and Texas signee Jordan Whittington.
"I do not envy the Texas high school football fans who had to select the Whataburger Super Team," Greg Tepper, Texas Football managing editor, said. "Sorting through the best players in the state of Texas is extremely difficult. But the fans came through with an outstanding group of athletes who truly represent what Texas high school football is all about."
In total, of the 40 Whataburger Super Team honorees, more than 35 are expected to play football at the next level.
"Whataburger and high school football are Texas traditions that go hand-in-hand," said Rich Scheffler, Whataburger Vice President of Marketing and Innovation. "We're proud to partner with Dave Campbell's Texas Football to celebrate these talented players and we appreciate all the support from the fans who voted."
Former Super Team winners include Andrew Luck (Stratford HS, Indianapolis Colts), Garrett Gilbert (Lake Travis HS, Carolina Panthers), Malcom Brown (Brenham HS, Los Angeles Rams), Jonathan Gray (Aledo HS, NFL), Kyler Murray (Allen HS, OU), Jamal Adams (Hebron HS, New York Jets) and Malik Jefferson (Mesquite Poteet HS, Cincinnati Bengals).
Below are the members of the 2017 Super Team:
OFFENSE
Quarterback: Matthew Baldwin, Lake Travis
Running Backs: Brendan Brady, Cibolo Steele; Jahmyl Jeter, San Antonio Brennan
Receivers: Tommy Bush, Schertz Clemens; Mikey Garcia, Mission Veterans Memorial; Jalen Preston, Manvel
Offensive Line: Silas Robinson, Yoakum; Walker Hankinson, San Antonio Alamo Heights; Brannon Brown, San Antonio O'Connor; Reese Moore, Seminole; Trey Stratford, Allen
Kicker: Cameron Dicker, Lake Travis
Utility: Cameron Thomas, Round Rock Westwood; Daimarqua Foster, Wichita Falls Hirschi; Kelan Walker, DeSoto; Brock Sturges, Allen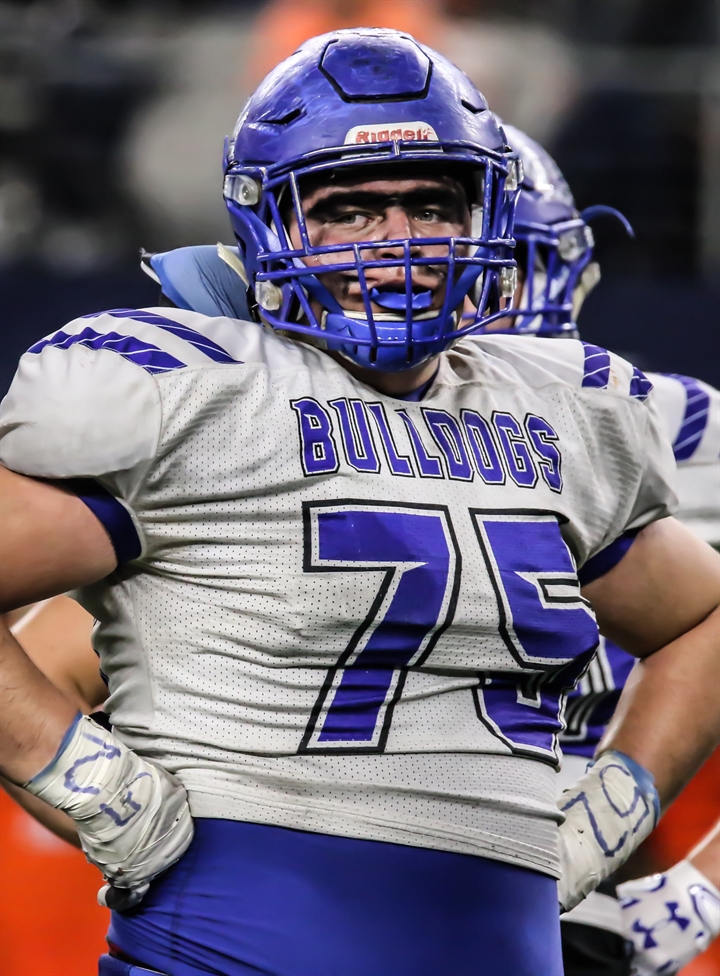 DEFENSE
Defensive Line: Ryan Reza, San Benito; DeMarvin Leal, Converse Judson; Jared Stellbauer, Bremond; Brandon Matterson, San Antonio Brandeis
Linebackers: Nathan Sanchez, McAllen Memorial; Matt Elizondo, San Antonio Churchill; Jared Pedraza, Franklin
Defensive Backs: Caden Sterns, Cibolo Steele; Zaire Taylor, San Antonio O'Connor; Gage Smith, San Angelo Central; Jordan Austin, Lancaster
Punter: Peyton Powell, Midland Christian
Utility: Anthony Cook, Houston Lamar; Dekalen Goodson, John Tyler; Trevor Williams, A&M Consolidated; Jonathan McGill, Coppell
FANS CHOICE AWARDS
Top vote-getters not named to Offense or Defense, regardless of position
Tanner Mordecai, Hewitt Midway; Kalon Barnes, Silsbee; Elijah Hines, Port Arthur Memorial; Isaiah Haggerty, Tyler Bishop Gorman; Jack Traugott, Victoria East; Alec Brown, Corpus Christi Calallen; Emil Oliva, Laredo Nixon; Jarell Cherry, Dallas Carter; Bobby Brown, Arlington Lamar; Deion Hankins, El Paso Parkland