Whataburger Super Team Archives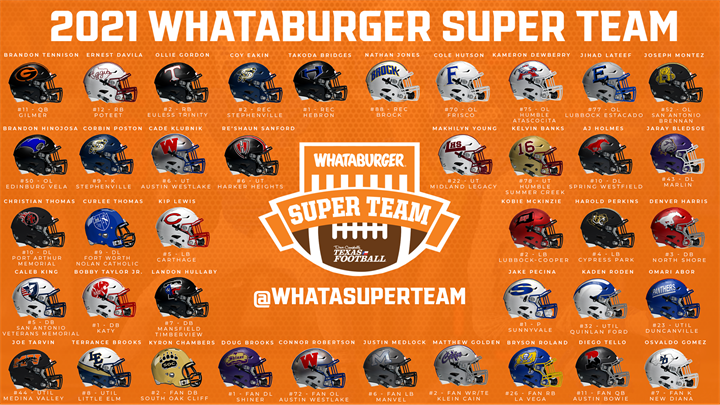 DALLAS – Dave Campbell's Texas Football and Whataburger are proud to honor the best and brightest stars in Texas high school football with the announcement of the 2021 Whataburger Super Team. Texas high school football fans across the state cast more than 375,000 ballots on TexasFootball.com, and 40 outstanding athletes from all parts of Texas rose to the top to be named with this unique honor.
For more information on the Whataburger Super Team, visit www.texasfootball.com/whatasuperteam
2021 Whataburger Super Team – Offense:
Quarterback: Brandon Tennison- Gilmer
Running Back: Ernest Davila, Poteet
Running Back: Ollie Gordon, Euless Trinity
Receiver: Coy Eakin, Stephenville
Receiver: Takoda Bridges, Hebron
Receiver: Nathan Jones, Brock
Offensive Lineman: Cole Hutson, Frisco
Offensive Lineman: Kameron Dewberry, Humble Atascocita
Offensive Lineman: Jihad Lateef, Lubbock Estacado
Offensive Lineman: Joseph Montez, San Antonio Brennan
Offensive Line: Brandon Hinojosa, Robert Vela HS
Kicker: Corbin Poston, Stephenville
Utility: Cade Klubnik, Austin Westlake
Utility: Re'Shaun Sanford, Harker Heights
Utility: Makhilyn Young, Midland Legacy
Utility: Kelvin Banks, Humble Summer Creek
2021 Whataburger Super Team – Defense:
Defensive Lineman: AJ Holmes, Spring Westfield
Defensive Lineman: JaRay Bledsoe, Marlin
Defensive Lineman: Christian Thomas, Port Arthur Memorial
Defensive Lineman: Curlee Thomas, Fort Worth Nolan Catholic
Linebacker: Kip Lewis, Carthage
Linebacker: Kobie McKinzie, Lubbock-Cooper
Linebacker: Harold Perkins, Cypress Park
Defensive Back: Denver Harris, North Shore
Defensive Back: Caleb King, San Antonio Veterans Memorial
Defensive Back: Bobby Taylor Jr., Katy
Defensive Back: Landon Hullaby, Mansfield Timberview
Punter: Jake Pecina, Sunnyvale
Utility: Kaiden Roden, Quinlan Ford
Utility: Omari Abor, Duncanville
Utility: Joe Tarvin, Medina Valley
Utility: Terrance Brooks, Little Elm
2021 Whataburger Super Team – Fan's Choice
Quarterback: Diego Tello, Austin Bowie
Running Back: Bryson Roland, La Vega
Wide Receiver/Tight End: Matthew Golden, Klein Cain
Offensive Lineman: Connor Robertson Austin Westlake
Defensive Lineman: Doug Brooks, Shiner
Linebacker: Justin Medlock, Manvel
Defensive Back: Kyron Chambers, South Oak Cliff
Kicker: Osvaldo Gomez, New Diana High School
"Picking the Whataburger Super Team is not an easy task, and I'm not-so-secretly glad that Texas high school football fans were the ones who made the choices instead of the Texas Football staff," Greg Tepper, Texas Football managing editor, said. "This is a list of the finest players in Texas high school football and picking out the best of the best is hard work. But I commend the fans — they selected a fine group of athletes that represent the best of Texas high school football all across the state."
In total, of the 40 Whataburger Super Team honorees, 33 of them are expected to play at the next level.
"The talent among this group of athletes is exceptional," said Jeff Altman, Director of Sponsorships at Whataburger. "At Whataburger, we celebrate Pride, Care, and Love in everything we do—and this team is a great showcase of those values."
For more information on the Whataburger Super Team, visit www.texasfootball.com/whatasuperteam
About Dave Campbell's Texas Football:
For 62 years, Dave Campbell's Texas Football has been "the bible" to millions of football fans across the Lone Star State. The annual summer edition of the magazine remains a rite of passage for all Texans, previewing every football team in the state — from the rabid world of Texas high school football, through the college ranks, and into the Dallas Cowboys and the Houston Texans. Over the course of six decades, Dave Campbell's Texas Football remains the undisputed leader in Texas high school football, Texas college football and more.TexasFootball.com is the online home of Dave Campbell's Texas Football, covering high school football, college football and recruiting all across the Lone Star State. From thought-provoking commentary to videos to podcasts to its daily live show, nobody covers football in Texas like TexasFootball.com.

About Whataburger:
Whataburger has focused on its fresh, made-to-order burgers and friendly customer service since 1950 when Harmon Dobson opened the first Whataburger as a small roadside burger stand in Corpus Christi, Texas. Today, the company is headquartered in San Antonio with more than 870 locations across its 14-state footprint, and sales of more than $3 billion annually. Whataburger has 50,000 Family Members (employees) and more than 60 million customers who like to customize their Whataburgers just the way they like it. Visit whataburger.com or pivot-you.com for more information. To apply for Whataburger jobs now, visit whataburger.com/careers.
###
2020 Whataburger Super Team
WHATABURGER SUPER TEAM OFFENSE:
Quarterback: Andrew Body, Corpus Christi Miller

Running Backs:Aaron Dumas, El Paso Americas and Steve Johnson, Port Lavaca Calhoun

Receivers: Dylan Goffney, Bridgeland; Keithron Lee, Bryan Rudder; Brady Boyd, Southlake Carroll
Offensive Line: Jack Tucker, Argyle; Luke Williams, Cedar Park; Ronnie Garza, Edinburg Vela; Tommy Brockermeyer, Fort Worth All Saints; Bryce Foster, Katy Taylor
Kicker: Ahlee Yart, Dumas
Utility: Xavier Wishert, Jim Ned; Marc Ramirez, Wellington; Eddie Lee Marburger, Sharyland Pioneer; Josh Suarez, San Antonio Brandeis
WHATABURGER SUPER TEAM DEFENSE:
Defensive Line: Cooper Lanz, Denton Guyer; Shemar Turner, Desoto; Pryce Yates, San Antonio Reagan; Chris Murray, Wichita Falls Hirschi
Linebackers: Ty Marsh, Denton Ryan; Clayton Smith, Texas High; KC Ossai, Conroe Oak Ridge
Defensive Backs: Andrew Mukuba, Austin LBJ; Ishmael Ibraheem, Dallas Kimball; Jackson Carroll, Decatur; Hunter Washington, Katy
Punter: Caden McNeese, Allen
Utility: Ja'Tavion Sanders, Denton Ryan; Derrick Harris Jr., New Caney; Brett Drillette, Brock; Kendrick Blackshire, Duncanville
WHATABURGER SUPER TEAM FAN'S CHOICE:
| | | | |
| --- | --- | --- | --- |
| WR | 2 | Teddy Knox | The Woodlands |
| OL | 50 | Reuben "Deuce" Fatheree | Richmond Foster |
| OL | 63 | Dylan Brought | San Antonio O'Connor |
| QB | 4 | Mikey Serrano | Midland Lee |
| RB | 3 | Cash Jones | Brock |
| DB | 20 | Ivan Mendoza | Edinburg Vela |
| DL | 47 | Jordon Thomas | Port Arthur Memorial |
| LB | 23 | Trevion Sneed | Mineola |
Get all the latest updates and news by following the Whataburger Super Team on Facebook and Twitter for more information.
For more on the partnership, read the official announcement here.
_____
2019 Whataburger Super Team
WHATABURGER SUPER TEAM OFFENSE:
Quarterback: Haynes King, Longview
Running Backs: Colton Marshall, Hawley; Aaron Dumas, El Paso Americas
Receivers: Marvin Mims, Frisco Lone Star; Jaxon Smith-Njigba, Rockwall; Ryan Lindley, Austin Westlake
Offensive Line: Dameion George, Galena Park North Shore; Jaylen Garth, Port Neches-Groves;Ty'Kieast Crawford, Carthage; Jake Majors, Prosper; Branson Hickman, Dallas Jesuit
Utility: Malik Hornsby, Fort Bend Marshall; Brady Lyssy, Falls City; Loic Fouonji, Midland Lee; Dane Jentsch, Grandview
Kicker: Tyler Loop, Lucas Lovejoy
WHATABURGER SUPER TEAM DEFENSE:
Defensive Line: Chidozie Nwankwo, Richmond Foster; Alec Bryant, Alvin Shadow Creek; Princely Umanmielen, Manor; LB Moore, Amarillo Tascosa
Linebackers: Corey Flagg, Galena Park North Shore; Jax McCauley, Austin Vandegrift; Brandon Adame, Mercedes
Defensive Backs: Dylon Davis, Abilene Cooper; Jaylon Jones, Cibolo Steele; RJ Mickens, Southlake Carroll; Luden Romero, Stratford
Utility: Miles Skinner, Keller Central; Drew Sanders, Denton Ryan; Luke Horne, Cedar Park Vista Ridge; Lorando Johnson, Lancaster
Punter: Fabrizio Pinton, The Woodlands
WHATABURGER SUPER TEAM FAN'S CHOICE:
Quarterback: AJ Sotelo, Edinberg Vela
Running Back: Tito Byce, Argyle
Wide Receiver: AJ Gonzaque, Missions Veterans Memorial
Offensive Line: Cedric Mitton, Klein Cain
Offensive Line: Jorge Hinojosa, Edinberg Vela
Linebacker: Makel Williams, A&M Consolidated
Defensive Back: Seven Sanchez, PSJA North
Utility: Dwight McGlothern, Klein Oak
_____
2018 WHATABURGER SUPER TEAM
2018 WHATABURGER SUPER TEAM OFFENSE:
Quarterback: Chase Griffin, Hutto
Running Backs: Deondrick Glass, Katy; Quintan Jackson, Benbrook
Receivers: Garrett Wilson, Lake Travis; Baylor Cupp, Brock; Jordan Whittington, Cuero
Offensive Line: Chandler Knandel, Aledo; Isaiah Hoofkin, Dulles; Stanley Mark, Cibolo Steele; Jayden Borjas, Edinburg Vela Kicker: Cade York, Prosper
Utility: Daimarqua Foster, Wichita Falls Hirschi; Sincere McCormick, Converse Judson; Daniel Enriquez, Edinburg Vela; Dar
WHATABURGER SUPER TEAM DEFENSE:
Defensive Line: DeMarvin Leal, Converse Judson; Armonie Brown, Refugio; Jamie Ferguson, S.A. Madison; Trey Moore, Cu Linebackers: Chase Petter, Argyle; Wyatt Harris, Aledo; Daylon Green, San Angelo Central
Defensive Backs: Xavier Player, Cibolo Steele; Seven Sanchez, PSJA North; Brandon Joseph, College Station; Erick Young, Fort Bend Bush; Punter: Colton Wilson, Abilene
Utility: Jack Koetting, Canadian; Anfernee Orji, Rockwall; Gage Graham, Stephenville; Marcus Riley, New Braunfels
WHATABURGER SUPER TEAM FAN'S CHOICE:
QB: Malachi Brown, San Angelo Central
RB: A.J. Brown, Calallen
WR: Michael Hernandez, S.A. Southside
OL: John Brunner, Brock
DL: Aja Hernandez, La Feria
LB: Lucas Eatman, S.A. Reagan
DB: Hunter Bunch, Sonora
UT: Jonah White, Merkel
_____
2017 Whataburger Super Team
OFFENSE
Quarterback: Matthew Baldwin, Lake Travis
Running Backs: Brendan Brady, Cibolo Steele; Jahmyl Jeter, San Antonio Brennan
Receivers: Tommy Bush, Schertz Clemens; Mikey Garcia, Mission Veterans Memorial; Jalen Preston, Manvel
Offensive Line: Silas Robinson, Yoakum; Walker Hankinson, San Antonio Alamo Heights; Brannon Brown, San Antonio O'Connor; Reese Moore, Seminole; Trey Stratford, Allen
Kicker: Cameron Dicker, Lake Travis
Utility: Cameron Thomas, Round Rock Westwood; Daimarqua Foster, Wichita Falls Hirschi; Kelan Walker, DeSoto; Brock Sturges, Allen
DEFENSE
Defensive Line: Ryan Reza, San Benito; DeMarvin Leal, Converse Judson; Jared Stellbauer, Bremond; Brandon Matterson, San Antonio Brandeis
Linebackers: Nathan Sanchez, McAllen Memorial; Matt Elizondo, San Antonio Churchill; Jared Pedraza, Franklin
Defensive Backs: Caden Sterns, Cibolo Steele; Zaire Taylor, San Antonio O'Connor; Gage Smith, San Angelo Central; Jordan Austin, Lancaster
Punter: Peyton Powell, Midland Christian
Utility: Anthony Cook, Houston Lamar; Dekalen Goodson, John Tyler; Trevor Williams, A&M Consolidated; Jonathan McGill, Coppell
FANS CHOICE AWARDS
Top vote-getters not named to Offense or Defense, regardless of position
Tanner Mordecai, Hewitt Midway; Kalon Barnes, Silsbee; Elijah Hines, Port Arthur Memorial; Isaiah Haggerty, Tyler Bishop Gorman; Jack Traugott, Victoria East; Alec Brown, Corpus Christi Calallen; Emil Oliva, Laredo Nixon; Jarell Cherry, Dallas Carter; Bobby Brown, Arlington Lamar; Deion Hankins, El Paso Parkland