Friday night is just different here. It's more than just a football game. More than just a bunch of young men scoring touchdowns and making tackles. Friday night is about connecting with your friends, your neighbors and your community in the most authentic ways possible.
Suddenlink in partnership with Dave Campbell's Texas Football believes in great connectivity and supporting each community it serves and that's why they're presenting the Dave Campbell's Community Connector School Program presented by Suddenlink
At the end of the season, communities will rally to vote for the Community Connection School of the Year Award powered by Suddenlink. Voting will start November 11th and end December 31st. Stay tuned for more information!
Interview with Suddenlink Regional Vice President, Jacob Lopez:
COMMUNITY CONNECTOR SCHOOLS
Abilene High School
Celina High School
A&M Consolidated High School
Canyon High School
Tyler Lee High School
——————————————————————

ABILENE HIGH SCHOOL
Abilene vs. Haltom
Shotwell Stadium
7:30 p.m. Friday
The Abilene High Eagles take on the Haltom Buffaloes this Friday at Shotwell Stadium at 7:30. The Eagles, coming off a 35-13 loss to the San Angelo Central Bobcats, will face the Haltom Buffaloes who just knocked off the 24th ranked 6A team in Euless Trinity, 23-20.
"They're a good solid football team with good athletes at the skill positions," Eagles head coach Michael Fullen said. "They play extremely hard defense and are coming off a big win against Trinity."
The Trojan-Buffaloes upset has given the Eagles a little more breathing room in District 3-6A.
"This is a huge game, I mean with what happened last week with Haltom beating Trinity and L.D. Bell beating Richland, it's mixed up everything into our favor," Fullen said. "We just gotta play well at home."
The Eagles defense struggled to stop a good Central offense allowing Bobcats quarterback Malachi Brown to gain 321 passing yards and 52 rushing yards with a total of four touchdowns.
"We gotta tackle better this week," Fullen said. "Our offense has to go 18 play drives and score on every opportunity."
Boasting 1,135 passing yards with seven touchdowns against no interceptions, Haltom quarterback Adam Hill is third in District 3-6A in passing yards. Hill also has 433 rushing yards with seven touchdowns, placing him fifth in District 3-6A in rushing yards.
"He's not the passer we're used to facing," Fullen said. "I mean, he can throw the ball but he's probably a better runner, so we gotta tackle well. Tackling will be a big deal this week because their guys are big."
— Connor Mullins
——————————————————————
CELINA HIGH SCHOOL
Celina vs. Melissa
Cardinal Field
7 p.m. Friday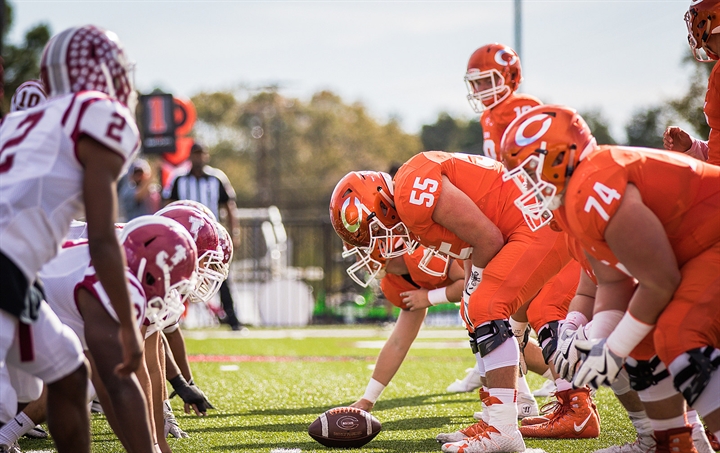 After blanking Paris 34-0 and securing a playoff birth, 4A coach of the week Bill Elliott and the Bobcats look to this week's game against an explosive Melissa Cardinal team.
"The guys stepped up and played at a real high level," head coach Bill Elliott said. "There were several big plays on offense, big runs, a complete team effort the way I look at it."
Elliott didn't have to motivate his players much last week, the 54-14 loss Paris gave them last year was fresh on their minds.
"You don't always want to look back for payback or revenge or anything like that," Elliott said. "Just go win the game and do what we gotta do to take care of business."
Offensively, senior running back Logan Point had a big game with 170 yards, along with 115 yards from senior quarterback Hunter Watson.
"Defensively, we had to adjust to their speed," Elliott said. "They broke a few plays on us the first couple of series, but once we were able to adjust to their speed we were able to handle it."
Paris runs an old school wing-T offense focused on the run game, while Melissa is a spread team and focuses more on passing.
"Melissa runs a completely different style of offense between the two of them," Elliott said. "Both of them have got great athletes, a lot of speed on the field, but they use them in different ways."
Despite the differences in Melissa's play style, Elliott remains confident that making the game physical will give them the edge.
"We gotta play at a high level, high intensity, try to outmatch their talent and try to outplay them with effort and the intensity we play with," Elliott said. "That'll be the game plan going in, play so hard they can't stand with it."
— James Carroll
——————————————————————
A&M CONSOLIDATED HIGH SCHOOL
A&M Consolidated vs. Katy Paetow
Tiger Stadium
7 p.m. Friday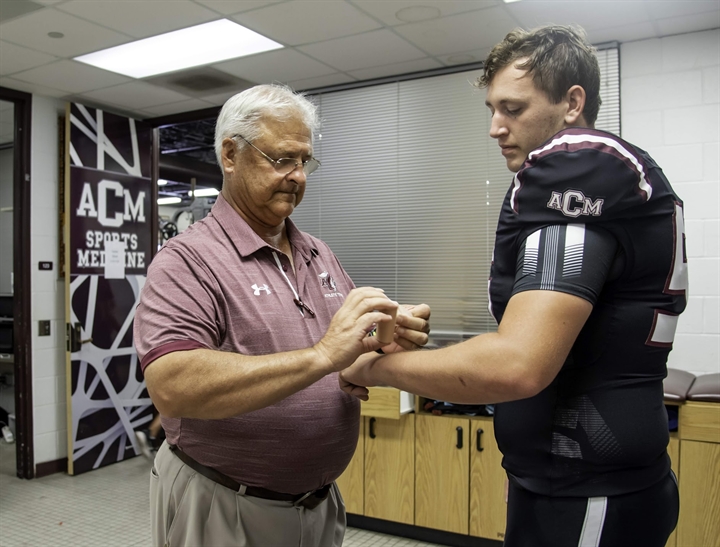 Karl Kapchinski, the current trainer at A&M Consolidated High School and former trainer at Texas A&M, has a simple wish for one of the next Thursday or Friday nights.
"I'd like to see a football game," he said.
Don't get him wrong. Kapchinski sees plenty of games. He spends every Tuesday, Thursday and Friday nights attending games in his official capacity. But sometimes, like a few weeks ago on a subvarsity Thursday night, he's so busy tending to injured players and explaining the next steps to concerned parents that he never sees the outcome.
"Some days I don't even know who wins the game," he said.
Kapchinski's never been far from the field. He got his start as an athletic trainer while he was a student at A&M Consolidated. At athlete at heart, it turns out his playing ability didn't match his desire, and he quickly discovered that his way to stay connected to athletics was in a more behind-the-scenes role.
He met legendary Texas A&M trainer Billy Pickard while still in high school, and Kapchinski did what any aspiring intern does – he volunteered to help with the Aggies, filling water bottles for the actual student managers and trainers. When he graduated from Consolidated and enrolled at A&M, he put that experience to use as one of three students accepted into the athletic training program, and a career was born.
"I really enjoyed working in sports medicine," Kapchinski said. "They tried to steer me toward medical school, but I wasn't interested in that."
Kapchinski had a gift for working with athletes, as current Tigers coach Lee Fedora learned when he was a football and baseball player at A&M.
"I tore my hamstring in college, and the biggest thing I remember is how he always treated me," Fedora recalled. "I could see how much he truly cared about getting me better and ready to play again. And I see that when I watch him work with our students today."
After a long career at Texas A&M, Kapchinski stepped away from training but never left College Station. He's lived there all his life. His family's still there, as is his wife's family. And the passion for working with young athletes never left him. When David Raffield called asking if he'd join the high school's athletic department, he jumped at the chance.
"I was ecstatic when the job came open," he said.
When Fedora succeeded Raffield, he was thrilled to find his former trainer waiting for him on staff.
"We are extremely blessed to have him in our community," Fedora said. "To get a college trainer to work with high school students, the kids are really excited. They know he's worked with top college athletes in all sports and they know he will keep their best interests at the heart of his treatment."
Since returning to his alma mater, Kapchinski has boosted the school's student training program and made it a point to develop relationships with every medical center in the area.
"Big entity or small, I want to make sure that we have great working relationships with every facility," he said. "I talk to them all about providing the best care for our students."
The relationships Kapchinski's developed are evident in the number of doctors who drop by Tiger Stadium on a given Friday night.
"The number of doctors who come by our sideline every Friday night shows how valuable he is to our community," Fedora said.
Now, if they could just enjoy a game, everyone can go home happy and worry-free.
"No one is going to complain when I get to watch the actual game," Kapchinski said with a smile.
Tigers Pass School Spirit On to Elementary, Middle Schoolers
Every Friday, A&M Consolidated's senior football players don their jerseys, split off into small groups and head to each of the district's elementary schools as part of their regular community outreach program.
On each campus, the Tigers greet young students as their parents drive them up to school. The players help students from cars, walk them to class and make sure they start the day with a smile and a high-5.
"They are there supplying that energy to help everyone have a great day," Fedora said. "We want the young students to be a part of Tiger football."
The Tigers' community involvement doesn't stop there. Whenever they're around younger football players – be it Pop Warner or one of the district's middle school programs – Fedora wants his players to engage with the younger players. He recalls how he felt when he got to meet varsity football players, and he wants his players to brighten younger players' days as well.
"I want our guys in the community supporting other kids," Fedora said. "A while ago we had some bad weather so the middle school team had to use our field. Our kids made sure that once our practice was over they were there giving those younger players high-fives and hugs. You could see smiles on all of the junior high players' faces. They were energized and had a great time."
--Jay Plotkin
——————————————————————
CANYON HIGH SCHOOL
Canyon vs. Dumas
Mustang Bowl
7 p.m. Oct. 25
The Eagles took a long road trip down to the Permian Basin and came up short against Andrews falling 41-22 to close the non-district slate at an impressive 6-1. Canyon actually outgained Andrews 422 yards to 405 yards, but three turnovers proved to be too much to overcome. The Eagles will take the week off as they gear up for a district title run in the always tough District 3-4A Division I. Dave Campbell's Connector School Update presented by @suddenlink
_____
When the right idea comes along at the right time, big things can happen.
Need proof? Look no further than Canyon High School's football program, where a friendship between coach Blake Bryant and Summit Church pastor David Gadberry sparked a culture change that's resonated beyond the hallways of the West Texas school.
"I really can't explain in words how he's helped change the atmosphere at our school," Bryant said. 'I credit so many of our successes to him."
Bryant and Gadberry met three years ago. A sports fan, Gadberry noticed what he considered a troubling trend, not necessarily at Canyon but generally throughout the sports he followed, namely football.
"I had just sensed that a lot of the things we valued in our team sports were missing," Gadberry said. "The lessons, the team concepts, the camaraderie, I felt like we were losing that. There is a lot of individuality in sports today. It's almost self-serving."
Knowing the role that sports plays in any community but particularly a west Texas community such as Canyon, Gadberry reached out to Bryant to see if he could be of service.
"I called him and introduced myself and took him to lunch," Gadberry recalled. "We really hit it off."
Bryant bounced some ideas off of Gadberry, who studies leadership tactics and teaches a course on developing leadership habits.
"I talked about what I wanted to address with our athletes and football players," Bryant said. "He had some ideas and was really interested in helping build great young men."
They put their ideas together and created a leadership class that's developed into what Bryant and Gadberry call the "Power of We." They started slowly. During a spring practice season, Bryant brought Gadberry in every other Wednesday and he spoke to the team.
"I believe that wherever you set your mind, your life will follow," Gadberry said. "You grow how you think, and I believe we all get smarter, become faster, more effective and more powerful if we work together as opposed to working alone. But we never diminishes me."
The team is stronger than the individual, but each individual must do their part to contribute.
Those sessions proved so successful that the program grew. Players bought into the concepts Gadberry taught, and they did so much quicker than either Bryant or Gadberry expected. On the field, the team rebounded from a 2-8 mark in 2017 to an 11-2 season last year.
"We were shocked at how the kids embraced it," Gadberry said. "They deserve all the credit for what they've done."
And while the on-field results were impressive, the off-the-field impact resonated around the high school campus.
"It transcended the football team and you could feel it in the school hallways and in the community as well," Gadberry said. "There is no greater atmosphere to be around than a group who wants to achieve their potential."
"He's been a huge difference-maker on our campus," Bryant said. "His church has embraced our school and our teachers and supports us by giving the teachers gifts and by sending encouraging notes to the teachers all the time."
The Power of We sessions that Gadberry and Bryant established work outside the confines of the Canyon athletic facility. The players – at Bryant's insistence – take the leadership skills they develop with Gadberry and put them into practice in the community.
Players routinely go to the elementary, intermediate and junior high school campuses in the community. They speak to young students, meet with former teachers and serve as mentors at all of the schools. It makes a young student's day that an older student – someone who walked in their shoes before – took the time to visit and learn a little about them.
"That's how we give back," Bryant said.
It's all part of a bigger plan. Yes, Bryant wants to win football games with players who do things the right way, but he feels he owes the community more than that."
"My ultimate goal – and it's not just talk – has little to do with football," Bryant said. "I've lived in this community for 20 years, so I was here before any of them were born. And I hope to stay here forever if that's God's plan for me. You want to raise these players into great men, great husbands, great fathers and great leaders. If one of them were to move into the house next door to you, I want you to be happy about that because these are good young men."
--Jay Plotkin
——————————————————————
TYLER LEE HIGH SCHOOL
Tyler Lee vs. Mesquite
Hanby Stadium
7:30 p.m. Friday
The Red Raiders healed up some bumps and bruises and took care of business in the classroom last week as they had an open week. Kurt Traylor's squad currently sits at 5-1 on the season and 2-0 in District 11-6A play, they'll head west on Interstate 20 this week for a key district matchup in Mesquite against the homestanding Skeeters in a game that has major playoff implications. Dave Campbell's Connector School Update presented by @suddenlink
_____
Change can be tough for high school football players. A new head coach often means an entirely new coaching staff and a totally different way of doing things.
When Kurt Traylor took the head coaching job at Tyler Lee, he did make some changes. But he didn't make changes simply for change's sake.
Take the schools 7-on-7 football program. The new reality is that football is a year-long sport, with 7-on-7 leagues and tournaments keeping skill players on top of their game throughout the summer.
Tyler Lee first fielded a 7-on-7 team in the late 1990s, and then-coach Mike Owens tapped football parent Randy Womble to coach the team, given that the school's coaches weren't allowed to be involved.
"I had a son playing football on that team," Womble said. "When he graduated, coach Owens asked me if I'd do the 7-on-7 for one more year. I guess I've stayed a lot longer than I planned."
That initial coaching campaign proved successful. Tyler Lee won the state 7-on-7 title in 2004 under Womble's direction – just a couple of years past that initial request from Owens to stick around one more year.
Fast forward to 2019 and Womble remains a fixture with the Lee program. He coaches the 7-on-7 team, organizes the school's state qualifying tournament and oversees a league in Tyler where Lee, John Tyler, Whitehouse and Lindale all send their teams to play.
"He does a lot of work behind the scenes with our 7-on-7 program," Traylor said. "He organizes our state qualifying tournament. He raises money for the 7-on-7 program. I'm always able to get him on the phone and he always wants me to let him know how he can help."
Womble's never far from the fields. He said, like the men who've come through Tyler Lee to run the football program, he enjoys being a part of the program and developing relationships with the players he coaches during the summers.
"I don't play golf, hunt or fish," he said, "but I do enjoy working with these kids every summer. It's all about the kids. They keep me going."
Some of the kids Womble coached during the summers now have kids of their own. Others have come back, reconnected and helped him at times, including the quarterback who led Womble's team to that 2004 state title.
"Josh Hill wanted to get involved, so he coached with us one year," Womble said. "That was great. That's really the neat thing we get (Womble does most of his coaching with longtime friend Andy Bergfeld). We talk about the kids who have come back. You see them places, like at the mall, and they come up and want to talk."
After being involved with the 7-on-7 program for the better part of 20 years, does Womble plan to pass to the torch any time soon?
"I figure I'll keep doing this until they don't ask me anymore," he said. "It's just such a blessing to me to be able to work with these kids. I feel I'm giving back to the kids. Some have parental support and some don't, and if I can make a little bit of a difference for them, then it's worth all the time I spend in the summers."
Spending worthwhile time is something that Traylor also encourages his players to do on a regular basis. During the season, the Raiders spend time visiting elementary schools, help with the local Habitat For Humanity chapter and participate in a city-wide School is Cool campaign. It's all to get the players used to serving their community.
"We always try to find as much community service as we can for the team to perform," Traylor said. "I really believe that we were put on this earth to serve others, and it's important to teach our players how to serve."
Traylor said community service helps players see the value in serving others, which creates a positive effect throughout the community.
"Serving opens your eyes and shows you how important it is to be there for your fellow humans," Traylor said. "It's important for us to be seen doing things because people will see that and follow that lead."
Tyler Lee's players often go back to their own elementary schools to visit with former teachers and connect with the young students who will eventually follow in their footsteps at the high school.
"The teachers really love seeing them as older students, seeing them giving back to their old school and how much they've grown," Traylor said. "And our kids love it. They don't want to leave those elementary kids. They love being there, seeing them, reading with them, playing with them. And these kids love that too."
--Jay Plotkin