Dave Campbell's Texas Football is proud to honor one head football coach in each classification with the Coach of the Week award. Each coach recognized with this special honor typifies the best in Texas high school football.
Congratulations to all the coaches and thank you for all you do for your players, schools and communities.
2022 Coach of the Week Award Winners
WEEK 14
6A: Galen Zimmerman, Dripping Springs
In their first season as a 6A program, Coach Zimmerman's Tigers have more than shown they are ready to compete at the state's highest levels, improving to 12-1 on the season with a dominant 45-0 win over Harlingen to advance to the regional final round.
5A: James Brown, Mansfield Timberview
Coach Brown has the Wolves into the regional finals for just the second time in school history after taking down Frisco Reedy 28-26 in a thrilling battle of undefeated teams on Friday afternoon.
4A: Steve Campbell, Corpus Christi Calallen
It's never easy to replace a legend, but Calallen's first-year head coach Steve Campbell is doing an incredible job as the Wildcats improved to 13-0 and advanced to the regional final with a 31-17 win over Somerset.
3A: Jamie Driskell, Malakoff
Coach Driskell has the 12-1 Tigers back in the regional finals after a dominant 35-14 win over state ranked West on Friday night.
2A: Rod Castorena, Cooper
Coach Castorena has the unbeaten Bulldogs into the regional finals for the first time since 2013 after a dominant 33-11 win over Joaquin on Friday night.
1A: Jeremy Holt, Whitharral
In his first season at the helm of the Panthers, coach Holt has Whitharral into the 1A Division II state semifinals with a grinding 34-20 win over perennial power Balmorhea.
PVT: Philip Hudgens, Austin Hill Country
Fueled by six combined touchdowns from Ethan Howard and Riverson Shaw, coach Hudgens' Knights toppled defending state champion Houston Emery-Weiner 58-54 in the TAPPS Division I six-man state semifinals.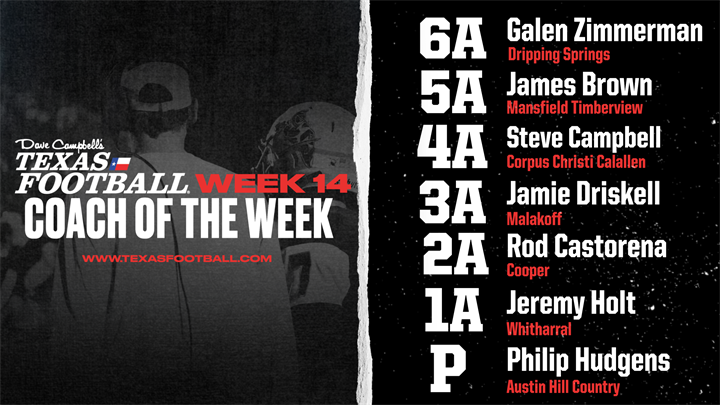 WEEK 13
6A: Dave Handal, Tomball
First year head coach Dave Handal and Tomball are at it again, after going into the playoffs with little fanfare for the second straight year, the Cougars are on another magical run after advancing to the regional semifinals stunning previously unbeaten New Caney 16-15.
5A: Kelley Lee, Brownsville Veterans Memorial
Second year head coach Kelley Lee has brought his "ground strike" offense to the RGV from Eastern New Mexico and it's putting up eye popping numbers as the Chargers are into the regional semifinals for the first time in school history after rolling up 744 yards of offense in a 74-59 win over Victoria West on Thursday.
4A: Randy Smith, Silsbee
Coach Smith has the Tigers roaring at 12-0 on the year after a 34-0 area round win over Smithville. It's the first time since 1971 that Silsbee has won twelve games in a season.
3A: Craig Smith, Hitchcock
Coach Smith's Bulldogs looked dead in the water Friday night trailing Woodville by 17 points at halftime, but Hitchcock put together a sensational second half effort to rally for a 36-31 win over Woodville to advance to the regional semifinals.
2A: Bennie Huitt, Chilton
Coach Huitt's unbeaten Pirates continued their magical 2022 run on Friday night with a dominant 48-7 victory over Brackettville, setting up a showdown with fellow unbeaten Burton on Thanksgiving weekend.
1A: Tyler Goodwin, Nazareth
Coach Goodwin's Swifts left no doubt in their area round matchup with Springlake-Earth, toppling the Wolverines 62-28 to become the only district runner-up to advance to the six-man regional final.
PVT: Aaron Beck, Fort Worth All Saints
Coach Beck's Saints flipped the script on district rival Argyle Liberty Christian, avenging a 31-0 loss to the Warriors just three weeks prior with a 37-20 win in the TAPPS Division II quarterfinals.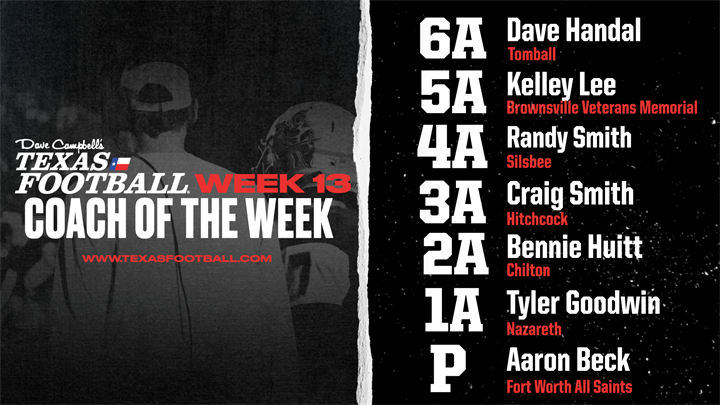 WEEK 12
6A: Manny Gomez, Harlingen
Harlingen alum and longtime head coach has the Cardinals flying high at 11-0 on the season after opening the playoffs Friday night with a dominant 45-0 win over PSJA.
5A: Marvin Sedberry, Jr. Terrell
Coach Sedberry's Tigers are peaking at the right time fourth seeded Terrell went on the road and stunned district champion Texarkana Texas High 28-21 in overtime to give Terrell their first playoff victory since 2016.
4A: Richard Whitaker, Port Lavaca Calhoun
Left for dead after an 0-7 start to the season, Coach Whitaker's Sandcrabs never lost belief and they've now rattled off four straight wins and are still alive in the playoffs after stunning heavily favored Alice 37-26 on Friday night.
3A: Aaron Witten, Spearman
Coach Witten's Lynx finished the regular season with a 3-7 record and a fourth place finish, but Spearman without a doubt was ready to play in the bi-district playoffs knocking off district champion Abernathy 21-7 to advance to the area playoffs.
2A: Jeff Kowalski, Sabinal
After leading Sabinal to their first unbeaten regular season since 1929, Coach Kowalski's squad kept it going in the playoffs earning their first playoff win since 2013 with a 43-0 shutout victory over Pettus.
1A: Mark Coley, Medina
Coach Coley helped the Bobcats make history on Friday night, knocking off Chester 52-6 for the first playoff win in program history.
PVT: Chad Pegues, Arlington Grace Prep
Fueled by four total touchdowns from quarterback Jaylon Talton, coach Pegues guided the Lions to a 34-24 upset win over Dallas Covenant in the TAPPS DIII playoffs.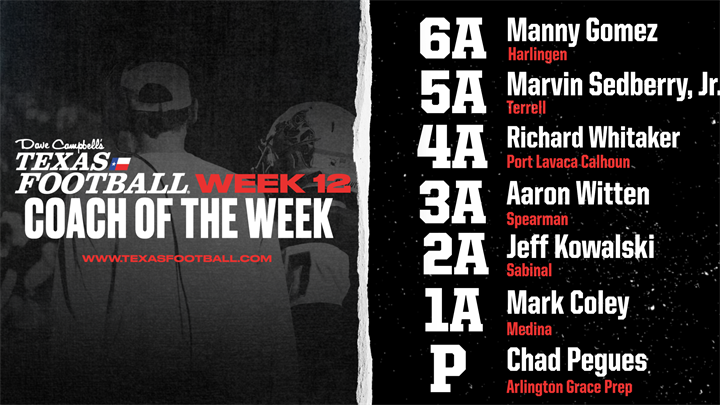 WEEK 11
6A: Zach Head, Clear Falls
Coach Head's Knights clinched their first district title in school history on Thursday night with a dominant 47-9 win over Clear Creek to improve to 8-2 on the season as they head into the playoffs.
5A: Patrick Shelby, McAllen
Coach Shelby's Bulldogs closed out their regular season in style clinching a playoff spot with a 27-14 win over McAllen Memorial, their first victory over their cross town rivals in twelve seasons.
4A: Brandon Houston, Taylor
Coach Houston's Taylor Ducks locked up their first playoff appearance in four seasons late Friday night with a thrilling 41-40 victory over Burnet to improve to 5-5 on the season.
3A: David Lucio, Tidehaven
Coach Lucio led Tidehaven to their first district title since 2017 on Friday night with an impressive 28-14 win over defending district champion Van Vleck to close out the regular season with an 8-2 record.
2A: Trey Sisco, Sterling City
Playing in their first eleven-man season in several years, Coach Sisco has guided Sterling City to a more than respectable 6-4 overall record and a third place playoff finish after the Eagles upset Eldorado 24-6 to close out the regular season.
1A: Gary Beam, Panther Creek
In a win-or-go home Week 11 showdown with Paint Rock, the Panthers rose to the occasion, edging out the Indians 29-20 to snap a three-year playoff drought in Beam's first season.
PVT: Blake Fuschak, San Antonio Antonian
Facing state-ranked and previously unbeaten Houston St. Thomas, the Apaches were unphased as Gabriel Torres kicked a game-winning 33-yard field goal in the final minute to surge to a 38-35 win.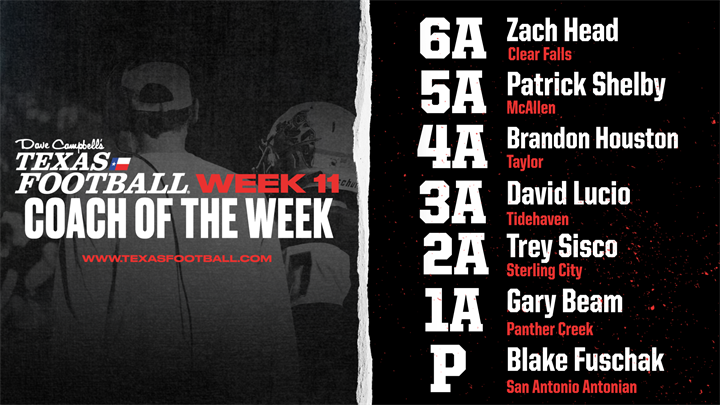 WEEK 10
6A: Marcus Gold, Wylie East
After being picked near the bottom of the standings pre-season by most major media outlets, Coach Gold's Raiders have made it a habit of proving people wrong in 2022. With their dominant 51-12 win over Garland Lakeview Centennial Friday, the Raiders improved to 9-0 on the season and clinched the outright district title.
5A: Ken Plunk, Amarillo Tascosa
In a showdown for the 2-5A Division I title, Coach Plunk's Rebels made a major statement with a 28-14 win over Lubbock Cooper to improve to 8-1 on the season and clinch Tascosa's first district title since 1988.
4A: Scott Surratt, Carthage
Carthage's legendary head coach hit a career milestone on Friday night earning his 200th win as a head coach in the Bulldogs 41-15 win over Van Friday night. Surratt's record at Carthage is an incredible 200-29 in sixteen seasons as head coach with eight state titles.
3A: Josh Smalley, Orangefield
Coach Smalley's Bobcats improved to 7-2 on the season and 5-0 in district play with a dominant 58-0 win over Kirbyville on Thursday night. The win guarantees Orangefield at least a share of their first district title since 1988.
2A: Garrett Patterson, Collinsville
Coach Patterson's Pirates improved to 8-1 on the season knocking off district favorites Santo and Muenster in back-to-back weeks, Friday's 25-13 win over Muenster clinched at least a share of the district title and locked up the number one seed for Collinsville heading into the playoffs.
1A: Dale Pustejovsky, Buena Vista
With a district title hanging in the balance, Pustejovsky's Longhorns outlasted Van Horn for a 40-30 victory, clinching the District 6-1A DI title.
PVT: Brent Goleman, Bastrop Tribe Consolidated
The Warriors polished off a perfect 10-0 season — the first in the program's history — with a 50-0 win over Victoria Home School.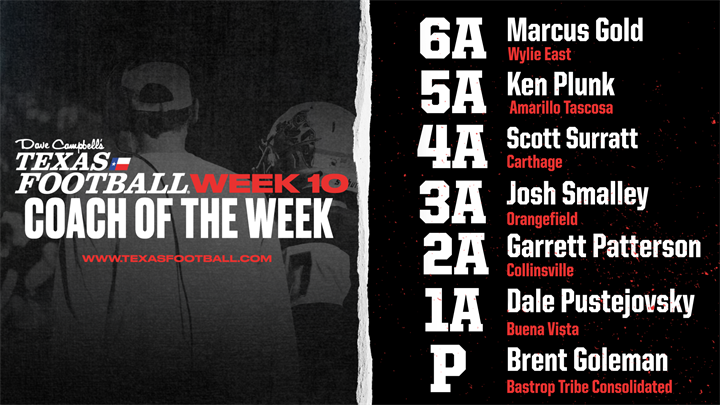 WEEK 9
6A: David Hicks, Sr., Katy Paetow
After a difficult two weeks at Paetow, interim coach Hicks guided the Panthers through the turbulent times and led Paetow to a massive 42-14 win over Katy Seven Lakes to improve to 3-3 in district play, keeping their playoff hopes alive.
5A: Ben Bitner, Corpus Christi Veterans Memorial
Coach Bitner's Eagles rallied from an eleven point deficit with under two minutes left to stun previously unbeaten Corpus Christi Miller 38-34 and seize control of the 14-5A Division I race, improving to 6-2 on the season and 5-0 in district play.
4A: Joey Rivera, Gonzales
Coach Rivera's Apaches put together a complete effort on Friday improving to 4-4 on the season and 2-1 in 12-4A Division II play with a massive 52-44 win over Smithville.
3A: David Woodard, West
In a highly anticipated showdown in Central Texas, Coach Woodard's Trojans got off on the front foot and never looked back in an impressive 38-21 win over Grandview to improved to 7-1 on the season and for intents and purposes wrapping up the district title.
2A: Jacob Magee, Cayuga
After posting a 3-8 record in 2021, Coach Magee's Wildcats were an after-thought in 7-2A Division I in the pre-season, but they've moved to top of mind in 2022 improving to 8-1 on the year with an impressive 28-0 win over Italy. The Wildcats will take next week off and look to wrap up an unbeaten district slate in two weeks when they close the regular season with Rio Vista.
1A: Isiah Archer, Newcastle
In a critical District 8-1A DII opener, the Bobcats grabbed the upper-hand in the chase for the district title with an emphatic 70-36 win over defending state champion Strawn.
PVT: Steve Leisz, Bellaire Episcopal
In one of the most anticipated private school games of the week, the Knights' defense stood tall in a 21-15 win over rival Houston Kinkaid.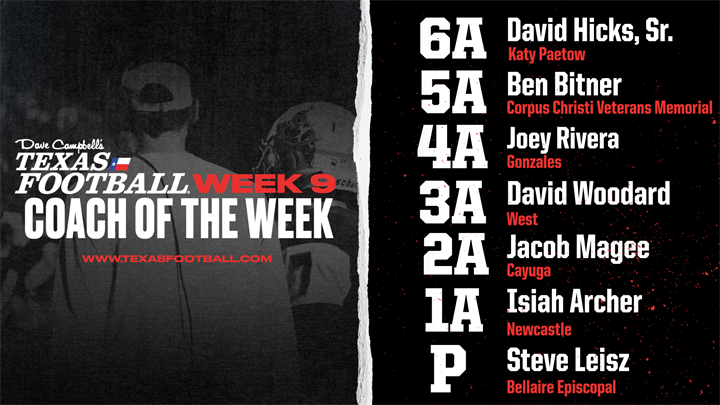 WEEK 8
6A: Charles Bruce, San Antonio Brandeis
Coach Bruce in his second season at Brandeis has the Broncos rolling with six straight wins as they took down San Antonio Roosevelt 33-23 Friday night to improve to 7-1 on the season and 6-0 in 28-6A play heading into their bye week.
5A: Phil Young, Fort Worth Arlington Heights
Coach Young has quietly put together one of the state's best stories on the west side of Fort Worth as the Yellowjackets are off to a 7-0 start after they earned the biggest win in years in Fort Worth ISD stunning heavily favored Colleyville Heritage 41-31 on Friday night.
4A: Adam Cummings, Canyon West Plains
Coach Cummimgs and the Wolves are doing the unthinkable in their inaugural season, they are right in the thick of the playoff race with a team primarily comprised of sophomores and freshmen. They improved to 4-4 on the season and 1-1 in district play with a 52-7 win over Levelland on Thursday.
3A: Kevin Sherrill, Vernon
Coach Sherrill has the fans excited once again about Lions football as after several down years for the once proud program, 2022 has seen a resurgence in Vernon. Sherrill's squad improved to 5-2 and 2-0 in district play Friday night as they stunned state ranked and unbeaten Breckenridge 28-21.
2A: Craig Horn, Axtell
After winning just four games in the previous three seasons, Coach Horn has things turned around as the Longhorns improved to 5-2 and 3-1 in district play with a 28-21 upset win over Italy, where Horn was previously the head coach until this past off-season.
1A: Tory Peet, Groom
It's been an up-and-down season for the Tigers, but first-year head coach Peet has the Tigers playing their best football at the right time, moving to 2-0 in District 1-1A DII play with a 54-52 upset win over state-ranked Silverton.
PVT: Tino Villarreal, Brownsville St. Joseph
The Bloodhounds fell behind 28-0 to Austin St. Stephen's, but coach Villarreal's squad never quit, rattling off 29 unanswered points — including a touchdown as time expired and a game-winning two-point conversion to earn a thrilling 29-28 walkoff win.
WEEK 7
6A: Charles Brown, Houston Sam Houston
Coach Brown's Tigers are defying expectations in 2022 with their 4-2 start, already the program's most wins in a single season since 2001. On Friday night they won their first district game since 2003 with a 13-12 win over Houston Chavez, snapping a 99-game district losing streak.
5A: Kent Laster, Waco University
Coach Laster has south Waco buzzing as the Trojans improved to 3-3 on the season with a convincing 53-28 win over Pflugerville, the win makes University 2-0 in district play for the first time since 2012 and puts Waco U right in the middle of the playoff race.
4A: Grant Freeman, Wichita Falls
Freeman, who battled through a major health scare this off-season has been a model of perseverance this season on and off the field and he has the Coyotes playing great football as Old High improved to 4-3 on the season and 1-0 in district play with a convincing 42-18 win over Mineral Wells.
3A: Will Kates, Merkel
After a tough 1-4 start in non-district, most didn't get Coach Kates' Badgers much of a chance against defending district champion Dublin to open district play Friday night. The Badgers ignored the naysayers and put together a stunning performance with an impressive 51-25 upset victory over the Lions.
2A: Jeremy Mullins, Tolar
In a district showdown of state ranked powers, Coach Mullins' Rattlers defense made the statement in a 16-6 win over Coleman to put the Rattlers at 6-0 on the season and in the drivers seat for a district championship.
1A: Edward Aviles, Morgan
Coach Aviles' Eagles powered through adversity in a wild 107-82 win over Iredell in their final non-district tune-up, moving to 4-3 on the year and surpassing their win total from 2021.
PVT: Andres Garcia, Corpus Christi Annapolis
The Warriors moved to 6-0 on the season, topping last year's 5-win campaign, with a dominant 48-0 win over San Antonio Lee Academy, the second consecutive shutout for coach Garcia's squad.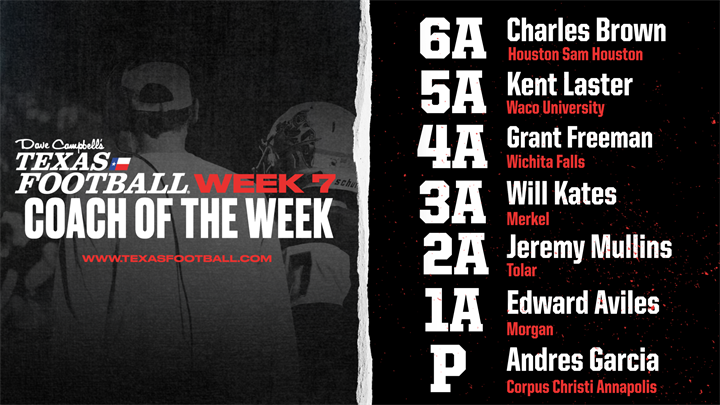 WEEK 6
6A: Ariel Famaligi, El Paso Montwood
Coach Famaligi's Rams came into Thursday night's 1-6A showdown with district leading El Paso Franklin as a sizeable underdog, but the Rams didn't blink, rallying from 14-points down in the 4th quarter to stun Franklin 43-42 to improve to 2-3 on the season and more importantly 2-1 in district play.
5A: Mike Alexander, Grapevine
In a state ranked rivalry showdown, Coach Alexander's Mustangs took charge of the 3-5A Division II race with an impressive 44-26 win over Colleyville Heritage giving the Mustangs their first win over their GCISD rivals since 2018.
4A: Steve Huff, Decatur
Huff, who moved to Decatur in the offseason after a state championship tenure at College Station, got his first signature win at the helm of the Eagles with a resounding 35-19 win over state-ranked Wichita Falls Rider.
3A: Joe Marichalar, Santa Rosa
Coach Marichalar continues to work wonders at Santa Rosa, long thought to be a basketball only school in the RGV. Coach Marichalar's Warriors improved to 5-1 on the season and 2-0 in 16-3A Division II play with a 21-20 upset win over Odem Friday night.
2A: Matt Lovorn, Stratford
Coach Lovorn's Elks look ready to once again be a state title contender despite the move to 2A-Division I as they moved to 5-0 on the season with a 28-21 win over Class 4A Perryton on Friday night.
1A: Lee McCown, Robert Lee
Hired late in the offseason, McCown – a former star at Robert Lee – has sparked a big turnaround for the Steers, turning last year's 2-8 season into a 6-0 start after knocking off archrival Bronte 24-6 in the 107th meeting of the Coke County Rivalry.
PVT: Curtis Crane, El Paso Cathedral
Crane's Fighting Irish put on an impressive defensive performance to move to 4-2 on the year with a 27-6 win over El Paso Bowie.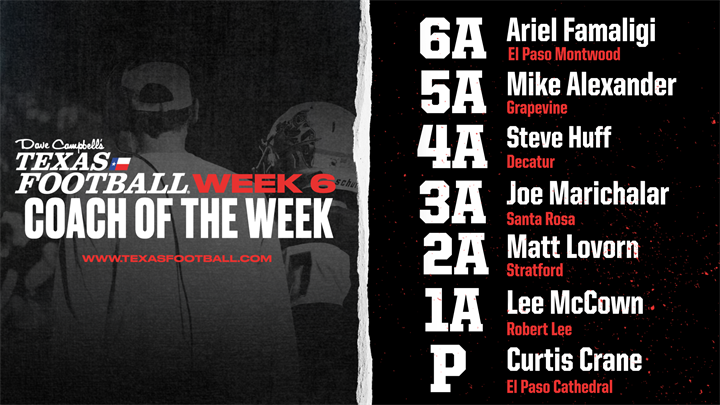 WEEK 5
6A: TJ Dibble, Hurst Bell
LD Bell alum TJ Dibble has the Blue Raiders playing tremendous football as Bell improved to 5-0 for the first time since 2012 with a 21-17 win over Crowley. Bell is now 2-0 in District 3-6A play and squarely in the thick of the playoff race.
5A: Kevin Berneathy, La Porte
Berneathy in his first season at La Porte as the Bulldogs off to a 4-1 start and more importantly 2-0 in 8-5A Division I play after their 34-27 upset win Friday night over district front-runner Barbers Hill.
4A: Brandon Faircloth, Sulphur Springs
First year head coach Brandon Faircloth is quietly performing one of the great turnaround jobs in Texas at Sulphur Springs as the Wildcats improved to 4-1 on the season with a 24-6 win over Texarkana Liberty-Eylau. The four wins in 2022 for Sulphur Springs exceeds their win total for the last three seasons, combined.
3A: Aahron Flores, Brownfield
In a battle of surprise unbeaten teams on the South Plains, Coach Flores' Cubs came out on top with a 28-14 win over Littlefield to move to 5-0 on the season.
2A Britt Hart, Stamford
Coach Hart has his young Bulldogs ahead of schedule in 2022 as Stamford improved to 5-0 on the season with a convincing 48-12 win over Winters to close out non-district play.
1A: Mark Weaver, Aspermont
Coming off a 2-8 season in 2021, Weaver's Hornets are flying high at 5-0 after romping past Rule, 84-57.
PVT: Jeremy Bailey, Fort Worth Temple Christian
Bailey's Eagles are off to a 4-0 start for the first time since 2016 – remarkable, considering they'd won just seven combined games in the previous four seasons — after a 31-14 win over Tyler Gorman.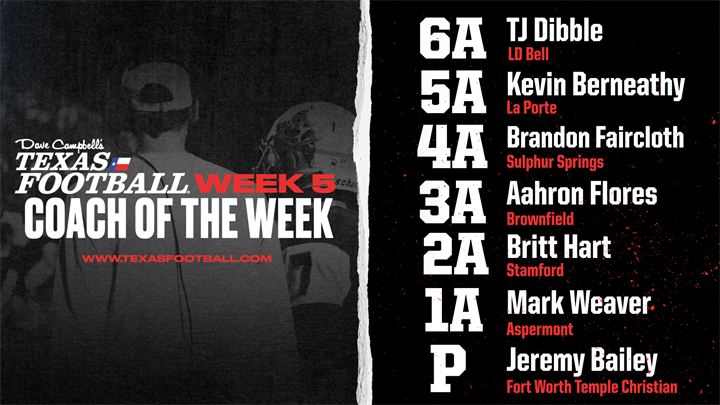 WEEK 4
6A: David Saenz, Cibolo Steele
Coach Sanez's state-ranked Knights improved to 4-0 on the season by taking a six-hour one way bus ride out to Midland to knock off a strong Midland Legacy squad 35-28 in overtime.
5A: Shaun McDowell, Richmond Foster
After posting a 5-5 mark in 2021, Coach McDowell's state-ranked Falcons are soaring once again after improved to 4-0 on the season with an emphatic 35-7 win over a good Angleton squad.
4A: Seth Parr, Anna
In a state-ranked showdown and possibly the biggest ever played in Anna, Coach Parr's Coyotes rallied from a 17-6 halftime deficit to take down perennial power Celina 28-25, its Anna's first victory over Celina since 1972.
3A: Don Waddle, Palmer
Facing state-ranked and unbeaten Rogers on Friday night, Coach Waddle's Bulldogs weren't fazed by being underdogs. In fact Palmer embraced the challenge and earned a statement victory by knocking off the Eagles 36-23.
2A: Nick Williams, Booker
First year head coach Nic Williams has the Kiowas believing again as they are off to an impressive 3-1 start after a 39-6 win over Memphis. Williams, this off-season moved former offensive lineman Hugo Avila to QB and he delivered Friday night tossing six touchdown passes.
1A: Zack White, Cherokee
In a showdown of state-ranked squads on Thursday night, White's Indians held their nerve against a surging Bluff Dale team to earn an 84-44 road win, remaining unbeaten on the year.
PVT: Bryce Frazier, Waco Eagle Christian
Frazier's Eagles took down previously unbeaten Buckholts in a heart-stopping 72-71 thriller to move to 2-1 on the year, needing just three games to double last season's win total.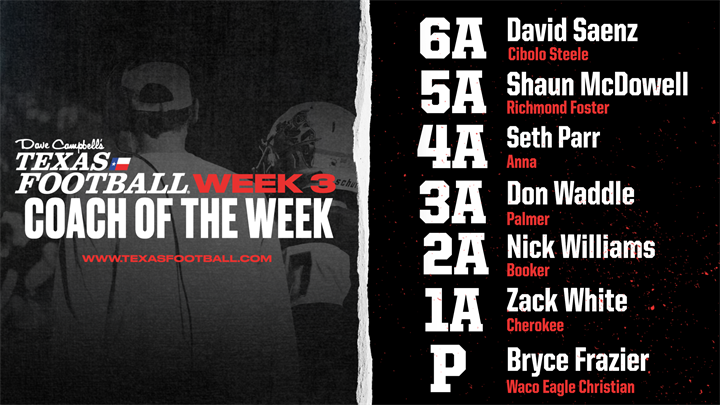 WEEK 3
6A: Ray Gates, North Crowley
In his first season at North Crowley, Coach Gates has the Panthers flying with a 3-0 start after upsetting Class 5A state ranked Lovejoy 28-20 on Thursday night as NCHS put together a virtuoso defensive performance against one of the best offenses in the state regardless of classification.
5A: John King, Longview
Coach King's number one ranked Lobos did nothing to dissuade us from that ranking on Friday night with a dominant 69-0 win over Class 6A Tyler Legacy on Friday to improve to 3-0 on the season. It was King's 200th win as a head coach as he hold an impressive 200-43 overall record as he is in his 19th season at the helm in Longview.
4A: Gage Perry, Robstown
Coach Perry has long struggling Robstown sitting at 3-0 for the first time since 2010 after a huge 50-3 win over Progreso on Friday night.
3A: Joaquin Escobar, Comanche
Coach Escobar's Indians continue to silence the doubters as Comanche continued their red hot start with a 49-40 win over an Early squad that had high expectations going into 2022. Comanche is getting it done behind an offense averaging over 46 points per game.
2A: Stephen Brosch, Granger
Brosch who is one of the bright young head coaches in Texas helped Granger improved to 2-1 on the season with an upset 28-20 win over 2A-Division I Holland on Friday night.
1A: Randall Ballew, Gholson
Entering the season on a 21-game losing streak, Ballew has turned the fortunes of the Wildcats in a hurry, leading them to a 54-6 mercy-rule win over Waco Parkview to improve to 3-0 on the year.
PVT: Phil Dawson, Austin Hyde Park Baptist
The former NFL and Texas Longhorns kicker has made himself at home in his first year with the Panthers, guiding them to a 64-14 win over Austin LASA to move to 3-0 on the season, just a year removed from a winless campaign.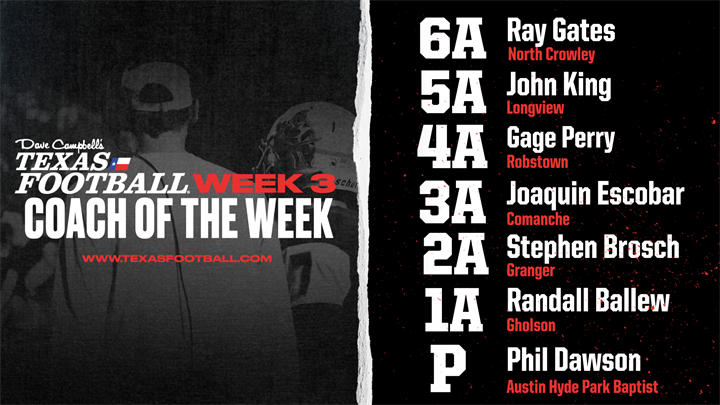 WEEK 2
6A: Johnathan Wilson, Klein Forest
After several lean years, Klein Forest alum Wilson has the Eagles soaring early in 2022 as Klein Forest improved to 2-0 on the season with a hard-fought 24-17 win over Humble.
5A: Leon Paul, Lancaster
In his second season at the helm in Lancaster, Coach Paul got a signature win Friday night authoring a stellar defensive performance as the Tigers took down the defending 5A-Division II state champions and number one team in the state South Oak Cliff with a 21-3 win.
4A: JD Zimmerhanzel, San Antonio Davenport
The Wolves in their first varsity season are making plenty of waves as HC JD Zimmerhanzel has Davenport at 2-0 after back-to-back season opening wins over Victoria West in Week 1 and a 31-28 win over Kerrville Tivy this week.
3A: Ruben Garcia, Falfurrias
After winning one game in the past two seasons, Coach Garcia has the Fightin' Jerseys playing great football as they improved to 2-0 on the season with an 18-6 upset victory of Hebbronville, a game in which they were 15-point underdogs.
2A: Kevin Hoffman, Mart
In a Super CenTex showdown of state ranked teams, Coach Hoffman's Mart Panthers flexed their muscles in a major way with a dominating 41-6 win over Marlin on Thursday night.
1A: Chris Ellison, Trent
Ellison's Gorillas took the fight to Lohn on Thursday night, toppling the Eagles 67-34 and improving to 2-0 for the first time since 2013.
PVT: Donnie Yantis, Plano Prestonwood
Yantis earned his first win as the Lions' head coach in a big way as his squad traveled to Houston and stunned state-ranked Houston Second Baptist, 31-27.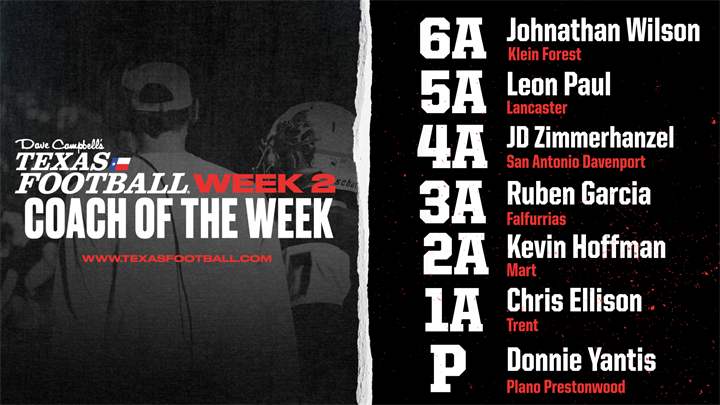 WEEK 1
6A: Glenn Mangold, New Braunfels
Coach Mangold's squad went into their Thursday night opener as heavy underdogs against the number two team in the state in 5A-Division I Denton Ryan. The Unicorns trailed 33-14 late into the third quarter, but New Braunfels rattled off twenty straight points and thwarted a late Ryan comeback attempt with an interception to stun the state with a 34-33 win.
5A: Kendall Miller, Frisco Emerson
Trailing 24-13 entering the fourth quarter, Coach Miller's Mavericks in their first varsity game rallied with 21 fourth quarter points to send the game to overtime, where Emerson would prevail 41-34 over Dallas Hillcrest to earn their first win in program history.
4A: Casey Walraven, Alvarado
They say coming home can be tough, but Alvarado alum Casey Walvraven's squad dazzled in their debut as Alvarado stunned heavily favored Springtown 41-7 to open the 2022 season.
3A: Alton Dixon, Crockett
Coach Dixon's Bulldogs quietly had one of the most impressive wins in the state on Friday night as Crockett knocked off state ranked Marlin 48-31 to open the 2022 season at 1-0.
2A: Daniel Purvis, Cross Plains
After tragically losing one of their players in a car accident, Coach Purvis' Cross Plains squad played with heavy hearts to open the season and the Buffaloes who have dedicated the season to the memory of Ryan Hopkins played inspired football knocking off Winters 40-14 to open the season.
1A: Julian Menchaca, Vernon Northside
In his debut with the Indians, Menchaca made his presence felt in a big way, helping the Indians to a 58-6 win over Patton Springs and snapping the program's 16-game losing streak in the process.
PVT: Jay Patterson, Austin St. Stephen's
The Spartans came out of the gates white-hot in Week 1, smothering powerhouse Marble Falls Faith 66-20 to kick off their TAIAO Division I state title defense.